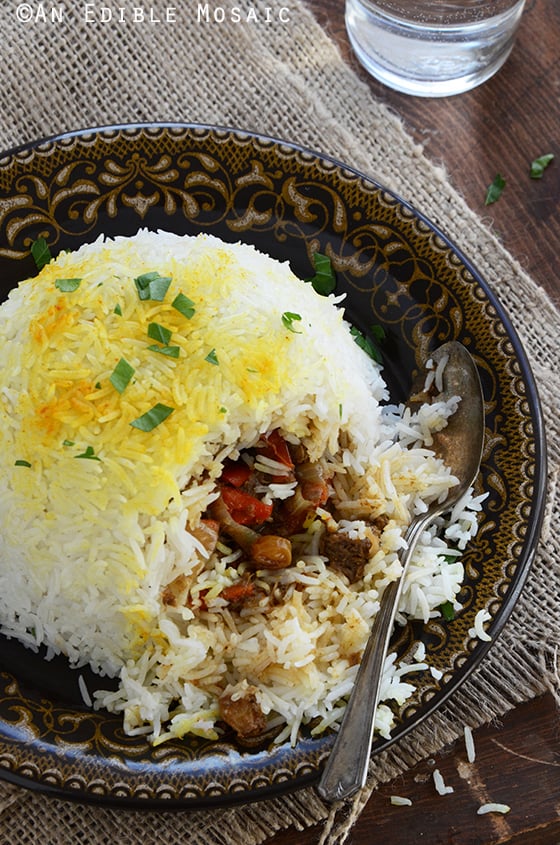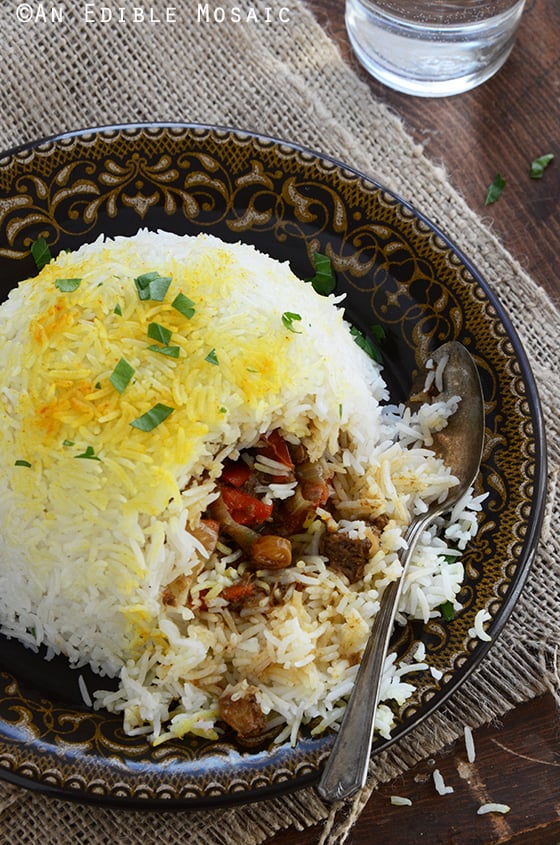 Not long after we married, my husband introduced me to pilaf-style biryani, one of his favorite rice dishes that has meat and veggies cooked together with the rice; topped with toasted almonds or other nuts, it is really delicious. For the longest time that's the only form of biryani we ever made. Then one evening at a Pakistani restaurant we ordered biryani and the rice came out in a dome-like shape, with the actual biryani nowhere to be found. Once we dug into the rice we saw that it was stuffed with the biryani. This dish was so beautiful and impressive, I immediately knew I wanted to recreate it at home.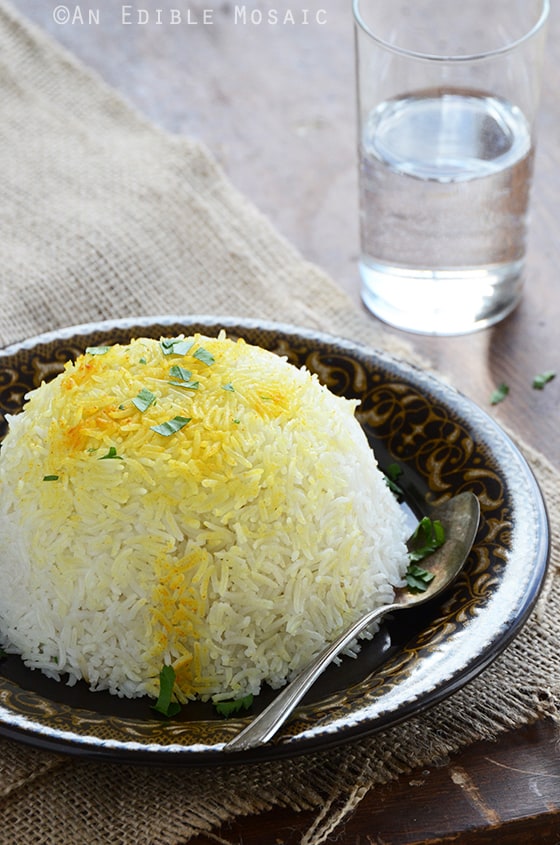 You can serve this dish as-is, or with a bowl of plain yogurt on the side to spoon on top. Cucumber Raita (a mixture of yogurt, shredded cucumber, crushed garlic, fresh minced mint, and a little salt) is also wonderful.
Salad Shirazi is another great choice as a side dish for biryani; it's basically just a mixture of chopped tomato, cucumber, onion, and green herbs like parsley and mint that is dressed with lemon juice, olive oil, and salt.
Incidentally, this dish is thickened with yogurt, which happens to be this week's Blogger Secret Ingredient!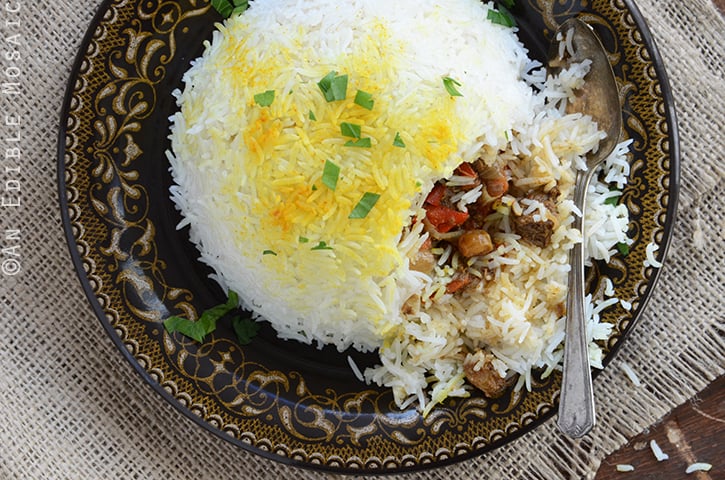 Beef Biryani Stuffed Inside Basmati Rice
Prep time:
Cook time:
Total time:
Ingredients
2 tablespoons canola oil
2 lbs (910 g) stewing beef (or an economical roast that has been trimmed of excess fat and cubed is fine because since the meat tenderizes as it cooks)
6 large cloves garlic, crushed in a mortar and pestle or grated on a microplane
1-inch piece fresh ginger, grated on a microplane
6 tablespoons biryani paste
1 cup (225 g) plain, low-fat yogurt
1 bay leaf
1½ cups (355 ml) water
½ cup (80 g) golden raisins (sultanas)
2 jalapenos, halved, de-seeded, and minced (optional)
2 medium-large onions, halved and thinly sliced
3 medium-large green or red bell peppers, quartered, de-seeded, and thinly sliced
½ teaspoon coarse salt
Basmati rice, for serving
2 tablespoons minced fresh parsley leaves, for garnish (optional)
Instructions
Add the oil to a lidded 5-quart pot over medium-high heat. Once hot, add half of the beef and cook in a single layer until browned on both sides, about 2 to 4 minutes (wait to flip each piece until the meat is seared on the first side). Transfer the browned meat to a bowl, then cook the remaining beef the same way.
Add the beef back to the pot, and then add the garlic, ginger, and biryani paste; cook 1 minute, stirring constantly. Add the yogurt and bay leaf and cook 5 minutes, stirring frequently.
Add the water and then cover the pot, bring it up to a boil, and turn it down to a simmer. Let it cook until the meat is almost fully tender, about 45 to 60 minutes, stirring occasionally and adding a splash more water as necessary if it looks too dry or starts to stick on the bottom.
Stir in the raisins, jalapeno, onion, bell pepper, and salt. Cover the pot and cook over medium-low heat until the vegetables are tender, about 20 minutes, stirring occasionally and adding a splash more water as necessary if it starts to stick on the bottom. (Alternatively, you can leave the lid ajar if the water isn't evaporating fast enough, since the water should be evaporated by the time you're done cooking.)
Serve the beef biryani sauce on top of or stuffed inside basmati rice (see note below for instructions on how to stuff this inside rice), with the parsley sprinkled on top, if using.
Notes
To Serve Beef Biryani Stuffed Inside Basmati Rice: Brush the inside of a bowl with canola oil or lightly spray with nonstick cooking spray (the bowl should be about the size of a bowl you would eat your morning cereal out of – see picture below); lightly sprinkle turmeric inside the bowl if you want the rice to have a mixed yellow and white look. Press cooked basmati rice onto the bottom and up the sides of the bowl (see picture below), making sure to press hard enough so that the rice is packed. Add biryani sauce to fill the well in the center of the rice, then add rice to cover the biryani, again, making sure to firmly pack the rice. Turn the rice out on to a plate, carefully twisting the bowl off to remove it.
Press the rice onto the bottom and up the sides of an oiled bowl the size that you'd eat cereal from, as shown in the photo above.
Update (April 3, 2013): I made this dish again and perfected the recipe and snapped a few pictures, so I decided to update both the recipe and the photos in this post. As a point of comparison to show how much my photography has evolved, I kept one of my original photos (below).