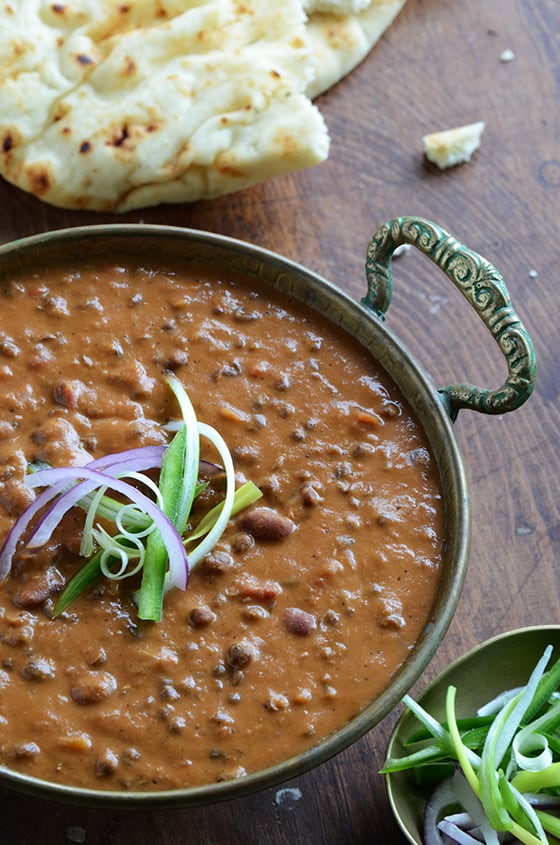 I'm no stranger to Indian food.
In fact, ever since one of my very best friends introduced me to the cuisine in college it's been a favorite of mine. She started me off on Chicken Tikka Masala (of course thinking that it would be the most certain dish to win me over), but not long after first trying it, my affection for Indian food branched out to any Indian-spiced dish I could get my hands on.
My friend's father offered to set up a daily food delivery for my friend from a local Indian restaurant. My eyes widened in jealousy and then narrowed in disbelief when she said she turned him down flat. I can't eat Indian food from a restaurant every day!, she exclaimed. After spending time with her, cooking together, and later visiting home with her where we feasted on her mom's cooking nightly, I understood what she meant.
Like most cuisines, restaurant-made Indian food doesn't hold a candle to homemade Indian food.
Even so, Mike and I seek out local Indian and Pakistani restaurants to get our fix. But every time we go, we both end up saying something along the lines of I should have just made us an Indian meal at home. You'd think we would learn faster, but in the end time constraints usually win out, and I only end up cooking homemade Indian food for us a couple times a year. And each time I make it I end up saying it was worth every second of effort. Mike, please remind me of this next time I suggest going out for Indian.
This dish isn't a quick-cooking meal and neither is it a low-calorie meal (but it's called Butter Lentils so that probably doesn't come as a surprise). Like any homemade meal, this dish is worth every second of effort, and as a bonus, most of the time required to make it isn't hands-on time (but don't forget to soak the beans the night before!). Sitting down to this for dinner you'll realize it is in fact worth every minute spent on it and every calorie ingested.
And just a quick note if you tend to shy away from butter…studies show that real, grass-fed butter is actually good for you! The list of health benefits actually goes on and on, but for starters, butter helps the body absorb fat-soluble vitamins; it's also a great source of antioxidants and other nutrients (such as Vitamins A, D, E, and K and the mineral selenium) that strengthen our immune system, protect our cardiovascular system, and help prevent cancer. An important component of butter is Conjugated Linoleic Acid, which not only helps protect against cancer, but may also help with weight management. Further, the short and medium-chain fatty acids in butter's saturated fat are burned as quick energy – not stored as fat in the body. You can read more about the health benefits of real, grass-fed butter on Mercola, Mark's Daily Apple, Body Ecology, Green Med Info, and Delicious Obsessions.
Dal Makhani (Indian Butter Lentils)
Prep time:
Cook time:
Total time:
Ingredients
1 cup (140 g) dried whole black lentils (urad dal)
½ cup (70 g) dried small red beans or kidney beans
8 cups (1.9 L) low-sodium vegetable stock
3 tablespoons ghee (clarified butter)
2 large onions, chopped
6 large cloves garlic, crushed using a mortar and pestle or grated on a microplane
1-inch piece fresh ginger, grated on a microplane
1 bay leaf
1-inch piece cinnamon stick
2 whole pods cardamom, cracked open
2 whole cloves
2 dried small hot red chilies (more or less to taste)
1½ tablespoons garam masala spice mix
¾ teaspoon each ground coriander, cumin, chili powder, and sweet paprika
¼ teaspoon each ground fenugreek and black pepper
1 teaspoon coarse kosher salt
1 (14 oz/400 g) can petite diced tomatoes (preferably no-salt-added)
1 (6 oz/170 g) tomato paste
4 tablespoons (60 g) unsalted butter (preferably grass-fed), cut into 4 pieces
½ cup (120 ml) heavy cream
Instructions
Add the black lentils and red beans to a large bowl; fill the bowl with room temperature water and soak overnight. Rinse and drain the next day.
Add the lentils and beans to a 5-quart pot along with the vegetable stock. Bring up to a boil, then cover the pot, turn heat down to simmer, and cook 1 hour, stirring occasionally.
Meanwhile, heat the ghee in a large skillet over medium to medium-high heat. Add the onion and cook until soft and deep caramel in color, about 15 minutes, stirring occasionally. You can add a splash of water or turn the heat down at any point if the onions start to get too dark or the pan starts to get too hot.
Once the onion is caramelized, turn the heat to medium (if it wasn't there already) and add the garlic and ginger; cook 1 minute, stirring constantly.
Add the bay leaf, cinnamon stick, cardamom pods, cloves, red chilies, garam masala, coriander, cumin, chili powder, sweet paprika, fenugreek, and black pepper. Cook until fragrant, about 20 seconds, stirring constantly. Remove from heat.
Once the lentils and beans have cooked for 1 hour, stir in the onion/spice mixture, the salt, the diced tomatoes, and the tomato paste.
Gently simmer (uncovered) until the sauce is somewhat thickened and the lentils and beans are fully tender, about 45 minutes to 1 hour, stirring frequently. (Of course you can cover the pot if the sauce gets too thick before the lentils and beans are tender.)
Turn off the heat and stir in the butter and cream.
Serve with rice or Indian flatbread (such as naan or chapatis), garnished with anything you like. (I garnished mine with thinly sliced red onion, jalapeno peppers, and curled scallion; to curl the scallion, thinly slice it and soak it in ice water for 15 minutes, then pat dry.)