This Limonana recipe (Middle Eastern Frozen Mint Lemonade) is sweet, tart, and refreshing, and perfect for cooling down with on a hot day!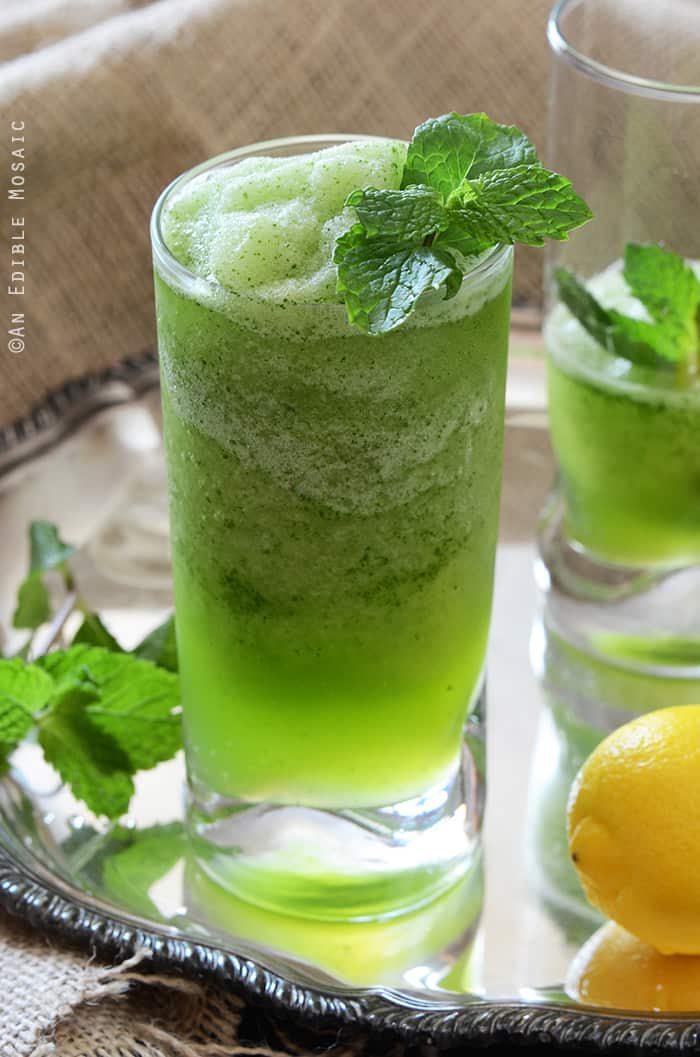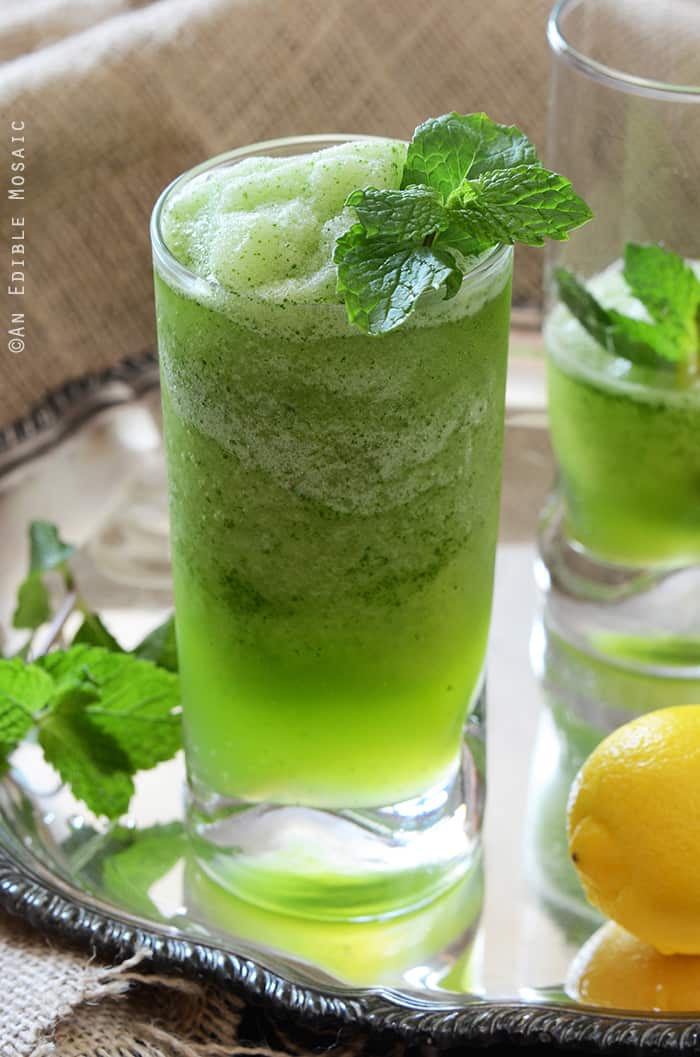 It's October. It may or may not be snowing profusely where you are. (Although I'm not there now, where I come from, it more than likely is snowing profusely!)
I realize that.
So what am I doing posting a frozen beverage?
Try as I might to simulate autumn in my apartment here in Kuwait with chilly AC, apple cinnamon-scented candles, and pumpkin spice lattes, the truth remains that temps are still in the 90s in the afternoon.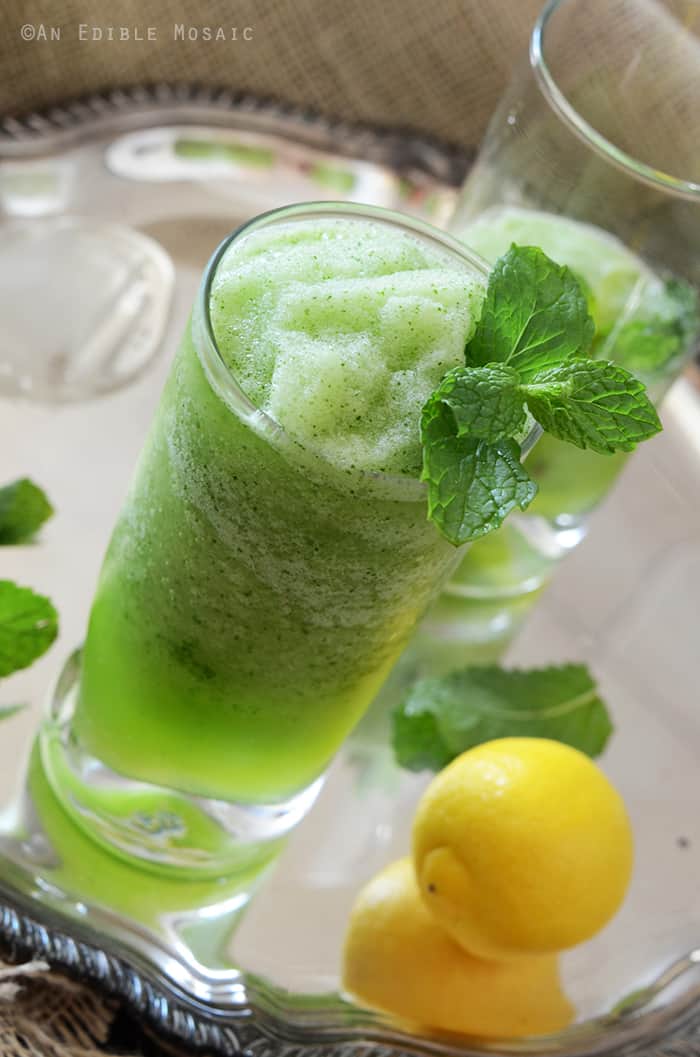 I occasionally need a little cool-me-down, and Limonana is the most refreshing beverage, pretty much ever.
I first had this drink at a restaurant here in Kuwait City. A friend ordered it and told me it was the best drink to cool down with during a heat wave. I was a little skeptical about how it would taste after looking at its green color, but I took a sip and was instantly hooked!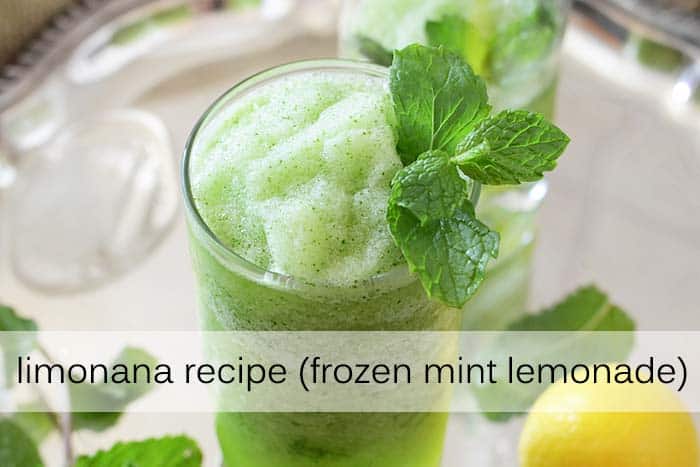 Limonana Recipe - Middle Eastern Frozen Mint Lemonade
This drink is a classic favorite throughout the Middle East where refreshing beverages are an absolute necessity. It looks impressive, but is actually so easy to make. It's really no harder than regular lemonade, although there is an additional step of blending the lemonade with ice.
Although it's super simple to make, there is a trick to this drink. The key to the perfect Limonana is in the ratio of lemon to sugar to water.
Part of what makes this drink so refreshing is the fact that it's served frozen, so in order to not be watered down, you need to start with a very concentrated lemonade. I played with the ratio and I think the recipe below is perfect: both sweet and tart, as lemonade should be, and not watered down at all, even as the slushie drink melts.
Just a heads-up, this drink will separate as the icy slush rises to the top of the liquid. Not in a gross way though, and its flavor is not affected. It's sort of like how ice cubes rise to the top of a drink.
If you're in a part of the world where it's still hot or if you're enjoying fall but you get a random hot day, give this a try! It will be an instant hit.
Liz's Virtual Baby Shower
I made this lemony treat in honor of Liz (The Lemon Bowl) who will be welcoming a baby boy into her family! (Hugs and kisses and huge congrats to you, Liz!)
Also, a big thank-you to Rachel (Rachel Cooks), Kristen (Dine & Dish), and Sheila (Eat2Gather) for organizing this event!
Here are the other fabulous bloggers participating in the virtual shower, along with what they're making:
Appetizers
Beverages
Salads
Main Dishes
Desserts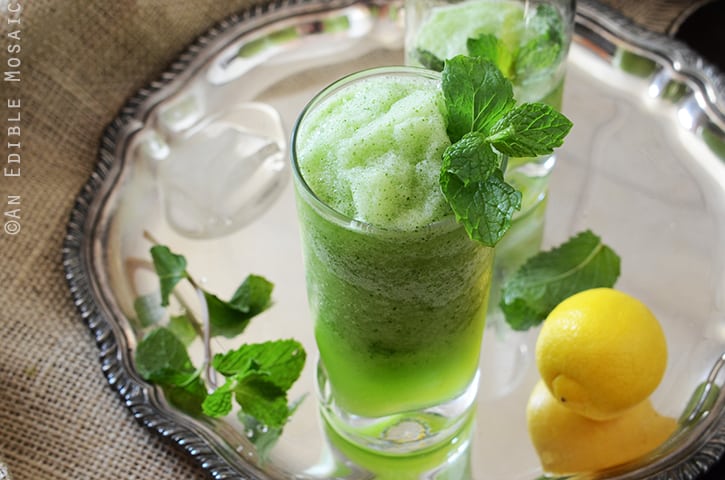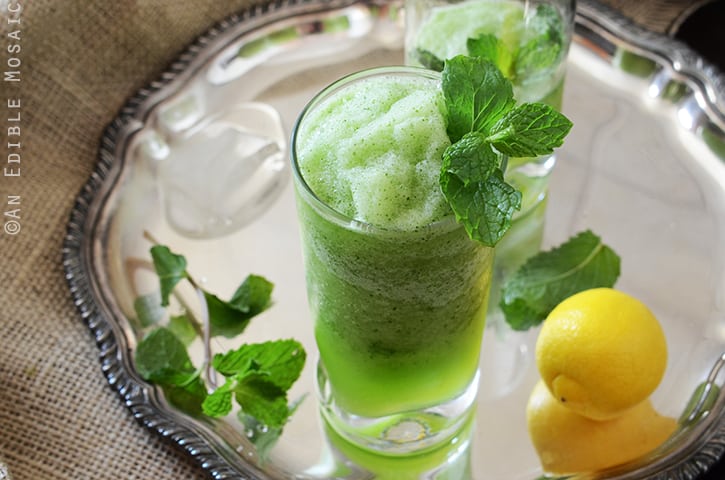 Did you make this recipe? Please rate it and leave a comment below because I love hearing from you! You can also tag @anediblemosaic on social media. To stay up-to-date FOLLOW ME on Instagram, Twitter, and Facebook. Xoxo, Faith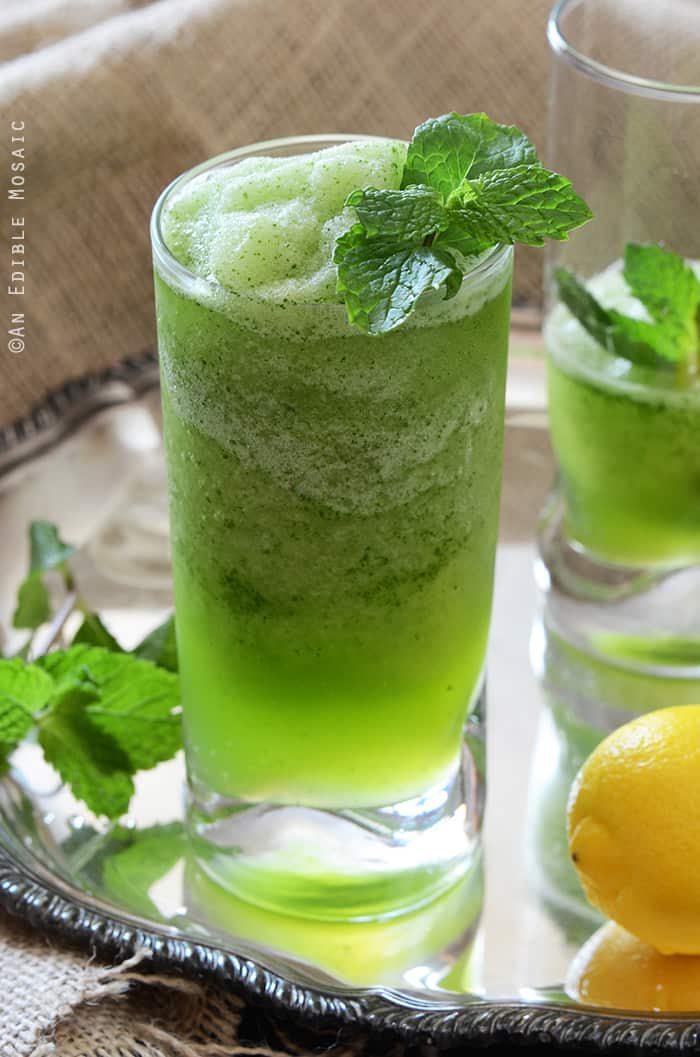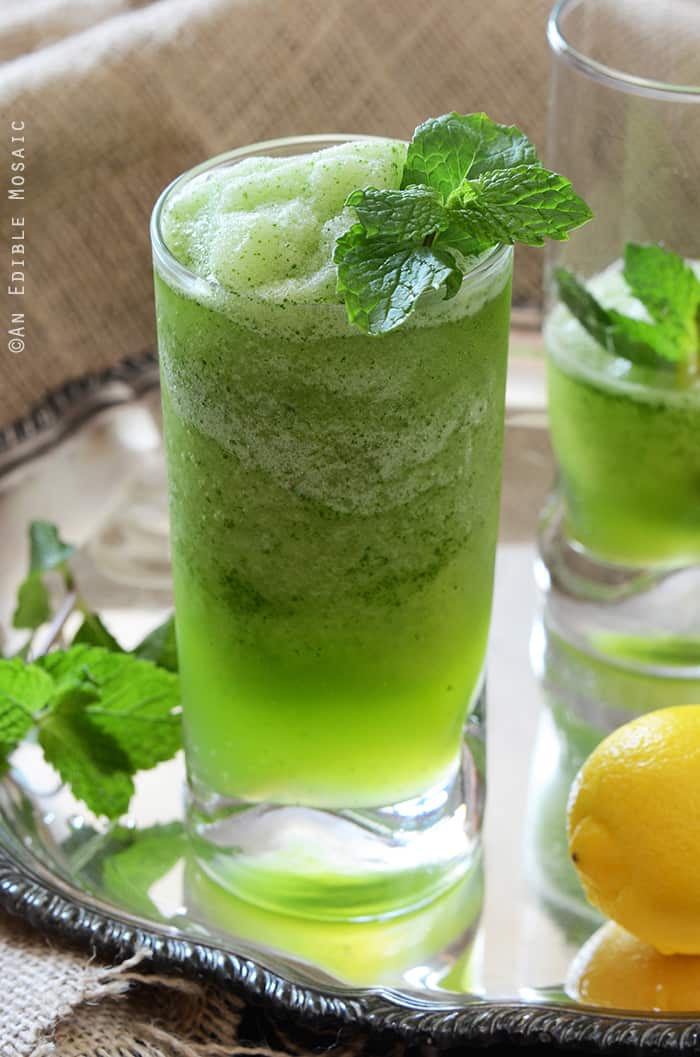 Limonana (Middle Eastern Frozen Mint Lemonade)
This Limonana recipe (Middle Eastern Frozen Mint Lemonade) is sweet, tart, and refreshing, and perfect for cooling down with on a hot day!
Ingredients
6

tablespoons

sugar

14

tablespoons

water

divided

½

cup

fresh lemon juice

4

stems of mint leaves

about 40 leaves, plus a few extra sprigs for garnish if desired

20

ice cubes

1-2

drops

orange blossom water

optional
Instructions
Add the sugar and 6 tablespoons of water to a small saucepan; heat over medium heat, stirring constantly, until the sugar is dissolved. Cool to room temperature.

Add the cooled sugar syrup, remaining ½ cup water, lemon juice, mint leaves, ice cubes, and orange blossom water (if using) to a blender. Pulse a few times to break up the ice and then process until slushy.

Pour into 2 tall glasses, garnish with mint leaves if desired, and serve immediately.
Nutrition
Nutrition Facts
Limonana (Middle Eastern Frozen Mint Lemonade)
Amount Per Serving
Calories 154
Calories from Fat 9
% Daily Value*
Fat 1g2%
Sodium 14mg1%
Potassium 63mg2%
Carbohydrates 41g14%
Protein 1g2%
Vitamin A 85IU2%
Vitamin C 24mg29%
Iron 1mg6%
* Percent Daily Values are based on a 2000 calorie diet.
This post was first published on An Edible Mosaic on October 14, 2013. I updated it with more information on August 10, 2020.
Disclosure: This post contains Amazon affiliate links to products I believe in, which means that even though it doesn't cost you anything extra, I will receive a small amount of money from the sale of these items. Thank you for helping to support An Edible Mosaic!