This gluten free healthy homemade lactation cookies recipe is rich in galactagogues, which are thought to contain milk supply-boosting nutrients in lactating women. They're deliciously subtly sweet and nutty with the flavors of coconut, maple, and pecan!
When a dear friend and quite possibly the kindest person you know has her first baby (a sweet little girl), you do the only thing you can when you live 12 hours away: make cookies and mail them to her!
I would have loved to pop by to help clean, organize, and stock the freezer in preparation for baby's arrival. The only issue impeding my efforts was geography (which was unfortunately, quite a problem!). But I still wanted to do something to show my friend I love her.
My friend is breastfeeding because it's what's best for her and baby. (If you're interested, you can read about the benefits of breastfeeding for mom and baby on Healthline and read all about nursing on WebMD.) I was brainstorming gift ideas, and lactation cookies came to mind.
What Are Lactation Cookies?
Also called nursing cookies and breastfeeding cookies, lactation cookies are cookies for women who are lactating.
These cookies contain ingredients believed to help nourish lactating women and boost their milk supply.
Healthy Homemade Lactation Cookies Recipe
These homemade lactation cookies are particularly healthy and nutrient-dense. They're gluten free and almost paleo expect for the addition of oats, which are a key ingredient. Other key ingredients are brewer's yeast, fenugreek, and flaxseed meal.
Knowing my friend's preference to not over-indulge in sugar, I sweetened these cookies just ever so slightly with coconut sugar and a hint of maple. If you like things on the sweeter side, feel free to double the amount of coconut sugar. Or you can use regular brown sugar instead if it's what you have on hand.
If you're looking for a sweet treat that's nutrient-rich and contains galactagogues to help boost milk supply, these are the best lactation cookies for you!
Healthy Lactation Cookies Ingredients
In this section I talk about the ingredients and give substitution ideas. For the full recipe (including ingredient amounts), see the recipe card below.
This recipe is full of nutritious ingredients:
Coconut oil - or you can use ghee (clarified butter)
Coconut butter - also called coconut manna
Eggs - acts as a binder in this cookie recipe
Pure maple syrup - adds a subtle smoky sweetness, and the stickiness helps bind the cookies
Pure vanilla extract - for flavor and aroma
Old-fashioned rolled oats - oatmeal is a key ingredient in nursing cookies, so don't skip the oats; be sure to use old-fashioned rolled oats (not instant oats) for the right texture
Unsweetened shredded coconut - this nutrient-rich ingredient adds flavor and texture
Golden flaxseed meal - this is another crucial ingredient in this recipe
Coconut sugar - this is the main sweetener in our healthy breastfeeding cookies; if you want, you can use brown sugar instead
Hemp hearts - for added nutrition
Brewer's yeast - this is another important component in lactation cookies
Sea salt - to enhance the flavor
Fenugreek - this spice is another galactagogue to help boost milk supply in nursing mothers
Cinnamon - for flavor and aroma
Baking powder - to help achieve the right texture
Pecans - for flavor and nutty crunch; you can substitute with any type of nuts you like, such as walnuts or almonds
And these cookies are very easy to make, similar to drop cookies!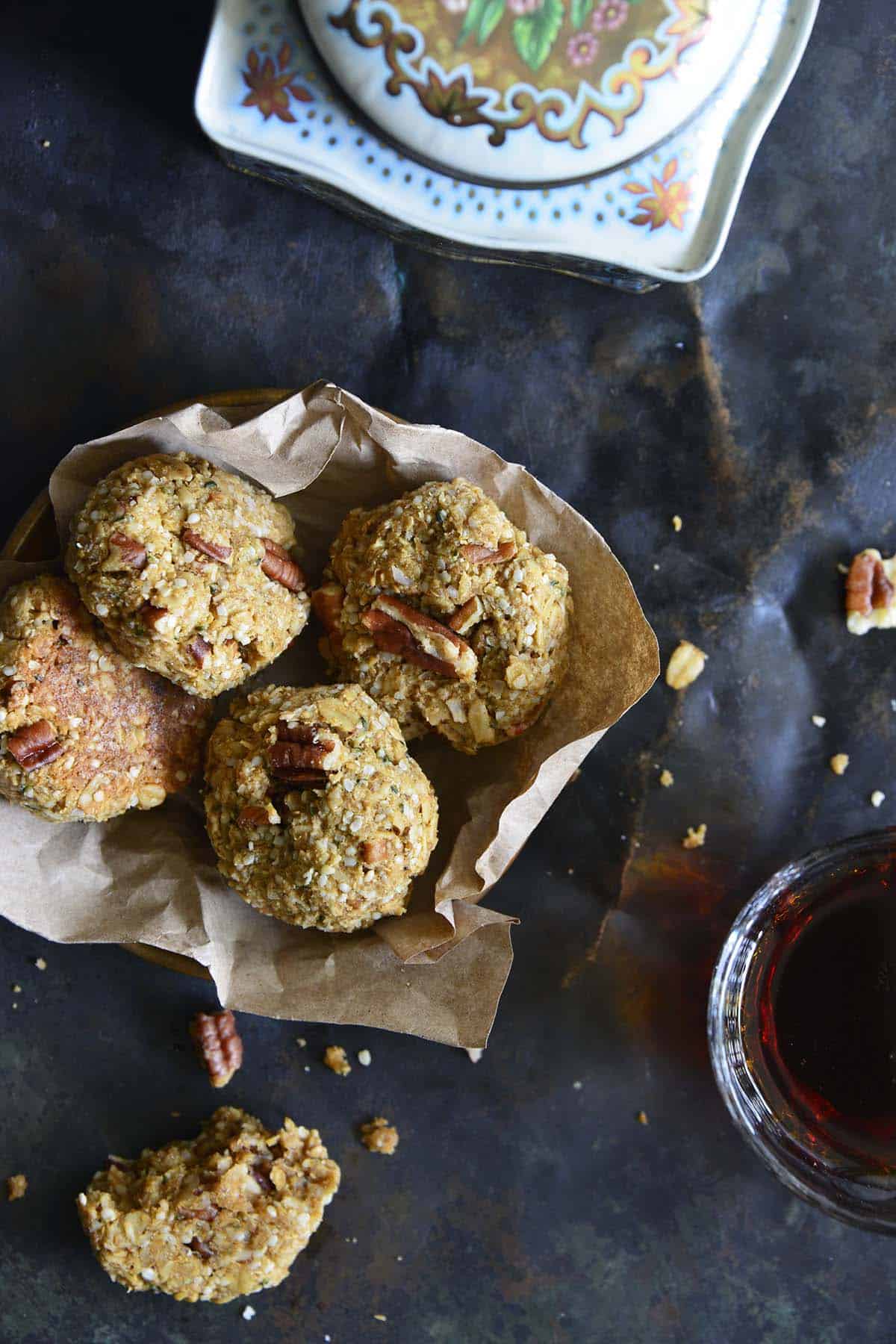 Do Lactation Cookies Work?
I'm not a doctor and I can't personally speak as to whether or not these cookies actually perform their intended function. I've heard there is some controversy as to whether they actually do improve milk supply, but some nursing moms swear by them, claiming that they've been a lifesaver when their milk supply dropped.
Either way, these cookies are full of real foods and nourishing ingredients, and my friend raved about the flavor, so it's a win in my book.
The other perk about having these cookies on hand when you're nursing this that you have cookies on hand. During such a busy time when a mom is juggling so many things, I don't think it could ever be a bad thing to have a nutritious snack ready and waiting for when she's hungry and needs to eat something fast.
What Makes Lactation Cookies Work?
There are certain ingredients, which are called galactagogues, that increase milk supply in lactating women. The ingredients that are thought of as galactagogues in this recipe for breastfeeding cookies include: oatmeal, brewer's yeast, fenugreek, and flaxseed meal. This recipe seamlessly integrates everything into delicious, nourishing cookies.
Read more about it in Foods to Increase Breast Milk Supply on Very Well Family and 7 Lactogenic Foods for Nursing Moms on Motherly.
Oatmeal Lactation Cookies
When I was researching the best ingredients to include in this recipe, oatmeal keep popping up over and over, so I knew I wanted to include it in this recipe. Plus, oats lends a delicious chewy texture to cookies, so it's a win all around!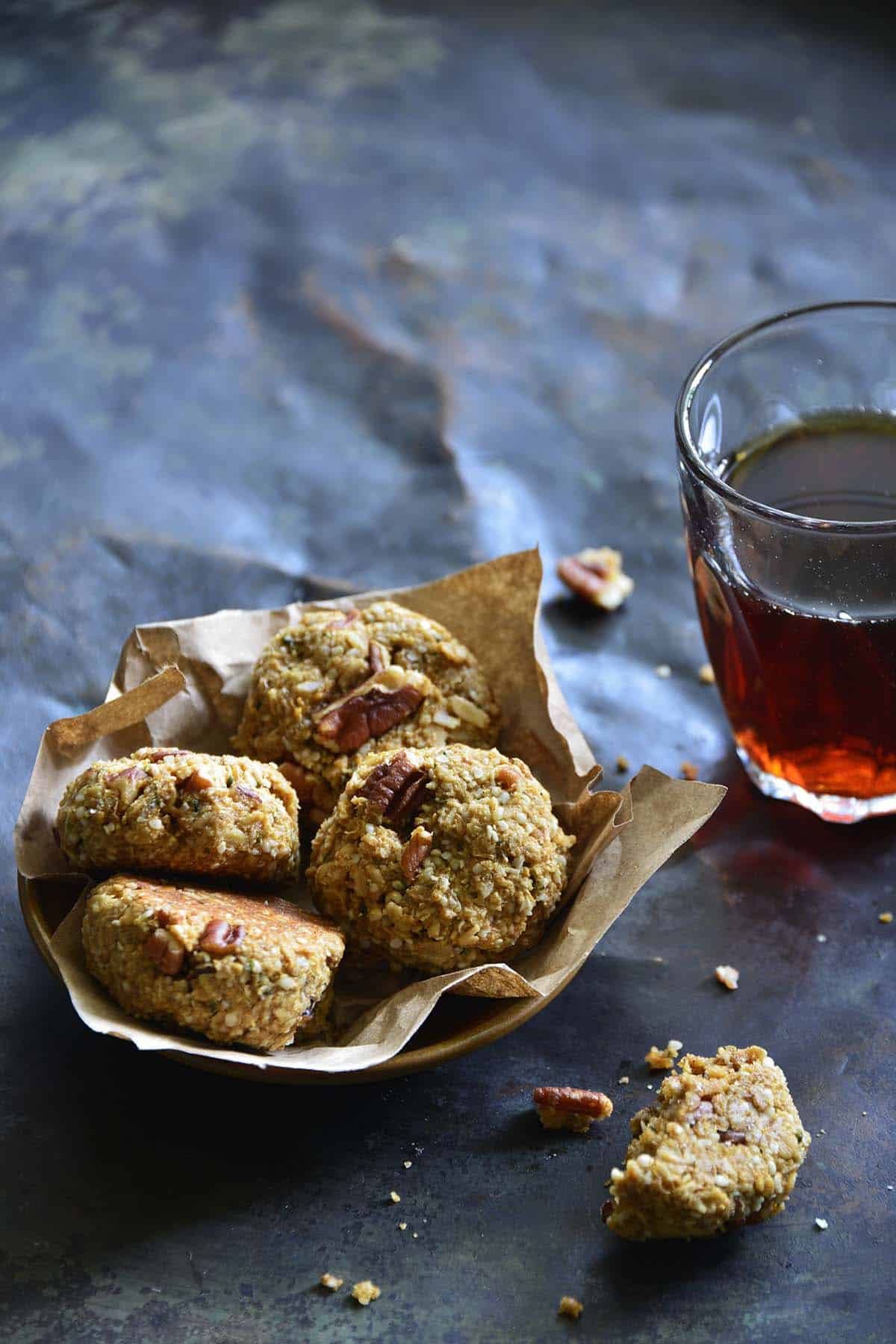 More Nutrient-Dense Make-Ahead Snacks
Let's Connect


Did you make this recipe? Please rate it and leave a comment below. You can also tag @anediblemosaic on social media.
To stay up-to-date, follow me on Facebook, Instagram, Pinterest, and Twitter!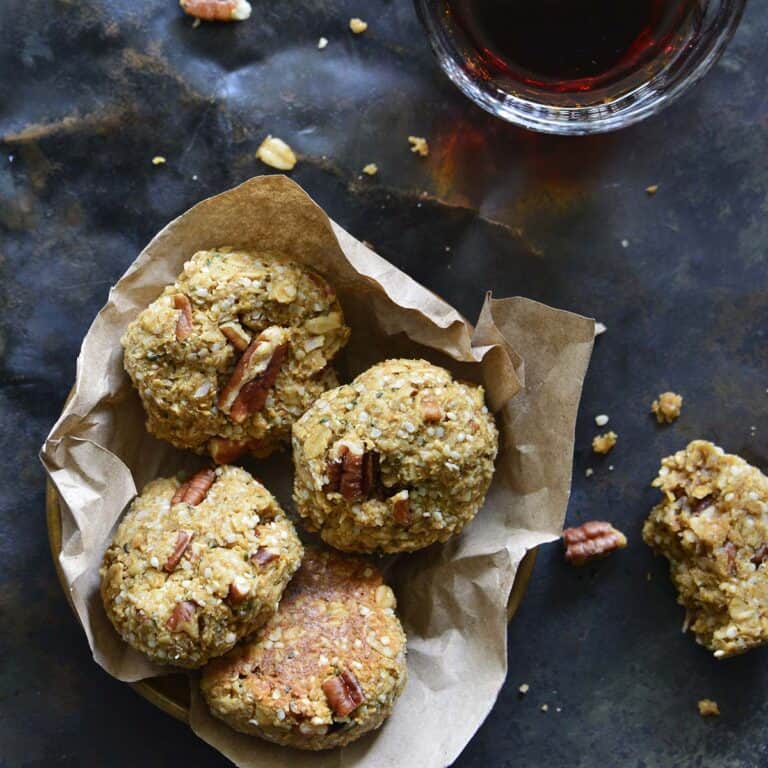 Best Homemade Healthy Lactation Cookies Recipe
This gluten free healthy homemade lactation cookies recipe is rich in galactagogues, which are thought to contain milk supply-boosting nutrients in lactating women. They're deliciously subtly sweet and nutty with the flavors of coconut, maple, and pecan!
Instructions
Preheat the oven to 350F; line 2 large baking sheets with parchment paper or silpat liners.

Melt together the coconut oil and coconut butter on the stovetop; transfer to a bowl and cool slightly. Whisk in the eggs, maple syrup, and vanilla. Set aside for now.

In a large bowl, stir together the oats, coconut, flaxseed meal, coconut sugar, hemp hearts, brewer's yeast, salt, fenugreek, cinnamon, baking powder, and pecans.

Stir the wet ingredients into the dry.

Scoop out 2 tablespoons of dough, roll it into a ball, place it on the cookie sheet, and flatten it slightly. Continue this way until all the dough is rolled.

Bake the cookies until light golden on the bottom, about 15 minutes, rotating the trays once halfway through.

Cool completely on the trays before removing.
Faith's Tips
Storage: Store these cookies covered in a glass container at room temperature for up to 2 weeks.
Nutrition
Nutrition Facts
Best Homemade Healthy Lactation Cookies Recipe
Amount Per Serving (2 cookies)
Calories 337
Calories from Fat 225
% Daily Value*
Fat 25g38%
Cholesterol 27mg9%
Sodium 235mg10%
Potassium 325mg9%
Carbohydrates 22g7%
Protein 9g18%
Vitamin A 66IU1%
Vitamin C 1mg1%
Calcium 62mg6%
Iron 3mg17%
* Percent Daily Values are based on a 2000 calorie diet.