This Low Carb Crackers Recipe makes rich, buttery, nutty, and flaky gluten free crackers that are perfect for snacking on or adding to a cheese and cracker tray!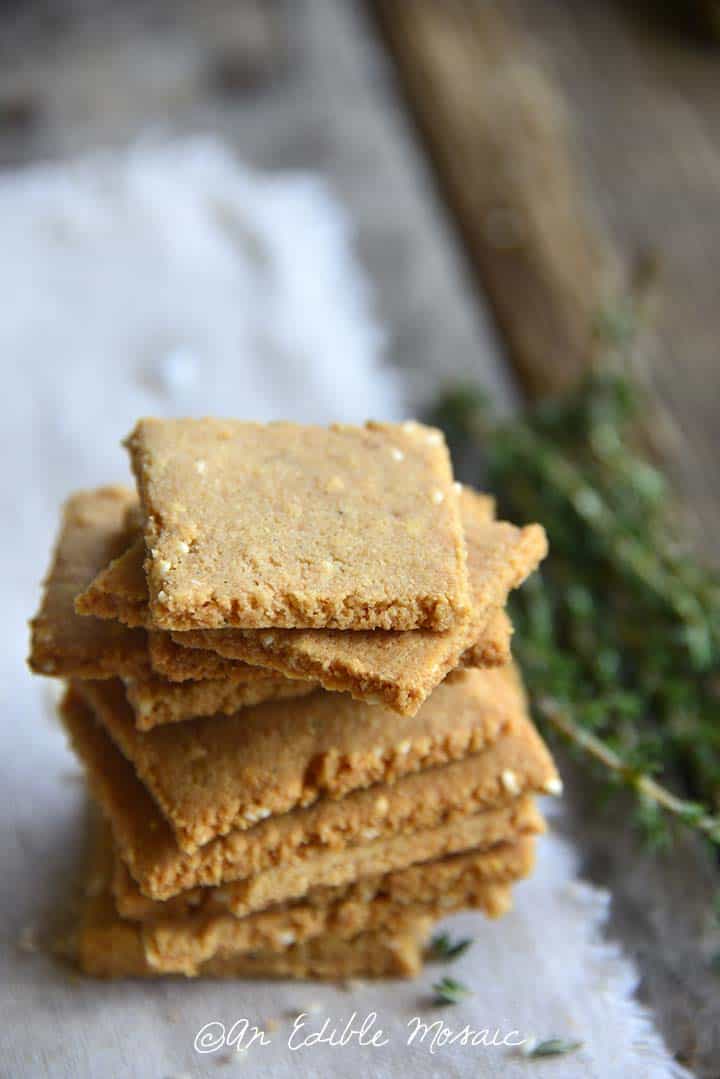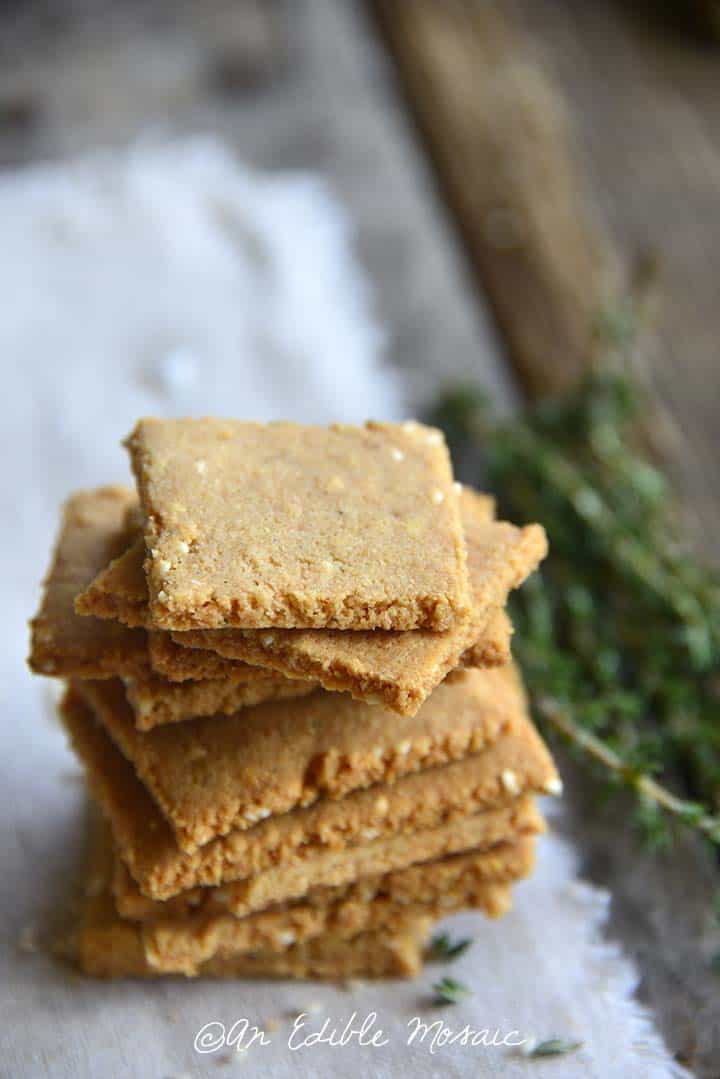 As much as I love a sweet treat, I also enjoy a salty snack. Popcorn, pretzels, and chips lookout because these low carb crackers have all the crunch factor and flavor, but without the carbs!
Before making these crackers I was looking around for a good recipe. I saw a lot, but nothing that really stuck out to me. There were quite a few that were based on fathead dough and as much as I love the versatility of fathead dough, it wasn't quite what I wanted.
I also saw a ton of recipes for cheese crisps (check out my cheese crisps recipe here), but again, they weren't quite what I was going for.
So I decided to experiment! I set out with flaky, buttery crackers in mind and that's exactly what these are. The combined use of egg whites and butter creates a wonderful flaky texture and buttery flavor. Don't be tempted to just a whole egg instead of the whites, or coconut oil instead of the butter! After I perfected the recipe last summer, I started to make them regularly.
Pro Tip: Make a batch of these Low Carb Crackers and keep them stashed in your pantry so that a quick keto cheese and cracker tray is always easy to whip up. Or a fast low carb snack is always on hand!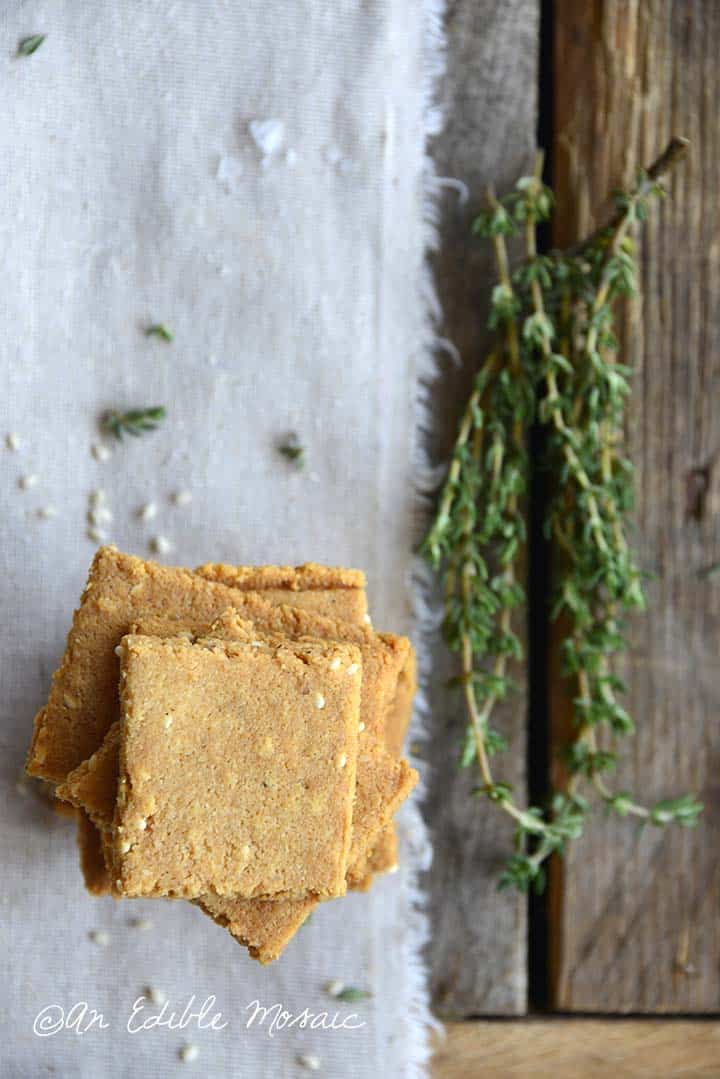 What Are Butter Crackers?
Two of the most popular store-bought butter crackers are Ritz and Keebler Club. Unfortunately, both of these are pretty high in carbs and neither of these crackers are keto friendly. Unless maybe if you have a really small serving and make it your only carbs for the day, which I'm just not willing to do, lol!
A good butter cracker should have a light, flaky texture and rich buttery flavor. I kept my Low Carb Crackers Recipe as low in carbs as possible while still maintaining the integrity of a classic butter cracker's texture and flavor.
Are There Keto Friendly Crackers?
If you're looking for a keto or low carb store-bought cracker, check out the label before buying. Pay attention to the ingredient list to see if it contains ingredients that you try to avoid (for example, sources of sugar or gluten). Also take a look at the nutrition information to make sure the carb count can fit into your meal plan.
I haven't found a store-bought brand of crackers that has an ingredient list and nutrition profile that I'm comfortable enough with to eat when I want to stay in ketosis. But not to worry, it's quick and easy to make homemade crackers!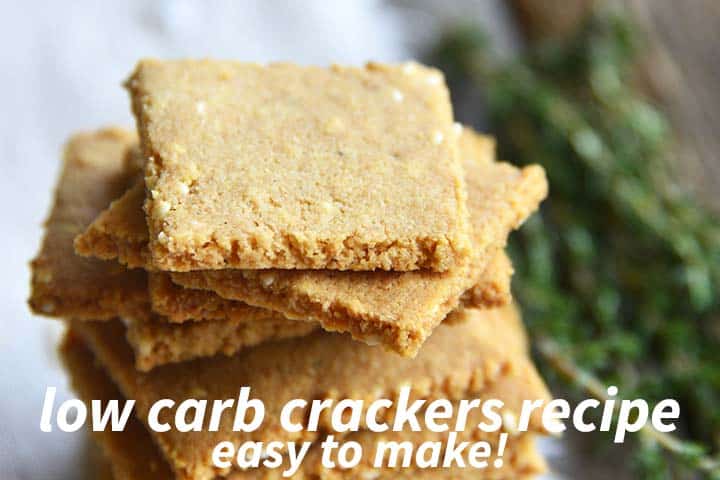 How to Make Keto Crackers (My Low Carb Crackers Recipe is Really Easy!)
Ingredients for This Low Carb Crackers Recipe:
Unsalted butter
Egg whites
Salt
Black pepper
Almond flour
Sesame seeds
Method to Make This Low Carb Crackers Recipe:
Make the dough! Basically just beat everything together and you'll end up with dough that's similar to cookie dough, which is perfect for this recipe.
Roll out the dough between 2 sheets of parchment paper.
Remove the top piece of parchment and transfer the dough (still on the parchment paper) to a half sheet pan.
Score the crackers, and then bake.
Cool the crackers and then break them along the scored lines.
What Is a Half Sheet Pan?
The amount of dough that this Low Carb Crackers Recipe makes rolls out to be the perfect amount to fit on a half sheet pan. A standard half sheet pan is 18 by 13 inches (46 by 33 centimeters).
Can I Use Wax Paper Instead of Parchment Paper?
In some circumstances, such as when you're wrapping a sandwich, either wax paper or parchment paper will work equally well. However, when it comes to baking, parchment paper will work, while wax paper will not.
Wax paper is not heat-resistant, and it may melt or ignite in the oven. On the other hand, parchment paper can handle temperatures up to 450F (check the specific label because the temperature can vary slightly between brands).
What is the Best Low Carb Snack?
The best low carb snack is the one you enjoy eating that will keep you nourished while keeping carbs down, and help subdue cravings for junk food! Here are a few of my favorite low carb snacks:
More Low Carb Snack Ideas: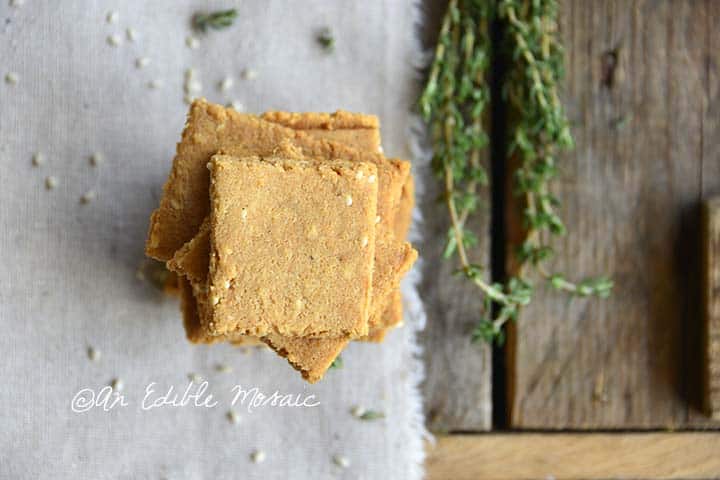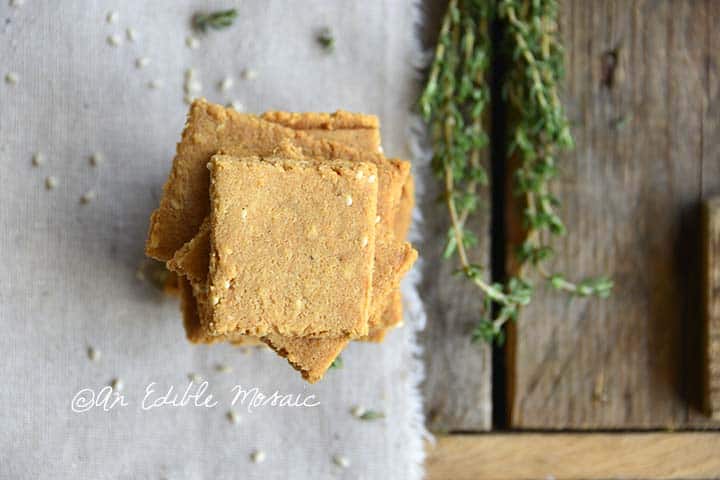 Did you make this recipe? Please rate it and leave a comment below because I love hearing from you! You can also tag @anediblemosaic on social media. To stay up-to-date FOLLOW ME on Instagram, Twitter, and Facebook. Xoxo, Faith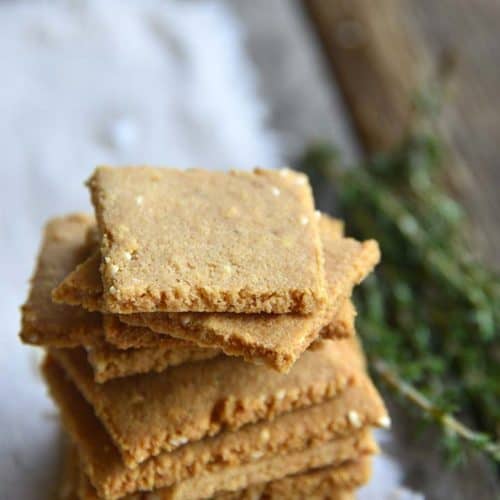 Low Carb Crackers Recipe (Buttery Sesame Almond Gluten Free Crackers)
This Low Carb Crackers Recipe makes rich, buttery, nutty, and flaky gluten free crackers that are perfect for snacking on or adding to a cheese and cracker tray!
Instructions
Heat the oven to 350F.

Beat together the butter, egg whites, salt, and black pepper in a large bowl.

Stir in the almond flour and sesame seeds.

Roll the dough out between 2 pieces of parchment paper to a rectangle about the size of a half sheet pan (18 by 13 inches).

Peel off the top piece of parchment paper and place the crackers (still on the bottom piece of parchment paper) onto a half sheet pan.

Use a knife and ruler or pizza cutter to score the dough into crackers. To get 48 crackers, make 5 evenly spaced cuts length-wise and 7 evenly spaced cuts across.

Bake until golden, about 18 to 24 minutes, rotating the tray once halfway through.

Cool completely, and then break up the crackers where the dough was scored.

Store in an airtight container at room temperature for up to 1 month.
Faith's Tips
Net Carbs: 4g per serving
This recipe makes 8 servings and 1 serving is 6 crackers if you cut the dough into 48 crackers.
Nutrition
Nutrition Facts
Low Carb Crackers Recipe (Buttery Sesame Almond Gluten Free Crackers)
Amount Per Serving
Calories 293
Calories from Fat 243
% Daily Value*
Fat 27g42%
Cholesterol 30mg10%
Sodium 159mg7%
Potassium 21mg1%
Carbohydrates 7g2%
Protein 7g14%
Vitamin A 350IU7%
Calcium 89mg9%
Iron 1.5mg8%
* Percent Daily Values are based on a 2000 calorie diet.
Disclosure: This post contains Amazon affiliate links to products I believe in, which means that even though it doesn't cost you anything extra, I will receive a small amount of money from the sale of these items. Thank you for helping to support An Edible Mosaic!