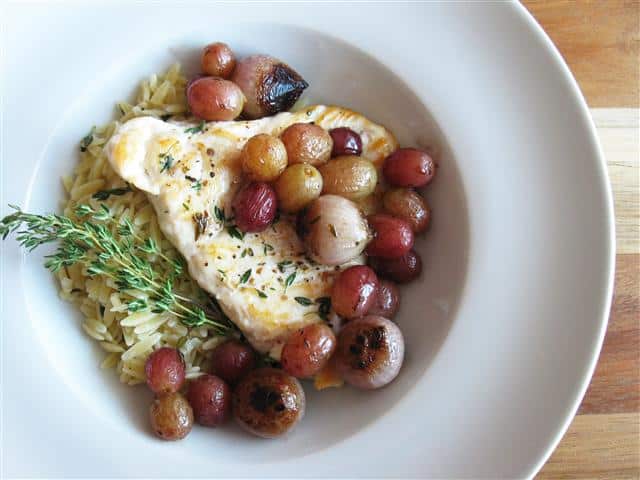 Grapes have always been one of my favorite fruits. I remember as a kid in summertime I used to love freezing them. Cool and refreshing, yes, but also so incredibly sweet (if you've ever had ice wine, you'll know what I mean). Roasting also brings out grapes' natural sweetness. I serve my roasted grapes with pan-seared chicken cutlets and thyme-buttered orzo, for a delicious take on the classic chicken with grapes. It goes to show, grapes can be much more than a snack or a pretty addition to a cheese platter.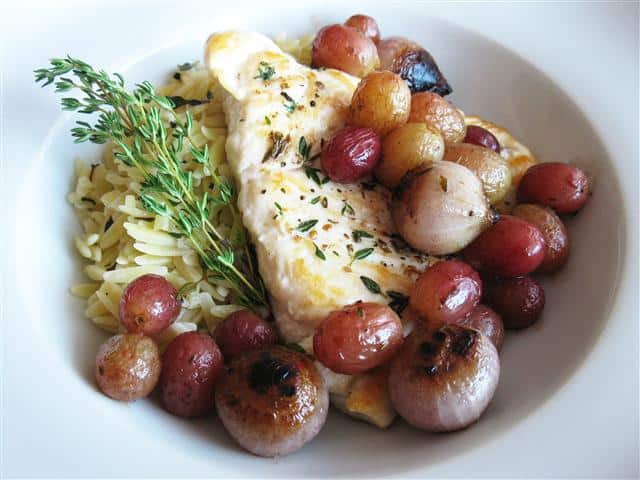 A Couple Ideas for Variations: Just a couple things I want to mention. I used thyme (not only because it goes so well, but also because I seriously love it), but I also think tarragon would be great in this dish. Also, I deglaze the pan with a little red wine vinegar, but if you prefer you can use red wine instead. To do so, omit the sugar and add a splash (maybe ¼ c cup or so) of red wine (off the flame), then cook until reduced by half and proceed with the recipe. Oh, one last thing…it might be fun to try a green grape variation with white wine vinegar (or whine wine) and maybe some fennel, in which case I would definitely go with tarragon to accent the licorice-y flavor of fennel (and maybe serve it with pan-seared or poached fish!). Ok, I'm pretty excited now. ;)
Roasted Grapes with Shallots & Thyme
(Yield: 2 servings)
4 oz (about 8 small) shallots or pearl onions
1 teaspoon olive oil
1 teaspoon butter
1 teaspoon sugar
1 TB red wine vinegar
2 teaspoon minced fresh thyme
9 oz (about 1 ½ c) seedless red grapes, rinsed and drained
Salt and pepper
Prepared thyme-buttered orzo (for serving)
Pan-seared chicken cutlets (for serving)
Preheat oven to 325F. Peel shallots (or pearl onions) by cutting off the stem end, then carefully using a sharp paring knife to remove the papery outer layer. Put the oil and butter in a medium oven-safe skillet over medium heat; when the butter is melted, add the shallots and sauté until starting to brown (about 7 minutes), stirring occasionally. Turn off heat and add the sugar and vinegar (which will bubble vigorously); once the vinegar stops bubbling, add the thyme and grapes. Add a pinch of salt and pepper and give everything a stir. Roast for about 25 minutes (stirring occasionally), until the shallots are tender and golden caramel-colored in places, and the grapes are soft but still hold their shape.
Serve the roasted grapes and shallots alongside orzo and pan-seared chicken cutlets, if desired.