Homemade Concord Grape Juice is a delicious, antioxidant-rich beverage.
I feel like a mom. At least in the sense that I haven't had a hot meal (since I'm too busy photographing them) in about two and a half years. (And yes, of course I understand that a mom's life is so, so much more than that…you moms are incredible!) Like any mom, I do it happily though, since it benefits my blog (which is like my child in a lot of ways).
I don't even mind taking pictures when I'm eating out or walking around town. But…well, sometimes I need a break from the camera.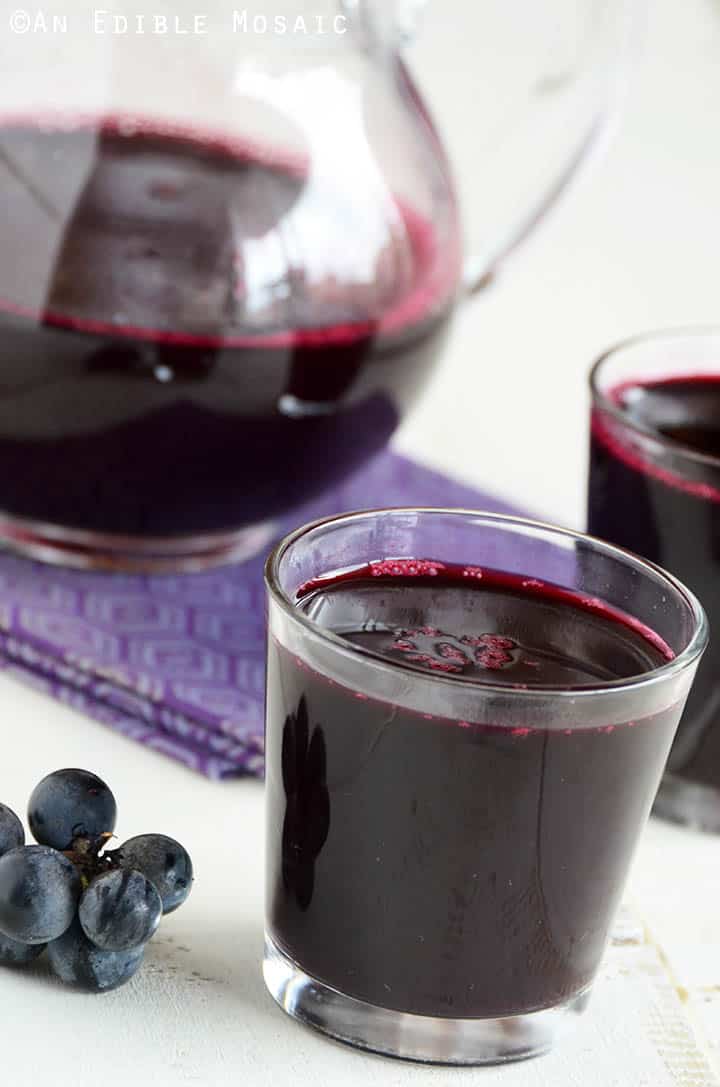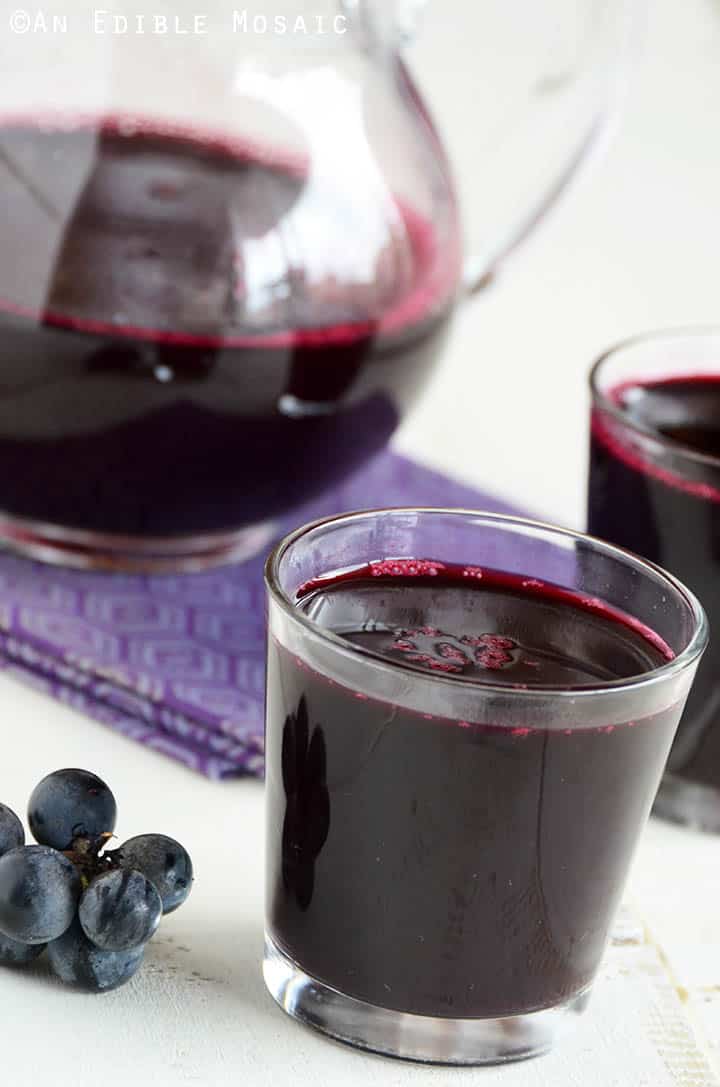 Last weekend I went grape and apple picking with my family. On one hand I really wanted to bring my camera (the thought of gorgeous shots of grape vines and apple trees silhouetted against a bright blue sky studded with puffy white clouds and golden-hued trees in the distance is enough to make any foodie's heart flutter). But on the other hand, for once I just wanted to enjoy an outing without photographing it. In the end I decided to not even take my camera out the door with me…and I felt free as a bird! Maybe I'll get some vineyard and orchard shots next year.
So about this grape juice, which is truly the nectar of the gods. When we picked the Concords, they told us that peak season was two weeks prior, so the grapes were extremely ripe and sweet at that point. The juice is literally just grape juice, no sugar or added preservatives, and straight off the vine the same day. It's deliciously rich and very thick, with an almost syrupy consistency. In a word, amazing.
A glass of this stuff is the perfect way to start the day, since Concord grape juice is thought to have a multitude of health benefits, such as reducing the risk of cancer and improving cardiovascular function (by doing things like increasing the body's level of HDL (good) cholesterol and lowering blood pressure). (If interested, you can read more about the health benefits of Concord grape juice The World's Healthiest Foods or Health Ambition.) That's reason enough for me. Bottoms up, friends.
Homemade Concord Grape Juice
Homemade Concord Grape Juice is a delicious, antioxidant-rich beverage.
Ingredients
4 lbs Concord grapes (weighed after you remove the stems; see Note)
Instructions
Put the grapes in a heavy-bottomed, lidded 5-quart pot and mash them with a potato masher. Cover the pot, bring to a boil over medium heat, and then turn heat down slightly and simmer 10 minutes.
Turn the heat off and cool to room temperature (this will take a couple hours). Strain the juice through a cheesecloth-lined sieve fitted over a bowl to catch the liquid; gently wring the cheesecloth to extract as much liquid as possible (wear food-safe gloves if possible, as grape juice will stain your hands and take a few days to wear off…and yes, I'm speaking from experience, lol!).
Transfer to glass bottles and store in the fridge; shake before serving.
Notes
I read about the method for making homemade grape juice on
Simply Recipes
.
Washing and Weighing:
Wash the grapes before you de-stem them, but weigh them after.
Diluting the Juice and Sweetness Level:
The resulting grape juice is very thick and rich; you can dilute it with water if you like, but I prefer drinking a small quantity of undiluted juice. Also, I used very sweet grapes and the juice didn't need any sugar; if your grapes aren't quite as sweet, add sugar to taste.