Warming and soul-satisfying hot lunches are the perfect way to fuel up and recharge in the middle of the day. All of these meals reheat well in the microwave, and some stay piping hot in a Thermos with no need to reheat. These healthy lunch ideas are great for school, work, or if you work from home!
Hot lunches are not only nourishing, but also incredibly satisfying, especially in colder months.
Leftover dinner recipes are great for repurposing into easy school lunches. But some dishes reheat much better than others! I'm taking the guesswork out of it for you; all of the hot meals here reheat well, or stay piping hot in a Thermos.
Whether you're looking for school lunch ideas, brown bag inspiration for work, or midday meals that you can reheat while working from home, you're sure to find a few hot lunches to inspire you!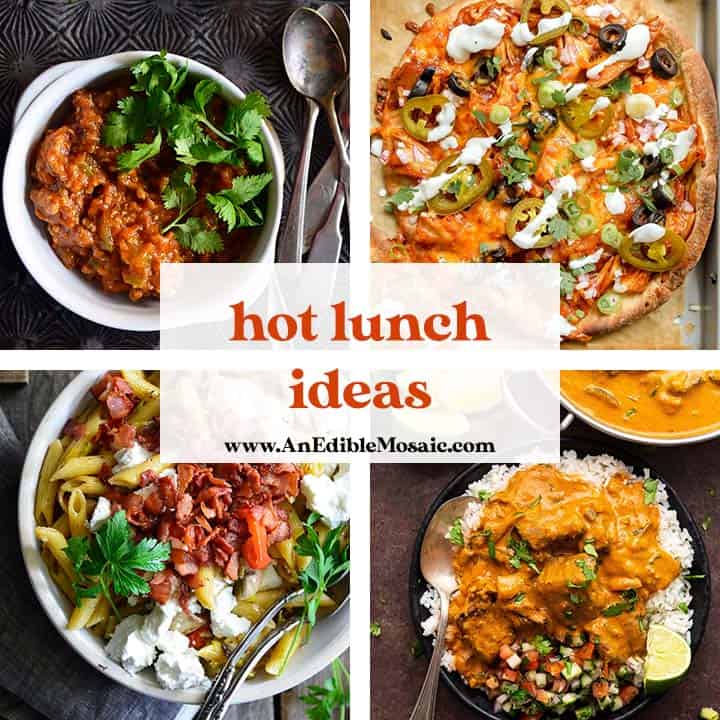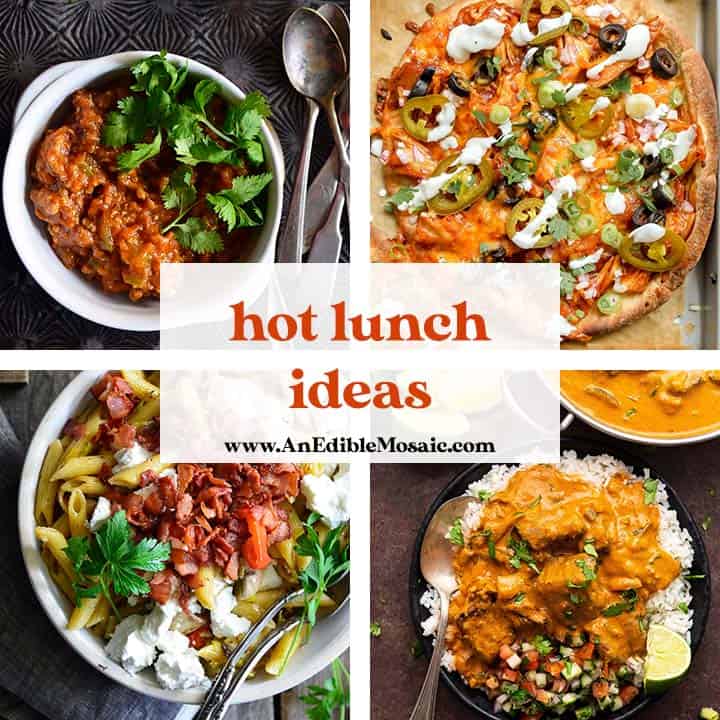 Creamy Chicken and Kale Enchiladas with Salsa Verde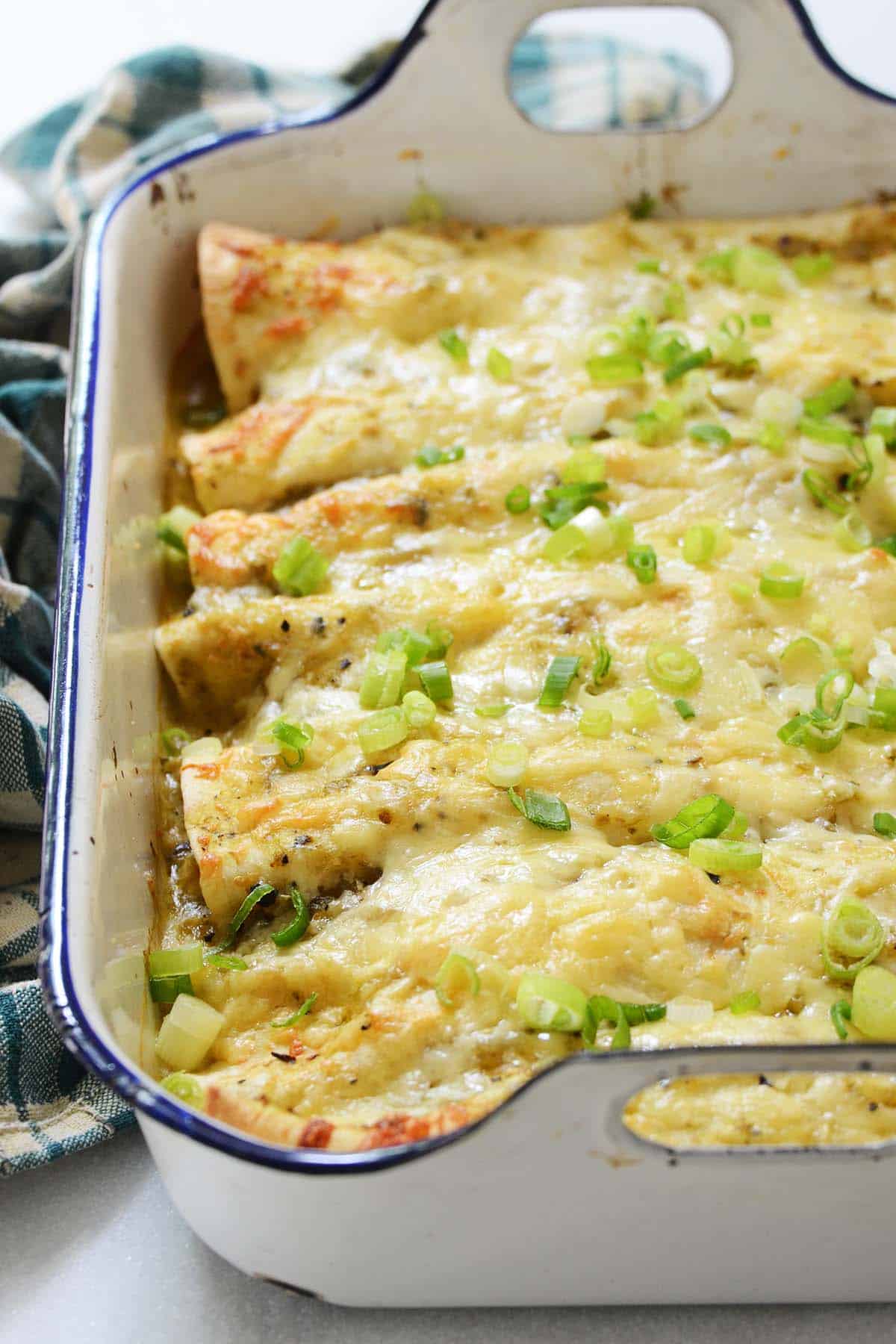 No worries if you're cooking for picky eaters; these cheesy enchiladas are so packed with flavor they won't even notice the kale! And if you're looking for a great way to use rotisserie chicken or leftover chicken, this is it. Get ready for some serious lunch envy from your friends when you pack this!
These glass meal prep containers work well for enchiladas! You can freeze them, pop them in the microwave, and also clean them in the dishwasher.
Get the Creamy Chicken and Kale Enchiladas with Salsa Verde recipe.
Vegetable Beef Alphabet Soup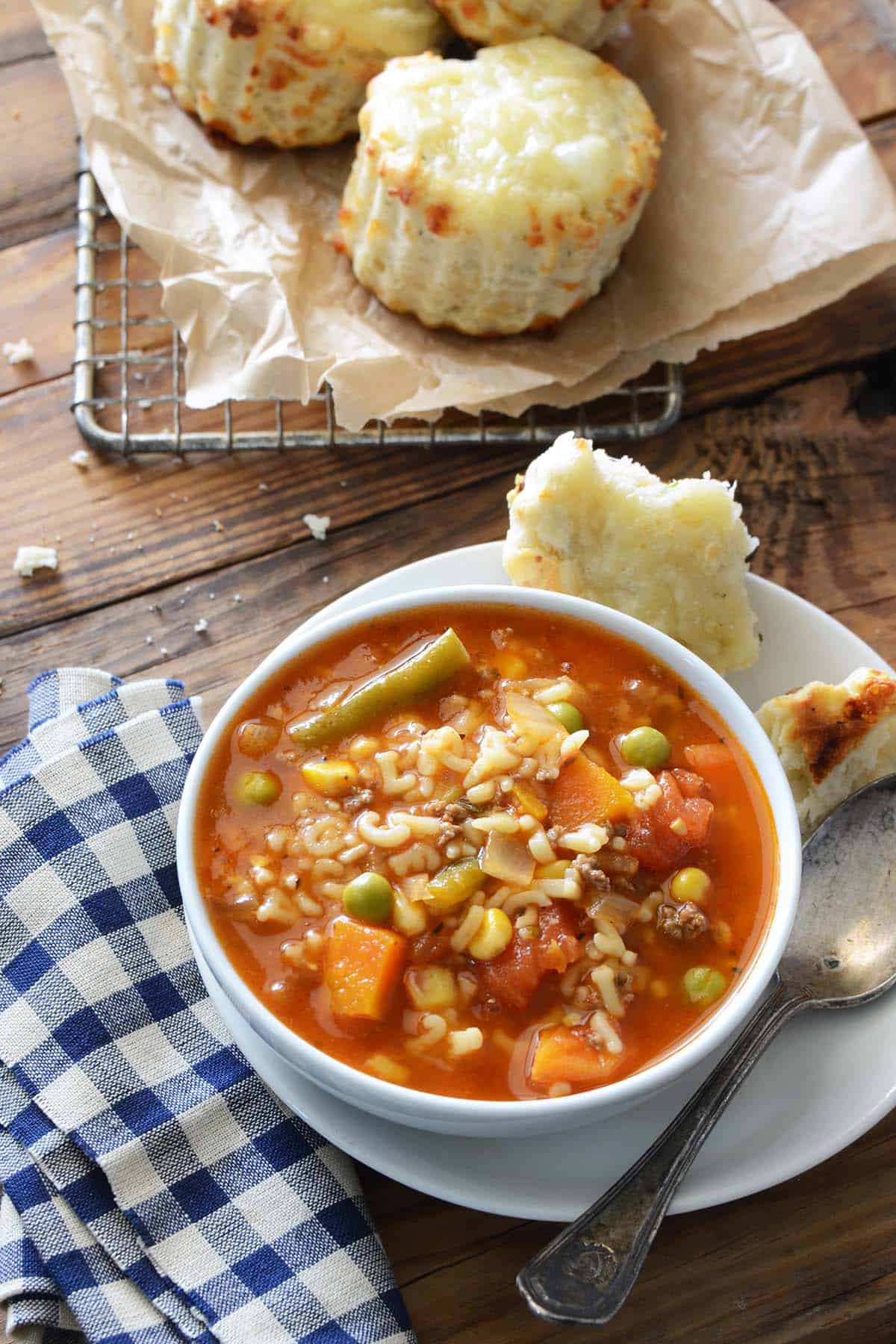 Ok, so first let me just say that the cuteness factor alone is enough to make this soup! But I'll be honest, this soup is so much more than just cute. It's also loaded with veggies and protein, and packed full of flavor. Any way you serve it, this alphabet soup is a favorite with both the young and young-at-heart.
Serve this soup up with a Savory Thyme and Swiss Cheese Scone on the side!
Get the Vegetable Beef Alphabet Soup recipe.
Black Beans
If you're looking for cheap lunch ideas that are nutritious and packed with flavor, this recipe is a must-try!
This easy homemade black beans recipe pairs bold savory flavors like onion, garlic, and smoky cumin with humble beans. And somehow, this dish transforms these simple ingredients into something truly special. Eat the beans as-is, or serve them with rice for a filling meal. Bonus, it's gluten free and easy to make vegan!
Get the Black Beans recipe.
Thai Noodles with Vegetables and Chicken (Soy Sauce Noodles)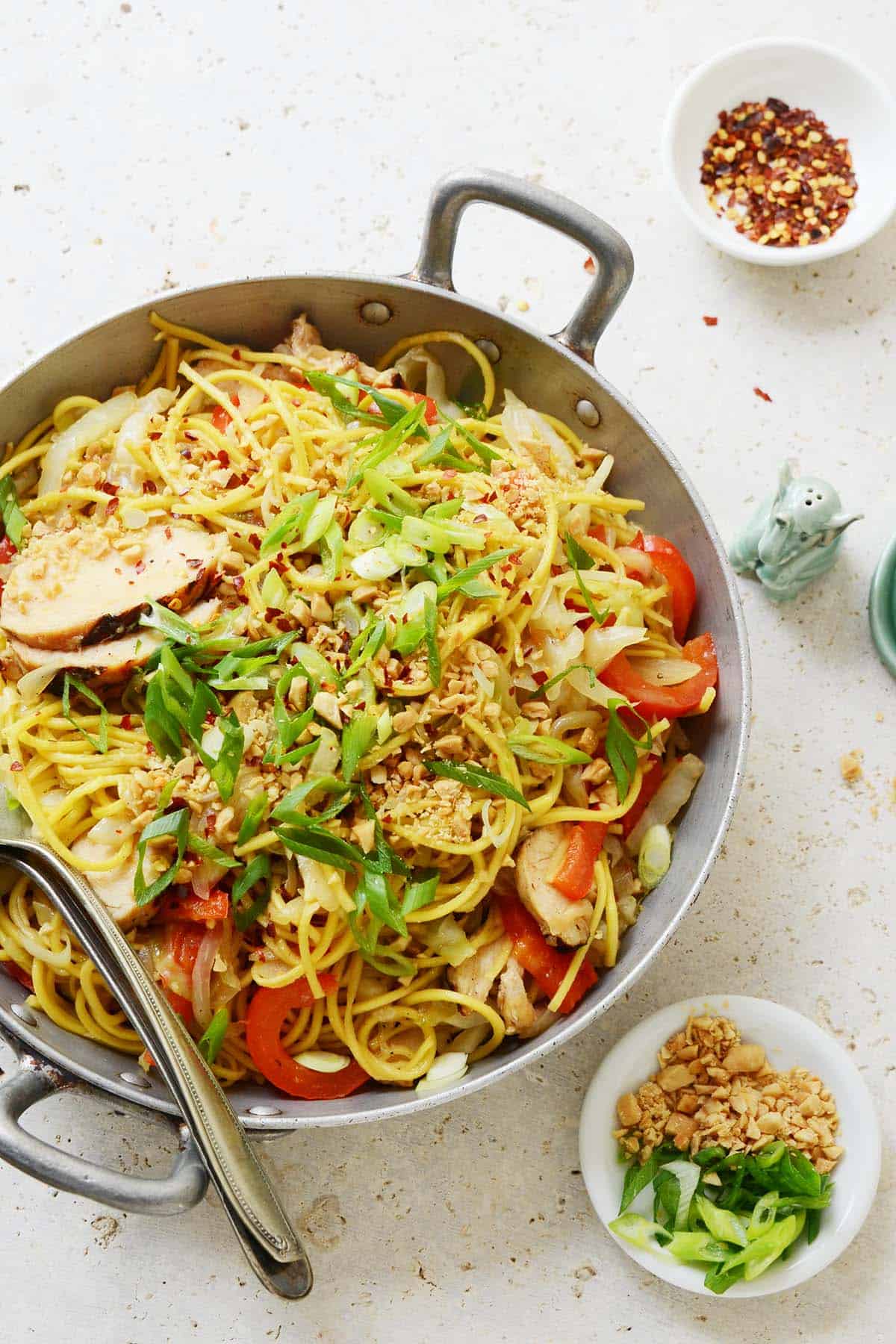 This deliciously balanced noodle dish was inspired by my trip to Thailand. It features a sweet, spicy, salty, umami-flavored sauce that you're going to love. And there's also chicken and a variety of veggies to make it a satisfying meal. (Psst, I love this lunch container for noodles!)
Get the Thai Noodles recipe.
5-Minute Lentil Soup
This lentil soup is not only easy to make, but is also the perfect in a Thermos for a packed lunch. Add a slice of crusty homemade bread for a delicious, warming meal that's quick and easy to whip up.
Get the 5-Minute Lentil Soup recipe on Christina's Cucina.
Instant Pot Picadillo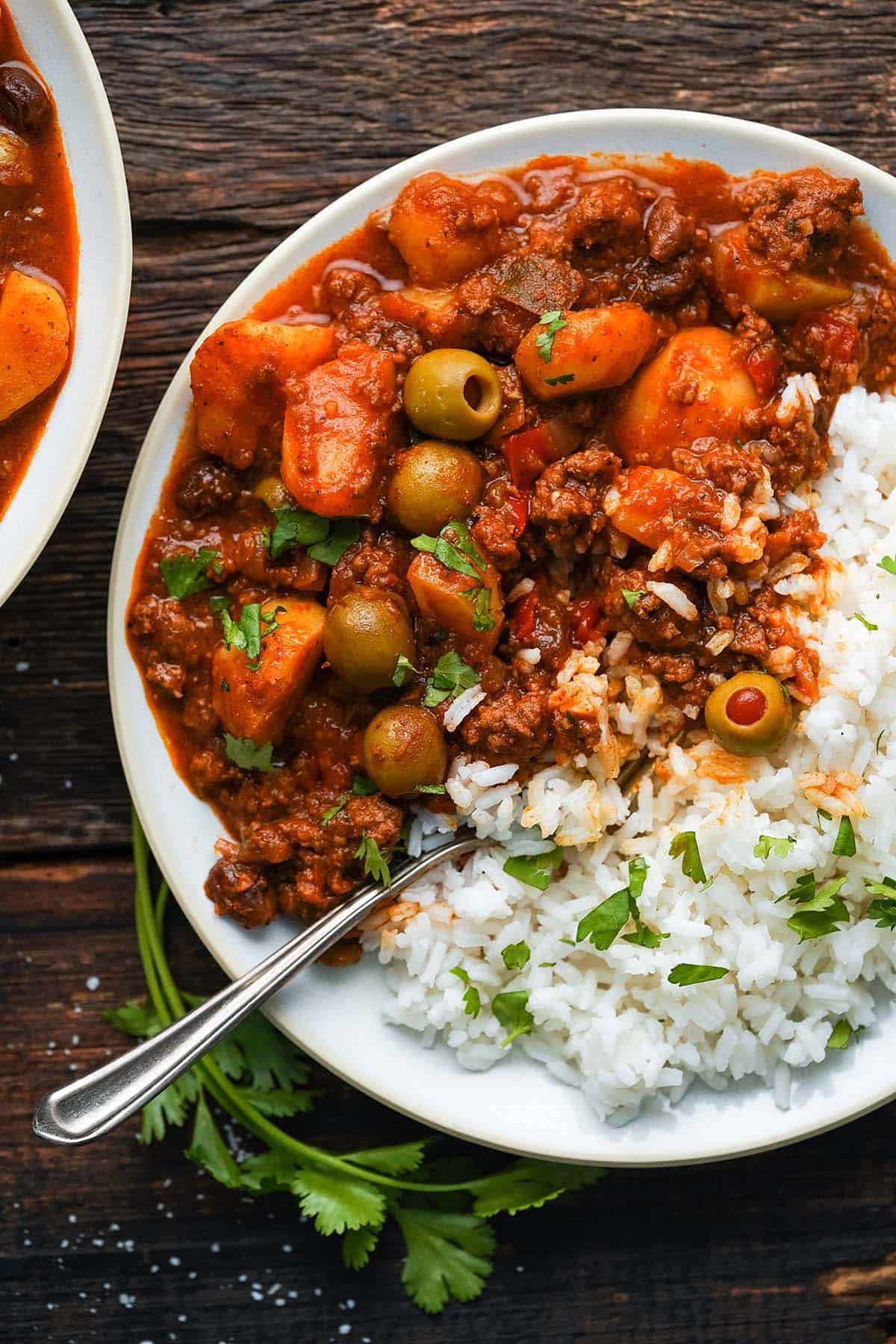 If you've never had Picadillo, you're in for a real treat! This Cuban spin on the classic has raisins, pimento-stuffed olives, and a splash of dry white wine. And bonus, it cooks up quick and easy in the Instant Pot without dirtying any additional pots and pans.
Serve it up with a side of rice, or eat it on its own like chili or stew!
Get the Instant Pot Picadillo recipe.
Barbecue Chicken Flatbread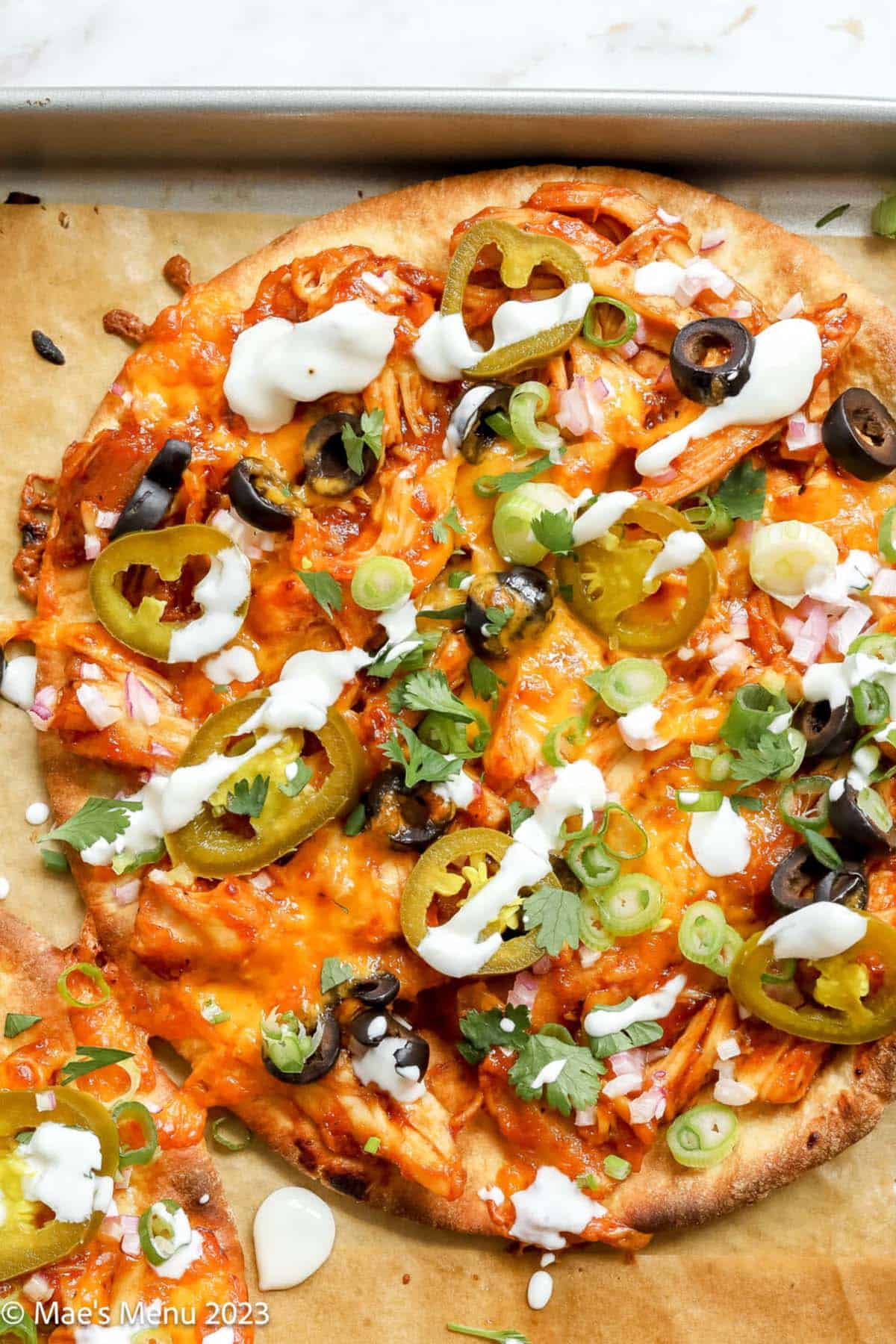 If you love bold and unique pizza flavors, BBQ Chicken Flatbread is the perfect addition to lunchtime. Chicken flatbread pizza is saucy, savory, and ready in under 20 minutes with no kneading required. Make it for dinner and enjoy leftovers for a hot lunch the next day!
Get the Barbecue Chicken Flatbread on Mae's Menu.
Lamb Tikka Masala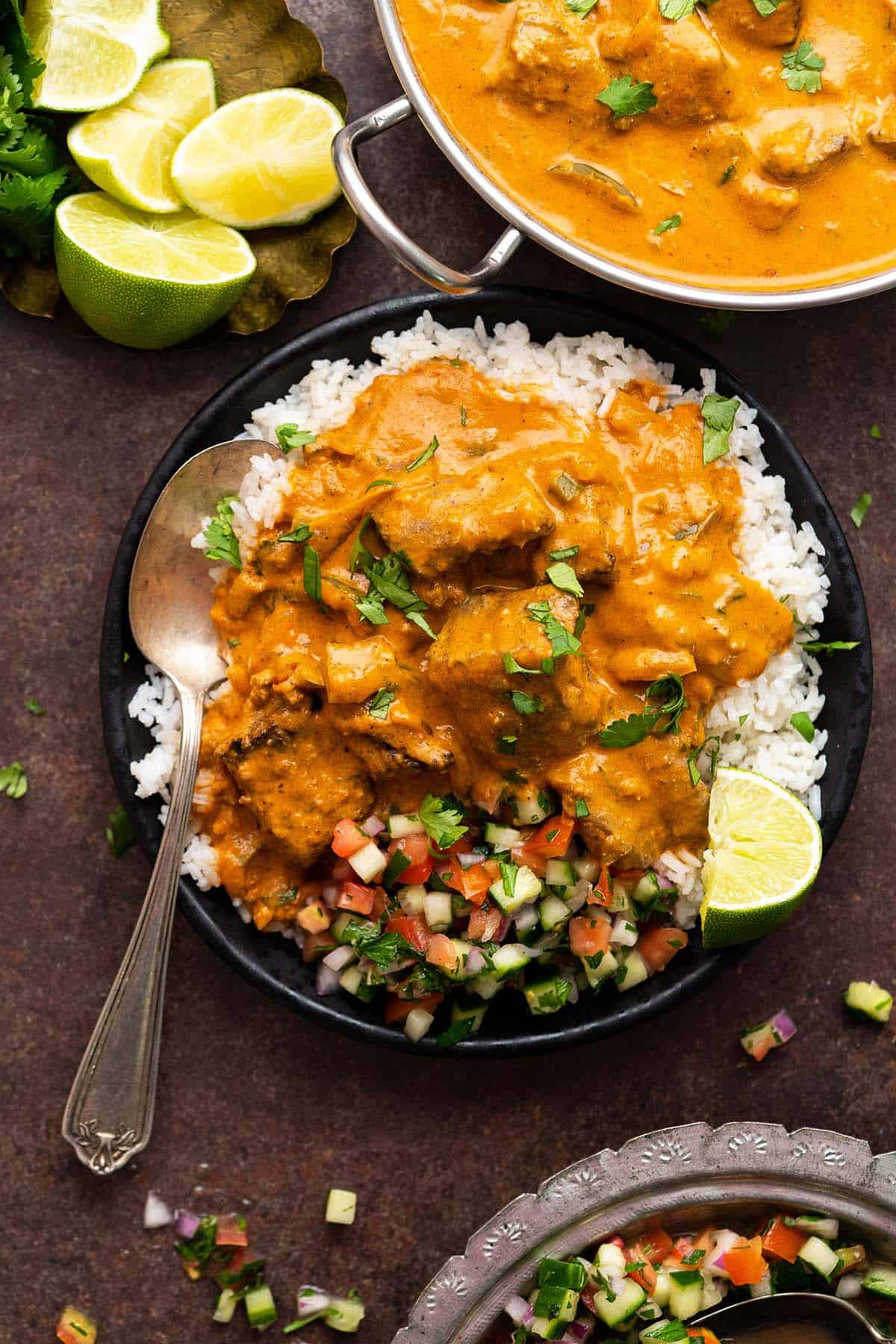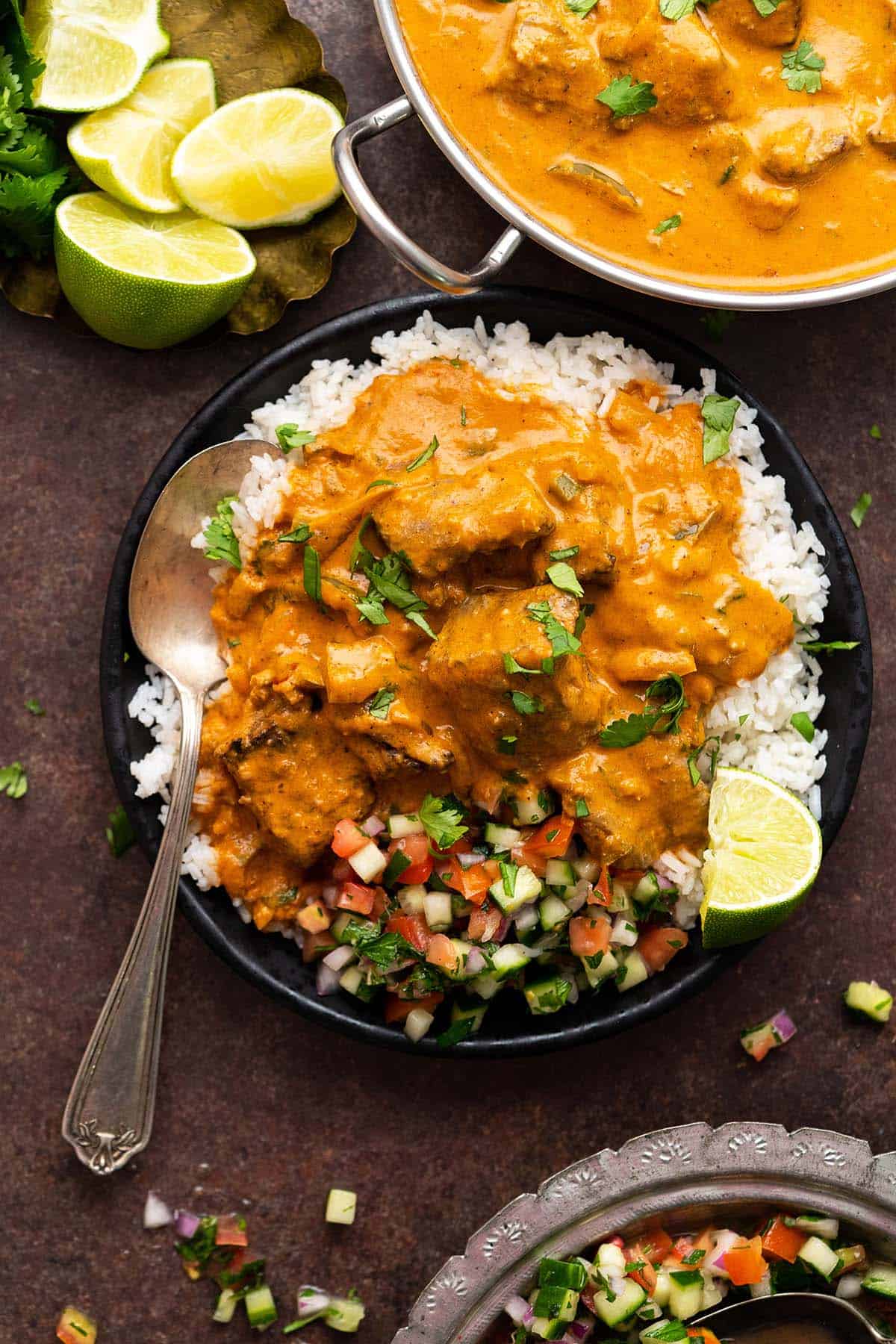 There's no need to head out to your favorite Indian restaurant for lunch when you pack this incredible homemade curry. A richly-spiced creamy gravy with tender pieces of well-seasoned lamb goes perfectly with a side of basmati rice! (This two-compartment glass meal prep container works well for this meal.)
Get the Lamb Tikka Masala recipe.
Sourdough Grilled Cheese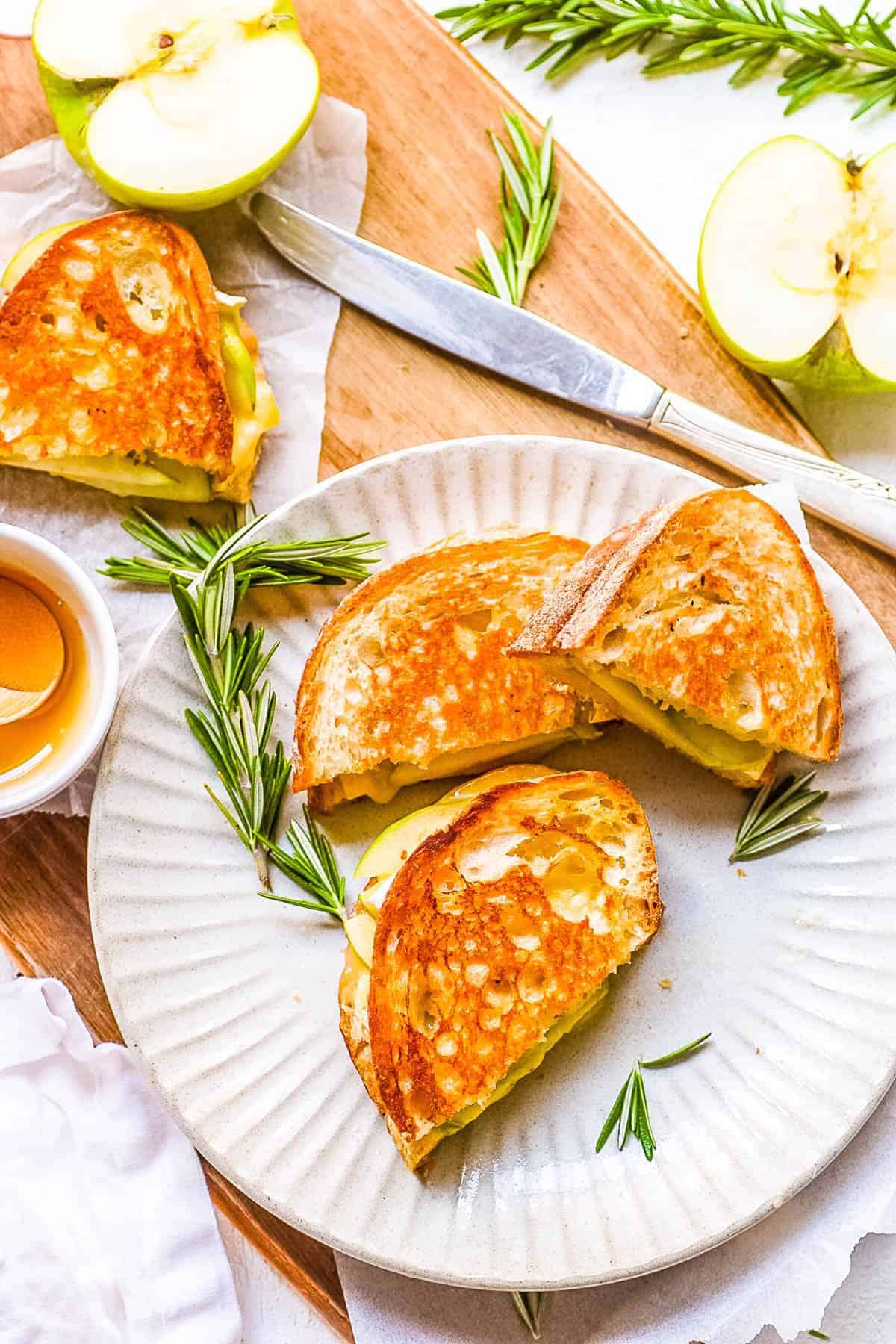 In just 10 minutes, you can have a sandwich that will satisfy all your cravings. Ooey-gooey melted brie paired with the crisp sweetness of thinly sliced apple, all topped off with a drizzle of honey.
Get the Sourdough Grilled Cheese recipe on The Picky Eater.
Turkey Lentil Soup
Cozy up with a Thermos of this flavorful, satisfying turkey lentil soup. It's made in one pot with green or brown lentils, ground turkey, carrots, and diced tomatoes—the perfect lunch or dinner recipe. And bonus, it's gluten free!
Get the Turkey Lentil Soup recipe on Healthful Blondie.
Warm Pasta Salad
If you're looking for an easy pasta dish that feels special, this is it. And bonus, it's also economical!
Penne pasta is paired with crispy bacon and caramelized leeks. Mushrooms and red bell pepper add flavor and bump up the nutrition, and dry white wine deglazes the pan and creates a delicious sauce for this warm pasta salad. A sprinkle of goat cheese on top takes it to the next level!
Pro Tip: Pack the crispy bacon and goat cheese separately so you can add them after you reheat your warm pasta salad.
Get the Warm Pasta Salad recipe.
Easy Pad Pak (Thai Vegetable Stir Fry)
Great hot or cold, this pad pak vegetable stir fry is perfect for lunch! It's packed with umami flavors for a lunch that'll have you excited.
Get the Easy Pad Pak (Thai Vegetable Stir Fry) recipe on Health My Lifestyle.
Low Carb Beef Chili
Chili is one of those things that I make a huge batch of in the winter, and then portion into single-serving containers and stash them in the freezer for anytime I need a quick meal. Chili reheats like a dream!
Pro Tip: Use an electric pressure cooker to whip this up extra fast!
Get the Low Carb Beef Chili recipe on The Keto Queens.
BBQ Chicken Quesadilla
The ultimate chicken quesadilla recipe, this is loaded with saucy barbecue chicken, lots of melty cheese, and Tex-Mex favorites like corn, black beans, and bell peppers. You'll love how quick and easy this is to make!
Get the BBQ Chicken Quesadilla recipe on The Endless Meal.
Instant Pot Beef Barley Soup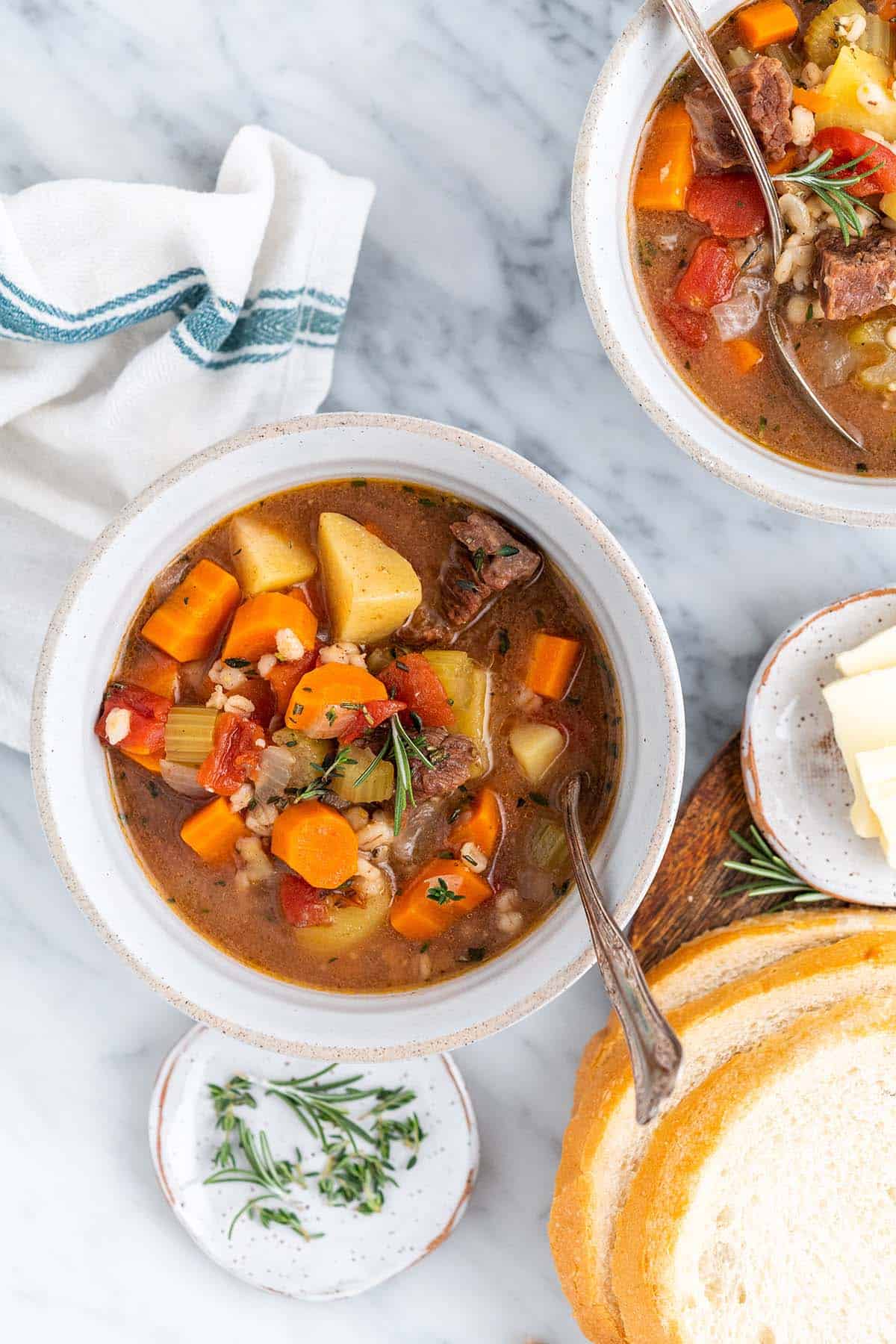 This hearty and satisfying soup has beef, barley, and a variety of veggies in a flavorful tomato-based broth. It's a breeze to make in the Instant Pot, and it freezes beautifully. On your next meal prep day, whip up a batch and store them in individual portions in the freezer for quick lunches and dinners.
Get the Instant Pot Beef Barley Soup recipe.
If You're Packing a Hot Lunch You Might Also Need
More Lunch Inspiration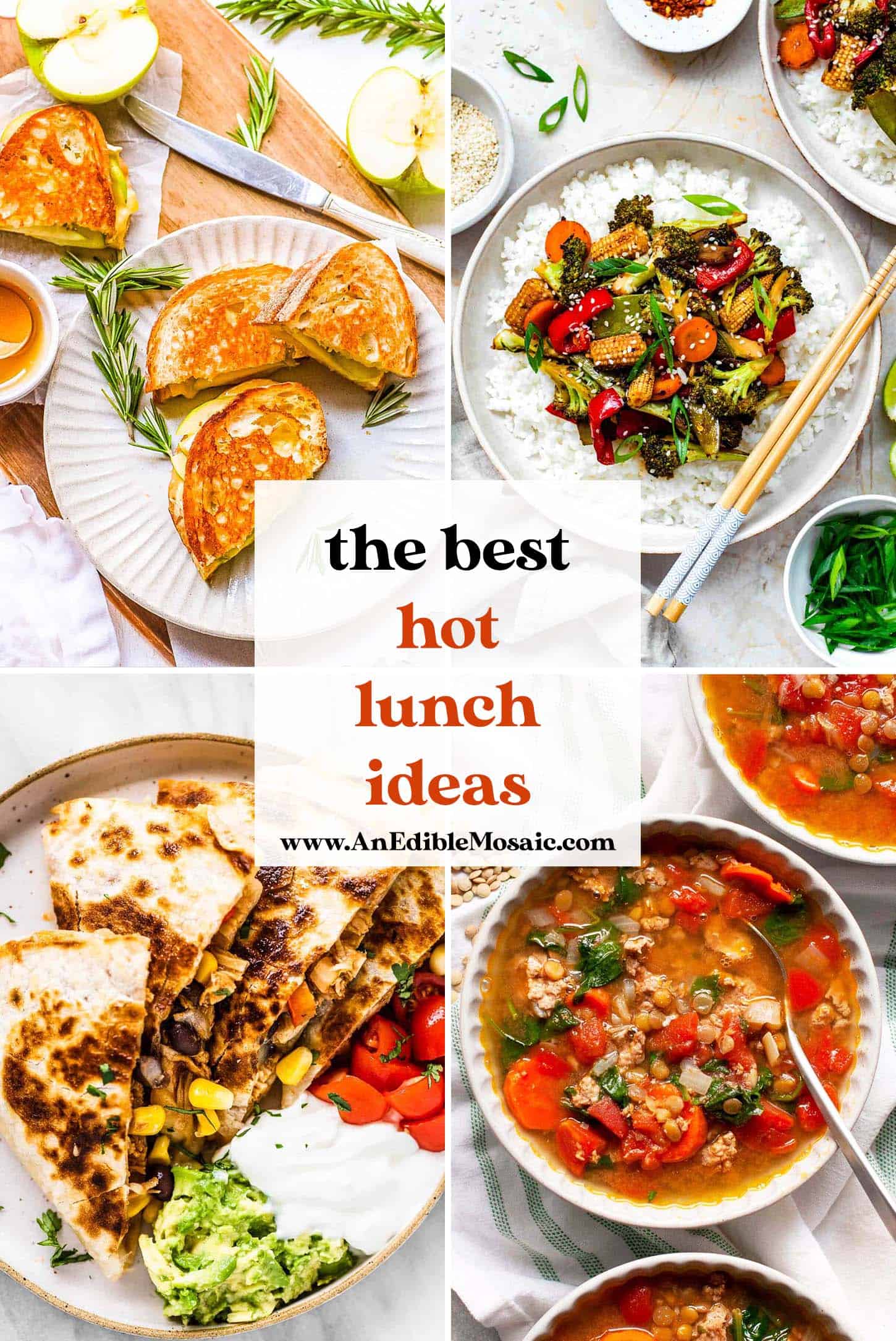 Let's Connect


Did you enjoy this post? Please let me know in the comments below. You can also tag @anediblemosaic on social media.
To stay up-to-date, follow me on Facebook, Instagram, Pinterest, and Twitter!