This Thai Noodles Recipe with Vegetables and Chicken (Soy Sauce Noodles) was inspired by my trip to Thailand! It's packed with flavor thanks to a sweet, salty, umami sauce, and is loaded with vegetables and chicken.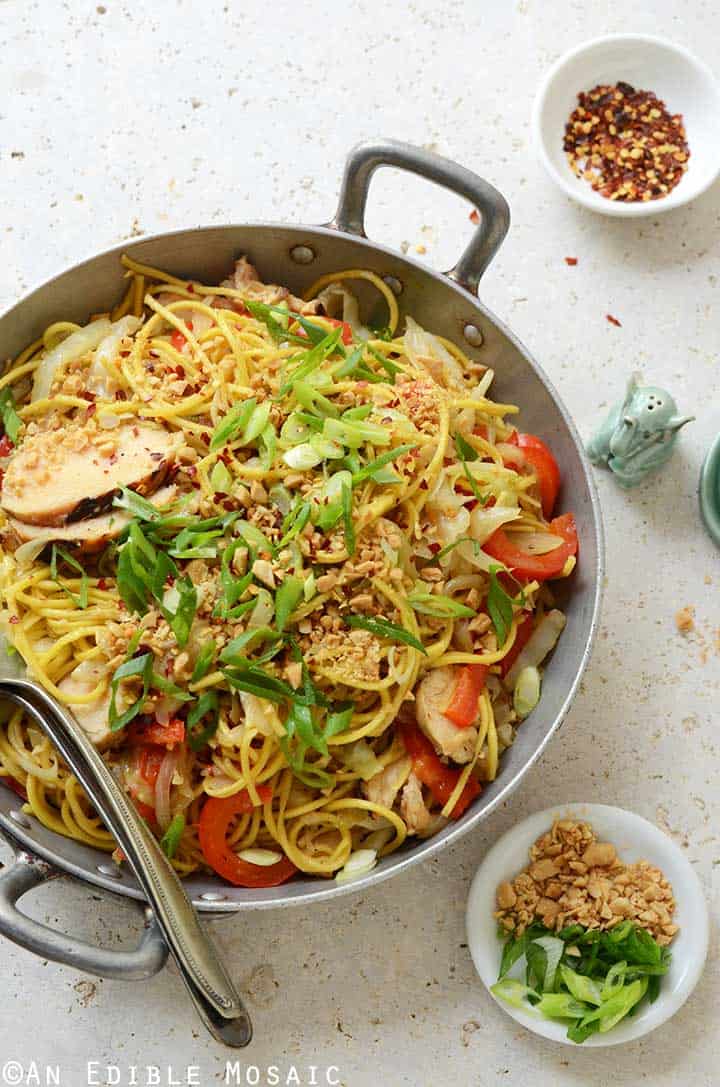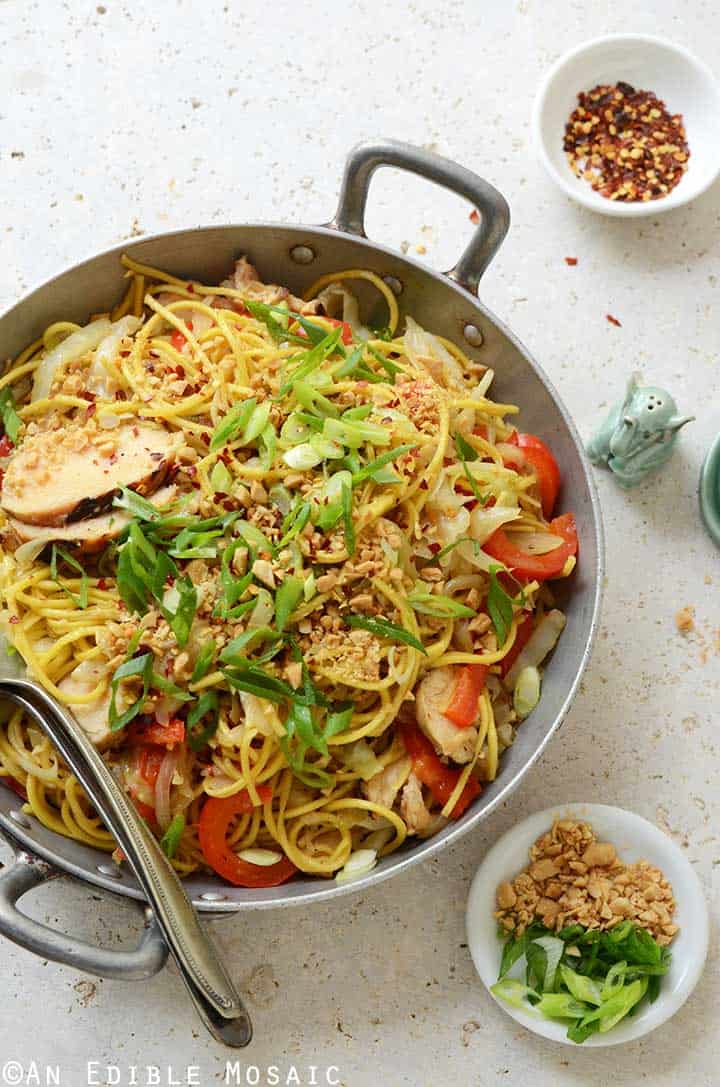 Sometimes something happens that you just can't get out of your head.
It could be someone you meet or a place you visit, or even something that seems so much more mundane like a food you eat. But for whatever reason it speaks to you.
Last year on our trip to Thailand, Mike and I fell in love with the weekend market in Phuket (scroll down toward the bottom of this post for pictures of it). So much so that we went back the very next day.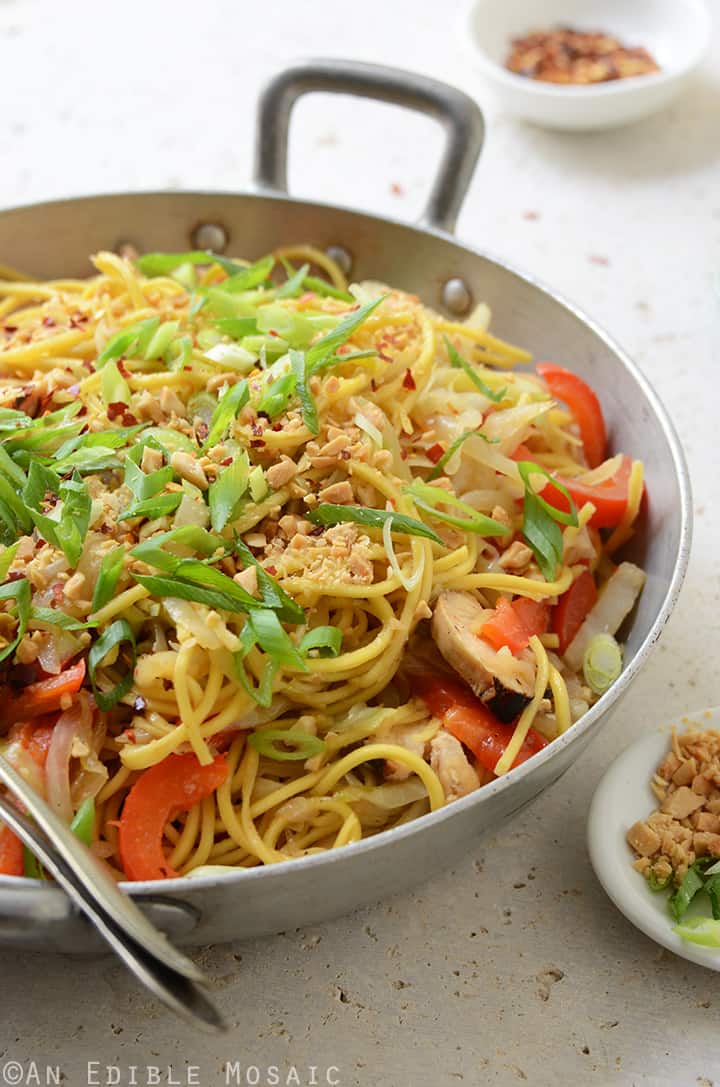 Noodles in Thailand
The food at the local market was delicious, unbelievably cheap, and the perfect way to get to sample a variety of authentic Thai fare. My favorite dish there (and undoubtedly the best noodles I've ever had) was this. And since then, those noodles have pervaded my thoughts.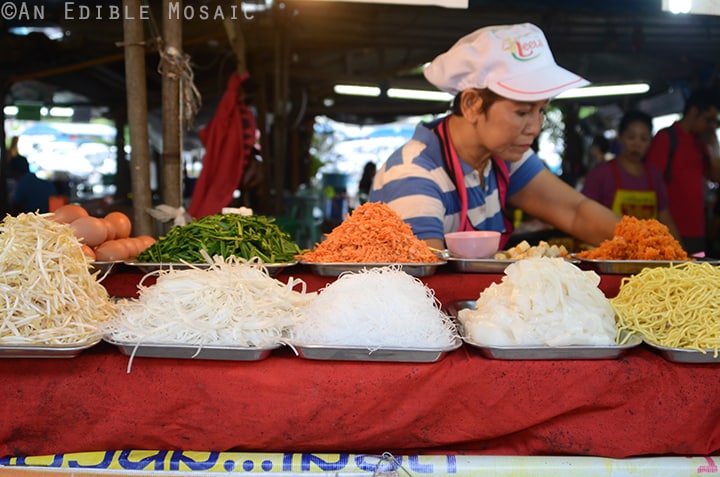 Noodle Vendor at the Local Market in Phuket, Thailand Last Summer
The lady making the noodles asked us what kind of noodles we wanted. We chose the egg noodles on the far right. After that she asked us if we wanted meat (we chose chicken), and then she worked her magic.
She added a few veggies (not many at all, truth be told…I definitely remember bean sprouts and scallions, but I don't know if she added any other veggies). She also added a sweet/spicy/salty/umami soy sauce that was all kinds of wonderful.
Her noodles also had egg (which I didn't add to my noodles here, but go ahead and do it for extra protein!) and crushed peanut on top.
Isn't this elephant salt and pepper shaker set adorable? The lady I bought them from in Thailand told me that elephants symbolize luck and fortune in Thai culture.
It's impossible for me to describe those noodles. Suffice to say, they were exquisite in a messy-food-but-its-so-good-who-cares-if-you-have-noodles-on-your-face kind of way.
Thai Noodles Recipe – Soy Sauce Noodles
This Thai Noodles Recipe (Soy Sauce Noodles) is my answer to her masterpiece noodle dish. I upped the veggies (come on, it's me…of course I did), but my main concern was keeping the integrity of her sauce intact. Flavor-wise, I did a pretty good job of it.
The one difference I noted was that the noodles in Thailand were saucier than mine. There's an easy fix for that (go a bit heavy-handed on all the liquids in the recipe). However, with high-sodium components like soy sauce, oyster sauce, and fish sauce, I kept this dish a bit lighter on the sauce so the sodium level here isn't quite so through the roof.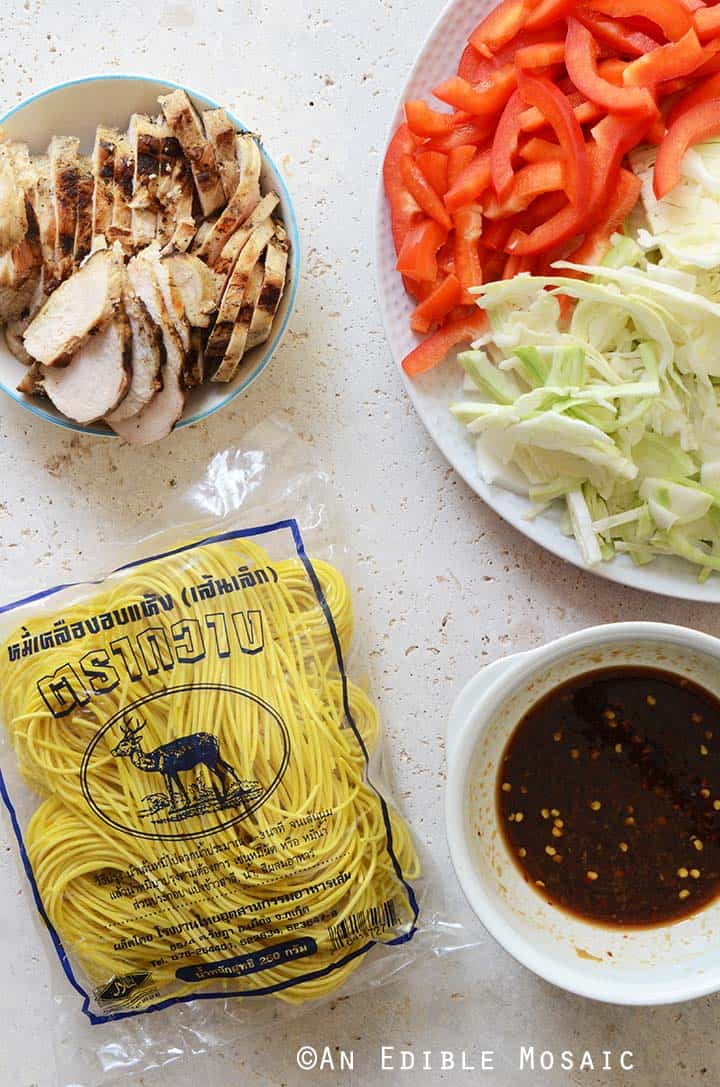 Pro Tip: This recipe is a great way to use leftover or rotisserie chicken, but just about any protein would be good. Steak is also fabulous, and tofu would be tasty too.
The next time you're in the mood for Thai, I highly recommend this Thai Noodle Recipe. It totally brought me back to our time in Thailand.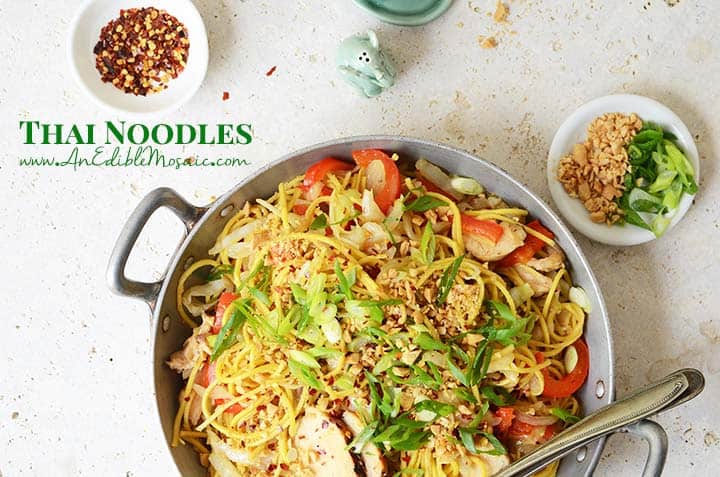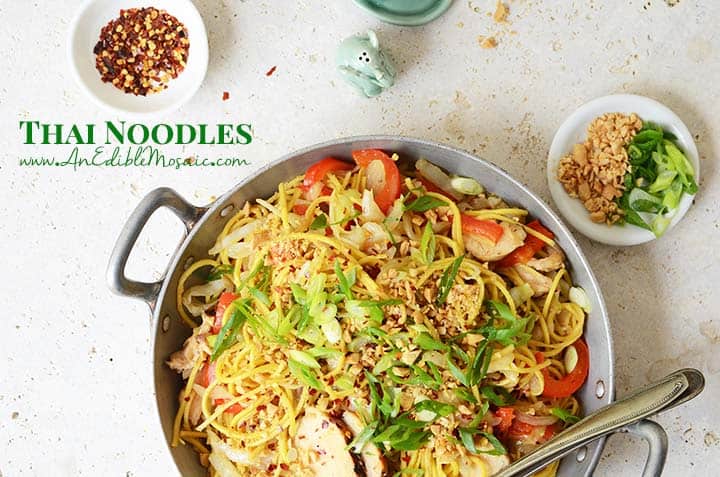 What Are Thai Noodles Called?
Wikipedia has a very informative list of Thai noodle dishes. Here are a few popular Thai noodle dishes:
Drunken Noodles (Pad Kee Mao)
Glass Noodle Salad (Yum Woon Sen)
Fried Soy Sauce Noodles (Pad See Ew)
Pad Thai Noodles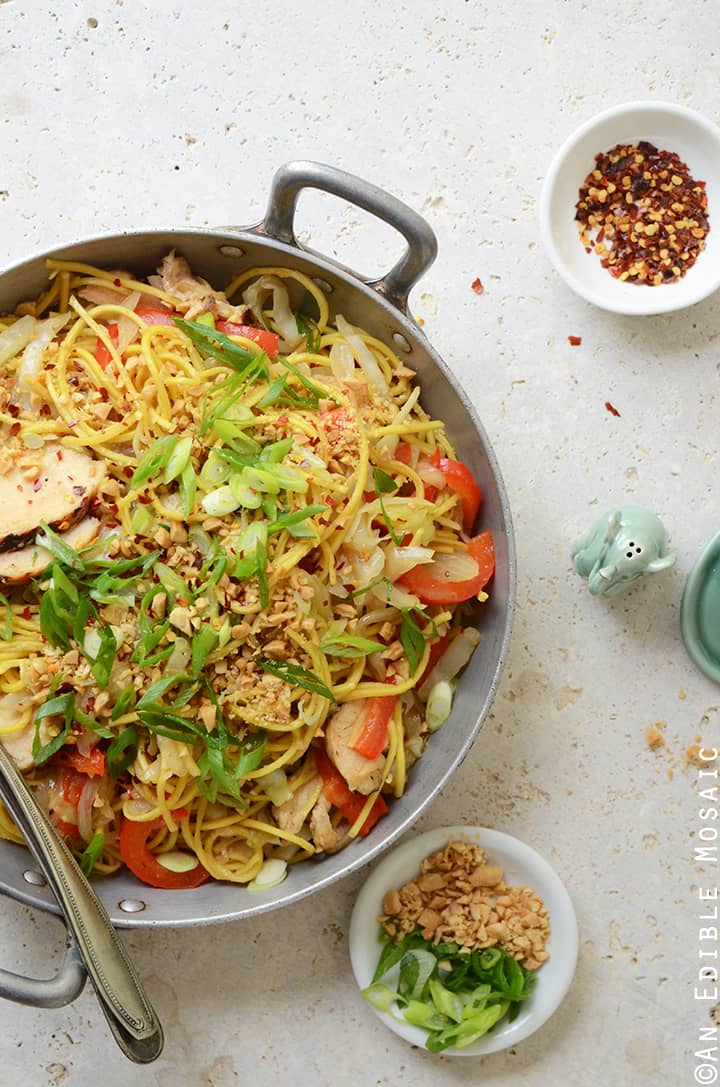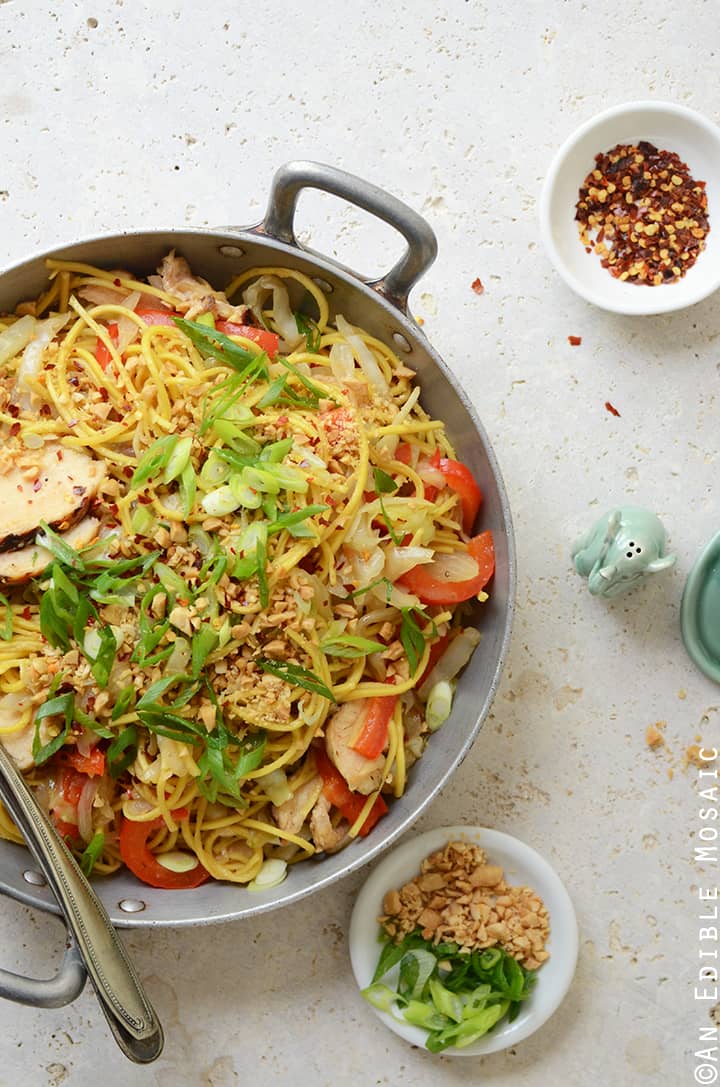 Are Thai Noodles Healthy?
If you make Thai noodles at home, you can make sure to add more vegetables and protein than what you'd find at a restaurant. Also, you can use less sugar and salt!
More Thai Inspired Recipes: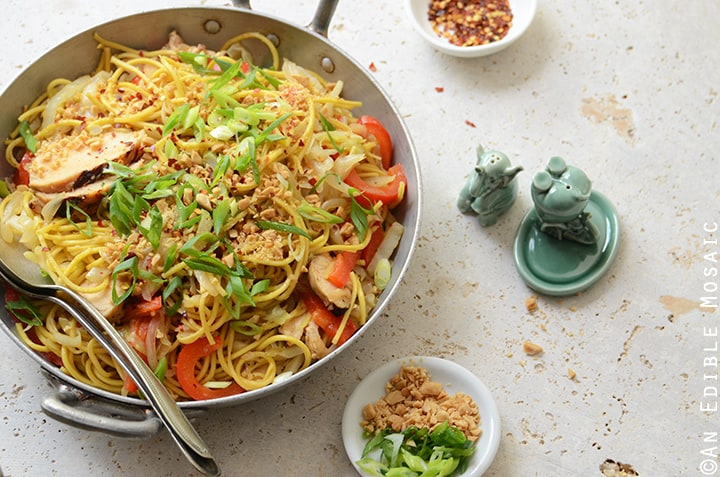 Did you make this recipe? Please rate it and leave a comment below because I love hearing from you! You can also tag @anediblemosaic on social media. To stay up-to-date FOLLOW ME on Instagram, Twitter, and Facebook. Xoxo, Faith
Thai Noodles Recipe with Vegetables and Chicken (Soy Sauce Noodles)
This Thai Noodles Recipe with Vegetables and Chicken (Soy Sauce Noodles) was inspired by my trip to Thailand! It's packed with flavor thanks to a sweet, salty, umami sauce, and is loaded with vegetables and chicken.
Print
Pin
Rate
Ingredients
Instructions
Whisk together all ingredients for the sauce and set aside.

If you're using thin Asian egg noodles, bring a medium-large pot of water to a boil. Once boiling, salt the water and then add the noodles. Cook until they're al dente, about 3 to 4 minutes. Drain immediately.

Heat the sesame oil in a large, deep skillet over medium-high heat. Add the cabbage, onion, and red bell pepper and cook until tender, about 8 minutes, stirring occasionally.

Stir the sauce, chicken, and noodles into the vegetables and cook until everything is warm, about 2 minutes, stirring frequently.

Serve with any garnishes you like.
Helpful Tips
The nutrition information for this recipe was calculated without the optional garnish ideas.
Nutrition
Calories:
348
kcal
|
Carbohydrates:
39
g
|
Protein:
23
g
|
Fat:
11
g
|
Saturated Fat:
2
g
|
Cholesterol:
80
mg
|
Sodium:
691
mg
|
Potassium:
593
mg
|
Fiber:
4
g
|
Sugar:
8
g
|
Vitamin A:
791
IU
|
Vitamin C:
56
mg
|
Calcium:
56
mg
|
Iron:
2
mg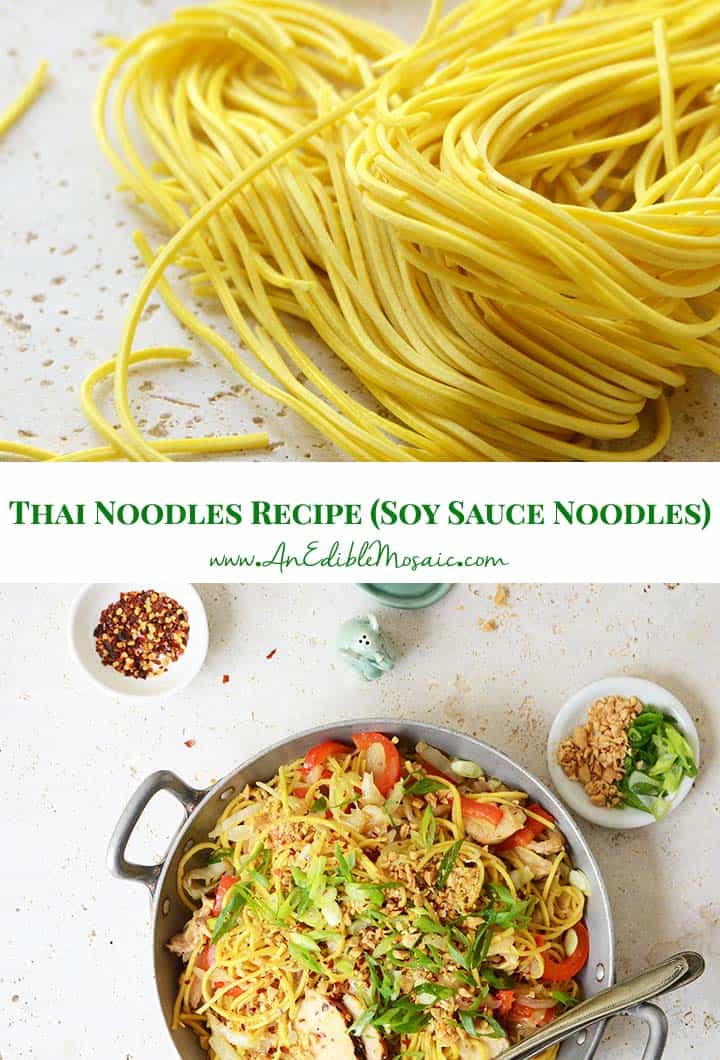 This post was first published on An Edible Mosaic on April 29, 2015. It was updated with more information on December 30, 2019.
Disclosure: This post contains Amazon affiliate links to products I believe in, which means that even though it doesn't cost you anything extra, I will receive a small amount of money from the sale of these items. Thank you for helping to support An Edible Mosaic!