Kick up dinner with this Gluten Free Pad Thai Cauliflower Side Dish; served with chicken, tofu, or even a fried egg, it's sure to be the star of the meal!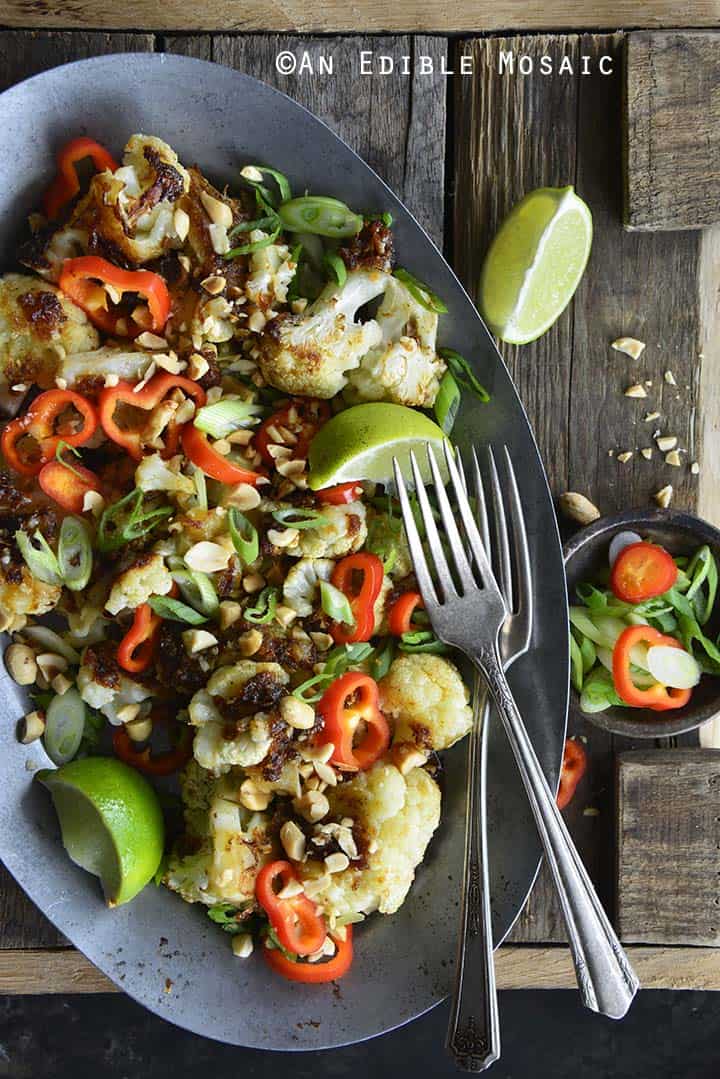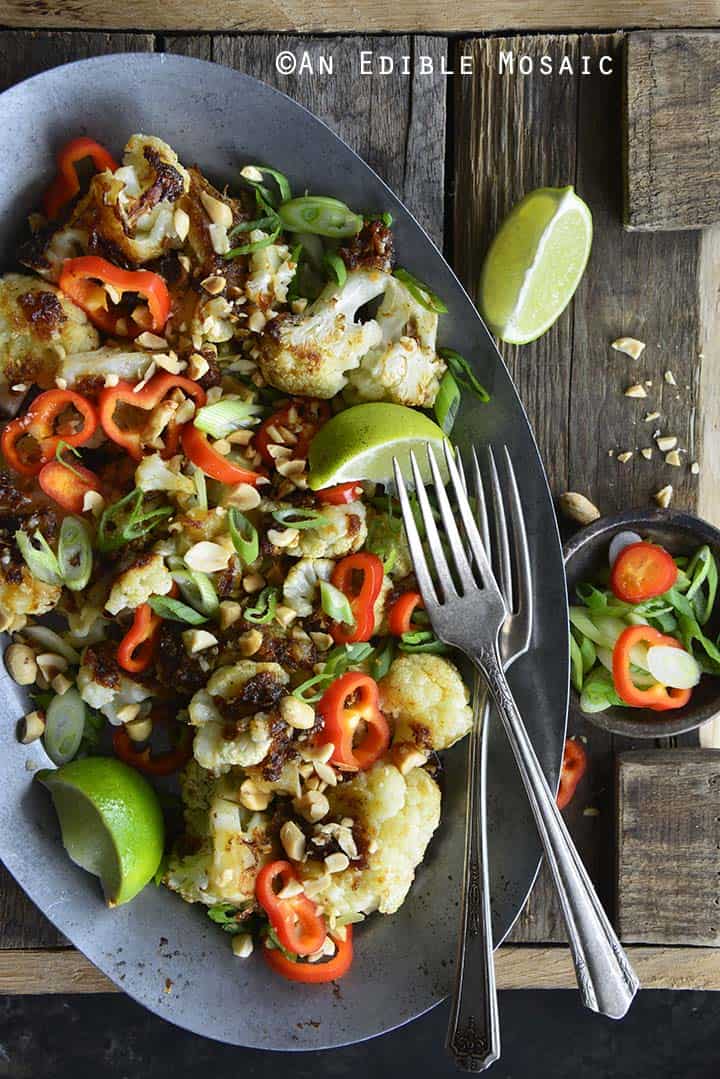 Pad Thai has long been a favorite of mine; I'm a sucker for a well-balanced flavor profile, and Thai food delivers well in this area. Additionally, the varying textures is truly satisfying, with crunchy peanuts, fresh crispy bean sprouts, soft rice noodles, and that glorious silky sauce coating everything.
This Gluten Free Pad Thai Cauliflower Side Dish is easy to make into a full meal. Just serve it along with chicken: grilled, pan-seared, or even roasted! If chicken isn't your thing, you could do tofu or eggs any way you like. It's a fun way to reinvent cauliflower!
Ingredients in Pad Thai
An authentic Pad Thai recipe has a balanced flavor profile with sweet, salty, sour, bitter, and spicy components. Typical sauce ingredients are: sugar, fish sauce, tamarind, garlic, and chili pepper. The rest of the dish is usually rice noodles stir-fried with this sauce, with perhaps egg, tofu, and/or chicken added, as well as bean sprouts. The dish is then garnished with crushed peanuts and sometimes fresh cilantro, and served with fresh lime to squeeze on top. In this Gluten Free Pad Thai Cauliflower Side Dish, I tried to stay true to the flavors of an authentic Pad Thai, while keeping the carbs lower.
Are Pad Thai Noodles Gluten Free?
Rice noodles are usually the noodles found in Pad Thai recipes. Rice is gluten free, but check the packaging to make sure that other ingredients containing gluten weren't added to the noodles. If you have an extreme gluten sensitivity, you can call the noodle manufacturer to make sure the noodles weren't processed in a facility that also processes gluten (to avoid cross-contamination).
Ingredients in the Sauce for This Gluten Free Pad Thai Cauliflower Side Dish:
Fresh garlic
Fresh ginger
Coconut aminos, tamari sauce, or soy sauce
Rice vinegar
Honey
Fish sauce
Crushed red pepper flakes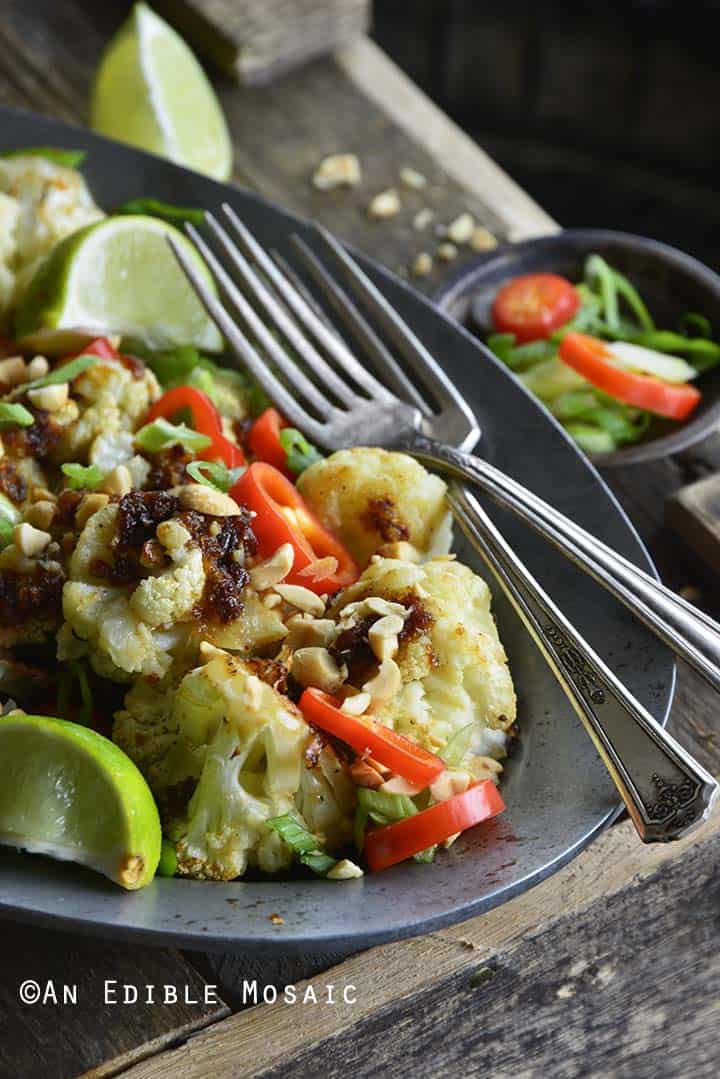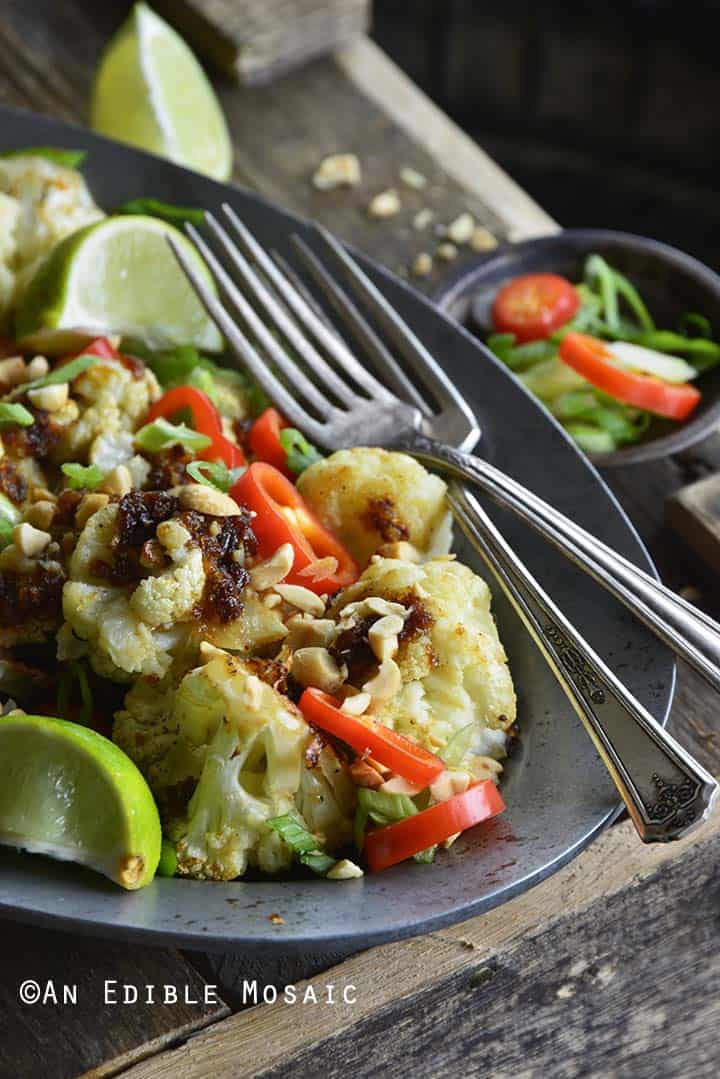 Cauliflower
How to Roast Cauliflower
One of my favorite ways to cook cauliflower is to roast it, and that's what I did for this Gluten Free Pad Thai Cauliflower Side Dish. It's healthy (be sure to choose a healthy heat-safe oil; I typically use clarified butter/ghee or avocado oil for roasting veggies), it's delicious, and it's easy.
Here's how I roast cauliflower:
Wash the cauliflower.
Cut it into large bite-sized florets.
Toss the cauliflower with a little oil, salt, and black pepper.
Roast it in a preheated oven until it's fork-tender and starts to brown in spots. (I usually roast it for 18 minutes at 425F or 25 minutes at 400F.)
Cauliflower Nutrition
According to the USDA Food Database, a 1 cup chopped (107 g) serving of raw cauliflower has the following nutrition information:
27kcals
05g protein
.3g total fat
32g carbohydrates
1g fiber
Cauliflower vs Broccoli
A surprisingly common question is whether cauliflower is healthier than broccoli! They are both healthy cruciferous vegetables. Cauliflower and broccoli are both low in calories, high in fiber, and have a similar carb count per serving. They have similar amounts of iron, folate, potassium, and manganese per serving. Broccoli and cauliflower both contain calcium, vitamin A, vitamin C, and vitamin K, but per serving broccoli contains a significant amount more of each of these than cauliflower. (Read more about the differences between broccoli and cauliflower on Livestrong, Prevention, and PlushCare.)
More Delicious, Unique Cauliflower Recipes:
Gluten Free Pad Thai Cauliflower Side Dish
Kick up dinner with this Gluten Free Pad Thai Cauliflower Side Dish; served with chicken, tofu, or even a fried egg, it's sure to be the star of the meal!
Ingredients
Other:
2

baby red bell peppers

sliced into rings (or ¼ of a regular red bell pepper, thinly sliced)

3

tablespoons

peanuts

crushed

1

scallion

green and white parts, thinly sliced

1

lime

quartered
Instructions
For the cauliflower, preheat the oven to 425F.

Toss together the cauliflower, oil, salt, and pepper, and then spread it out on a large baking sheet.

Roast until it's golden on the bottom, about 18 minutes (I don't flip it because I like it to get nice and browned on one side).

Meanwhile, make the sauce. Add all sauce ingredients to a medium skillet. Bring to a simmer over medium heat, and then cook until thickened slightly, about 30 seconds.

Once the cauliflower is roasted, gently toss it with the sauce. Transfer to a serving platter and top with the pepper slices, peanuts, and scallion. Serve warm with the fresh lime wedges to squeeze on top.
Faith's Tips
Net Carbs: 10g per serving (⅙ of recipe)
Nutrition
Nutrition Facts
Gluten Free Pad Thai Cauliflower Side Dish
Amount Per Serving
Calories 120
Calories from Fat 63
% Daily Value*
Fat 7g11%
Sodium 299mg13%
Potassium 185mg5%
Carbohydrates 12g4%
Protein 2g4%
Vitamin A 1285IU26%
Vitamin C 63.2mg77%
Calcium 18mg2%
Iron 0.5mg3%
* Percent Daily Values are based on a 2000 calorie diet.
Disclosure: This post contains Amazon affiliate links to products I believe in, which means that even though it doesn't cost you anything extra, I will receive a small amount of money from the sale of these items. Thank you for helping to support An Edible Mosaic!