Disclosure: This shop has been compensated by Collective Bias, Inc. and its advertiser. All opinions are mine alone. #CollectiveBias #DeliciousSpeaksForItself #RaosHomemade
This Easy Meatball Bomber Recipe is crowd-pleasing open-faced meatball sandwiches that are as perfect for the big game as they are for weeknight dinner.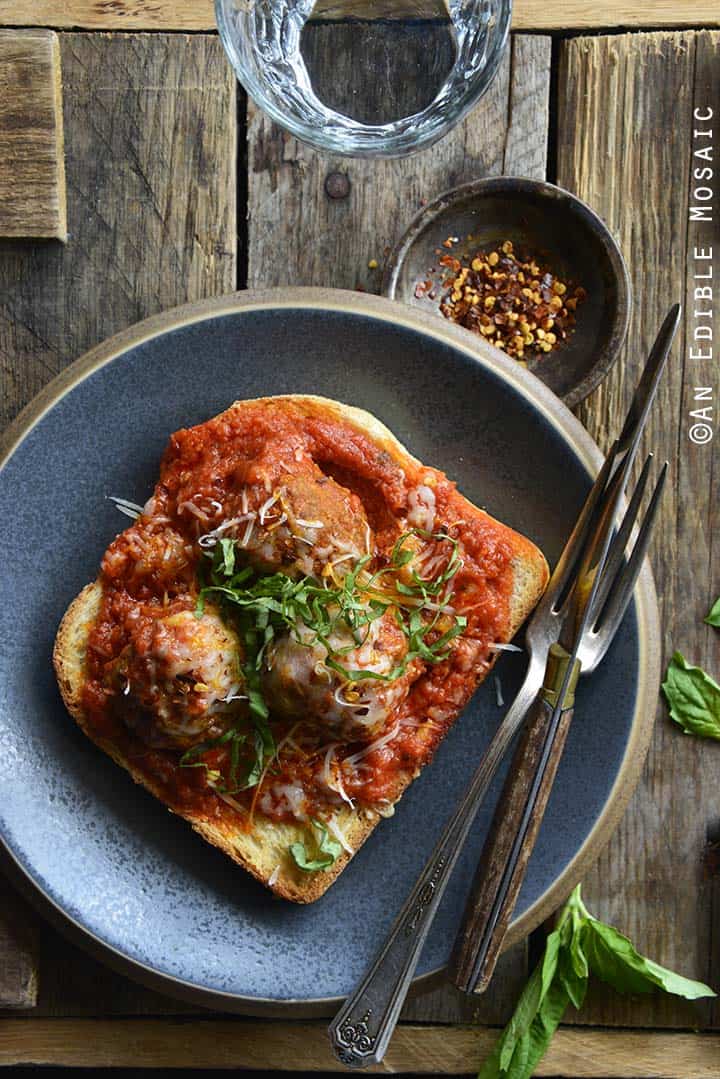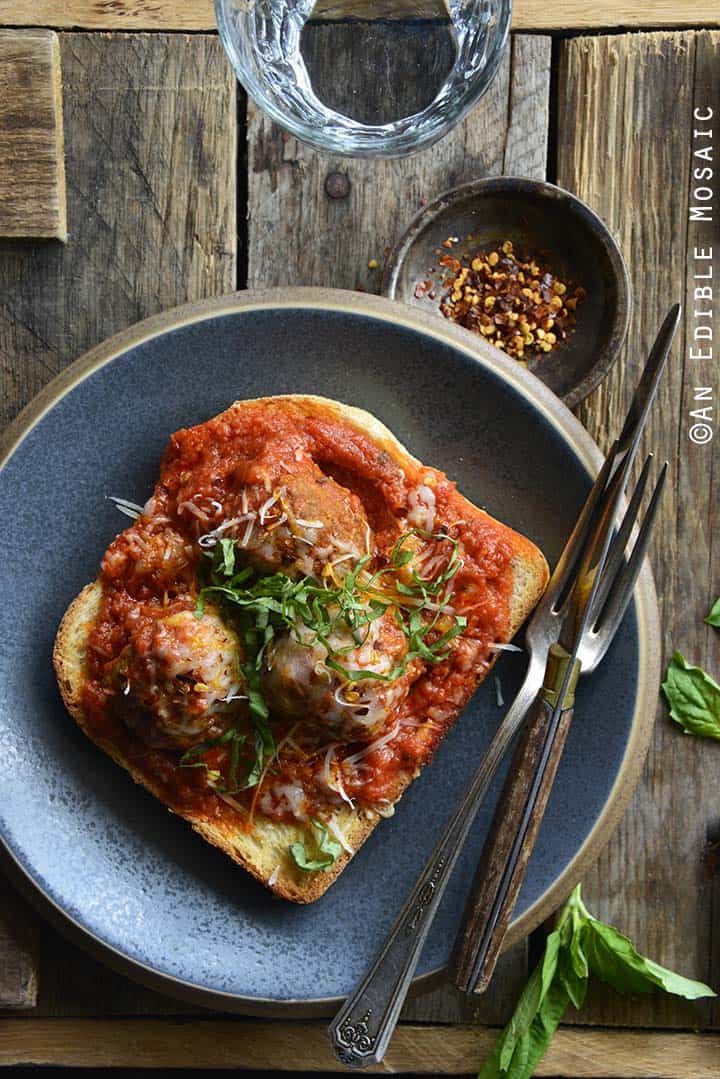 Growing up in my family, dinnertime was family time. Meals took place around the table, never in front of the TV or even with the TV on. My mom thought our conversation with each other about our day was just as important as feeding us a nutritious meal. I'm grateful to her for that, it really helped instill a sense of family in my siblings and I.
As a kid there were a few dinners I didn't want to miss for any reason, but my number one favorite was my mom's spaghetti and meatballs. As an adult I still love this meal, but instead of pasta I usually opt for veggie noodles and instead of just any sauce, I look for RAO's.
RAO's slow cooks their tomato sauce in small batches using clean ingredients that you'd find in your own kitchen. Ingredients like naturally sweet Italian tomatoes, fresh basil, garlic, onions, and other natural ingredients. Their sauce is gluten free and doesn't contain tomato blends, paste, water, starches, filler, colors, or added sugar.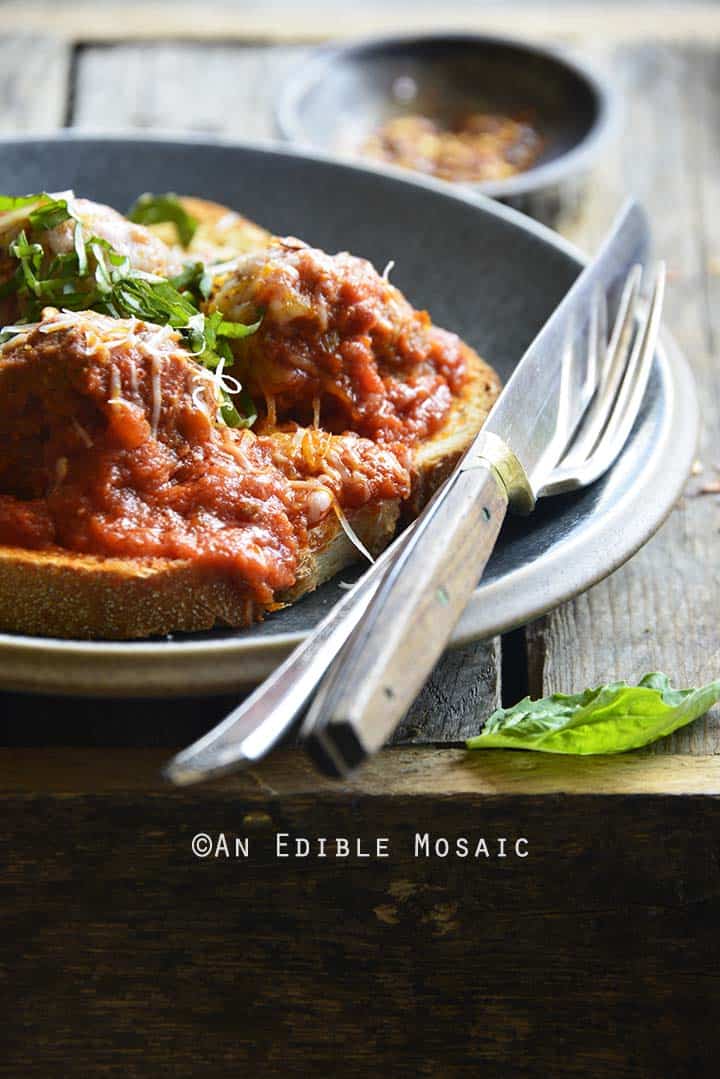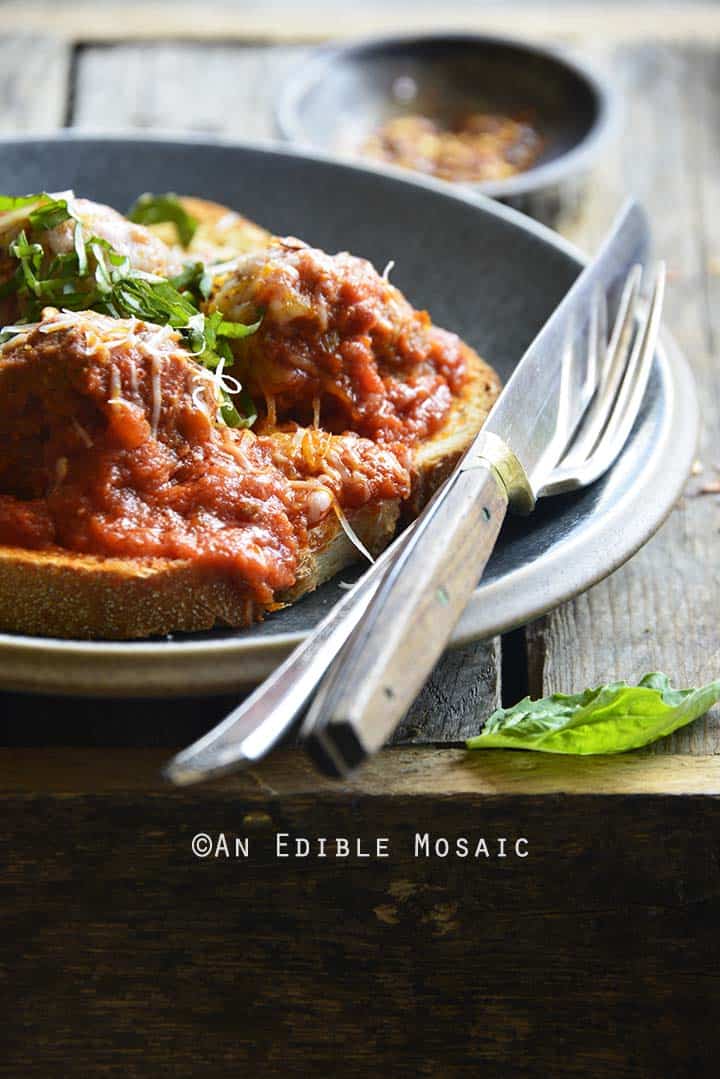 Easy Meatball Recipe
Meatballs are one of the easiest meals you can make! Plus if you're feeding a picky crowd, they're usually a crowd-pleaser.
Meatball Ingredients
Meatballs usually contain ground meat (typically ground beef, veal, or pork, or a combination of the three; I like to use ground beef), egg, breadcrumbs or bread soaked in milk, and flavorings (such as onion, garlic, herbs, Parmesan cheese, salt, black pepper, etc.).
If you're serving the meatballs with tomato sauce, the sauce is every bit as important as the ingredients that go into the meatballs! I like to use RAO's Homemade, which has been the Leading Premium Pasta Sauce Brand since created in 1992. Their product is gluten free and all natural, with no artificial colors, flavors, or sweeteners. That's huge; it took me forever to find a tomato sauce I loved that doesn't contain added sugar!
Can I Make Meatballs Without Breadcrumbs?
Yes, you can easily make meatballs without breadcrumbs! The key is to find another binder. In my Easy Meatball Bomber Recipe I use almond flour instead of breadcrumbs.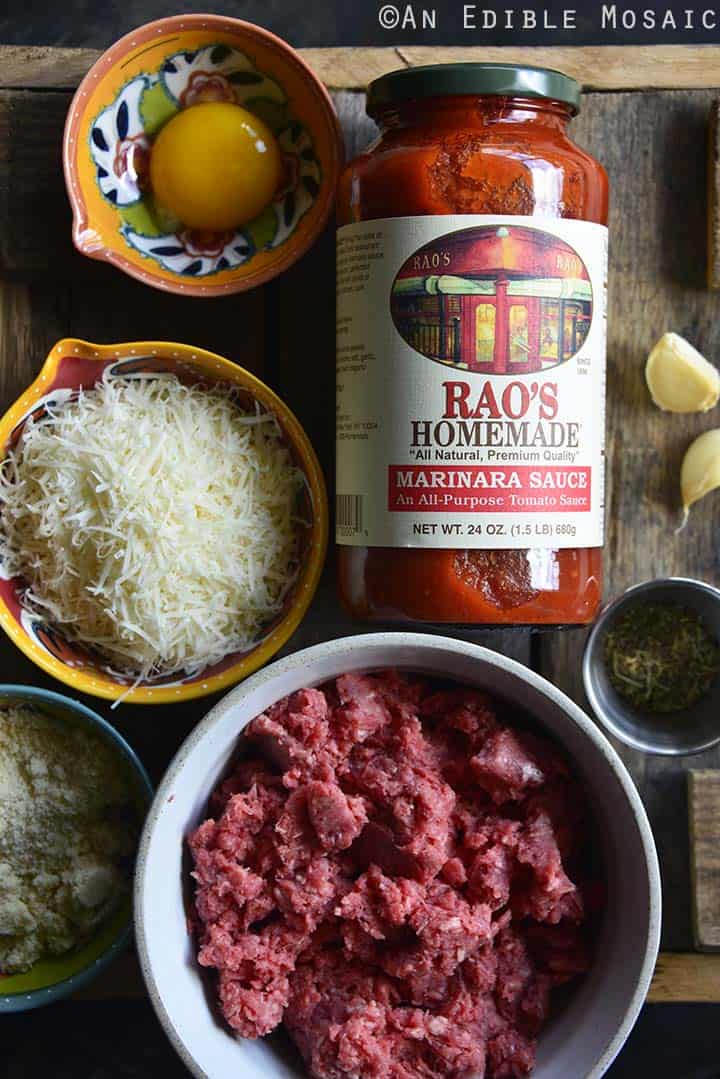 How to Make Homemade Meatballs
When making meatballs, I find it's easiest to combine the meat mixture with my hands. Then I use an ice cream scoop to scoop the meat into balls that are uniform in size, rolling each into a circle. Once the meatballs are shaped, they're ready to be cooked!
How to Cook Meatballs in the Oven
To cook meatballs in the oven, I arrange them about an inch apart on a baking sheet sprayed with oil or lined with parchment paper. I find that that at 400F, meatballs that are one slightly heaping tablespoon in size take about 20 to 25 minutes to cook.
How to Cook Meatballs in Sauce
When I'm serving meatballs with sauce, my preference is to cook them right in the sauce for the most tender, flavorful results. The quality of sauce really matters because its flavor seeps into the meatballs as they cook. I like to go with RAO's Homemade Marinara Sauce, which is slowly crafted with naturally sweet Italian tomatoes, fresh basil, garlic, and onions.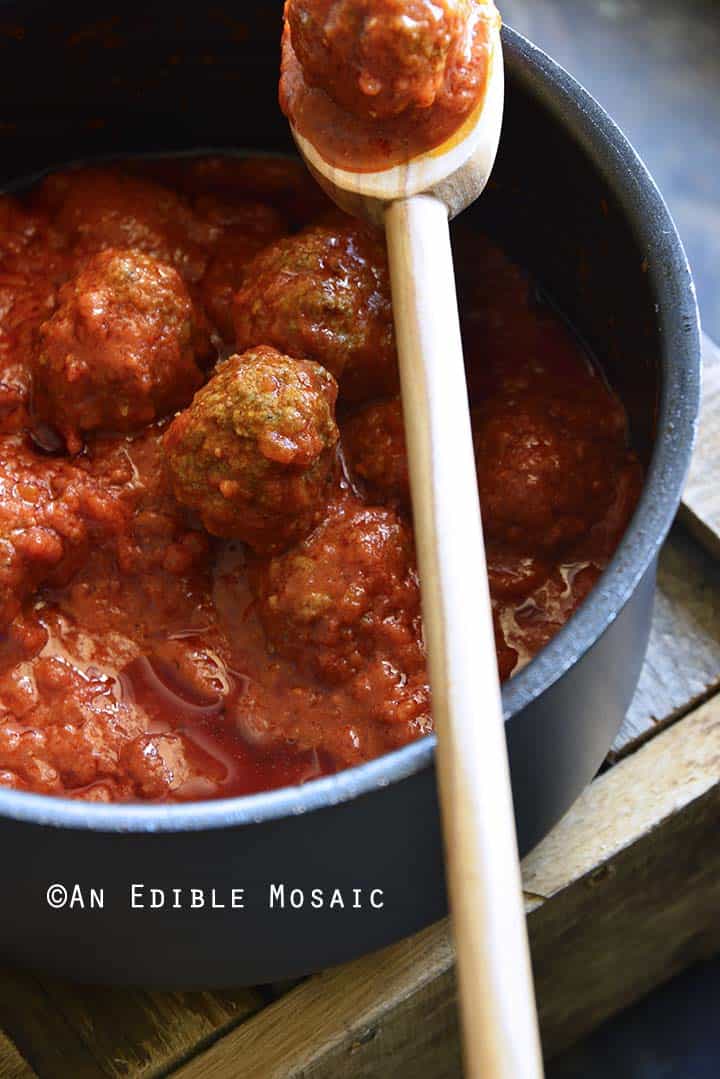 Tomato Sauce
When you're cooking meatballs in tomato sauce, the quality of the sauce is very important because the flavor of the sauce permeates the meatballs. When I don't have time to make homemade tomato sauce, I grab a jar of RAO's Homemade (find it at your local Walmart!) because they take the time to slow cook it. Frank Pellegrino Sr. created this sauce in 1992 and it has been the Leading Premium Pasta Sauce Brand ever since. Tastier sauce means tastier meals, which means nobody wants to miss dinner! I can speak firsthand as to how important family dinners are. Be sure to head over to RAO's site for more recipe inspiration!
What Should I Serve with Meatballs?
This Easy Meatball Bomber Recipe shows how effortless it is to transform meatballs into a beautiful open-faced sandwich (or fancy toast, if you will). I also love serving meatballs on a bed of zoodles or on top of cheesy mashed cauliflower. You could serve meatballs as an appetizer along with cute little toothpicks for skewering. Additionally, meatballs are fabulous served on biscuits for little sliders (try them with my Red Lobster Cheddar Bay Biscuits!).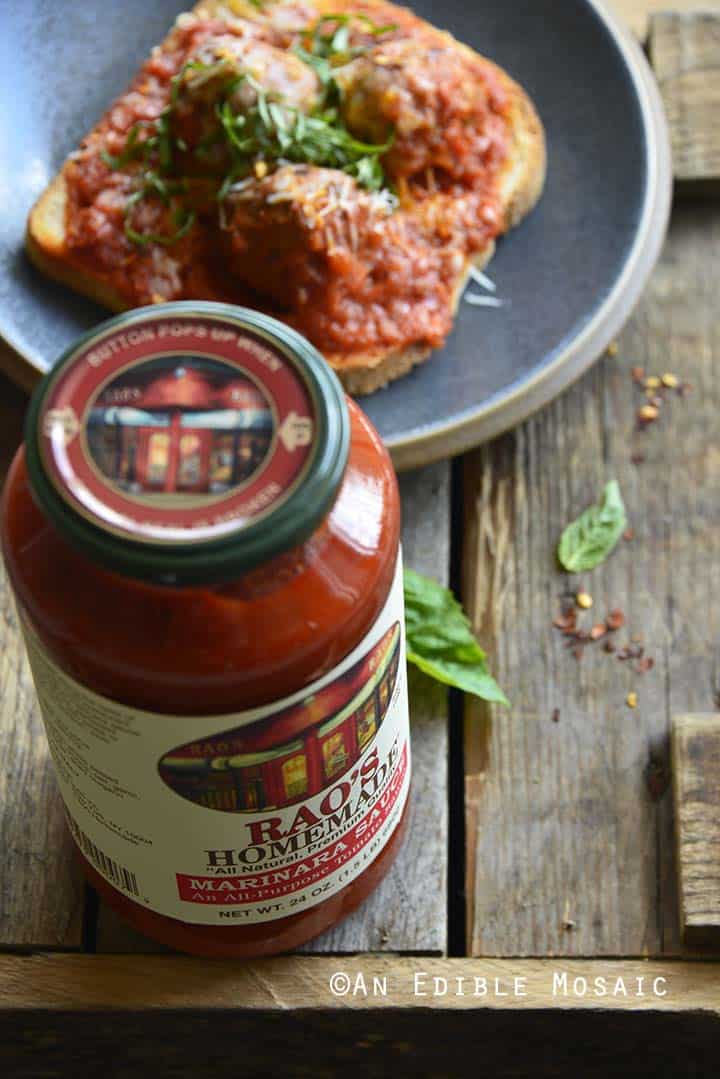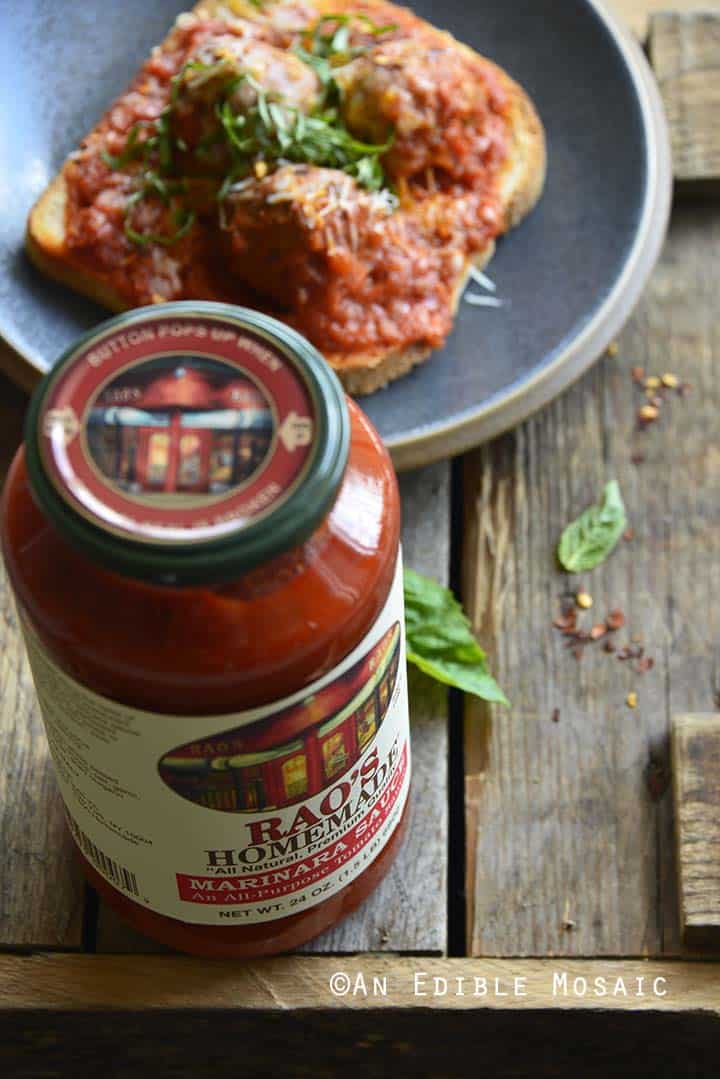 Fancy Toast
If you don't think you're familiar with the idea of fancy toast, just know that you probably are. I think it is kind-of a hipster thing. Picture toast topped with avocado in all its glorious forms (avocado roses, smashed avocado, guacamole, etc.), and perhaps a runny egg. Or toast adorned with colorful veggie puree (because hummus alone just won't work these days, lol), roasted vegetables, and maybe goat cheese crumbles. Or maybe fresh fig, honey, and crumbled blue cheese. You get the idea.
If you want to go the route of fancy toast here, I'm all for it. But let's be real, fancy toast in this application basically means an open-faced meatball bomber; there's nothing wrong with that though!
More Recipes Using Tomato Sauce: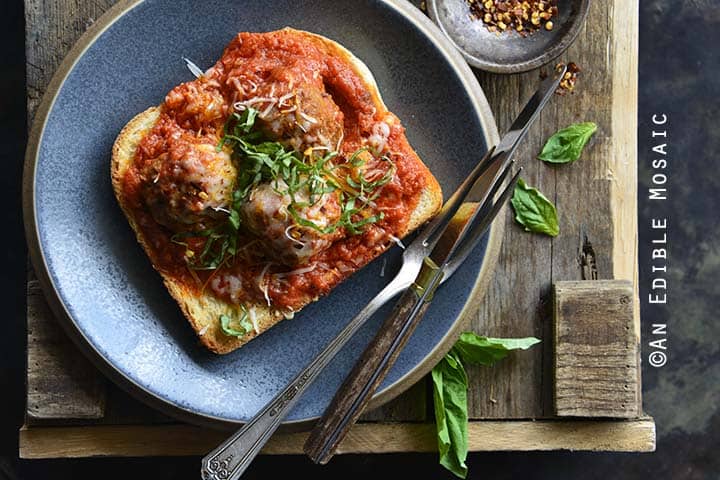 Easy Meatball Bomber Recipe
This Easy Meatball Bomber Recipe is crowd-pleasing open-faced meatball sandwiches that are as perfect for the big game as they are for weeknight dinner.
Ingredients
Meatballs:
1

lb

ground beef

85-90% lean

¼

cup

almond flour

1 ½

oz

Parmesan cheese

finely grated

1

large egg yolk

2

cloves

garlic

crushed

1

teaspoon

dried Italian herb spice mix

¼

teaspoon

salt

¼

teaspoon

black pepper

24

oz

jar RAO's Homemade Marinara Sauce
Other:
5

slices

of your favorite bread

I used homemade paleo bread

4

oz

cheddar

shredded

2

tablespoons

Parmesan cheese

finely grated

Fresh basil

for garnish
Instructions
For the meatballs, use your hands to combine the beef, almond flour, Parmesan, egg yolk, garlic, Italian herb spice mix, salt, and black pepper in a large bowl. Shape the meat into 15 meatballs.

Add the RAO's Homemade Marinara Sauce to a medium-sized saucepan, and bring to a simmer. Drop the meatballs into the simmering sauce, cover the saucepan, and cook 25 to 30 minutes (no need to stir).

To make open-face meatball bombers (aka, fancy toast), toast the bread in a toaster or under the broiler. Top each slice of toast with 2 tablespoons of sauce from cooking the meatballs and 3 meatballs. Divide the cheddar and Parmesan cheese between them. Broil until the cheese is melted.

Sprinkle fresh basil on top and serve.
Nutrition
Nutrition Facts
Easy Meatball Bomber Recipe
Amount Per Serving
Calories 535
Calories from Fat 306
% Daily Value*
Fat 34g52%
Cholesterol 140mg47%
Sodium 1317mg57%
Potassium 725mg21%
Carbohydrates 25g8%
Protein 30g60%
Vitamin A 1025IU21%
Vitamin C 9.9mg12%
Calcium 385mg39%
Iron 4mg22%
* Percent Daily Values are based on a 2000 calorie diet.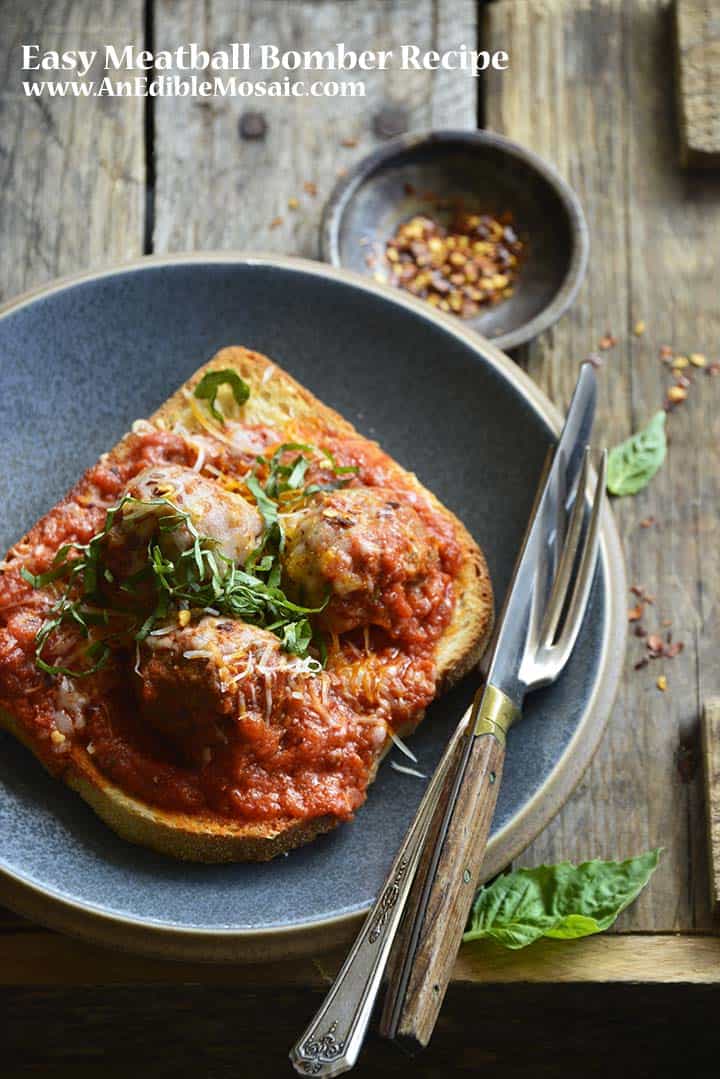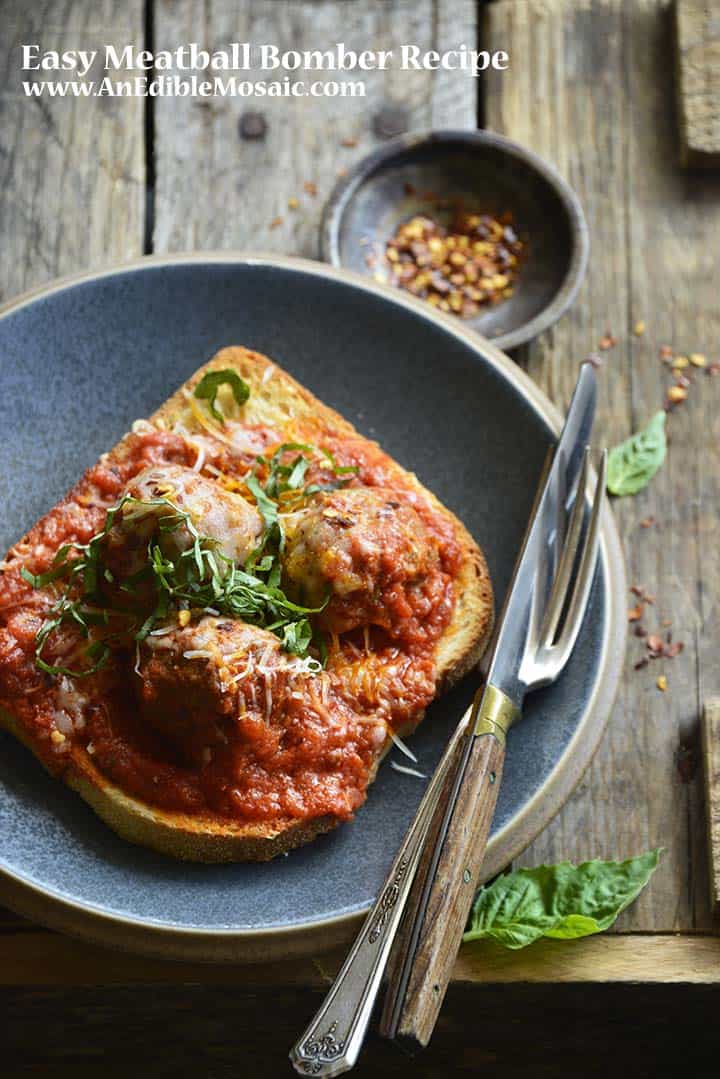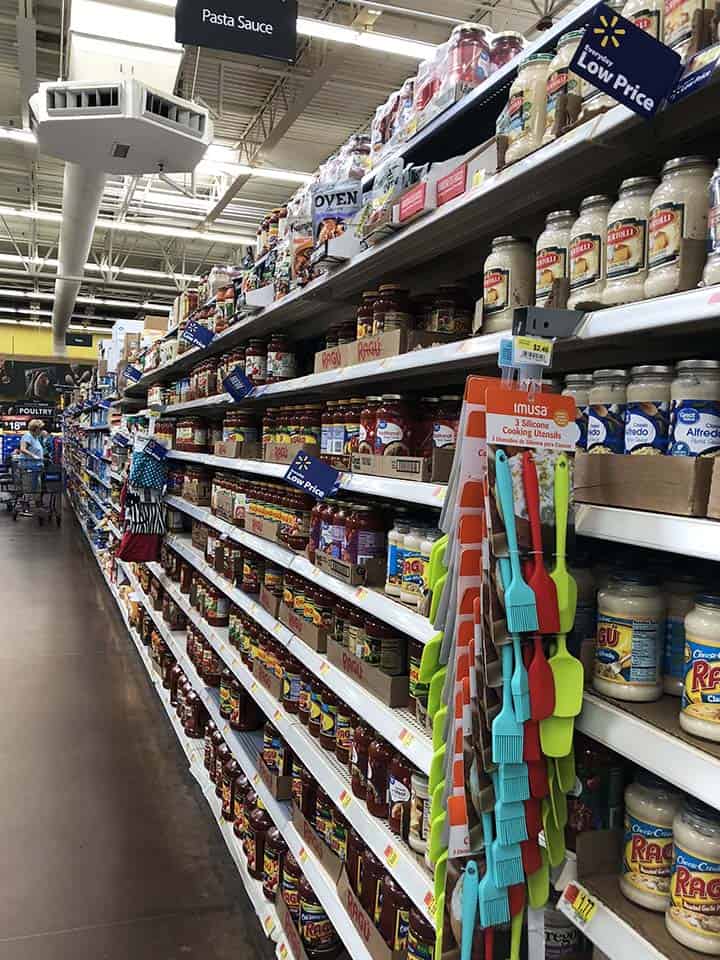 Anyone who has looked for marinara sauce without sugar knows how hard it can be to find! RAO's is available for a great price, right at your local Walmart.