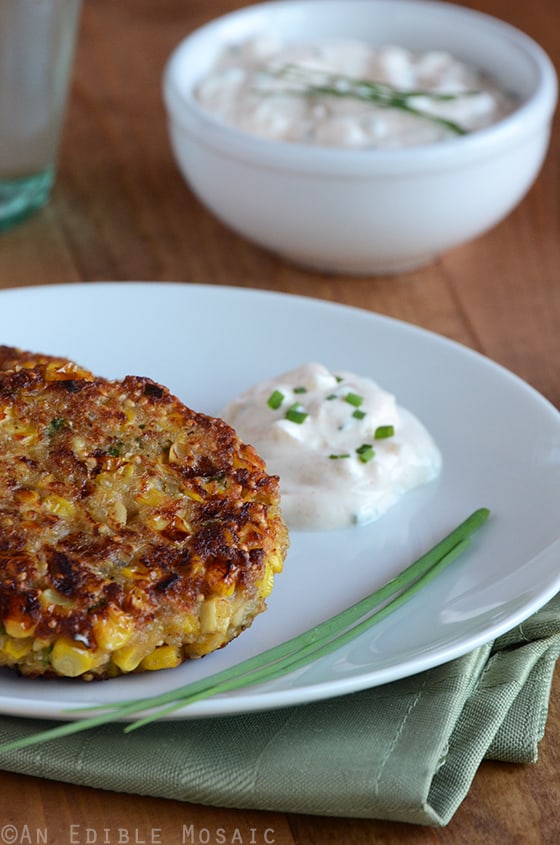 Corn is amazing this time of year…it's almost as sweet as candy! It's definitely one of my favorite sides for any grilled meal, and usually (since I'm a little corn-crazy), I end up grilling or steaming a few too many ears of it.
That's always a good thing though!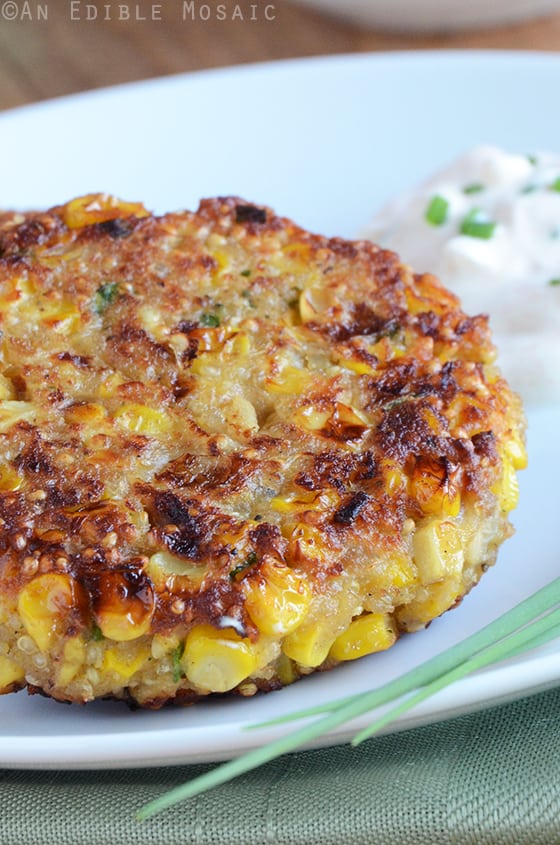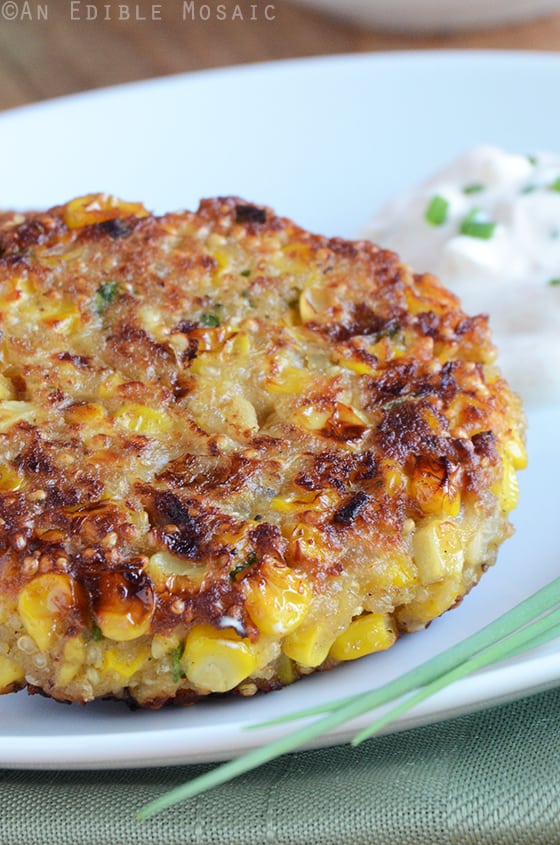 So, what to do with leftover corn? I like to add it to salads, stir-fries, or fried rice, make it into corn chowder, or turn it into croquettes like I did in this recipe.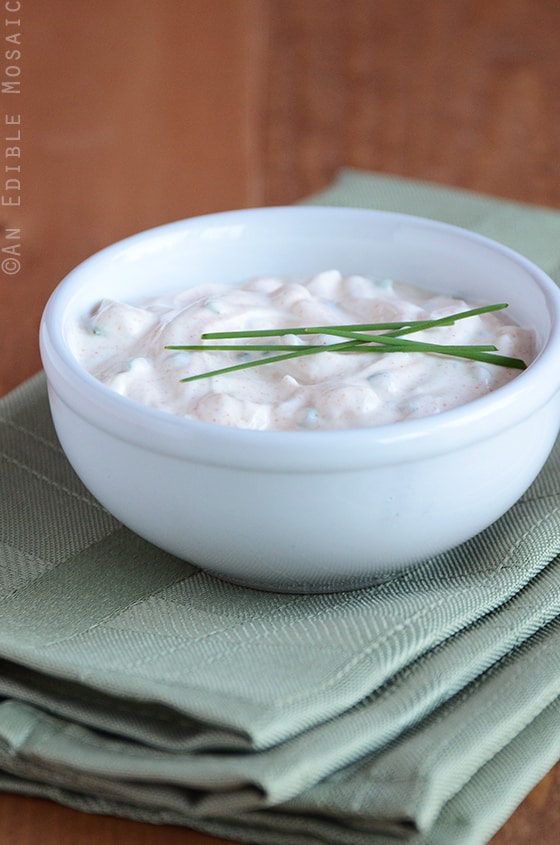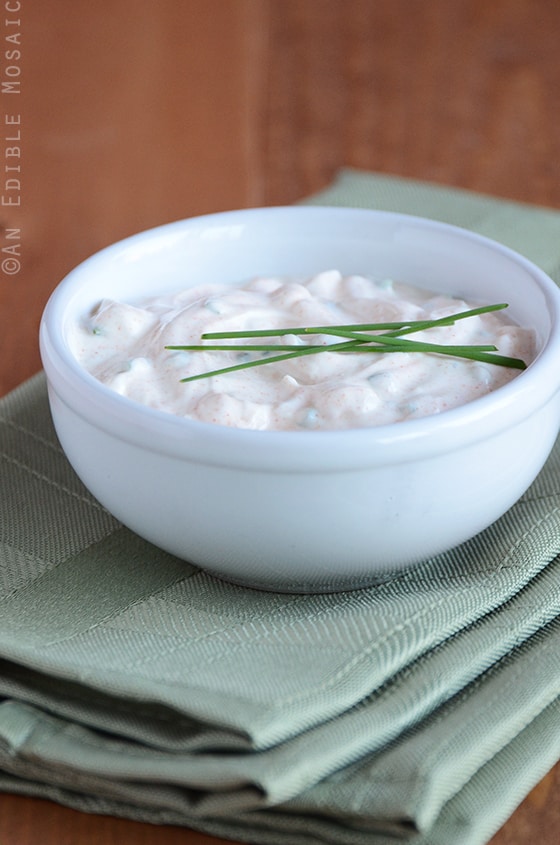 I served these quinoa corn patties with a cool and creamy onion dip. A combo of Greek yogurt and sour cream gives the dip a nice refreshing tang, and two different kinds of onion add great flavor and provide the perfect contrast to the corn's sweetness.
And no problem if your corn isn't already cooked! Just cut it off the cob and sauté it along with the onion.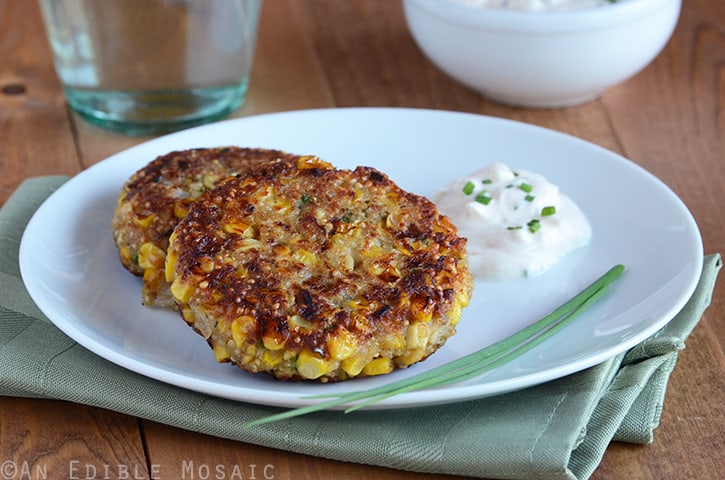 Quinoa Corn Patties with Cool and Creamy Onion Dip
Prep time:
Cook time:
Total time:
Ingredients
Quinoa Corn Patties:
¼ cup uncooked quinoa
2 tablespoons olive oil
1 medium onion, diced
2 cloves garlic, minced
½ cup warm water
½ teaspoon salt
⅛ teaspoon pepper
1 cup (about 1 medium-large cob) corn kernels, cooked (either steamed or grilled) and cut off the cob
2 large eggs, beaten
2 tablespoons minced fresh parsley or chives
4-6 tablespoons breadcrumbs
Canola oil, for shallow frying
Cool and Creamy Onion Dip:
¼ cup Greek yogurt
¼ cup sour cream
½ small onion, minced
1 tablespoon minced fresh chives
¼ teaspoon smoked sweet paprika
¼ teaspoon salt
1 pinch black pepper
Instructions
For the Quinoa Corn Patties, soak the quinoa in cold water for 15 minutes; strain through a fine mesh sieve, then thoroughly rinse under cold running water.
Heat the olive oil in a medium lidded saucepan over medium heat; add the onion and sauté until softened and starting to turn golden, about 5 to 7 minutes. Add the garlic and sauté 1 minute more.
Add the rinsed quinoa, warm water, salt, and pepper. Turn the heat up to high and bring up to a boil; once boiling, give it a stir, cover the saucepan, and turn heat down to a gentle simmer. Cook 14 minutes, then turn heat off and let sit with the lid on for 5 minutes before fluffing with a fork. Cool slightly, then transfer to a medium bowl and stir in the corn, eggs, and parsley. Stir in 4 tablespoons of breadcrumbs, then add 1 to 2 tablespoons more as needed so the mixture holds its shape when formed into patties. Form the mixture into 4 patties.
Add canola oil to lightly coat the bottom of a large nonstick pan over medium heat. Add the patties and fry until golden brown on both sides, about 2 to 3 minutes per side. Transfer to a paper towel-lined plate to drain any excess oil.
For the Cool and Creamy Onion Dip, stir together all ingredients; cover and keep refrigerated until serving.