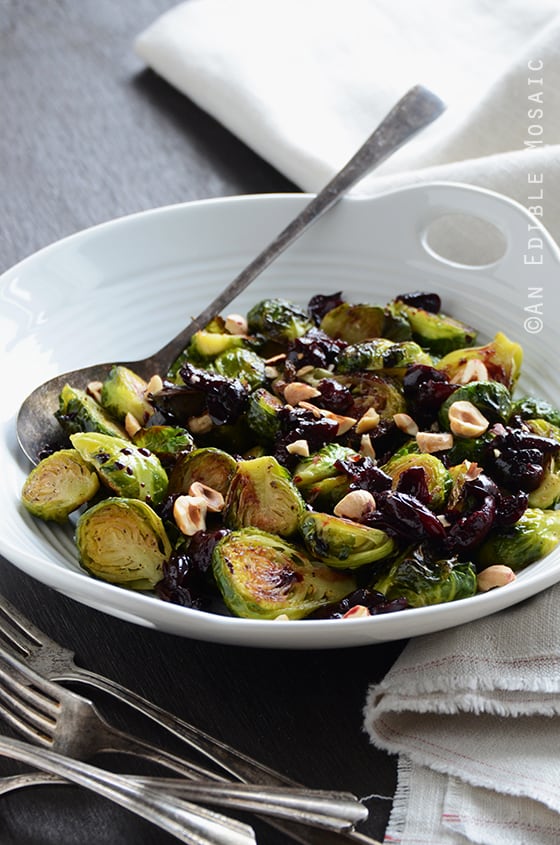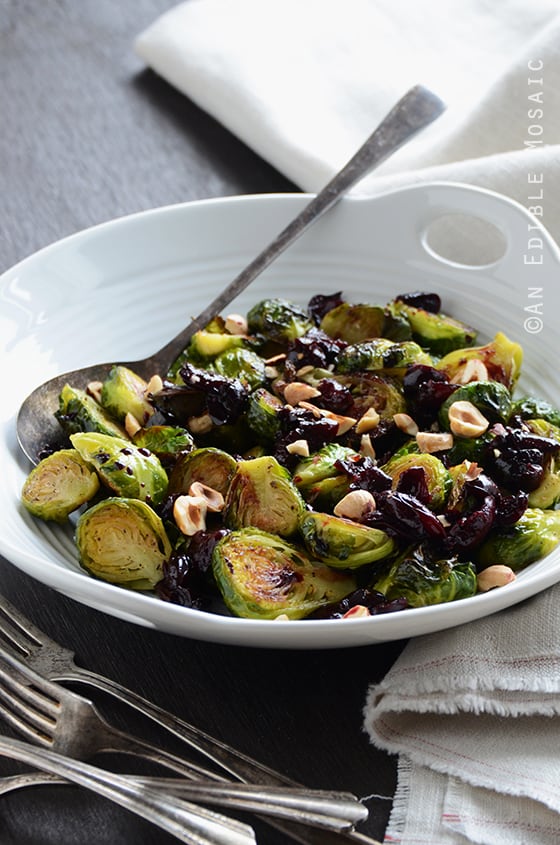 With Thanksgiving less than a week away, if you're anything like me, I bet you've been scouring the internet for new side dish ideas.
Of course there are the ever-present sides on our holiday table, like butternut squash puree, some variant of stuffing (cornbread-based stuffing seems to be everyone's favorite), and some form of bean casserole (usually green bean casserole, but for some reason that hasn't been such a hit for the past couple of years). And Brussels sprouts, which is my dad's contribution to our meal; my mom hates them and refuses to go near them, but since they're a favorite of his, my dad takes on the challenge to come up with a new recipe for them every year. Sometimes he'll make them braised, but if I'm really lucky, the sprouts get roasted.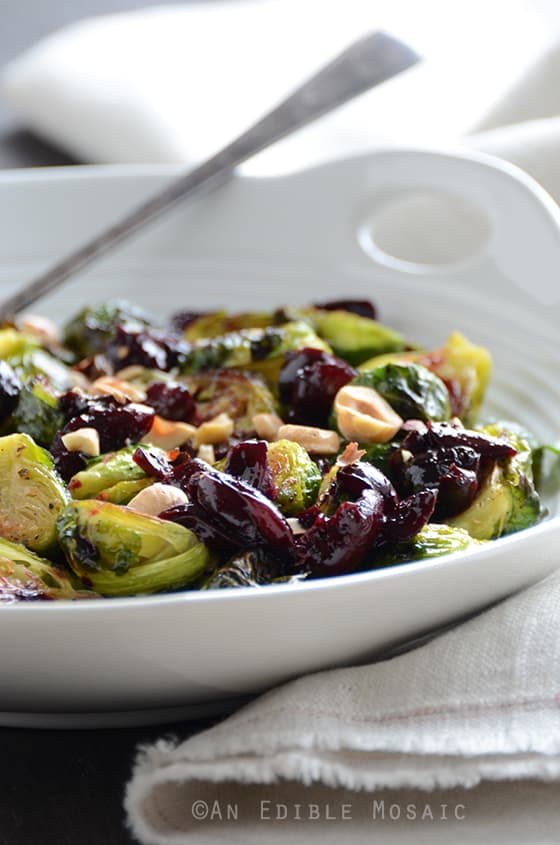 Roasting brings out all the best qualities of Brussels sprouts…their natural sweetness and slight nuttiness, both of which are accentuated by a sweet and savory dark cherry sauce and nutty toasted hazelnuts in this dish.
In this quick-cooking sauce, frozen cherries are paired with just a couple savory flavors – balsamic vinegar and soy sauce – and mahlab, a spice that tastes like a cross between cherries and almonds, and goes beautifully with anything containing cherries. Actually, it goes so well, I never make anything cherry without adding a bit of mahlab. Like quick and easy Cherry Sauce made from dried cherries, and three-minute Cherry-Chocolate Sorbet. (You can read more about mahlab in this post if you want, and just a heads-up if you're wondering where you can find it, it's available at Middle Eastern grocery stores, specialty spice shops, and many gourmet food stores…and I've even seen it at Penzeys Spices.)
This side dish comes together easily and pretty quickly, as far as holiday side dish recipes go. If Brussels sprouts always grace your holiday table and you're looking for a delicious new spin on them, this is the perfect recipe for you. It's completely no-fuss, which makes it a painless addition to your holiday menu. And you never know, you might just convert the sprouts-haters in your family.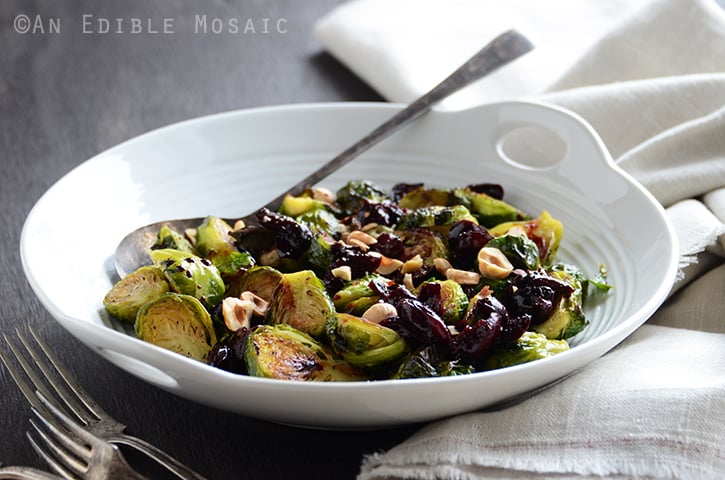 Caramelized Brussels Sprouts with Dark Cherry Sauce + Hazelnut
Prep time:
Cook time:
Total time:
Yield:
4 side dish-sized servings
Ingredients
1 lb (450 g) Brussels sprouts (about 4 cups)
2 tablespoons clarified butter (ghee), melted
¼ teaspoon coarse sea salt
⅛ teaspoon ground black pepper
½ cup (70 g) frozen, pitted dark cherries, quartered
1 tablespoon water
1 teaspoon good quality balsamic vinegar
1 teaspoon coconut aminos (see Note below)
⅛ teaspoon ground mahlab
2 tablespoons toasted hazelnuts, chopped
Instructions
Preheat oven to 400F. Trim the ends off the Brussels sprouts and remove any discolored or damaged outer leaves. Cut them in half lengthwise, or in quarters if they are very large.
Place the Brussels sprouts on a large baking sheet. Drizzle the melted clarified butter on top and sprinkle on the salt and pepper; toss to combine.
Roast the Brussels sprouts until golden and crisp outside and tender inside, about 20 to 30 minutes, flipping once halfway through.
While the Brussels sprouts roast, make the cherry sauce. Add the cherries, water, balsamic, soy or tamari, and mahlab to a small saucepan over medium heat. Cook until the cherries are softened but not mushy, and the sauce is thickened, about 4 to 5 minutes, swirling the pan occasionally.
Pour the Brussels sprouts into a serving dish and top with the cherry sauce and hazelnut; serve immediately.
Notes
Coconut Aminos: Coconut aminos is made from the sap of coconut trees; the sap is aged and has a similar taste to soy sauce. It is commonly used in paleo recipes instead of soy or tamari sauce.