This copycat Low Carb Biscuits Recipe tastes just like Red Lobster Cheddar Bay Biscuits! They're keto-friendly and full of flavor; like all perfect biscuits, they're slightly crispy outside and fluffy inside!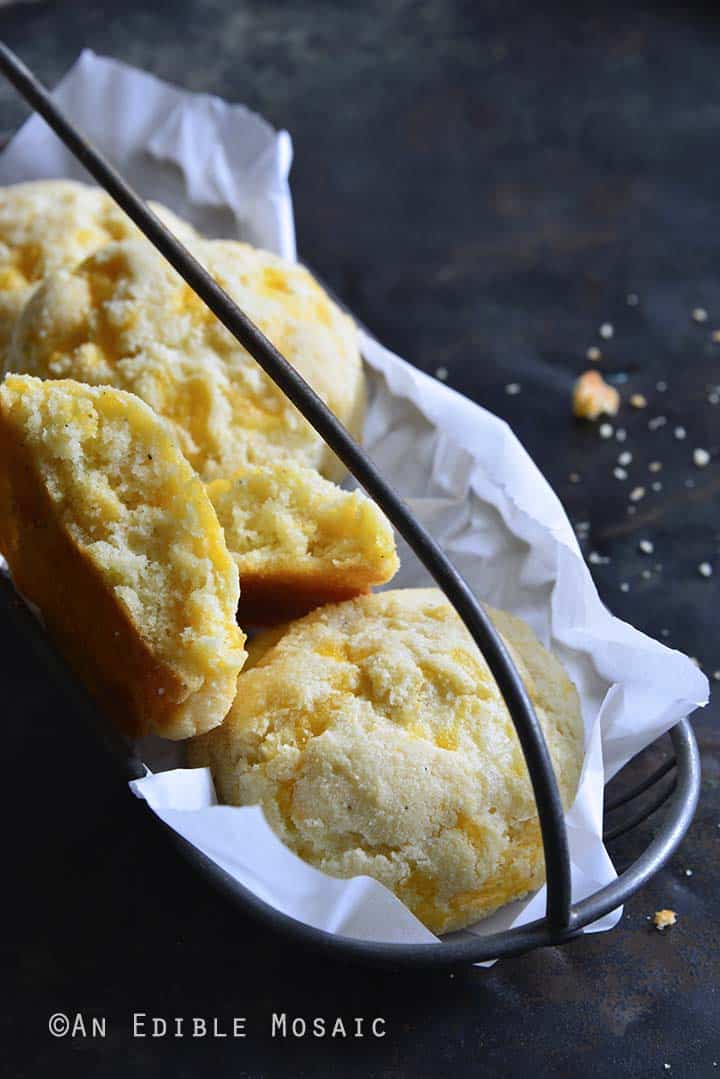 The last time I was at Red Lobster was about three years ago during their Endless Shrimp special. I got three of their shrimp dishes (garlic butter, coconut-crusted, and something else that I'm forgetting now), and was pretty ridiculously stuffed.
Of course, their Cheddar Bay Biscuits probably had something to do with my fullness factor too.
Because it's darn-near impossible to go to Red Lobster and forgo those biscuits. They're cheesy, garlicky, and still warm when they reach the table.
Slathered in butter, I know some people who go to Red Lobster for the biscuits alone!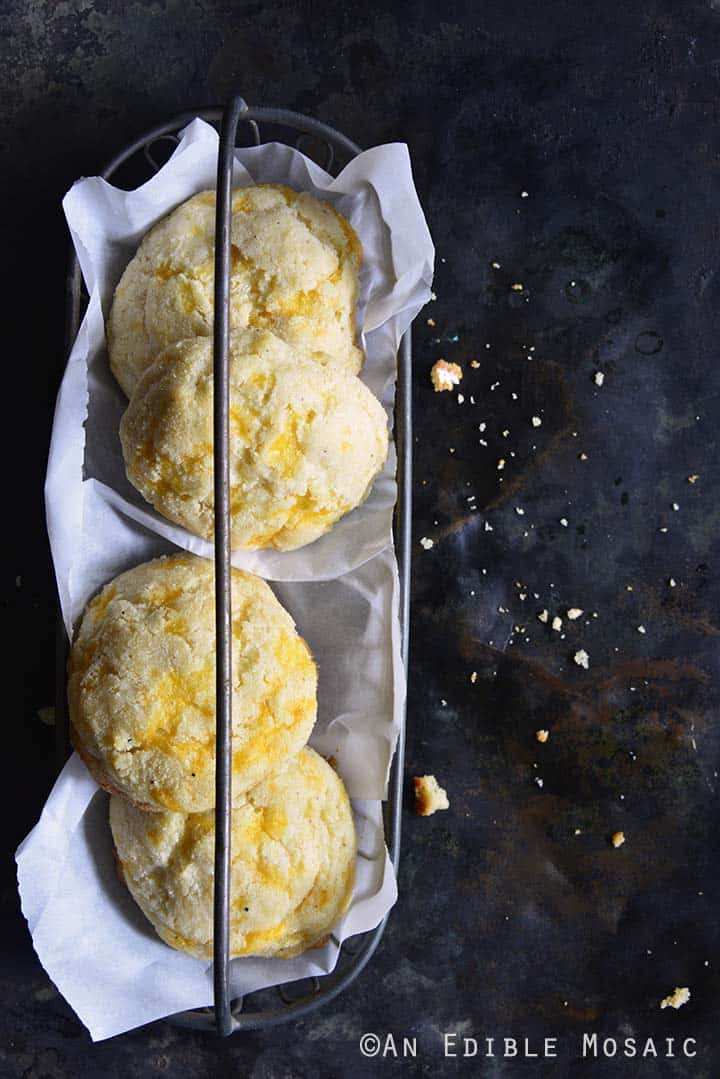 I try to steer clear of regular biscuits most of the time, but that doesn't mean I don't still crave them. That's where this low carb gem of a recipe comes to the rescue.
It took a few tries to get this Low Carb Biscuits Recipe just right! These are the perfect combination of slightly crispy and golden outside and fluffy inside, with cheesy garlic flavor.
These low carb biscuits will truly blow your mind, and if you didn't read the ingredient list, you'd probably be surprised to find out that they're low carb.
They go well with just about any meal. I like them as-is, but topped with a pat of butter while they're still warm takes them to the next level. They also make pretty fantastic bacon and egg sandwiches or turkey and cheese sliders.
They're definitely the best low carb cheddar biscuits I've tried!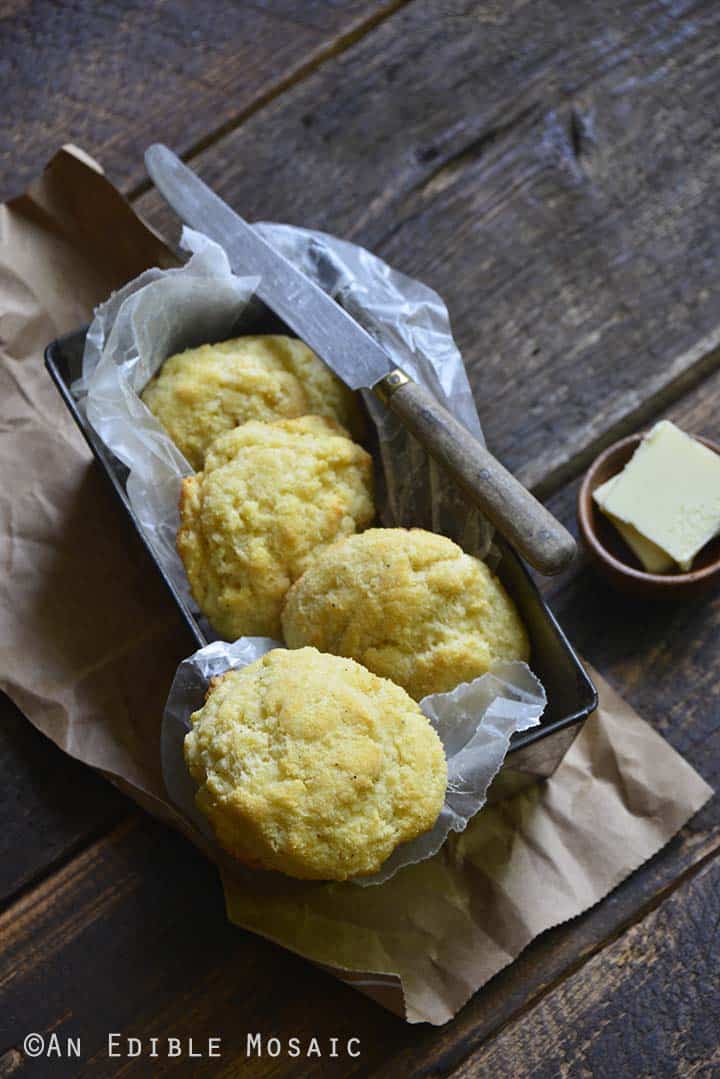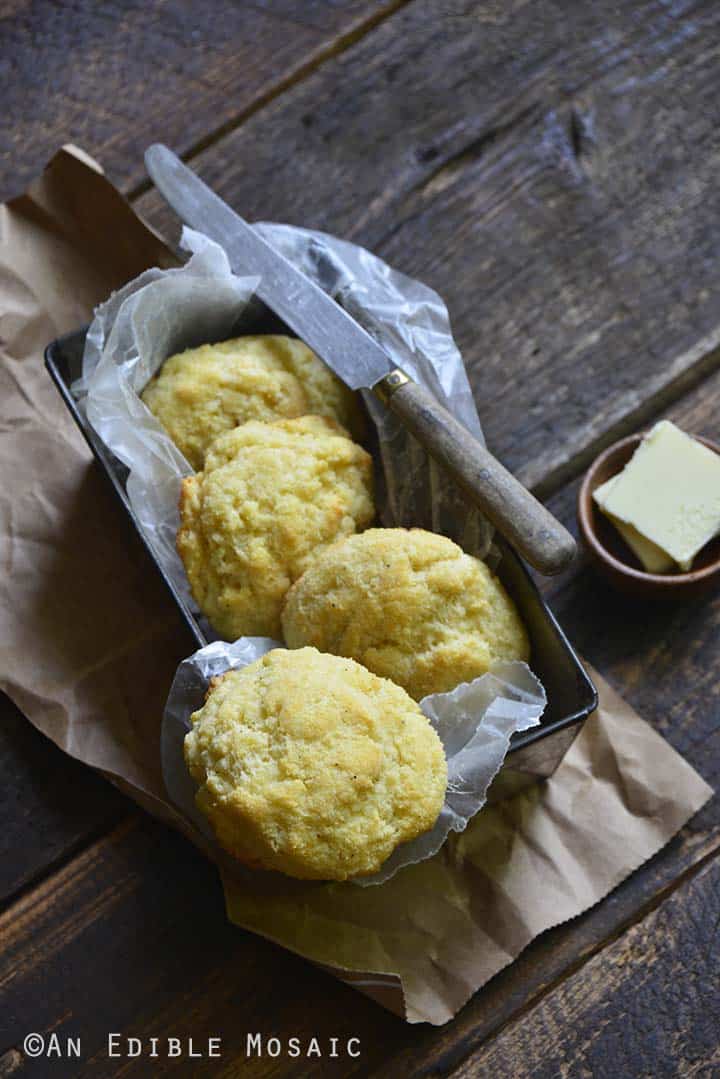 In the photo above, I omitted the garlic powder, black pepper, and yellow cheddar for a more basic Low Carb Biscuit. Both ways are delicious!
Almond Flour in Keto Baking
What is Almond Flour?
Almond flour is ground blanched almonds, blanched meaning that the skins are removed.
Almond meal is ground unblanched almonds, that is, almonds that are ground with the skins on. Because of this, almond flour is lighter in color than almond meal.
Both work well as a gluten free flour in baking and they can sometimes be used interchangeably. However, almond flour yields a lighter result similar to a "white flour" look, and almond meal yields a more "whole wheat" look.
Is Almond Flour Good for Keto?
Almond flour is a wonderful gluten free and grain free flour for making keto friendly baked goods. I particularly like almond flour for making low carb biscuits because it helps yield a fluffy biscuit inside with nice even browning outside.
Additionally, almond flour is also a good substitute for keto breadcrumbs when you want to coat something like chicken tenders, or top a casserole.
I also find that almond flour works well as a keto thickener in stews and curries.
Almond Flour Nutrition
According to the USDA Food Database, a 1/4-cup (28g) serving of almond flour has the following nutrition facts:
170kcals
6g protein
15g total fat
6g carbohydrates
2g fiber
What Does Almond Flour Taste Like?
This might come as a real shock, but almond flour does in fact taste like almonds, lol! Almond flour lends a slightly sweet and nutty almond flavor.
However, the flavor of almonds is easy to cover up in savory baked goods like this Low Carb Biscuits Recipe. Stronger savory flavors, such as herbs, garlic, cheese, etc. are perfect for this!
I find that in sweet recipes (such as cookies, cakes, etc.), the flavor of almond flour usually works well. However, the flavor of almond flour can be reduced in sweet recipes by combining it with another type of flour, such as coconut.

What Can I Use Almond Flour For? (Hint: It's Perfect for Making This Low Carb Biscuits Recipe!)
Almond flour is very versatile; it's a staple in my keto pantry!
Here are a few more recipes that use almond flour: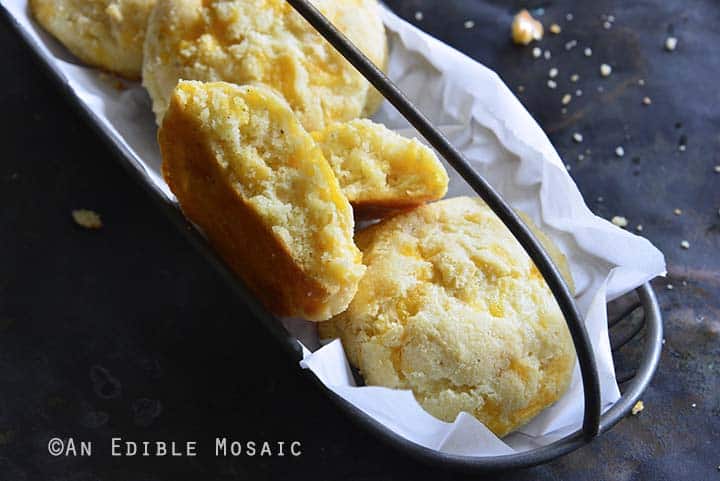 Did you make this recipe? Please rate it and leave a comment below because I love hearing from you! You can also tag @anediblemosaic on social media. To stay up-to-date FOLLOW ME on Instagram, Twitter, and Facebook. Xoxo, Faith
Low Carb Biscuits Recipe (Red Lobster Cheddar Bay Biscuits Copycat)
These copycat Low Carb Biscuits taste just like Red Lobster Cheddar Bay Biscuits! They're keto-friendly and full of flavor; like all perfect biscuits, they're slightly crispy outside and fluffy inside!
Print
Pin
Rate
Instructions
Preheat the oven to 350F; line a large baking sheet with parchment paper or a sipat liner.

Whisk together the almond flour, baking powder, salt, garlic powder, and black pepper in a large bowl. Cut in the butter with a fork until it looks like coarse meal. Use a fork to mix in the heavy whipping cream a little at a time, and then mix in the eggs. Cut in the white cheddar until it forms a dough. Fold in the yellow cheddar.


Divide the dough into 8 equal portions and roll each into a ball. Arrange the balls on the prepared baking sheet and bake until golden on bottom, about 20 minutes.


Serve warm or at room temperature. Store leftovers covered in the fridge up to 3 days or wrapped well in the freezer for up to 3 months. To reheat, toast them in a toaster oven (if frozen, thaw them first).

Helpful Tips
Net Carbs: 5g per serving (1 biscuit)
For a more basic biscuit, omit the garlic powder, black pepper, and yellow cheddar.
These biscuits freeze well! Wrap them in parchment paper, pop them into a zip-top freezer bag, and defrost them as you need them. To serve, thaw them to room temperature and then reheat them until warm a 350F oven or a microwave.
Nutrition
Serving:
1
biscuit
|
Calories:
337
kcal
|
Carbohydrates:
7
g
|
Protein:
12
g
|
Fat:
30
g
|
Saturated Fat:
11
g
|
Cholesterol:
88
mg
|
Sodium:
297
mg
|
Potassium:
142
mg
|
Fiber:
2
g
|
Sugar:
1
g
|
Vitamin A:
560
IU
|
Calcium:
268
mg
|
Iron:
1.5
mg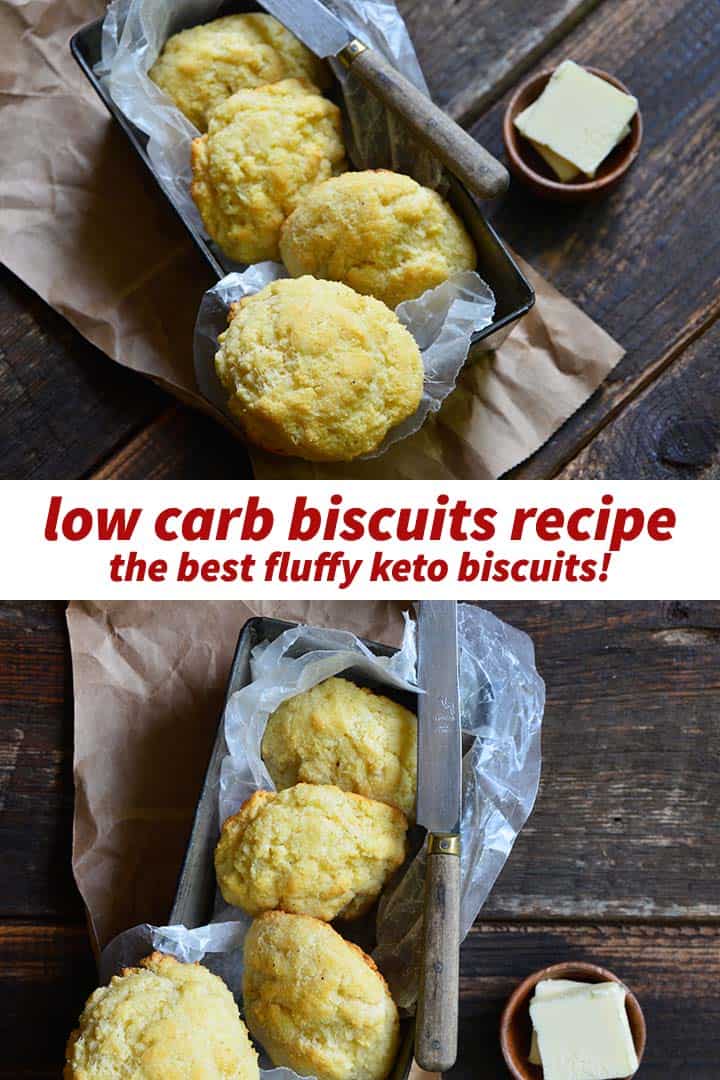 This post was first published on An Edible Mosaic on January 15, 2018. I updated it with more information on May 8, 2020.
Disclosure: This post contains Amazon affiliate links to products I believe in, which means that even though it doesn't cost you anything extra, I will receive a small amount of money from the sale of these items. Thank you for helping to support An Edible Mosaic!