This Gluten Free Pumpkin Bread Recipe is a low carb dream come true; it's moist with great texture and is packed with sweetly spiced pumpkin flavor. You'd never guess it's gluten free and low carb!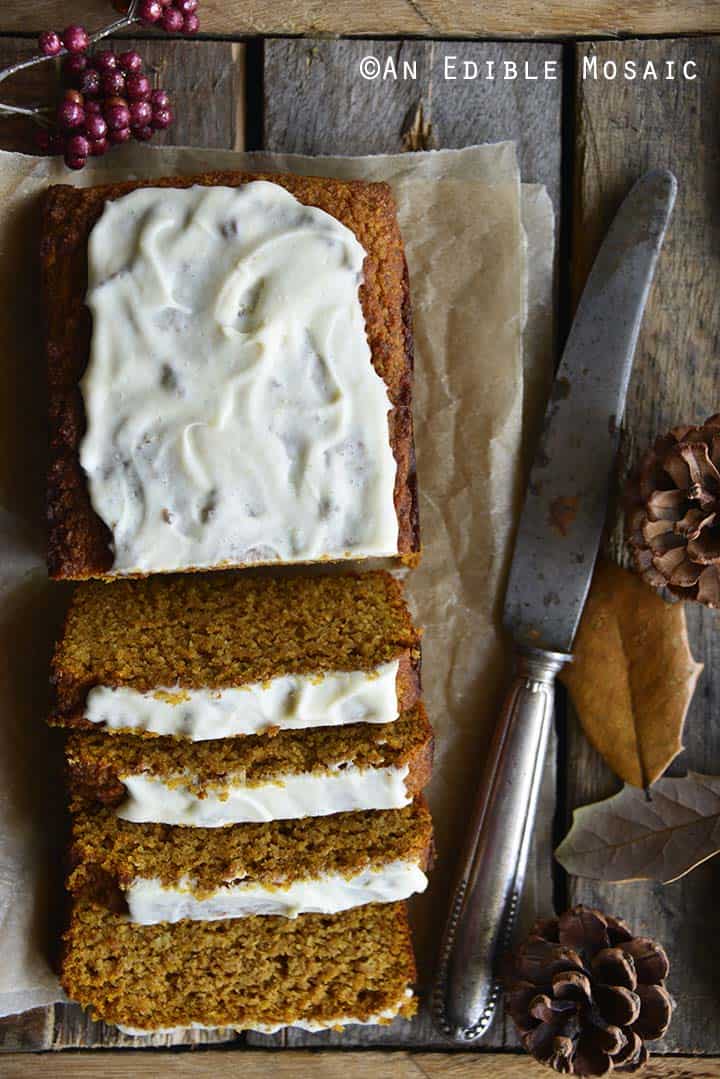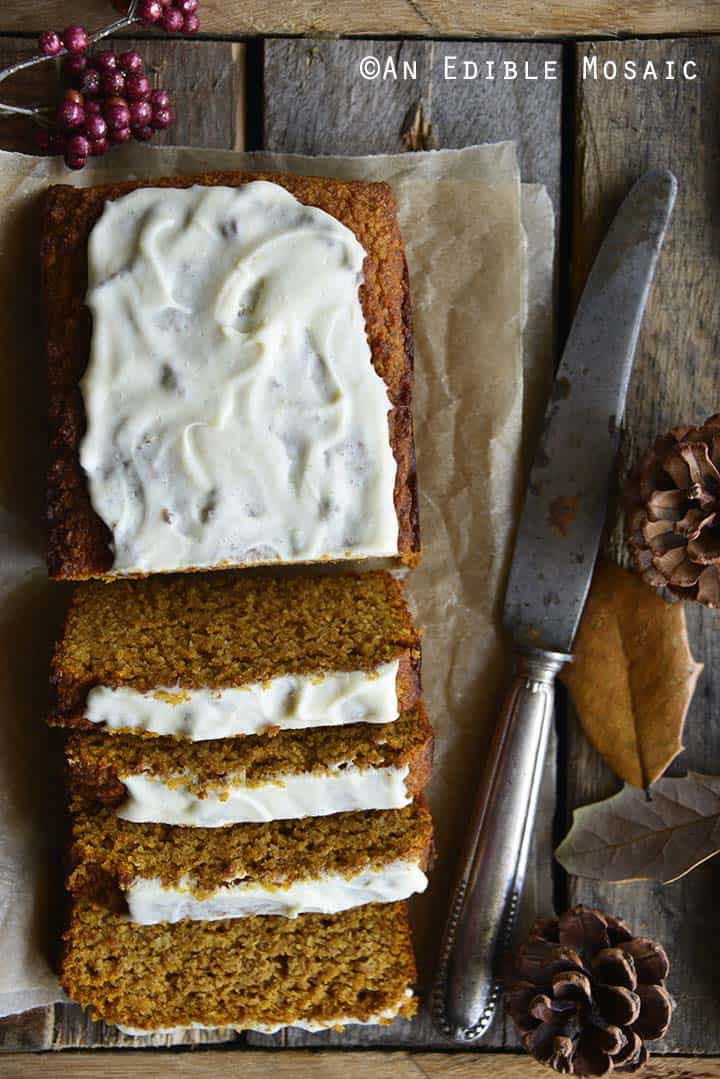 When autumn rolls around I get the itch to bake. Back in Buffalo this made sense because we actually have a fall to enjoy up there; cooler temperatures, crisp air, foliage, and being able to wear a cute scarf and boots are all things I miss, lol. But here in Florida, there is no fall to speak of, and yet I still have the urge to do autumnal baking! I guess it's in my genes. I'm happy to say this Gluten Free Pumpkin Bread Recipe satisfied all my fall cravings, in terms of pumpkin love and baking compulsions.
#VirtualPumpkinParty
Every year for the past three years I've looked forward to Sara's Virtual Pumpkin Party. It's a pumpkinpalooza of sorts, where anything pumpkin-related is a go. Here's what I made in years past:
What is Quick Bread?
Quick bread refers to breads that are leavened without yeast, and therefore don't require rise time. Instead, this type of bread is usually leavened with a quick-acting leavening agent, such as baking powder or baking soda. Examples of quick breads include the following: Banana Bread, Zucchini Bread, Cornbread, and this Gluten Free Pumpkin Bread Recipe.
Are Quick Breads Always Sweet?
Quick breads are very versatile and can be sweet or savory! A couple of my favorite savory quick bread recipes are Rosemary-Onion Quick Bread and Cheddar-Dill Beer Bread.
Troubleshooting a Few Common Problems with Quick Bread and Banana Bread
I frequently get asked for advice on baking quick bread recipes. Follow the tips I give below and you'll be baking up gorgeous loaves in no time!
Why Does Bread Fall in the Middle?
There could be a few different reasons why your bread sinks in the middle:
There wasn't enough leavener used (such as baking powder, baking soda, yeast, etc.).
Before baking, the batter sat too long.
The recipe called for too much liquid.
It needed to bake longer.
How Long Does it Take Banana Bread to Cook?
Banana Bread and other quick breads usually take around 40 to 60 minutes to bake at 350F in a standard size (9 by 5-inch) loaf pan.
How Do You Know When Banana Bread is Done?
In general, the toothpick test works well. Insert a wooden pick (or a clean toothpick) into the center of the loaf. If it comes out clean, the bread is done. I usually start checking the bread for doneness about 5 to 10 minutes before the suggested bake time is up.
How Long Do You Cool Banana Bread Before Removing From the Pan?
After I remove a loaf of banana bread or other quick bread from the oven, I place it (still in the loaf pan) on a wire rack to cool for 10 minutes. After 10 minutes, I carefully (while wearing potholders) remove the bread from the loaf pan. Subsequently, I place the bread directly onto a wire rack to finish cooling.
More Delicious Quick Bread Recipes:
Gluten Free Pumpkin Bread Recipe
This Gluten Free Pumpkin Bread Recipe is a low carb dream come true; it's moist with great texture and is packed with sweetly spiced pumpkin flavor. You'd never guess it's gluten free and low carb!
Instructions
Preheat oven to 350F; line a 9 by 5-inch loaf pan with 2 pieces of parchment paper so it hangs over all 4 sides (so you can lift the bread out later). Lightly spray the inside with coconut oil.

Cream together the butter and erythritol, and then beat in the eggs, pumpkin puree, vanilla, molasses, and stevia glycerite.

Whisk together the almond flour, flaxseed meal, tapioca flour, baking powder, cinnamon, nutmeg, ginger, allspice, cloves, and salt in a medium bowl.

Whisk the dry ingredients into the wet all at once.

Pour the batter into the prepared pan and spread it out. Bake until the bread is golden and a wooden pick inserted in the center comes out clean, about 40 to 45 minutes. Cool completely before icing.

Once the cake is cooled, whisk together all ingredients for the icing, and spread it on top of the cake.

Let the icing harden before slicing.

Store any leftovers wrapped in the fridge for up to 5 days.
Faith's Tips
Net Carbs: 4g per serving (1 slice or 1/12 of loaf)
Nutrition
Nutrition Facts
Gluten Free Pumpkin Bread Recipe
Amount Per Serving (1 slice)
Calories 165
Calories from Fat 126
% Daily Value*
Fat 14g22%
Cholesterol 44mg15%
Sodium 16mg1%
Potassium 103mg3%
Carbohydrates 6g2%
Protein 4g8%
Vitamin A 1820IU36%
Vitamin C 0.4mg0%
Calcium 67mg7%
Iron 1mg6%
* Percent Daily Values are based on a 2000 calorie diet.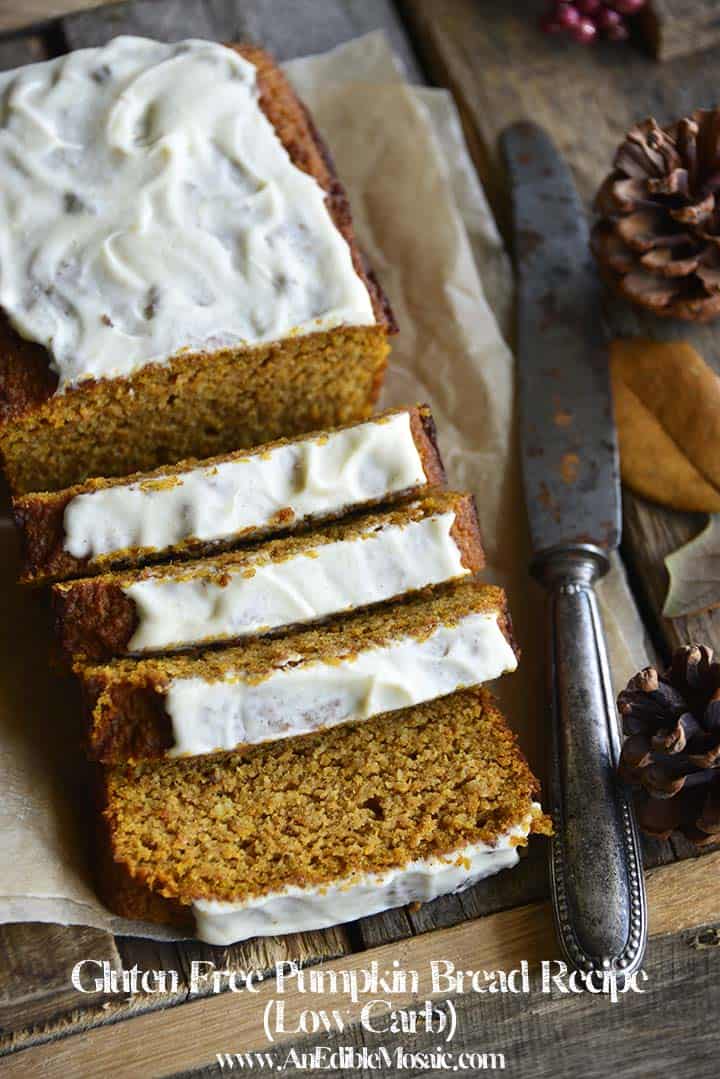 Disclosure: This post contains Amazon affiliate links to products I believe in, which means that even though it doesn't cost you anything extra, I will receive a small amount of money from the sale of these items. Thank you for helping to support An Edible Mosaic!