Mike and I have a strange Christmas tradition. Every year during the week between Christmas and New Year's Day, we watch The Godfather and roast chestnuts. I'm not sure how or why this became our tradition (as far as I know The Godfather has no ties to Christmas), and I have no idea what the relationship between the movie and roasted chestnuts is, but Mike always insists on chestnuts along with the movie. And so, because I love him (and roasted chestnuts), I oblige him.
If you've never roasted chestnuts at home before, they're much easier than you might expect…no open fire required!
Wishing you all a safe and happy New Year's Eve, and a joyous New Year!
How to Roast Chestnuts
Chestnuts (1 lb will serve about 4 people)
1. Preheat oven to 425F.
2. Put the chestnuts in a colander and rinse with cold running water, then pat dry.
3. Use a sharp paring knife to cut a large "X" on the flat side of each chestnut; to help stabilize the chestnut, place a kitchen towel on a cutting board, then put the chestnut on top of the towel before cutting. (Don't skip this step – the "Xs" are pretty important since they let the steam escape and also make peeling the chestnuts much easier.)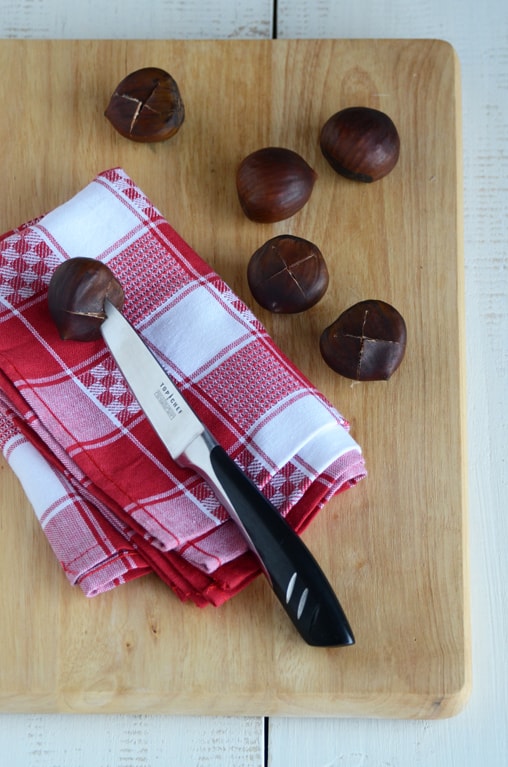 Resting the Chestnuts on a Kitchen Towel Stabilizes Them When You Want to Cut Your "X"
4. Arrange the chestnuts "X" side up on a baking sheet. Bake until they're tender and the shells curl open, about 20 to 30 minutes.
The Chestnuts Should Look Like This When They're Done Roasting
5. Tightly wrap the chestnuts in a kitchen towel and cool just until you can handle them without burning your hands, about 10 minutes, then peel them (don't wait too long because they're much easier to peel when they're still warm).
Peeling Chestnuts
6. Discard any chestnuts that are moldy or spoiled and enjoy the rest!