This Pumpkin Spice Latte Snack Cake with Brown Butter Buttercream is the perfect festive treat to whip up if you're in the mood for a little fall baking!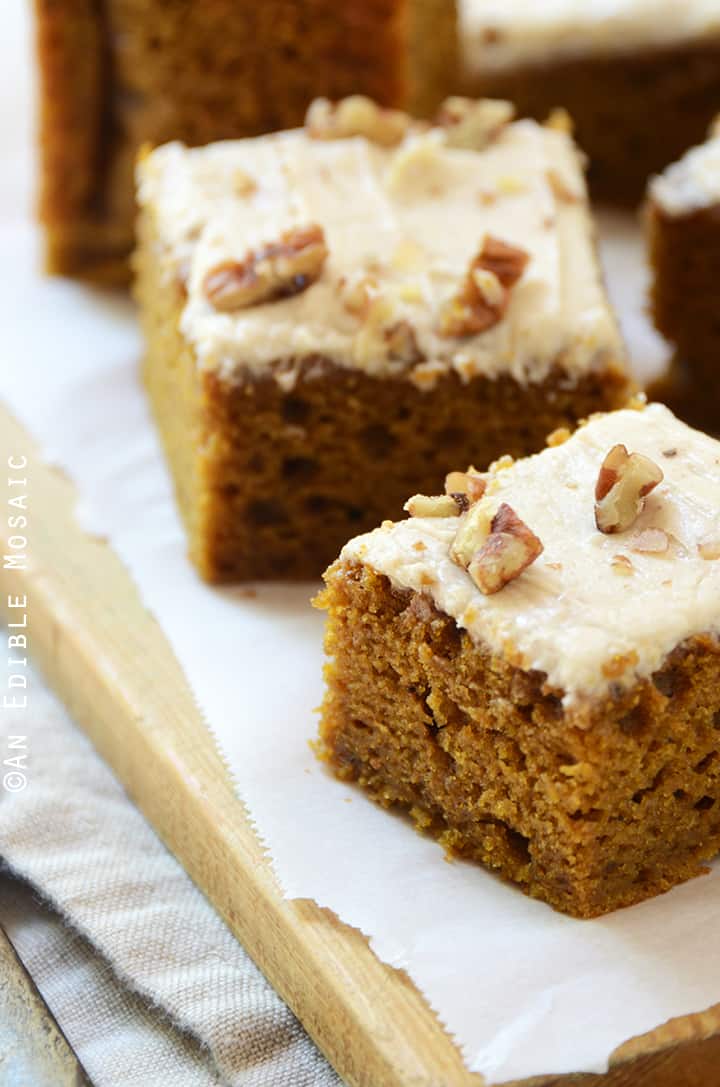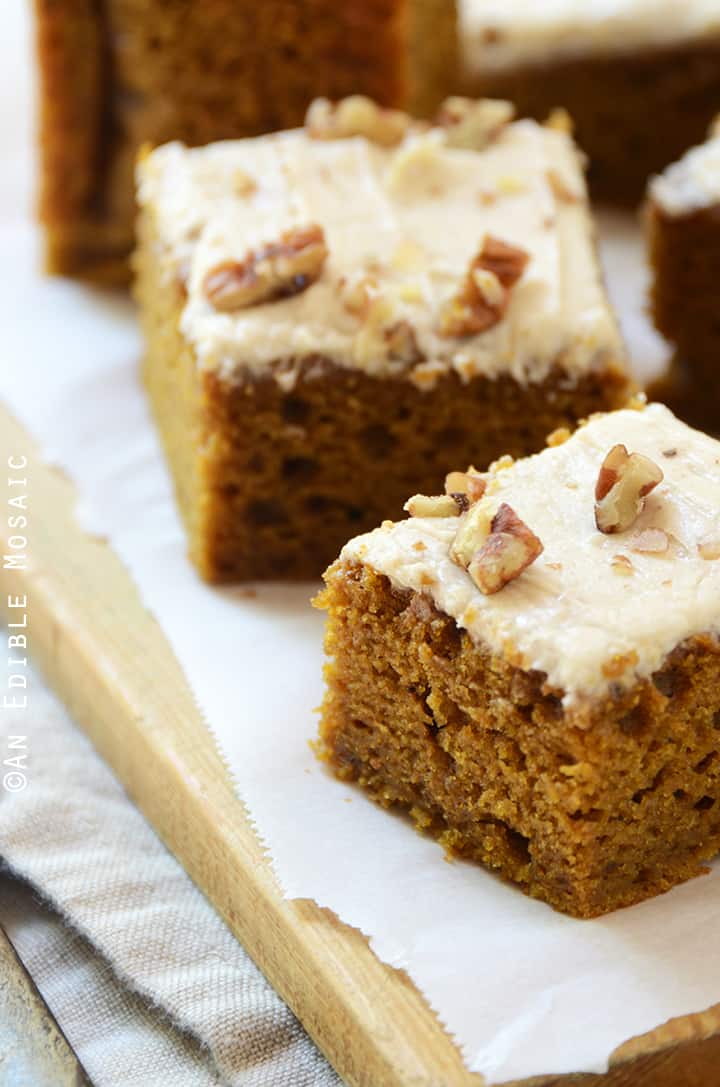 I seriously hope you haven't reached your quota of pumpkin spice latte fun yet this fall because this cake is one of the best pumpkin creations to come out of my kitchen in a while.
And come on, you probably still have a can of pumpkin in your pantry…or maybe even half a can or so in your fridge that you're wondering how to use up? I have you covered.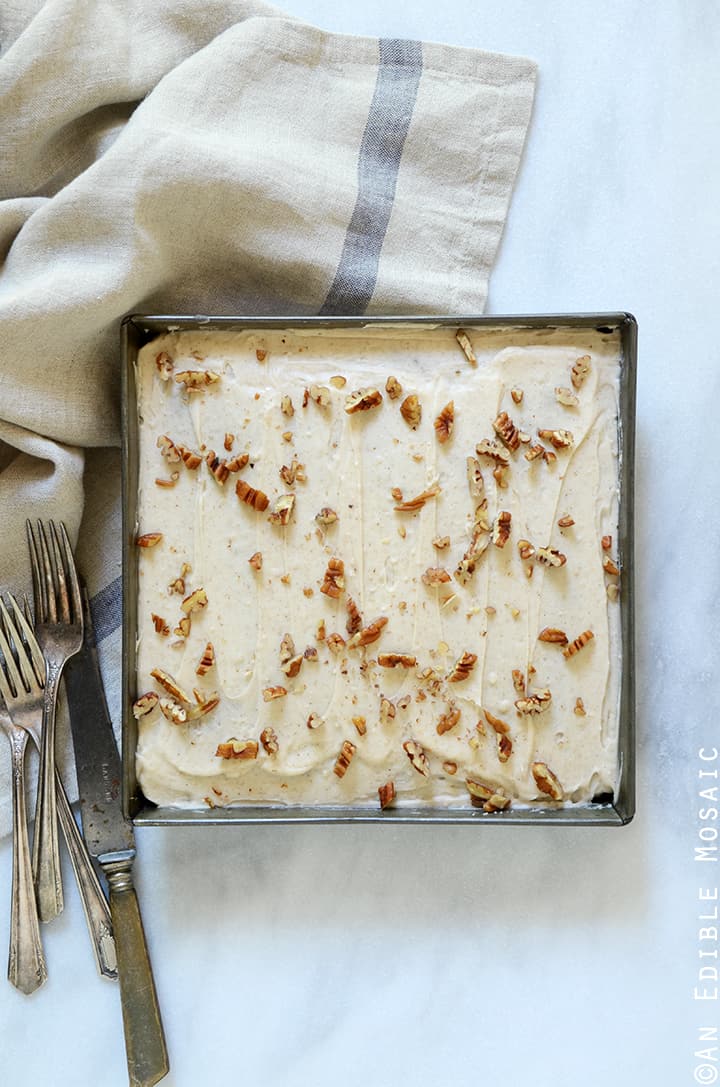 When Sara from Cake Over Steak invited me to take part in her #VirtualPumpkinParty there's no way I could refuse, especially not with this little gem of a recipe just waiting to be shared. (Thank you so much for thinking of me, Sara!)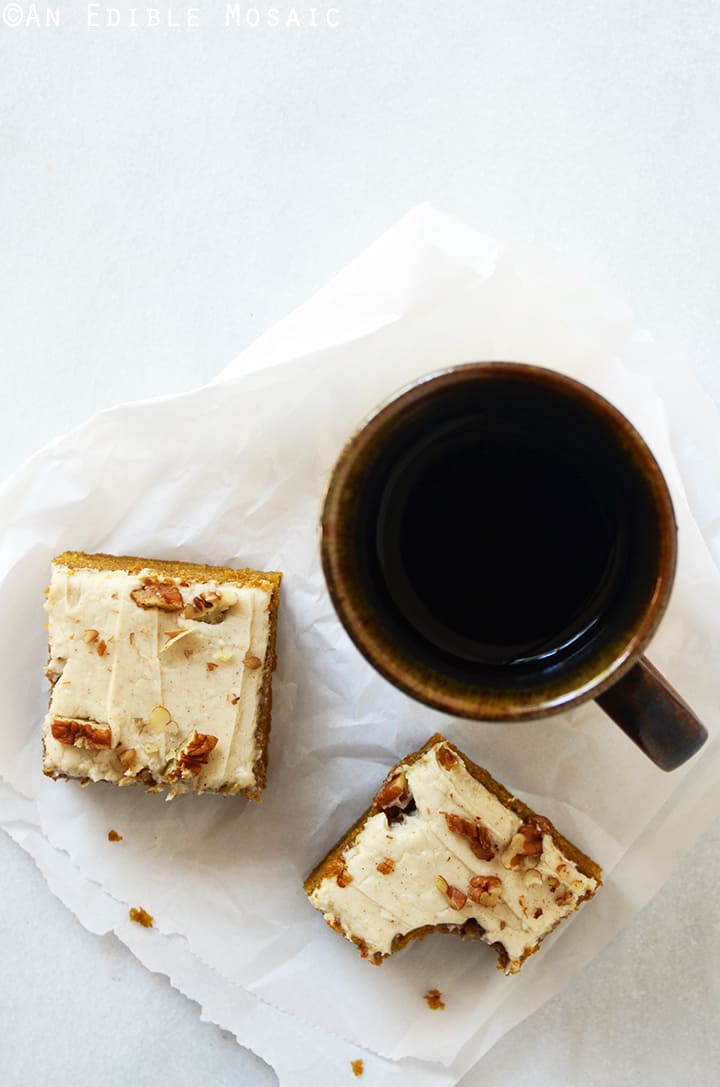 This easy cake comes together quick, and it makes a great festive afternoon snack for the kiddos or a treat to have with coffee for mama. It's kind-of like carrot cake meets a pumpkin spice latte, and really, who wouldn't want that? ;)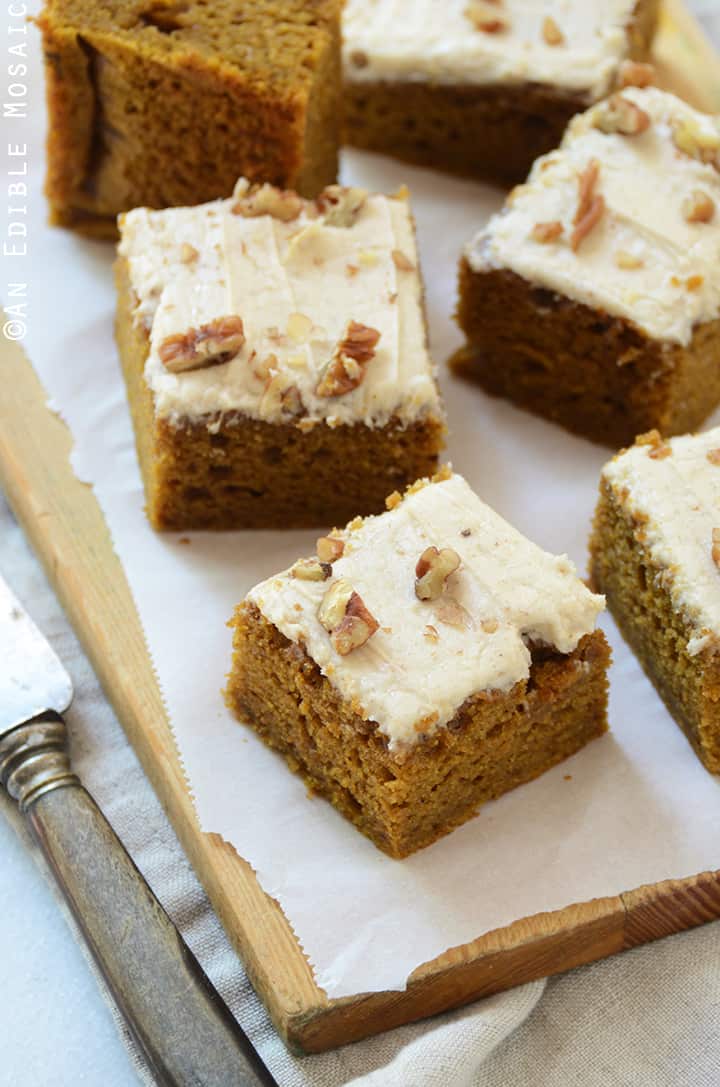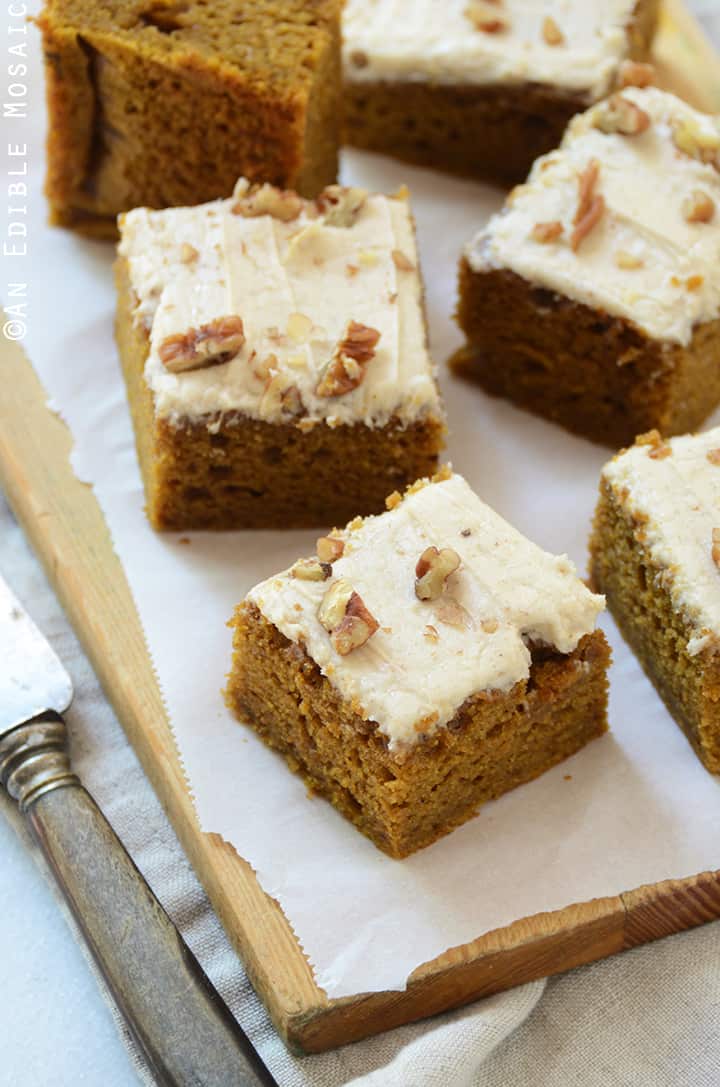 Truth be told, this cake needs no frosting. It's moist, flavorful with pumpkin, richly spiced, and completely perfect on its own. The brown butter buttercream idea came to me because I thought the top of the cake looked a little boring as-is.
That being said, this brown butter buttercream is some kind of wonderful. The nutty, caramel-like flavor notes of brown butter are the perfect foil (and quite literally, the icing on the cake) for this snack cake.
Check out all the other yummy sounding dishes that the other participating bloggers made...
Cake Over Steak • Pumpkin Ginger Cookies with a Vanilla Glaze
Britnell • Pumpkin & Goat Cheese Macaroni
A Couple Cooks • Pumpkin Spice Almond Butter
I Am a Food Blog • Roasted Pumpkin and Pork Stuffed Shells
Well and Full • Harissa-Spiced Pumpkin Gnocchi
Loves Food, Loves to Eat • Pumpkin Pork Burrito Bowls
Girl Versus Dough • Pumpkin Challah
Snixy Kitchen • Black Sesame Pumpkin Mochi Cake
Hungry Girl por Vida • Pumpkin Chocolate Crumb Cake
Donuts, Dresses and Dirt • Pumpkin Spice Latte Truffles
A Little Saffron • Spiced Pepita Brittle
Two Red Bowls • Pumpkin & Caramelized Onion Galette
The Frosted Vegan • Dark Chocolate Pumpkin Gingersnaps
Warm Vanilla Sugar • Dulce de Leche Pumpkin Ice Cream + Affogato
Kitchen Konfidence • Yeasted Pumpkin Waffles with Candied Ginger
Chocolate + Marrow • Pumpkin Scones with Cinnamon Butter Swirl
The Pig & Quill • Pumpkin Pie Milkshakes with Pumpkin Spice Caramel + Coconut Cream
Salt & Wind • Apple Cinnamon Pumpkin Muffins with Pepita Streusel
With Food + Love • Creamy Pumpkin Polenta with Balsamic Roasted Beets
A Cookie Named Desire • Pumpkin Crepes with Cinnamon Ginger Cheesecake
Nommable • Pumpkin Moon Pies
Feed Me Phoebe • Thai Pumpkin Curry with Shrimp and Bok Choy
The Yellow Table • Coconut-Curry Pumpkin Soup
Ginger & Toasted Sesame • Pumpkin Ricotta Gnudi
The Crepes of Wrath • Pumpkin Pie Cake
The Swirling Spoon • Pumpkin Hand Pies
Erin Made This • Pumpkin Rye Waffles with Coconut Caramel
Beard and Bonnet • Pumpkin Spice Pizzelle Ice Cream Sandwiches
My Name is Yeh • Pumpkin Slice and Bake Cookies
Earthy Feast • Pumpkin-Stuffed Turnip-Ravioli with Pepita Pesto
Broma Bakery • Pumpkin Pie White Chocolate Brownies
Floating Kitchen • Pumpkin Beertail with Tequila and Spiced Rum
The Sugar Hit • Pumpkin Everything Bagels
The Bojon Gourmet • Pumpkin Flatbread with Gruyére and Crispy Sage (gluten-free)
Farmette • "Tis Different" Pumpkin Pie
Sprinkled with Jules • Pumpkin Spice French Macarons
Feast + West • Dark Chocolate Pumpkin Seed Toffee Bark
Jojotastic • Pumpkin Cinnamon Rimming Sugar
Fix Feast Flair • Japanese Pumpkin Spice Cheesecake with Quick Caramel
Appeasing a Food Geek • Pumpkin Ale Cake
Tending the Table • Roasted Pumpkin with Tamarind and Coriander Chutney
Long Distance Baking • Pumpkin Pie Ice Cream + Pumpkin Pancakes
My Blue & White Kitchen • Roasted Pumpkin Risotto with Crispy Prosciutto
Fork Vs. Spoon • Pumpkin Buttermilk Pudding
Alyssa & Carla • Pumpkin Tea Bread (in a Coffee Can!)
Twin Stripe • Pumpkin Spice Toffee
Le Jus d'Orange • Lentil-Stuffed Acorn Squash, Crispy King Oyster Bacon + Aged Goat Cheese
The Scratch Artist • Japanese Pumpkin Temaki with Ginger Kale Chips
Brewing Happiness • Caramelized Apple Pumpkin Muffins
Blogging Over Thyme • Homemade Candied Pecan Pumpkin Ice Cream Drumsticks
Heartbeet Kitchen • Pumpkin Swirled Mashed Potatoes
The Speckled Palate • Pumpkin Brown Butter Streusel Muffins with Maple Cream Cheese Glaze
Cookie Dough and Oven Mitt • Pumpkin Gingersnap Pie
Style Sweet CA • Chocolate Stout and Pumpkin Checkerboard Cake
Fork to Belly • Pumpkin Orange Brulee Pie
Tasty Yummies • Grain-Free Pumpkin Spice Pancakes
Påte á Chew • Pumpkin Almond Cake with Almond Butter Frosting
Holly & Flora • Pumpkin Pie Martini with Coconut Cream + Homemade Pumpkin Spice Syrup
Southern Soufflé • Sorghum Pumpkin Soufflés
Okie Dokie Artichokie • Creamy Pumpkin and Chorizo Pasta Bake, Cheese Tortellini, Sage-Mascarpone Sauce, Toasted Hazelnuts
Kale & Caramel • Pumpkin Goat Cheese Polenta with Brown Butter Thyme Mushrooms & Kale
The Little Epicurean • Maple Pumpkin Butter Brioche Toast
Vigor and Sage • Maple Pumpkin Harvest Smoothie
Tried and Tasty • Whole Wheat Pumpkin Sugar Cookies
Sprouted Routes • Creamy Vegan Pumpkin Risotto with Sweet & Spicy Roasted Pepitas (gluten free)
The Fauxmartha • Baked Pumpkin Donuts
So... Let's Hang Out • Grain-Free Apple Crumble Pumpkin Pie
Wit & Vinegar • Pumpkin Flaxseed Dog Treats
Dunk & Crumble • Pumpkin Roundup
Biscuits and Such • Pumpkin Pound Cake
SugarHero! • Cinnamon Swirl Pumpkin Pound Cake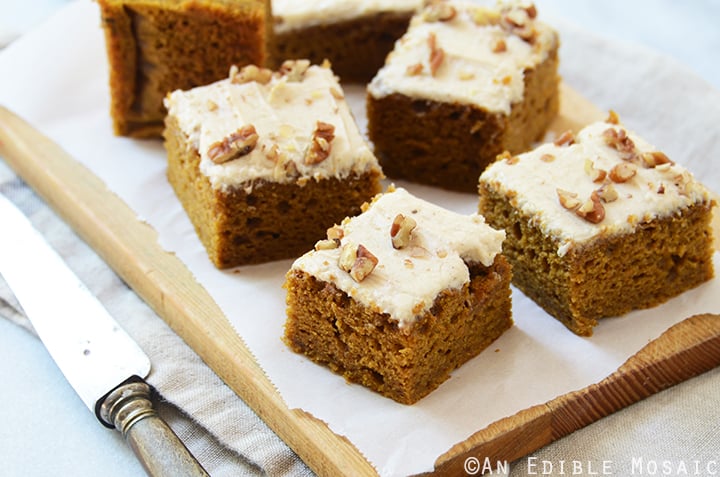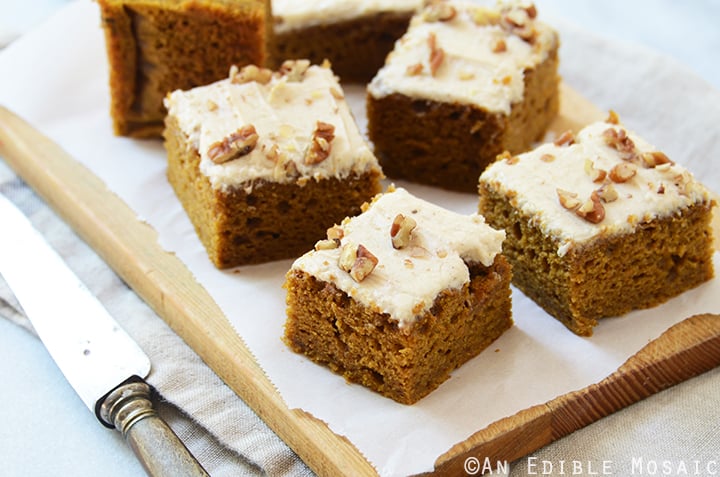 Pumpkin Spice Latte Snack Cake with Brown Butter Buttercream
Prep time:
Cook time:
Total time:
Yield:
1 (8 by 8-inch) cake, about 12 servings
This Pumpkin Spice Latte Snack Cake with Brown Butter Buttercream is the perfect festive treat to whip up if you're in the mood for a little fall baking!
Ingredients
Cake:
Butter, to grease the dish
1 cup (128 g) all-purpose flour
1 teaspoon baking powder
1 teaspoon ground cinnamon
½ teaspoon ground nutmeg
½ teaspoon dried ginger
½ teaspoon salt
¼ teaspoon baking soda
¼ teaspoon ground cloves
¾ cup (160 g) light brown sugar, lightly packed (or coconut sugar)
2 large eggs
1 cup (245 g) pumpkin puree
¼ cup (60 ml) avocado oil or light olive oil
2 teaspoons instant espresso powder dissolved in 2 teaspoons hot water
1½ teaspoons pure vanilla extract
Frosting:
3 tablespoons unsalted butter, browned (see Note)
1 cup (115 g) powdered sugar
2 tablespoons heavy cream, or slightly more or less as needed
Other:
2 tablespoons chopped pecans, for topping (optional)
Instructions
For the cake, preheat the oven to 350F; grease an 8 by 8-inch baking dish with butter and line the bottom with parchment paper.
Whisk together the flour, baking powder, cinnamon, nutmeg, ginger, salt, baking soda, and cloves in a medium bowl and set aside.
Beat together the brown sugar and eggs until light and fluffy. Beat in the pumpkin puree, oil, dissolved espresso powder, and vanilla. Stir the dry ingredients into the wet until combined, being careful not to over-mix.
Pour the batter into the prepared dish and bake until a wooden pick inserted into the center comes out clean, about 18 to 22 minutes. Cool completely on a wire rack before frosting.
Once the cake is cool, make the buttercream. To do so, beat together the brown butter and powdered sugar, gradually adding the cream while beating until it reaches your desired consistency.
Frost the cake with the buttercream and sprinkle the pecans on top.