This Low Carb Cheesy Chicken Casserole with Poblano Peppers is a fun Tex-Mex twist on your basic chicken casserole!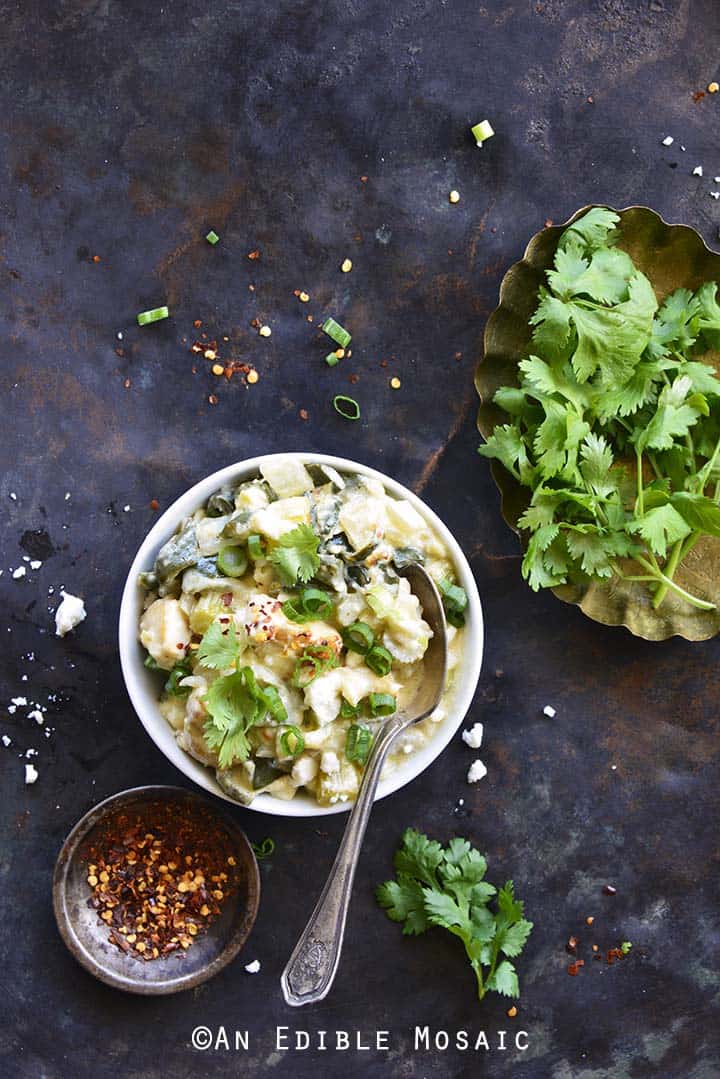 I know this is a pretty bold statement, but I have to say, chicken is my favorite protein. Not only is it mild in flavor and aroma (unlike some things like lamb and certain types of seafood), but it's a wonderful blank slate to showcase other flavors. Chicken lends itself well to any number of cuisines, can be prepared in a variety of different ways, and is one of the most crowd-pleasing meats.
This Low Carb Cheesy Chicken Casserole with Poblano Peppers features salsa verde (aka green salsa) and three different types of cheese (cream cheese, white cheddar, and queso fresco (a creamy-textured crumbling cheese that's used in Mexican cuisine). I used poblano peppers to keep with the Tex-Mex inspiration, but you could substitute green bell peppers if you prefer.
Low Carb Casseroles
Like cooking anything else, sometimes it just takes a little bit of creativity to remake a regular casserole into a low carb version of itself. Here I give some practical tips on how to do that.
How to Cut Carbs in a Casserole
There are a few common sources of carbs in casseroles: sauce; pasta, rice, or other grains; and starchy vegetables, such as potato or corn. I'll talk about how to reduce the carbs in each of these components.
How to Make a Low Carb Sauce
Sauces are frequently thickened with some kind of starch, such as flour or cornstarch. Instead of using starch to thicken my sauce, I use cream cheese, which lends a creamy texture and delicious flavor. Additionally, I melt shredded cheddar into the sauce for added richness and depth of flavor.
How to Make Casserole without Grains
Instead of adding pasta, rice, or other grains to casserole, I focus on using protein (such as chicken or beef) and low carb vegetables, like I did with this Low Carb Cheesy Chicken Casserole with Poblano Peppers.
Low Carb Vegetables to Add to Casserole
A few of my favorite low carb vegetables to add to casseroles are: celery, mushrooms, spinach, broccoli, cauliflower, zucchini, or cabbage. I also frequently include sauteed garlic and onion because they really bump up the flavor.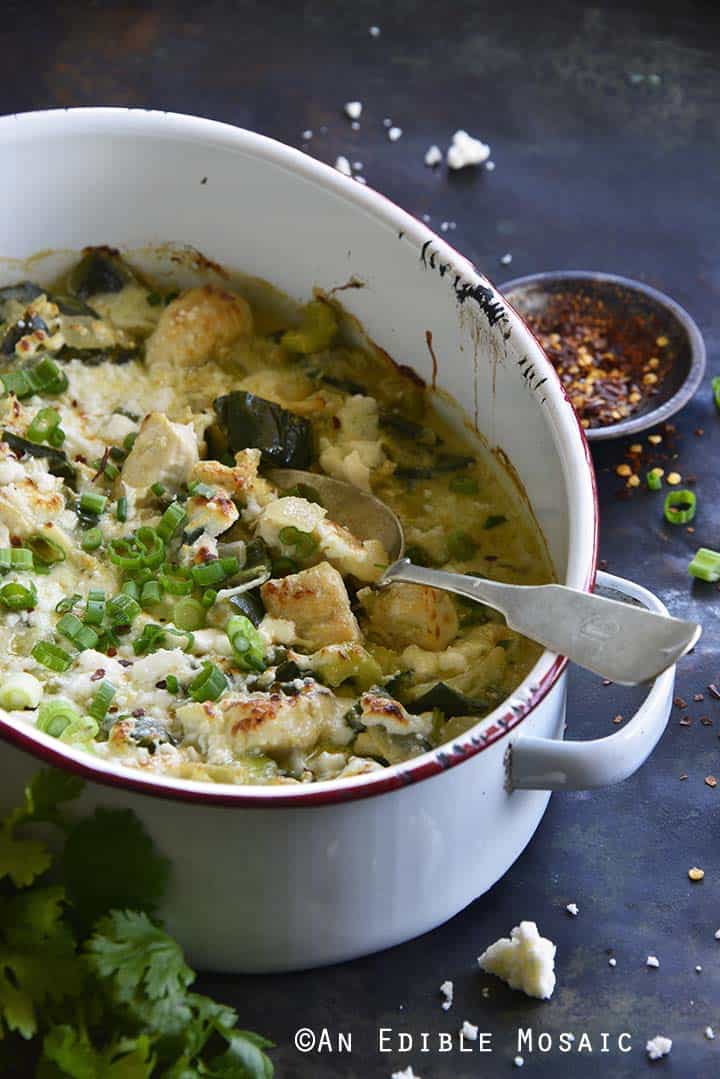 How to Make Chicken Casserole
Ingredients in This Low Carb Cheesy Chicken Casserole with Poblano Peppers:
Olive oil

Boneless, skinless chicken breasts

Poblano peppers

Celery

Onion

Garlic

Low-sodium chicken broth

Salsa verde

Cream cheese

White cheddar

Queso fresco
Are Poblano Peppers Hot?
Poblano chile peppers have a relatively mild spice level. Once the poblano pepper matures, its color turns dark reddish-brown and can be dried, at which point we know it as an ancho, and if smoked and dried it's called a chipotle. It has about 1,000 to 2,000 Scoville Heat Units, a measure of capsaicin concentration. (Read more about poblanos and other peppers on Epicurious, and more about the Scoville Scale on Wikipedia.)
How to Make Casserole Ahead of Time
How Long Can You Keep Casserole in the Fridge
According to FoodSafety.gov, leftover cooked meat or poultry can be stored in the fridge (40F or below) for 3 to 4 days. Alternatively, it can be stored in the freezer (0F or below) for 2 to 6 months.
How to Reheat Casserole in the Oven
Once a casserole is fully cooked, leftovers can be covered and stored in the fridge for up to 4 days. When you want to reheat a casserole, cover the top with foil and heat it in a preheated 350F oven until warm throughout, about 20 to 30 minutes. Of course you could just make the casserole ahead of time and reheat it the same way.
To reheat a casserole that was frozen, I usually thaw it overnight in the fridge or about 4 hours at room temperature, and then bake it covered with foil in a 350F oven until warm throughout.
More Easy Chicken Dinner Recipes: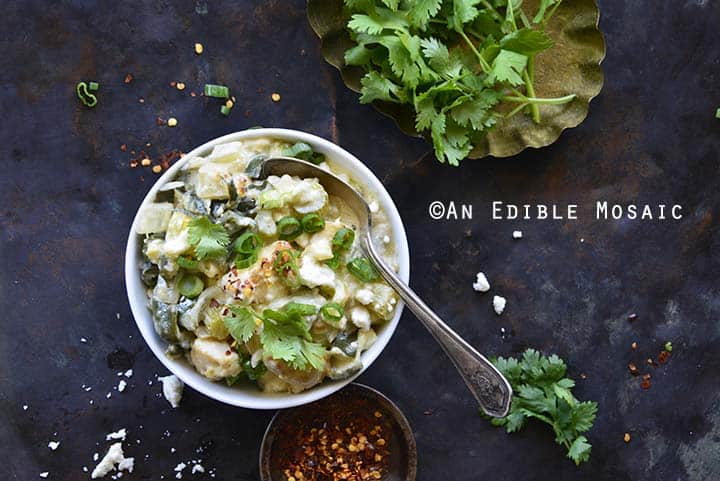 Low Carb Cheesy Chicken Casserole with Poblano Peppers
This Low Carb Cheesy Chicken Casserole with Poblano Peppers is a fun Tex-Mex twist on your basic chicken casserole!
Ingredients
3

tablespoons

olive oil

1

lb

boneless, skinless chicken breasts, cut into bite-sized pieces

4

medium poblano peppers

chopped

4

medium-large stalks celery

chopped

1

medium onion

chopped

4

large cloves garlic

minced

1

cup

low-sodium chicken broth

½

cup

salsa verde

4

oz

cream cheese

4

oz

white cheddar, shredded

2

oz

queso fresco, crumbled
Topping Ideas:
More crumbled queso fresco

Fresh cilantro

Sliced scallion
Instructions
Preheat the oven to 400F.

Heat a large, deep skillet over medium-high heat. Once hot, add the oil, and then the chicken. Cook until the chicken is browned on the outside, about 3 minutes.

Turn the heat down to medium and add the peppers, celery, onion, and garlic. Cook until the veggies are softened, but not browned, about 8 minutes, stirring occasionally.

Stir in the chicken broth and salsa verde, and bring up to a simmer. Add the cream cheese and stir until smooth. Turn off the heat and stir in half of the cheddar.

Pour the mixture into a 9 by 11-inch (or equivalent) baking dish. Sprinkle the remaining cheddar and the queso fresco on top. Bake until bubbling throughout, about 10 minutes, and then broil a couple minutes to brown the top.

Serve hot, with any toppings you like.
Faith's Tips
Net Carbs: 9g per serving (¼ of recipe)
Nutrition information calculated without any toppings.
Nutrition
Nutrition Facts
Low Carb Cheesy Chicken Casserole with Poblano Peppers
Amount Per Serving
Calories 544
Calories from Fat 333
% Daily Value*
Fat 37g57%
Cholesterol 143mg48%
Sodium 763mg33%
Potassium 977mg28%
Carbohydrates 14g5%
Protein 38g76%
Vitamin A 1610IU32%
Vitamin C 102.3mg124%
Calcium 358mg36%
Iron 1.5mg8%
* Percent Daily Values are based on a 2000 calorie diet.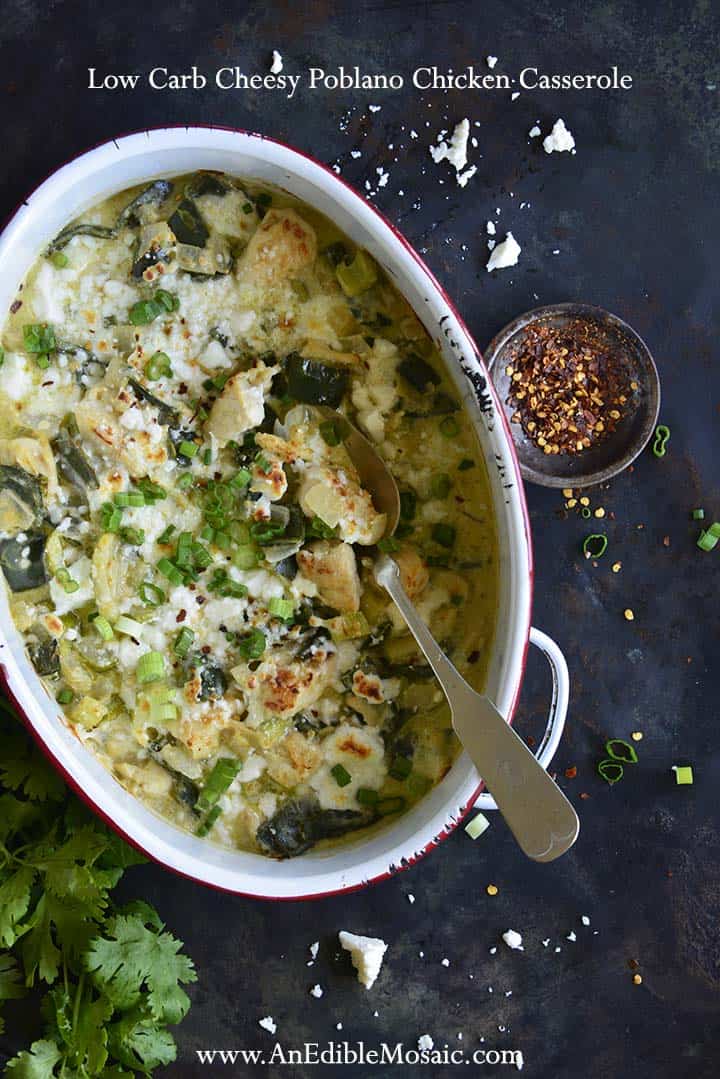 Disclosure: This post contains Amazon affiliate links to products I believe in, which means that even though it doesn't cost you anything extra, I will receive a small amount of money from the sale of these items. Thank you for helping to support An Edible Mosaic!