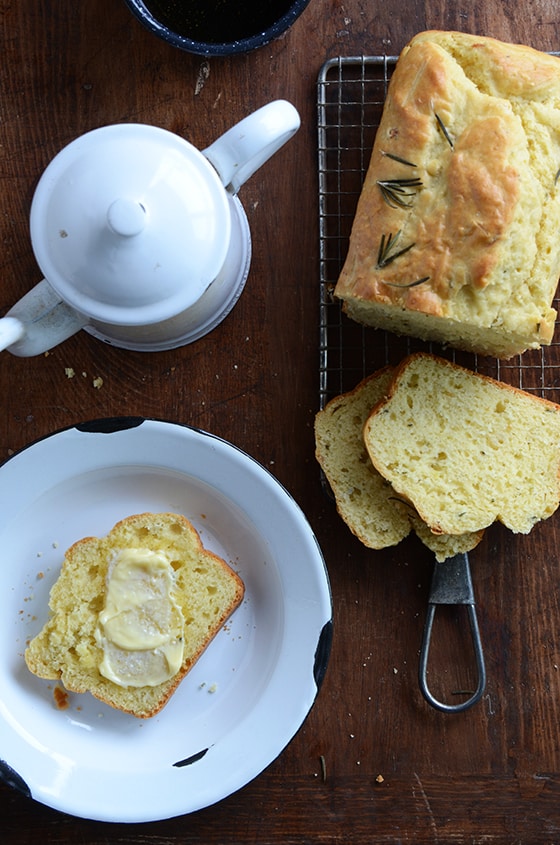 Except for the rosemary leaves on top, this bread might look sweet; in addition to the herbs being a clue, the fact that it's savory is also given away by smelling it. It's softly scented of onion and savory herbs. Flavor and taste-wise, I'd call it say it's reminiscent of a savory pound cake…but in a good way. (And of course this is much lighter than a classic pound cake; there is no pound of butter, sugar, or even eggs in here!) The best thing for smearing across the top? Kerrygold Irish butter, of course. (Has anyone else noticed that Kerrygold butter almost eats like a cheese? It's dangerous, people.)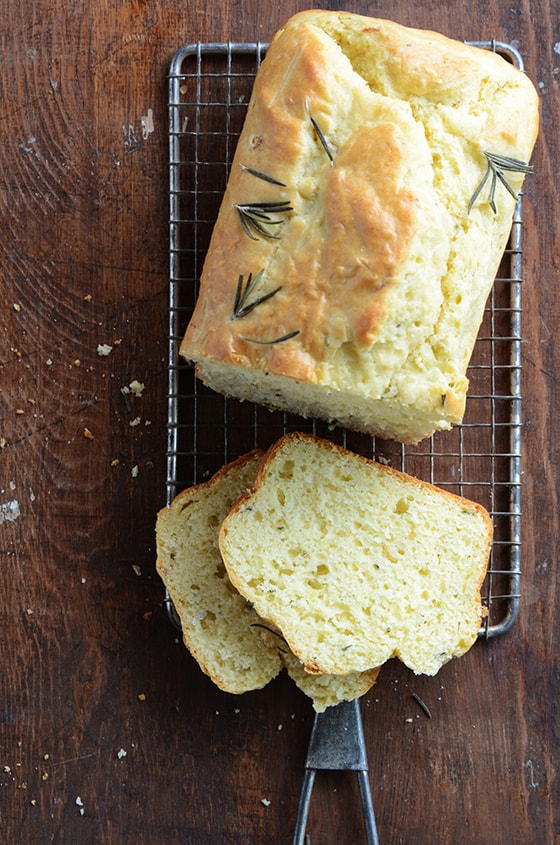 This bread pairs perfectly with a cup of tea for breakfast or an afternoon snack, but would also be wonderful with any number of meals year round. Chili or stew in cooler months and barbequed chicken or grilled steak and salad in warmer weather.
This bread is versatile too – you can swap out the rosemary for whatever your favorite fresh herb is. I think dill would be nice, but then again I always think dill is wonderful in bread, lol. And it's easy enough to turn this bread sweet instead of savory, but that's another post for another day.
If you love quick bread and are always looking for new recipes to try, be sure to check out 30 of Cooking Light's Best Quick Bread Recipes!
Rosemary-Onion Quick Bread
Prep time:
Cook time:
Total time:
Yield:
1 (9 by 5-inch) loaf
Ingredients
1 tablespoon butter, plus more to grease the loaf pan
1 small onion, finely diced
2 cups (9 oz/255 g) all-purpose flour
2 teaspoons sugar
2 teaspoons baking powder
1 teaspoon salt
⅛ teaspoon ground black pepper
1 (slightly heaping) teaspoon minced fresh rosemary, plus a few leaves more for topping if desired
¾ cup (180 ml) milk, at room temperature (I used 1%)
¼ cup plus 2 tablespoons (90 ml) vegetable oil or melted butter
2 large eggs, at room temperature
Instructions
Preheat oven to 350F; grease a 9 by 5-inch loaf pan with butter.
Heat 1 tablespoon butter in a small skillet over medium heat; once melted, add the onion and cook until softened but not browned, about 2 to 3 minutes, stirring occasionally. Set aside to cool slightly.
Whisk together the flour, sugar, baking powder, salt, black pepper, and rosemary in a medium bowl and set aside.
Whisk together the milk, vegetable oil (or melted butter), and eggs in a large bowl.
Add the dry ingredients to the wet and stir just to combine; stir in the onion.
Transfer the batter to the prepared loaf pan and bake until golden and a toothpick inserted inside comes out clean, about 45 to 50 minutes.
Cool 15 minutes in the loaf pan, then remove the bread from the pan and transfer to a wire rack to finish cooling.