With holiday feasts just around the corner, cranberry recipes are abundant. When I made this jam I didn't have turkey dinner in mind; I was actually thinking more along the lines of breakfast. I wanted something festive and fall-like to spread on toast or stir into a bowl of oats or yogurt. I've been using this sweet/tart jam as a breakfast accompaniment, but of course it would also fantastic as part of a turkey meal.
When I first started my Halloween Candy-Making Event I promised a chocolate-related giveaway. I wanted do something different with this giveaway, so I thought a little contest would be fun. Another reason I made this jam is because I need it for my upcoming fourth and final (!) candy recipe. Any idea what kind of candy I could be making with cranberry jam? To participate in this giveaway, leave a comment here letting me know what kind of candy you think I'm making with cranberry jam.
The person who guesses correctly will get 2 lbs of Guittard chocolate – 1 lb of milk chocolate and 1 lb of white chocolate. If more than one person guesses correctly I'll randomly draw a winner from those who guessed correctly, and if no one guesses correctly I'll randomly draw a winner from everyone who participated. This contest ends Wednesday, October 27 at 12 AM EST; after that I'll announce the winner. Good luck to all!
Here's the Prize: 2 lb of Guittard Chocolate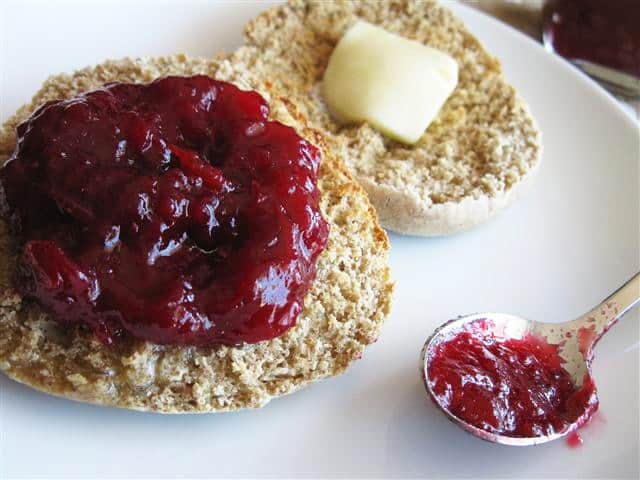 Warm-Spiced Cranberry Jam
(Yield: About 2 ½ c)
1 medium-large apple
2 c cranberry juice (such as POM Wonderful)
12 oz cranberries
¾ c sugar
1 teaspoon ground cinnamon
½ teaspoon freshly grated nutmeg
¼ teaspoon ground cloves
¼ teaspoon ground ginger
1 teaspoon lemon juice
3-quart thick-bottomed pot with a lid
Wash, peel, and core the apples. Put the peels and cores in a 3-quart thick-bottomed pot with a lid, add the cranberry juice, and bring up to a boil. Once boiling, turn down to low and simmer (covered) about 15 minutes until the peels are soft. Strain out the peels and cores and reserve the liquid. Add enough water to the liquid so you end up with 2 c; transfer the liquid back to the pot.
Chop the peeled and cored apples (you should end up with 1 slightly heaping cup) and add them to the pot with the liquid; cook over medium heat (covered, stirring occasionally) for 10 minutes, or until the apples are starting to soften. While the apples cook, rinse the cranberries and look them over to remove any bad ones. Mash the cooked apples in the pot with a fork or potato masher, then add the cranberries, sugar, and spices and cook over medium heat (covered, stirring occasionally) for 20 minutes. Be careful not to get burned because the cranberries will pop open and may splatter. Turn off the heat and add the lemon juice; the jam will thicken more as it cools. Store refrigerated.