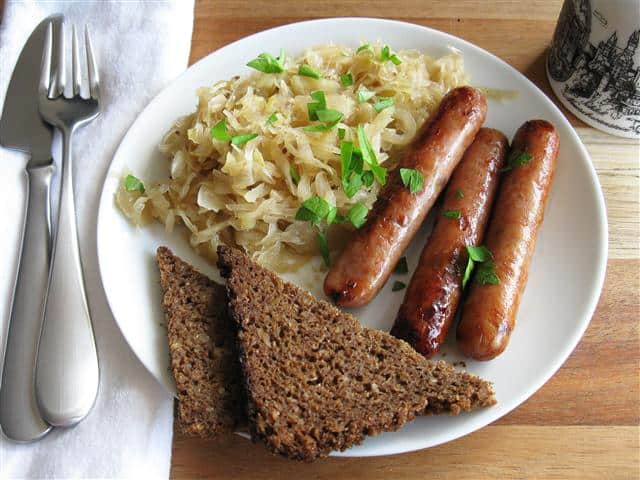 Have you ever planned an entire meal around a condiment? Sometimes I'll crave ketchup, for example, and then I'm left looking for a food vessel to eat it on (I wouldn't just sit down with a bottle of ketchup and a spoon…now that would be weird ;) ). (In case you're wondering, my ketchup cravings are usually satiated with scrambled eggs…yes, I eat ketchup on scrambled eggs, lol. But never on eggs with runny yolk.) The other day I was at a grocery store – not my normal grocery store, mind you...and you know how much fun it is to look around at new grocery stores – perusing the aisles, when I happened upon the cutest little jar of German mustard. And nothing goes better with medium-hot mustard than sausages. And nothing goes better with sausages than sauerkraut when you have German cuisine (for Regional Recipes) on your mind.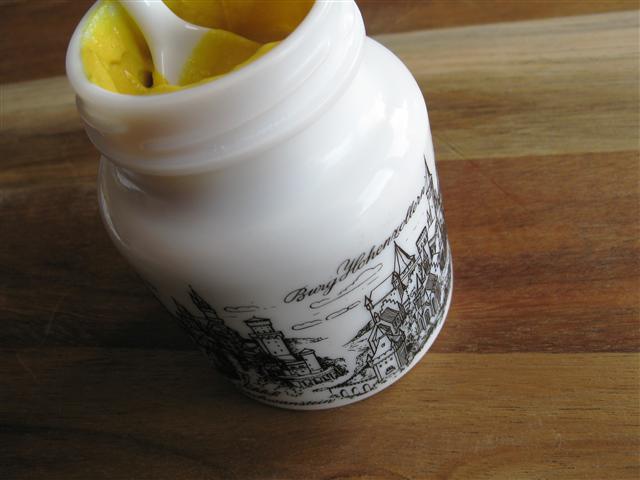 The Cutest Little Jar of Mustard I've Ever Seen
I'm sending this recipe to Joanne (of Eats Well With Others) for her Regional Recipes Roundup of German cuisine!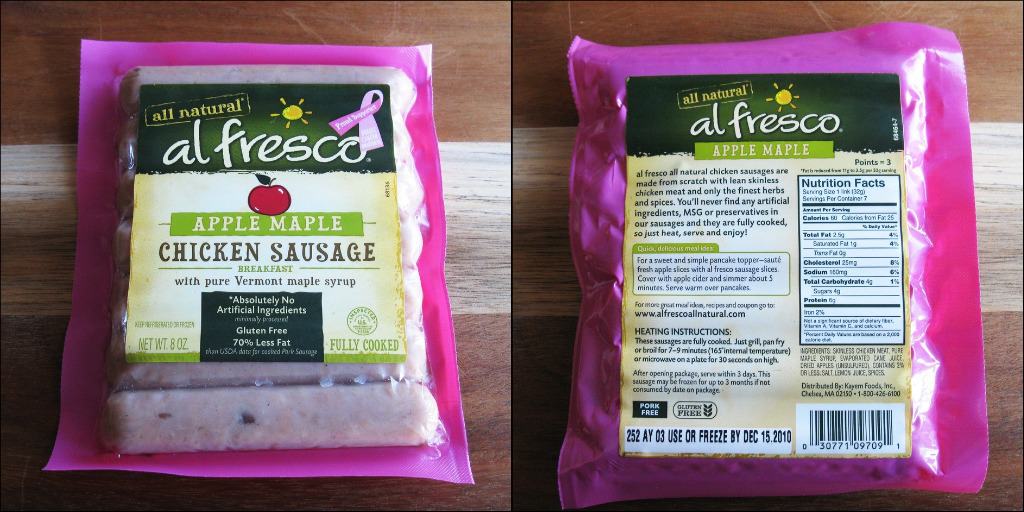 Al Fresco's Apple-Maple Chicken Sausages...Pork-Free, Gluten-Free, All-Natural, and Pretty Delicious...And I Promise I Don't Work For Al Fresco ;)
A Note on the Sausages I Used: If you've been following my blog for a while, you probably know that Mike and I don't eat pork. For this dish, I wanted to use chicken sausage with apple (since I was planning to make apple-kraut) and I had no idea if there even was such a product (we generally don't eat a lot of sausage), but at the store I was thrilled to find Al Fresco's Apple-Maple Chicken Sausage. Not only is it a great blend of sweet and savory flavors, but being a breakfast sausage, its small shape and size is reminiscent of the more traditional Nuremberg sausages. Of course, you can use any sausage you like or have on hand.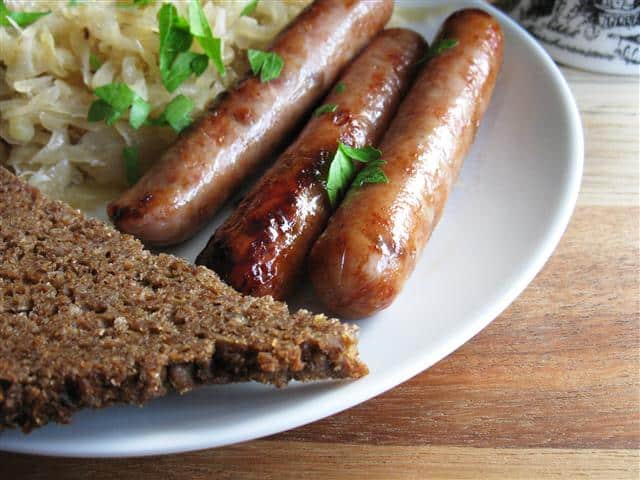 Sausages & Sauerkraut
(Yield: 2-4 servings, depending on how hungry you are)
2 TB canola oil, divided
1 small onion, thinly sliced
1 lb sauerkraut, rinsed and drained (to remove excess salt)
2 TB organic, unfiltered apple cider vinegar
2-4 TB brown sugar, lightly packed (more or less to taste)
1 bay leaf
¼ teaspoon caraway seeds
¼ teaspoon ground marjoram
1 medium apple, peeled, cored, and diced
8 oz sausage (I used Al Fresco's Apple-Maple Chicken Sausage)
Fresh minced parsley (for garnish)
Pumpernickel or sourdough bread (for serving)
Medium-hot mustard (for serving)
In a 3-quart pot with a lid, heat 1 TB oil over medium heat; add the onion and sauté until it's starting to soften (about 5 minutes), stirring occasionally. Add the rinsed and drained sauerkraut, vinegar, sugar, bay leaf, caraway seeds, marjoram, and ¾ c water. Cook over medium heat uncovered for 10 minutes; add the apple, cover the pot, and cook another 5 minutes or until most of the liquid is gone and the apple is tender.
In a medium skillet with a lid, heat the remaining 1 TB oil over medium-high heat; add the sausages, then pour in enough water to come about halfway up the sausages. Put the lid on but leave it ajar so the water can evaporate; cook the sausages about 7-10 minutes, until the water is gone and they're golden brown; give the pan a gentle shake every couple minutes to turn the sausages.
Serve the sausages and sauerkraut garnished with fresh minced parsley, alongside pumpernickel or sourdough bread and plenty of medium-hot mustard.