My low carb Healthy Snickers Protein Bars feature a protein-rich nougat layer topped with homemade keto caramel (don't worry, it's easy to make!) and peanuts, and are coated in rich, dark chocolate.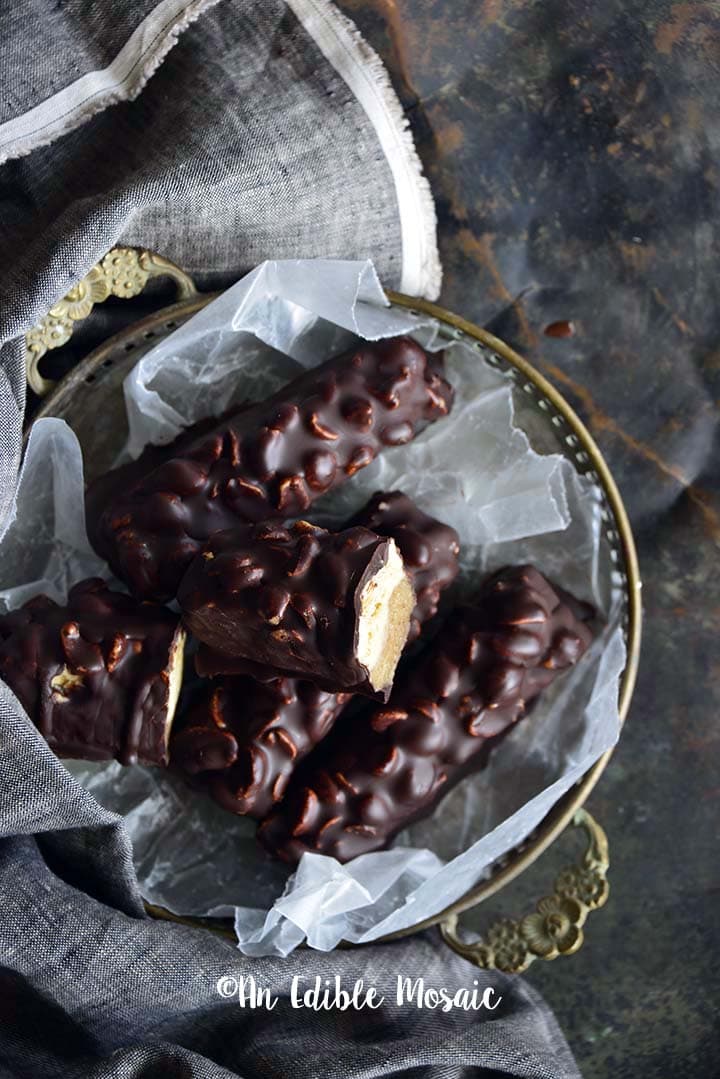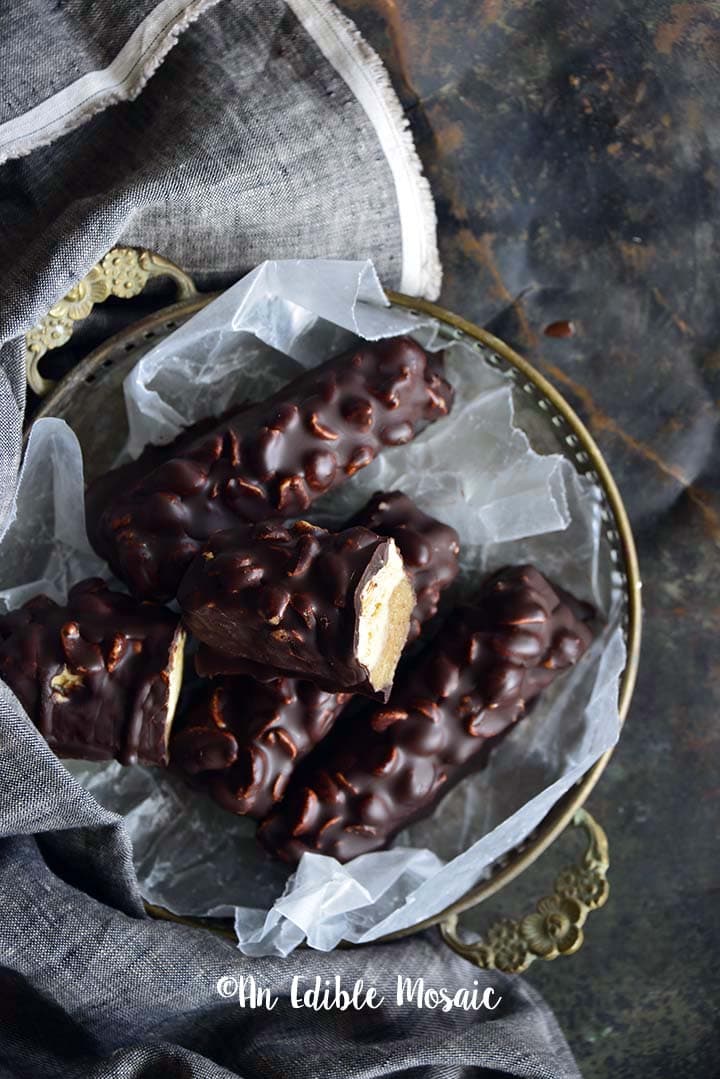 I don't think I've ever met someone who hasn't tried a Snickers candy bar. Further, I can't remember anyone telling me that they didn't like Snickers! It's a great combination of flavors and textures, which is why it was a top choice for me when I was trying to decide what kind of homemade protein bar I wanted to make.
I've tried a lot of protein bars in my day. There are a few things I typically look for: 1) flavor (this one is a no-brainer, lol), 2) low in carbs, and 3) high in protein. I try to cook as many of my meals as I can, but I do frequently eat protein bars when there isn't time to stop for a meal. And to be honest, recently I kind-of lost my taste for every store-bought protein bar out there. That's when I knew it was time to play around with a homemade protein bar recipe.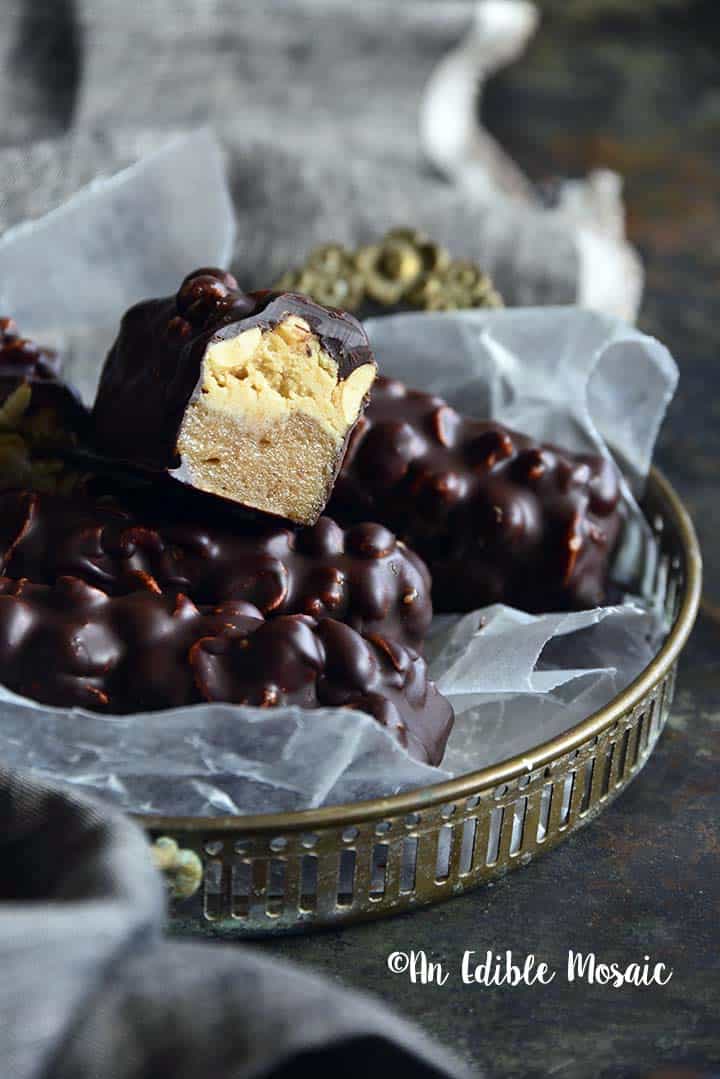 The idea of a candy bar came to mind, and I decided to run with it. (Because if you can satisfy a sweet tooth while nourishing yourself, why say no?) I'm really happy with the end result of these Healthy Snickers Protein Bars. The serving size is pretty big and really satisfying; actually, I'd consider it filling enough to be a meal! It's full of healthy fats (of course be sure to use organic grass-fed dairy for the most nutrient-dense product), has 15g of protein, 8g of net carbs, and just 2g of sugar per bar. If you prefer to enjoy it as a snack instead of a meal, just cut a bar in half.
What's in a Snickers Bar?
A classic Snickers candy bar has a layer of nougat topped with caramel and peanuts, covered in chocolate.
Ingredients in Regular Snickers
According to Eating Well, Snickers bars include the following ingredients: Milk chocolate (sugar, cocoa butter, chocolate, skim milk, lactose, milkfat, soy lecithin, artificial flavor), peanuts, corn syrup, sugar, palm oil, skim milk, lactose, partially hydrogenated soybean oil, salt, egg whites, artificial flavor. Allergy information: contains peanuts, milk, egg and soy. May contain tree nuts.
Ingredients in These Healthy Snickers Protein Bars
(In the recipe below I linked to the products I use.)
Nougat Layer:
Collagen peptides
Granulated erythritol
Creamy unsweetened runny nut butter
Liquid stevia
Pure vanilla extract
Blackstrap molasses
Almond flour
Coconut flour
Caramel Layer:
Organic grass-fed unsalted butter
Granulated erythritol
Organic grass-fed heavy cream
Blackstrap molasses
Pure vanilla extract
Cream of tartar
Stevia glycerite
Salt
Other:
Unsalted peanuts
90% dark chocolate
Does Snickers Have Peanut Butter?
A regular Snickers bar contains peanuts, but not peanut butter. However, there is a peanut butter Snickers bar that has peanuts and peanut butter.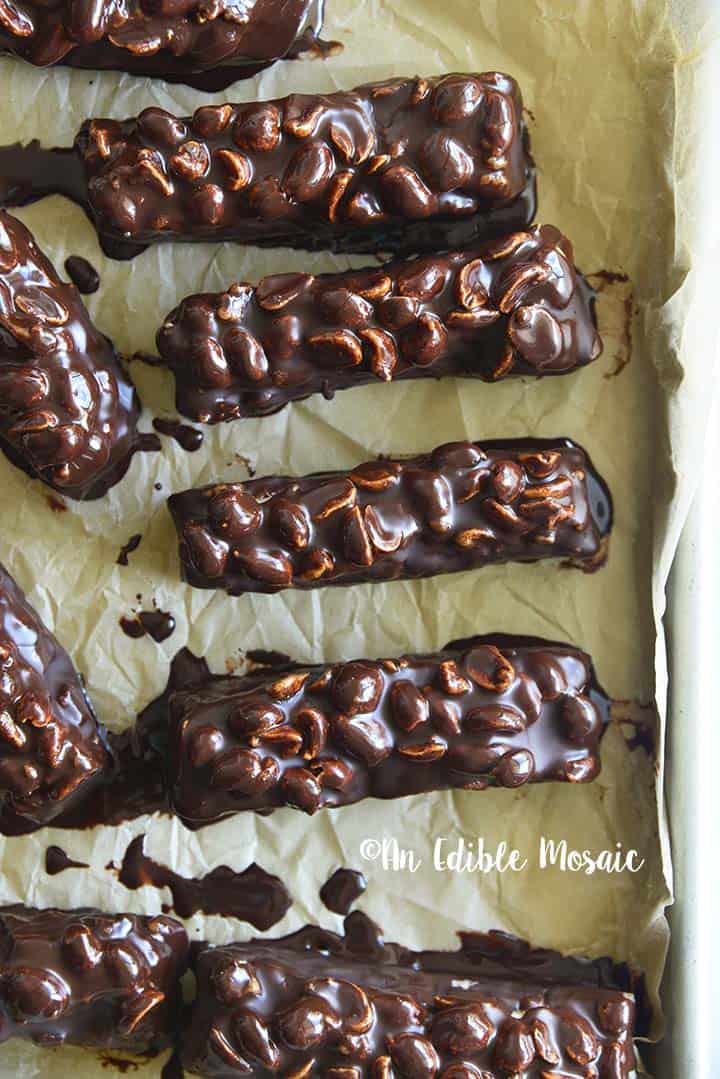 Is a Snickers Bar Good for You?
Back in the day I remember a few different marketing campaigns for Snickers that claimed Snickers was satisfying and good for grabbing on the go when you're hungry. But with 27g of sugar (and only 4g protein!) in a Snickers bar, how long is it before I come crashing down off the sugar high and need a nap?
Regular Snickers Nutrition Information
According to Mars Wrigley Confectionary, here's the nutrition information for one Snickers bar (52.7 g):
250kcals
12g fat
5g saturated fat
33g carbohydrate
1g fiber
32g net carbs
27g sugar
4g protein
Healthy Snickers Protein Bars Nutrition Information
I like to think of my Healthy Snickers Protein Bars as a low carb meal replacement bar because they're large and filling! However, you could easily cut a bar in half. Here's the nutrition information for one of my low carb Healthy Snickers Protein Bars:
432kcals
39g fat
13g saturated fat
14g carbohydrates
6g fiber
8g net carbs
2g sugar
15g protein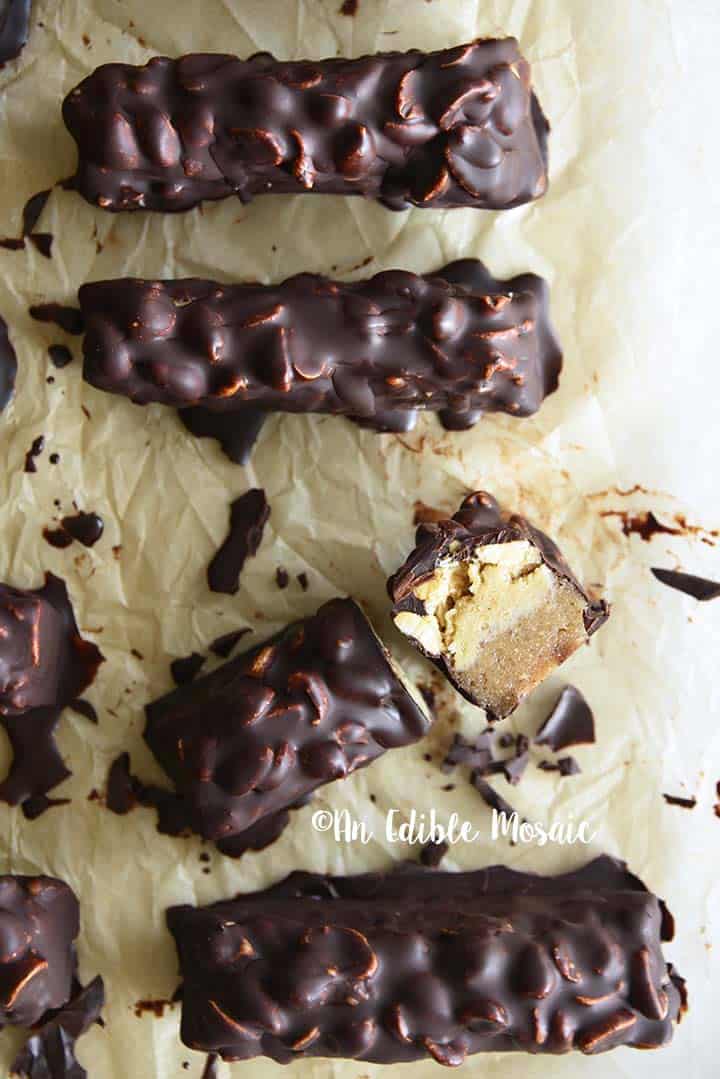 Are Snickers Good for Energy?
Despite their marketing efforts, with 27g sugar and only 4g protein, I can say that regular Snickers candy bars wouldn't keep me satisfied for very long. However, my Healthy Snickers Protein Bars have just 2g sugar, 15g protein, and 39g fat (mostly from organic grass-fed dairy and nuts!), and will definitely fuel you up!
More Healthy Candy Bar Recipe Inspiration: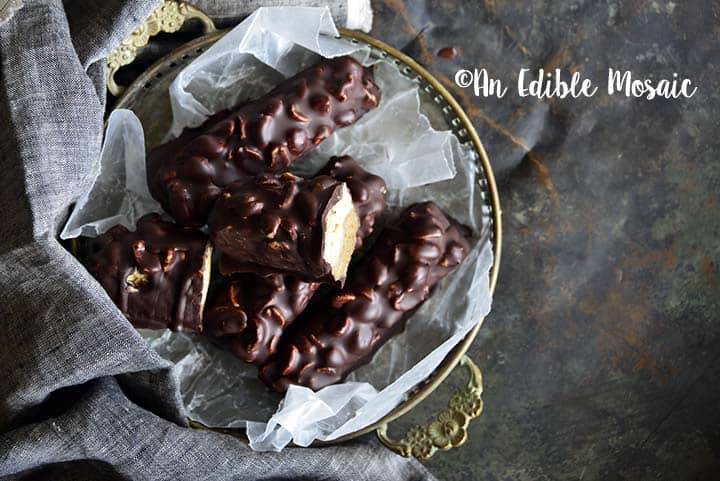 Healthy Snickers Protein Bars
These Healthy Snickers Protein Bars feature whipped protein-rich nougat topped with keto caramel and peanuts, enrobed in luscious dark chocolate.
Instructions
For the Nougat:
Whisk together the whey protein powder and collagen peptides in a large bowl. Use a handheld electric mixer to beat in the erythritol/water mixture until the mixture is thickened and foamy. Beat in the nut butter, stevia, vanilla, and molasses until smooth. Add the almond flour, sift in the coconut flour, and stir until mixed well.

Line a 9 by 5-inch loaf pan with parchment paper and pour the batter into the bottom. Smooth the batter out, lay a piece of plastic wrap directly on top, and refrigerate 4 hours (or overnight) before spreading the caramel layer on top.
For the Caramel:
Add the butter and granulated erythritol to a medium saucepan over medium heat. Bring to a boil and then cook until it turns light brown, about 3 to 4 minutes, swirling the saucepan occasionally.

Add the cream, molasses, vanilla, cream of tartar, stevia glycerite, and salt. Bring to a boil, and then cook until the sauce is thickened slightly (it should coat the back of a wooden spoon), about 3 to 5 minutes. (Don't overcook it, because it'll thicken more as it cools.)

Cool the caramel to room temperature, and then cover and refrigerate 4 hours (or overnight) so it can set into a thick caramel paste before spreading it on the nougat layer.
To Assemble:
Give the thickened caramel a good stir; you can microwave it for a few seconds if it's too thick to stir, but start with 5 to 10 seconds and see if it's stir-able. Spread the caramel on top of the nougat layer. Sprinkle the peanuts on top of the caramel, lightly pressing them down into the caramel. Cut the candy into 10 bars, and then put in the freezer for 10 minutes to help them set.

Meanwhile, melt the chocolate.

Dip each bar in chocolate and let it set before serving.
Storage:
I find these bars keep for up to 2 weeks stored covered in the fridge.
Faith's Tips
Net Carbs: 8g per bar Almond Butter in the Nougat Layer: I've also successfully used pecan butter and cashew butter in this recipe.
Nutrition
Nutrition Facts
Healthy Snickers Protein Bars
Amount Per Serving
Calories 432
Calories from Fat 351
% Daily Value*
Fat 39g60%
Cholesterol 41mg14%
Sodium 36mg2%
Potassium 369mg11%
Carbohydrates 14g5%
Protein 15g30%
Vitamin A 805IU16%
Vitamin C 0.1mg0%
Calcium 214mg21%
Iron 3.8mg21%
* Percent Daily Values are based on a 2000 calorie diet.
Disclosure: This post contains Amazon affiliate links to products I believe in, which means that even though it doesn't cost you anything extra, I will receive a small amount of money from the sale of these items. Thank you for helping to support An Edible Mosaic!