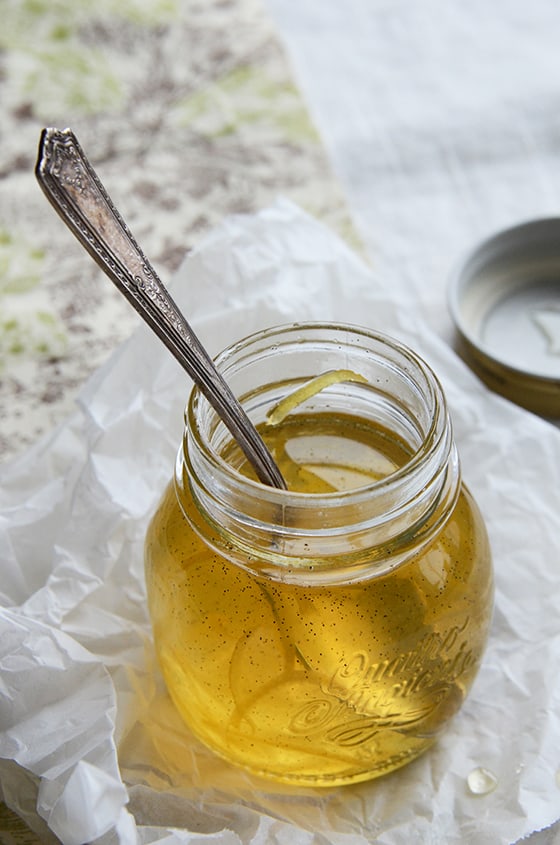 Last weekend I had big plans for the gigantic bag of organic lemons that had taken up residence on the bottom shelf of my fridge. Pushing thoughts of lemon bars, lemon curd, candied lemon peel, lemon sorbet, and lemon pie out of my head, I decided on lemon marmalade.
Since the title of this post wasn't "Lemon Marmalade" you can probably guess that something went wrong along the way.
I had the best of intentions – I wanted to use just enough regular white sugar so that the marmalade would set, and coconut palm sugar for the remainder of the sugar so it would be sweet enough (with the added nutritional benefit of using coconut palm sugar). In addition to using lemon, I also used a grapefruit for added color and flavor. The marmalade set just fine into thick, glossy loveliness (of course, aside from its unsightly brown shade from the coconut palm sugar), but the taste was just bad. A sorry excuse for food. Something I wouldn't feed my worst enemy. Ok, you get it. And now I know that lemon + grapefruit + coconut palm sugar is not a flavor combination that works. Moving on, lol.
I still had quite a few lemons to use and I was still thinking of some kind of syrupy treat. I thought about Qatar (Attar in slang) used in Middle Eastern cooking; it's just a rich simple syrup (i.e., a 2:1 ratio of sugar to water instead of the 1:1 ratio used in regular simple syrup) that's scented with rosewater and/or orange blossom water. I could make an enhanced version of that. And that's when Fiori di Sicilia came to mind.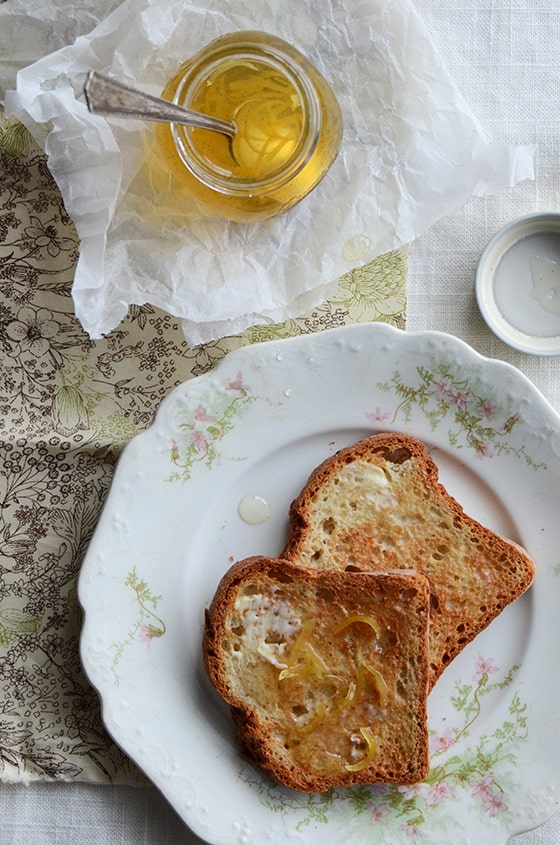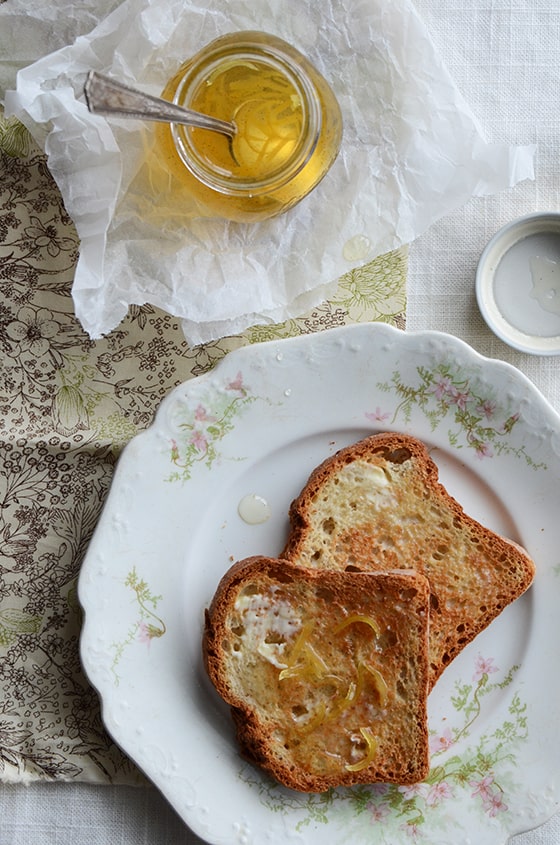 Fiori di Sicilia (or "Flowers of Sicily") is a floral vanilla-citrus essence used to make lovely treats like Panettone. I used Middle Eastern Qater as the vessel to re-create the flavors in this essence. Vanilla bean paste, lemon zest and juice, and floral orange blossom water proved to be the perfect trio.
If you have a couple extra lemons on hand, this is a wonderful recipe to try. There are plenty of things you can do with this syrup:
Make lemonade; I use a 2:1 ratio of syrup to fresh lemon juice and add sparkling water to taste (for 1 cup sparkling water, about 2 tablespoons Fiori di Sicilia-Inspired Syrup and 1 tablespoon fresh lemon juice).
Use it to sweeten your tea (hot or iced). You can strain it if you don't like the little slivers of lemon zest, but I don't mind them.
Drizzle it on buttered toast, pancakes, waffles, French toast, etc.
Use it to top ice cream, sorbet, frozen yogurt, etc.
Use it to sweeten baked goods like muffins and cakes. (I used it to make Sicilian Sunrise Cakes!)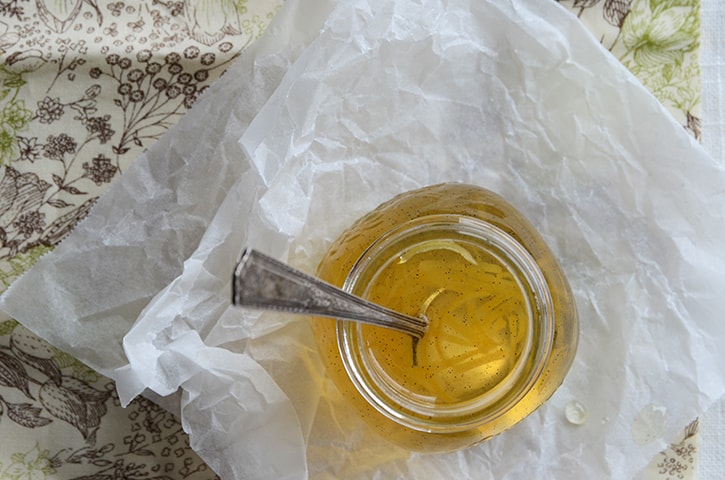 Fiori di Sicilia-Inspired Syrup
Prep time:
Cook time:
Total time:
Yield:
2½ to 3 cups (600 to 700 ml) of syrup
Ingredients
2 medium-large organic lemons (you will need the peel and juice from both)
1½ cups (355 ml) water, plus more as necessary
4 cups (800 g) sugar
1 teaspoon vanilla bean paste
1 teaspoon orange blossom water
¼ teaspoon pure vanilla extract
Instructions
Use a vegetable peeler to remove the yellow peel from both lemons, being careful not to get as little of the white pith as possible. Slice the peel into very thin strips (you should have about 1½ oz or ¼ cup tightly packed).
Juice both lemons and strain the juice through a fine mesh sieve into a 2 cup-capacity measuring cup (you should have about ½ cup juice).
Add the sliced lemon zest and 1½ cups water to a medium-sized saucepan; bring to a boil over medium heat, then cover the saucepan, turn heat down to simmer, and cook 15 minutes.
Pour the hot lemon zest water and the zest into the measuring cup with the lemon juice. Add enough water so it measures 2 cups.
Pour the lemon/water mixture back into the saucepan and add the sugar; bring to a boil over medium heat without stirring (you can give the pan an occasional swirl to help the sugar dissolve).
Turn the heat down slightly so that it's still boiling vigorously, but doesn't boil over. Cook until it starts to thicken, about 6 to 10 minutes, watching closely and adjusting the heat as necessary so it doesn't boil over (it will thicken more as it cools).
Turn off the heat and stir in the vanilla bean paste, orange blossom water, and vanilla extract.
Pour into lidded glass jars; cool to room temperature, then store in the fridge for 1 month or even longer.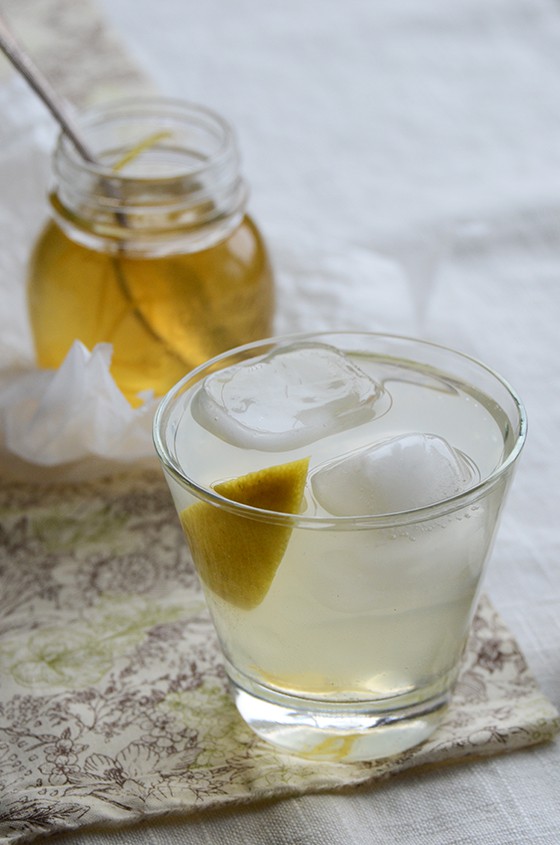 A Lovely Refreshment: Sparkling Lemonade with Fiori di Sicilia-Inspired Syrup