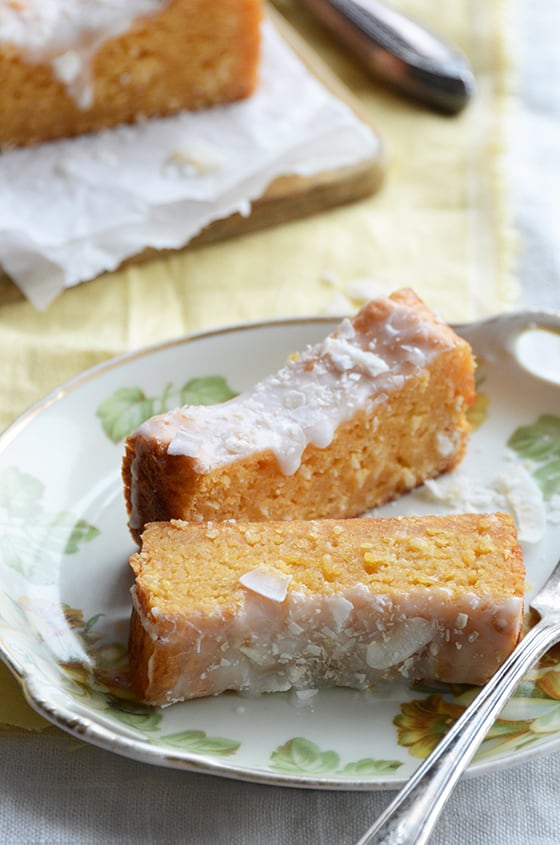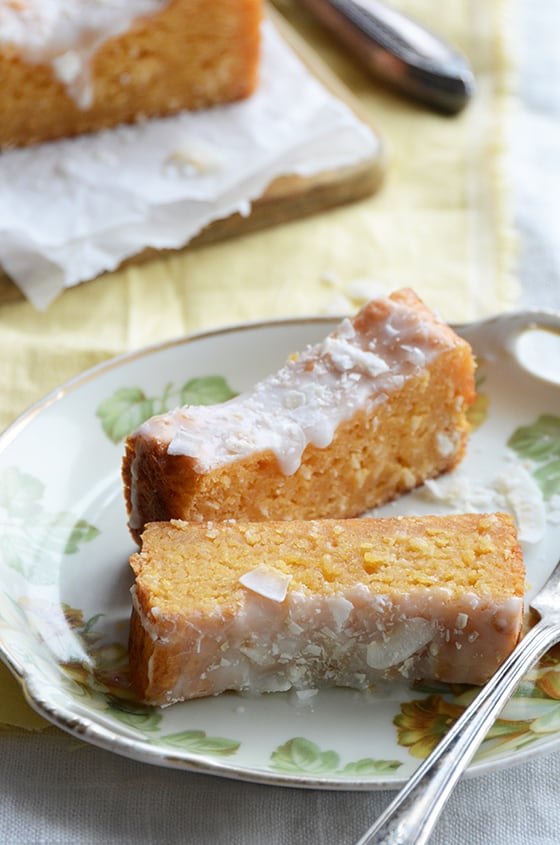 Oh boy is this cake good – a little too good to just have chilling in my fridge on a random weekday. Despite how delicious it is, this cake is actually quite unsightly; it doesn't rise much and the top is craggy. But as far as looks go, not to worry because all will be well; a craggy top is nothing a little glaze can't fix.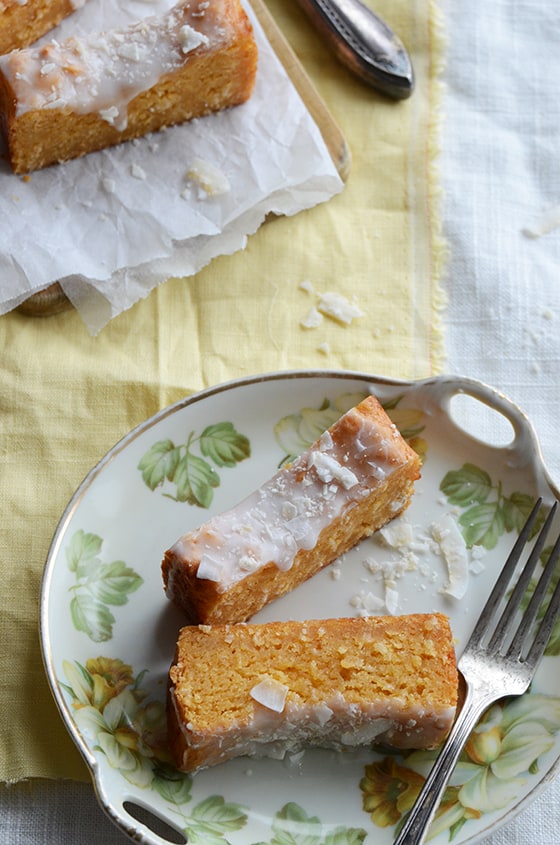 Isn't that flowered plate pretty? It was a gift from Brandy of Nutmeg Nanny – thanks, Brandy!
This cake is moist and dense, with an almost chewy quality. Texture-wise, it's sort of like a cross between bread and cake. Oddly enough (because there's no cheese in it), this cake reminds me of a cheese pastry in both flavor and texture. It's softly aromatic and really lovely accompanied with tea. It's perfectly sweet on its own so a light glaze is topping enough, and you could even skip the glaze if you want (that is, if you don't mind the craggy top, lol).
If you're looking to bring a little (simulated) warmth to a chilly winter's day, this tropical-flavored cake is the way to go.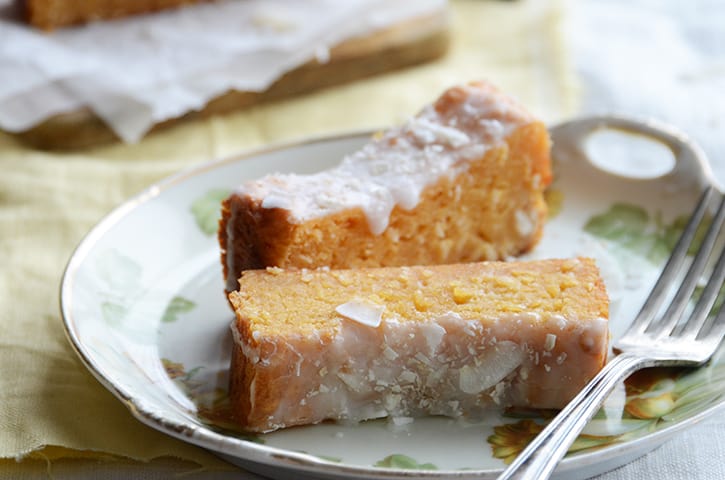 Tropical Papaya-Coconut Cake
Prep time:
Cook time:
Total time:
Ingredients
Cake:
Cooking spray
2½ cups (315 g) all-purpose flour
½ cup (40 g) unsweetened, shredded coconut
2 teaspoons baking powder
½ teaspoon salt
¼ teaspoon baking soda
½ cup (115 g) butter, at room temperature
1½ cups (300 g) sugar
3 large eggs
2 teaspoons pure vanilla extract
½ teaspoon rum extract (optional)
2½ cups (375 g) cubed papaya (fresh or frozen; thawed if frozen)
½ cup (125 ml) coconut water
Glaze:
1 cup (115 g) powdered sugar
1 teaspoon pure vanilla extract
4 teaspoons water
Other:
1 tablespoon flaked coconut, for topping (optional)
Instructions
Preheat oven to 350F; line 3 (8½ inch by 4½ inch) loaf pans with parchment paper and lightly spray the insides with cooking spray.
Whisk together the flour, coconut, baking powder, salt, and baking soda in a medium bowl.
Cream together the butter and sugar in a large bowl, and then beat in the eggs until light and fluffy. Stir in the vanilla and rum extracts. Puree the papaya and coconut water in a blender or food processor, and stir the puree into the wet ingredients.
Stir the dry ingredients into the wet, adding ⅓ at a time, being careful not to over-mix.
Pour the batter into the prepared pans and bake until a toothpick inserted inside comes out clean, about 45 to 55 minutes.
Cool 10 minutes in the pans, then transfer to a wire rack to finish cooling.
Once the cakes are cooled, whisk together all ingredients for the glaze.
Pour the glaze on top of the cakes and spread it evenly across. Sprinkle the flaked coconut on top, if using.
Let the glaze set before cutting and serving; store refrigerated after the first day.
Notes
Baking in a Different Sized Pan: I imagine this batter could also be baked into cupcakes or larger loaves; however, if you decide to try it, be sure to adjust the cooking time accordingly.