So, remember when I talked about Mike's breakfast phases? He blew through apples, smoothies, oatmeal, and high fiber cereal. And now he's taken on oranges. I think this is his longest breakfast obsession though, since it actually started last winter before we left for vacation. (I'm just shocked that we've been able to get good quality oranges so late in the year! Usually by mid-April or so they lose their sweet, seductively delicious quality.)
Anyway, due to Mike's obsession coupled with the fact that we can still get decent oranges, not a day goes by without him eating three or four. Or sometimes five…no joke! (As far as I know, it isn't possible to OD on vitamin C...right?) Which means that I need to have a constant supply of oranges in the house. Short of planting my own orange grove, this is no small feat.
One rainy day I felt like cooking…and I happened to glance over at the kitchen table and see a huge bowl of beautiful oranges looking up at me. I had a few egg yolks in the fridge (leftover from making buttercream for this cake) and after a little online inspiration I decided to make orange curd.
This was my first attempt at making fruit curd and it turned out great in the end. But there was a slight issue…I pulled the curd off the heat once it was thick enough to coat the back of a wooden spoon but once it was cool it hadn't thickened up as nicely as I hoped it would. After doing a bit of research online, I found a recipe for making curd entirely in the microwave. I decided to microwave the curd in 20 second intervals on high (stirring in between) to see if it would thicken up…which happily, it did!
(Another great online resource for making curd is this article by Williams Sonoma.)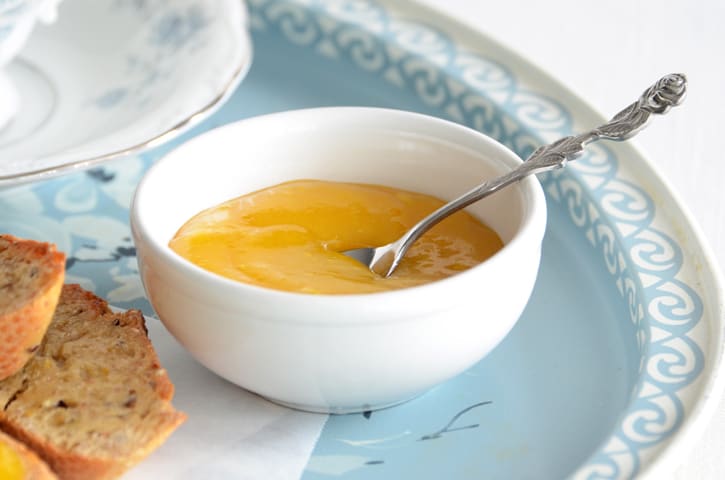 Orange Curd (Inspired by The Kitchn's recipe for Cara Cara Orange Curd and saved by All Recipes' method for Microwave Lemon Curd)
(Yield: About ⅔ cup)
⅓ cup fresh-squeezed orange juice (juice from 1 ripe, medium-sized orange)
Zest from 1 orange (about 1 teaspoon)
2 large egg yolks
3 tablespoons sugar
3 tablespoons unsalted butter
Pinch salt
In a medium thick-bottomed saucepan over low heat, whisk together the juice, zest, yolks, and sugar. Cook (stirring constantly with a wooden spoon) until the curd is thickened and coats the back of the spoon (it should be about 170F), about 10 minutes. (Make sure not to let it boil.)
Strain curd through a fine mesh sieve to remove pulp, zest, and any pieces of egg that may have cooked. Whisk in the salt, then whisk in butter piece by piece until melted.
Cool to room temperature (curd should thicken). At this point, if the curd isn't as thick as you'd like, you can microwave it in 20 second intervals on high (stirring in between), until it reaches your desired thickness.
Store in an airtight container in the fridge up to 1 week.