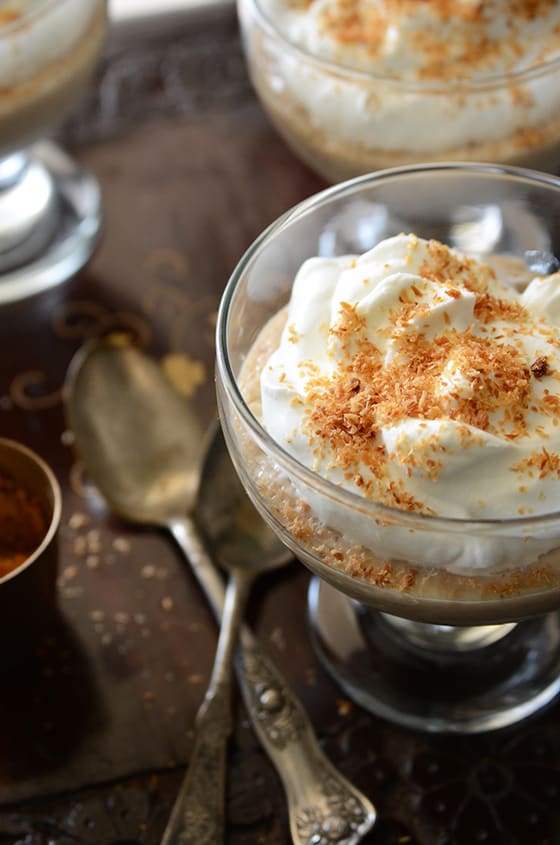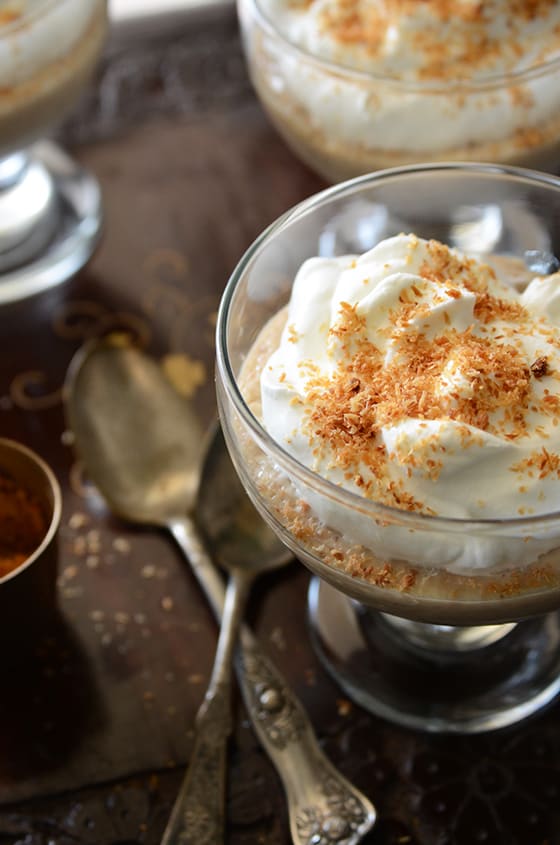 Here in the Middle East, hospitality reigns supreme.
This means that at any time a guest could pop by unannounced and you have to be ready to be hospitable. Which basically means you have to be willing to drop whatever it is you were doing before they arrived and entertain them, and of course you need to have a well-stocked fridge so you can offer them refreshments.
Several refreshments, which typically include a selection of beverages, fresh fruit, mixed nuts, and sweets.
Mike and I don't usually keep a lot of sugary sweets on hand, so we when we shop we pick up things specifically for when people drop by. I also have a repertoire of a few sweet treats that are super easy to whip up, such as pudding. Actually, as of late, I've sort of become the pudding queen.
In the past few months I've made Chocolate-Hazelnut Custard, Dark Chocolate Coconut Pudding, Toffee Pudding with Chocolate Flecks, Vanilla Bean Pudding, Caramel-Vanilla Pudding, and Mixed Berry Pudding Topped with Vanilla Custard.
And of course this Toasted Coconut Cream Pudding, which isn't the prettiest (it sort-of looks like Cream of Wheat), but it sure is tasty. Before making it, I debated as to whether or not I should toast the coconut because I knew if I toasted it, the pudding wouldn't be nearly as pretty as if I kept it pure white. Alas, taste won out. I much prefer the flavor of toasted coconut over untoasted, and in the end, even if something is drop-dead gorgeous, if the flavor isn't there I won't eat it – or serve it to guests.
So anytime you want to drop by I'll share my favorite pudding with you.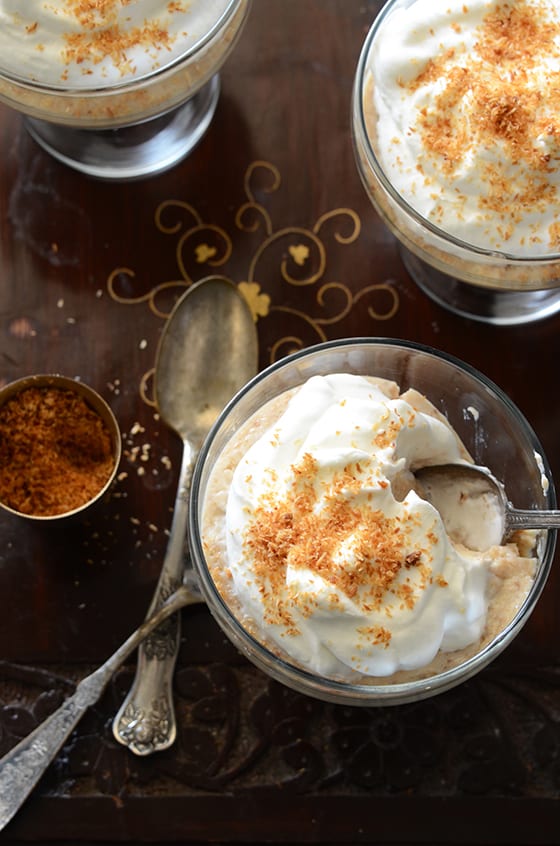 Toasted Coconut Cream Pudding
Prep time:
Cook time:
Total time:
Ingredients
1½ cups (100 g) unsweetened, desiccated coconut
3 cups (710 ml) milk, divided
4 tablespoons cornstarch
5 tablespoons sugar
1 teaspoon vanilla extract
1 teaspoon coconut extract (or another 1 teaspoon vanilla extract)
½ cup (120 ml) heavy cream
1 tablespoon powdered sugar
Instructions
Preheat oven to 325F. Spread the coconut out on a medium-sized baking sheet and toast until golden, about 8 to 10 minutes, stirring occasionally. Once toasted, transfer the coconut to a bowl to cool because it can scorch if you leave it on the hot tray; cool completely. Measure out 4 tablespoons and set it aside for garnish.
Whisk together½ cup milk and the cornstarch in a small bowl and set aside. Add the remaining 2½ cups milk and the sugar to a medium saucepan over medium heat. Bring to a simmer, stirring occasionally, and then once slowly simmering, whisk in the cornstarch/milk mix. Bring to a boil, whisking constantly, and then turn off the heat. Whisk in the coconut (except the reserved 4 tablespoons for garnish), vanilla extract, and coconut extract.
Immediately pour the pudding into 4 individual bowls and cover the top of each with a piece of plastic wrap to prevent a "skin" from forming on top. Cool to room temperature, and then refrigerate to chill.
Right before serving, whip the cream and powdered sugar to soft peaks. Serve each pudding topped with whipped cream and the reserved toasted coconut.