Coconut-Sesame Rice is savory, subtly sweet, and full of nutty flavor.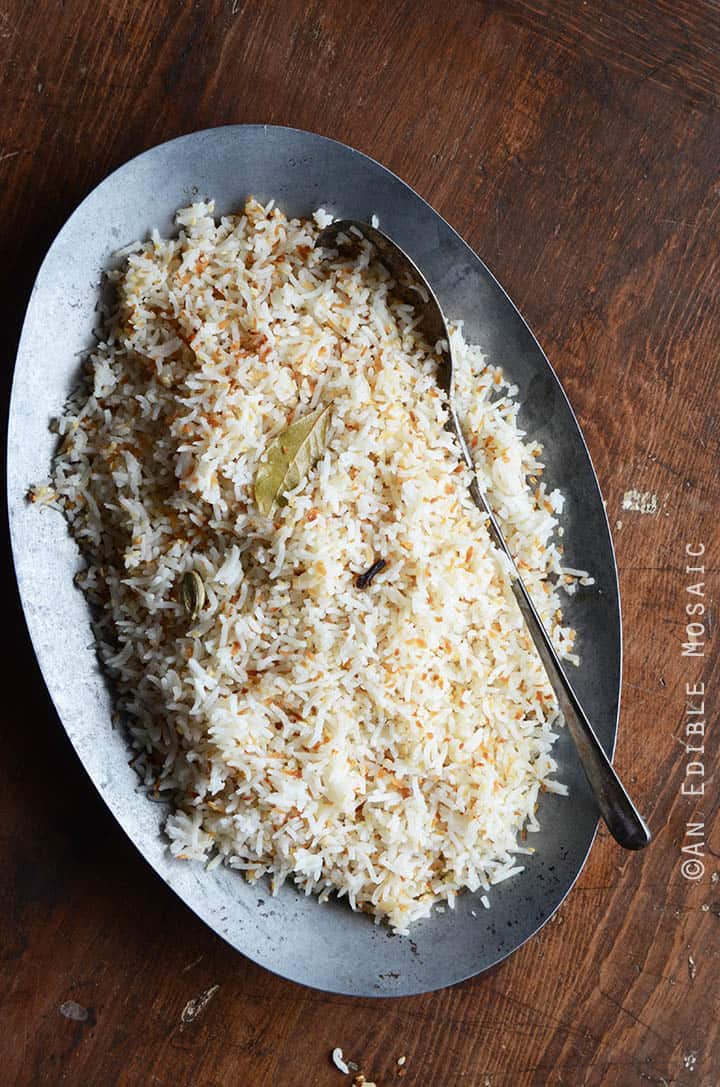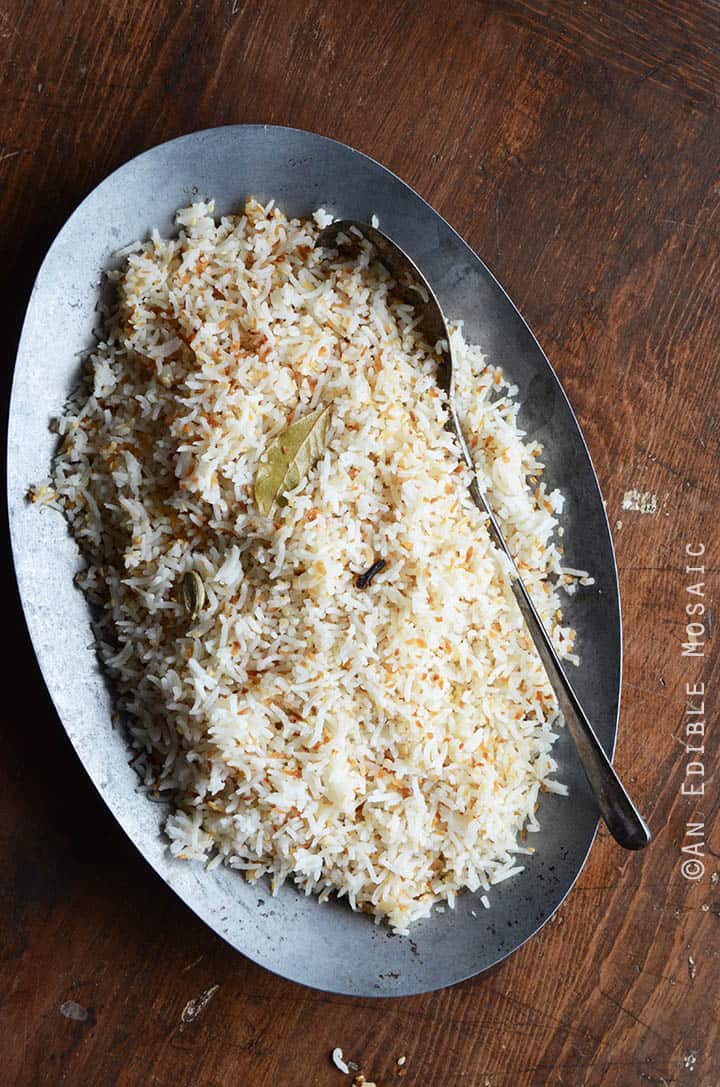 Would you believe I absolutely hated rice as a kid?
I attribute this to the fact that my mom served what she called "Mushroom and Wine Rice" to my sister and I the first time we remember ever having rice. Although I think it sounds delicious now, this is not something your average five-year-old will generally devour; needless to say, I grew up thinking I hated rice.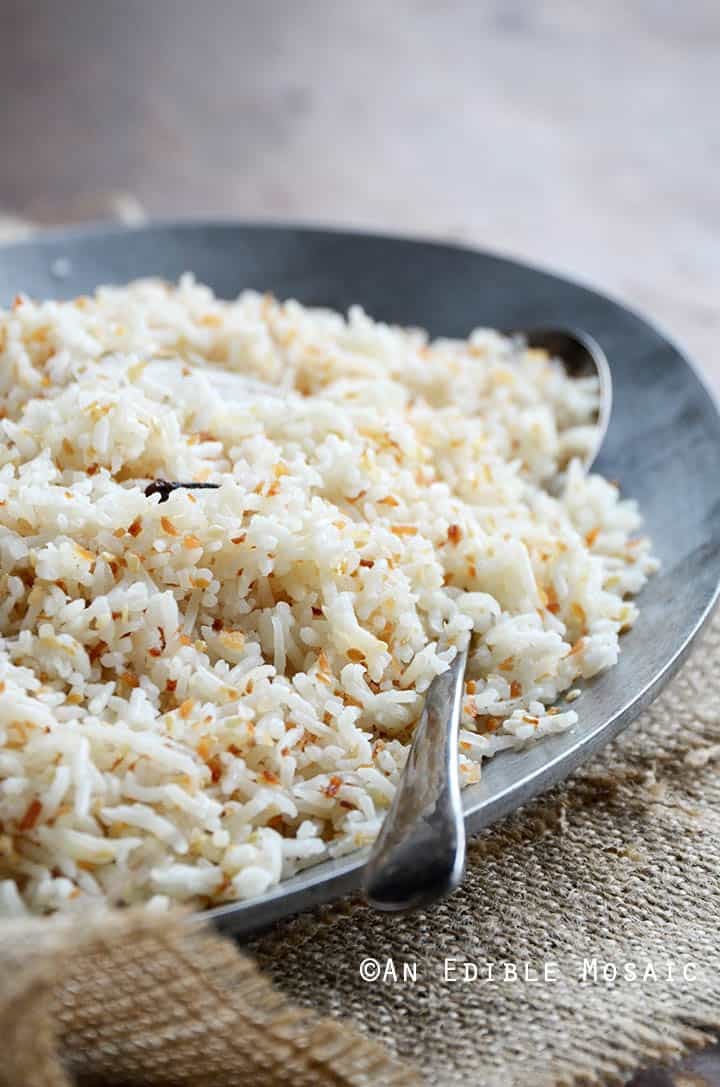 Later I learned that rice can be eaten plain or flavored with anything you like, it's super versatile (think about a creamy risotto, rice pudding, or fluffy pilaf), and it isn't scary at all to make once you get the hang of it. Let me stress that last point once again – you too can master making the perfect pot of rice! Don't let it intimidate you.
I've found that almost everyone has their own way of making rice. In my rice cooking method, I first soak the rice, drain it, and then toast the rice along with spices until it's fragrantly nutty. To accentuate the nutty flavor, to this recipe I add toasted sesame seeds and toasted coconut, which is a fun twist on a classic pot of rice.
You're probably wondering what would go well with this rice. I'm glad you asked…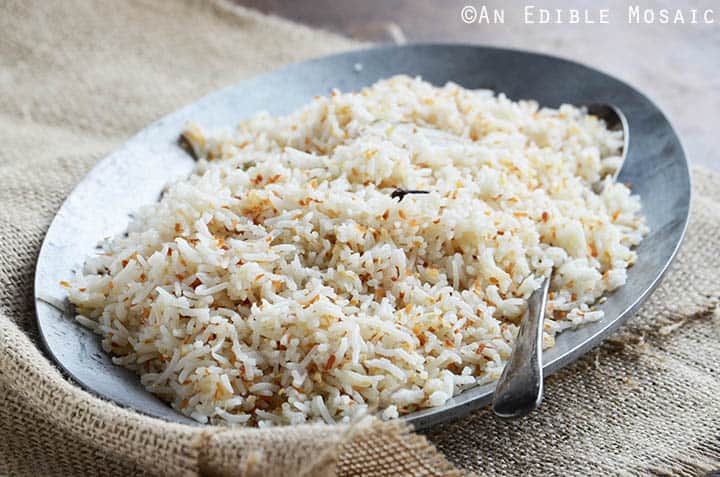 Coconut-Sesame Rice
Prep time:
Cook time:
Total time:
Ingredients
2 cups (200 g) basmati rice
2½ tablespoons ghee (clarified butter), divided (or you can use a mix of butter and canola oil)
4 tablespoons (35 g) sesame seeds
½ cup (50 g) shredded, unsweetened coconut
1 small-medium onion, diced
1 bay leaf
2 pods cardamom, cracked open
2 whole cloves
2 teaspoons coarse salt (use less if you're using fine salt)
2 cups (475 ml) boiling water
Instructions
Soak the rice in tepid water for 15 minutes; drain.
While the rice is soaking, heat 2 tablespoons ghee in a medium saucepan over medium heat. Add the sesame seeds and toast 2 minutes, stirring frequently, then add the coconut and toast until light golden brown and fragrant, about 30 seconds more, stirring constantly. Once toasted, immediately transfer the sesame seed/coconut mixture to a bowl so it stops cooking.
Put half a kettle of water on to boil.
Add the remaining ½ tablespoon ghee in the same saucepan over medium heat. Add the onion and cook until softened and just starting to brown in places, about 3 to 5 minutes, stirring frequently.
Add the bay leaf, cardamom pods, cloves, and drained rice and cook until fragrant, about 2 to 3 minutes, stirring frequently.
Stir in the salt and boiling water and let it come up to a rolling boil over high heat.
Give the rice a stir, cover the saucepan, turn heat down to very low, and cook until the rice is tender and the water is absorbed, about 10 to 12 minutes. Try not to open the lid during this time, but you can open it to add a splash of water as necessary if the rice is too dry (the weather plays a big part in cooking rice).
Once cooked, turn off the heat and let the rice sit (covered) for 15 minutes before fluffing with a fork.
Once fluffed, toss in the toasted sesame seed/coconut mixture and serve.