Sweet and Sour Turkey Meatballs feature veggies in the meatballs and in the sauce, and are a great way to get picky eaters to eat more vegetables!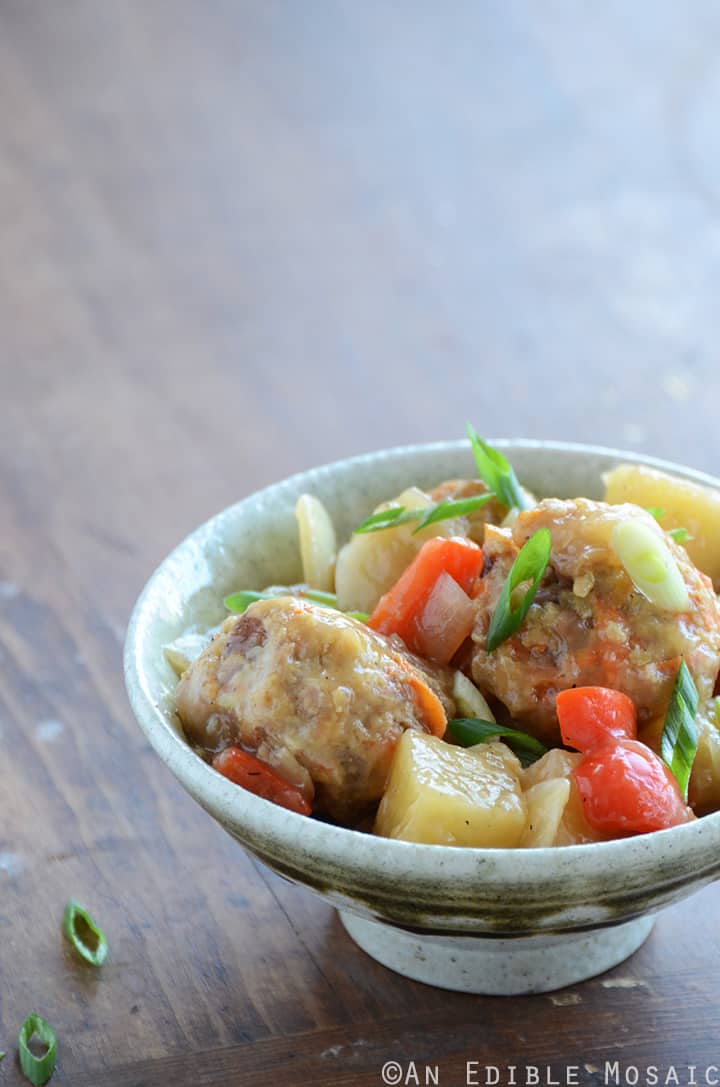 Have you ever come across a wild turkey?
When I lived in dorms as an undergrad in college, there was a short stretch of narrow road leading to my dormitory that was flanked by trees on both sides. There was a pack of wild turkeys living in there, and I kid you not, they were mean. And scary.
With no fear of human interaction, time after time they'd run right out as a pack chasing after cars or headfirst into a car so we'd have to slam on the breaks to avoid hitting them. We could have sworn we saw malice in their eyes, lol. Sometimes they'd follow a car to the parking lot, and then getting out of the car and making a mad dash for the dorm entrance was fun with them chasing, flailing their (huge!) wings, and gobbling behind us! Of course we didn't even dare use that road unless we were in a car…a walk down that little stretch of road was like a death sentence.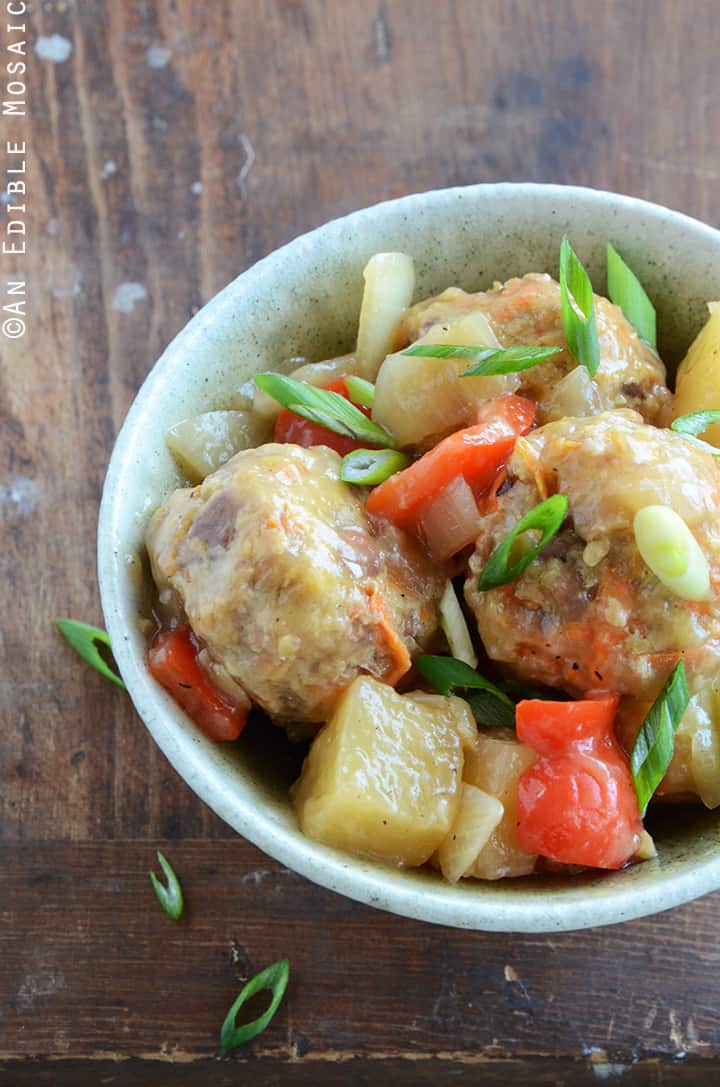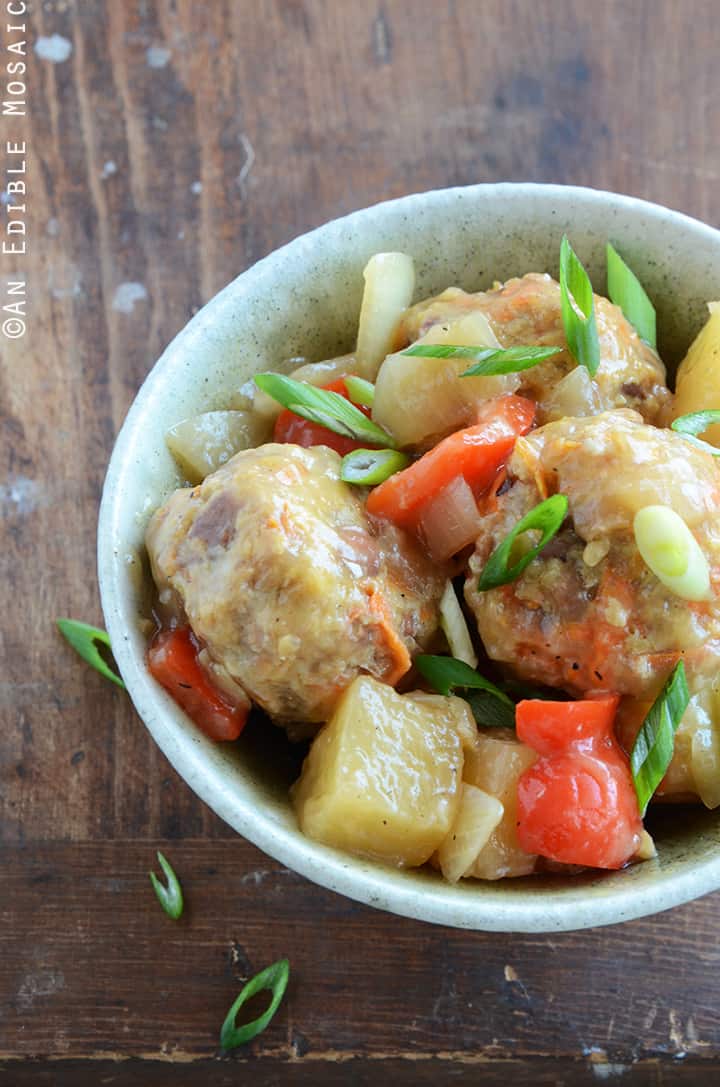 For me, autumn's arrival doesn't just mean pumpkins and apples…it also means turkey! And every time I think of turkey, I remember being in college and being harassed by that wild pack of turkeys, lol. Ah, memories.
So about this meal. Because of personal preference, I eat vegetarian most nights…but I also really enjoy turkey, chicken, and seafood (and an occasional amazing steak or burger). I find that other than Thanksgiving and deli meat sandwiches, I frequently overlook turkey as a great source of protein. But I love it, and I'd like to try to use it more.
I used ground turkey in this dish to make the meatballs, and then I snuck in other nutritious ingredients like beans, onion, and carrot. I won't say no one will know that these things are there, but hopefully no one will mind. This is a delicious and satisfying meal, especially coated in sweet and sour sauce, which also contains a fair amount of healthy goodies, like red bell pepper and pineapple.
What's not to love about turkey season?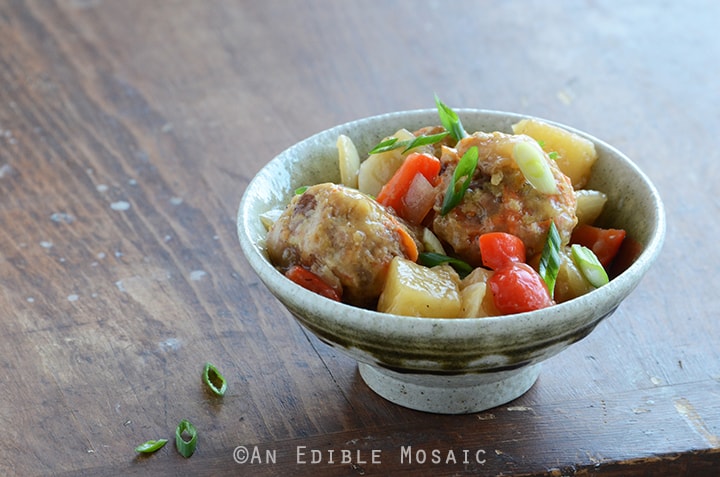 Sweet and Sour Turkey Meatballs
Prep time:
Cook time:
Total time:
Ingredients
Meatballs:
1 tablespoon avocado or light olive oil, divided
1 (15.5 oz/439 g) can no-salt-added pinto beans, rinsed and well drained
1 lb (450 g) ground turkey
1 medium onion, peeled and grated
2 medium carrots, scrubbed and grated
2 large cloves garlic, crushed using a mortar and pestle or grated on a microplane
½-inch piece fresh ginger, grated on a microplane
2 teaspoons low-sodium soy or tamari sauce
1 teaspoon Worcestershire sauce
1 teaspoon salt
¼ teaspoon ground black pepper
1 large egg, lightly beaten
4 tablespoons breadcrumbs or almond meal (or a little more as needed)
Sauce:
2 tablespoons avocado or light olive oil
2 medium red bell peppers, de-seeded and coarsely chopped
1 large onion, chopped
6 cloves garlic, crushed using a mortar and pestle or grated on a microplane
1-inch piece fresh ginger, grated on a microplane
6 tablespoons (90 ml) apple cider vinegar
4 tablespoons (60 ml) low-sodium soy or tamari sauce
1 tablespoon honey (or more to taste)
¼ teaspoon ground black pepper
1 (20 oz/570 g) can chunk pineapple in pineapple juice
2 tablespoons cornstarch dissolved in ½ cup (120 ml) cold water to form a slurry (or arrowroot starch)
Other:
3 scallions, green and white parts, thinly sliced, for garnish (optional)
Instructions
For the meatballs, preheat the oven to 400F. Line a large baking sheet with parchment paper or a silpat liner and drizzle on ½ tablespoon oil, spreading it around.
Add the beans to a large bowl and mash them coarsely with a potato masher. Use your hands to mix in all remaining meatball ingredients (except the remaining ½ tablespoon oil), but do not over-mix.
Use your hands to scoop out the meat mixture and roll it into meatballs (I make mine about 1½ tablespoons and I get about 25 meatballs). Line the meatballs on the prepared baking sheet and drizzle on the remaining ½ tablespoon oil.
Bake until fully cooked, about 20 to 25 minutes, flipping the meatballs once.
Start cooking the sauce when the meatballs have about 10 minutes left to cook. To make the sauce, heat the oil in a large skillet over medium to medium-high heat; add the bell pepper and onion, and cook until starting to soften and brown in places, about 5 minutes, stirring occasionally. Add the garlic and ginger, and cook 1 minute more, stirring constantly.
Add the vinegar, soy sauce, honey, black pepper, and pineapple (with juices), and bring up to a boil. Once boiling, add the cornstarch slurry; let it come back up to a boil, stirring constantly, and then turn off the heat (the sauce will be thickened).
To serve, very gently toss the meatballs in the warm sauce (be careful so they don't break up). Transfer to a serving bowl and sprinkle on the scallion, if using.
Notes
Cooking these Meatballs: Because of all the goodies (like beans and vegetables) added into these meatballs, they are a little more delicate than regular meatballs and I don't recommend frying them, since they are likely to stick to the pan. They are absolutely perfect baked the way the recipe says though!