Smoked Paprika Zucchini Hash Breakfast Bowls are a delicious low-carb alternative to a potato-based hash. These bowls whip up in just 30 minutes for a perfect meal any time of day!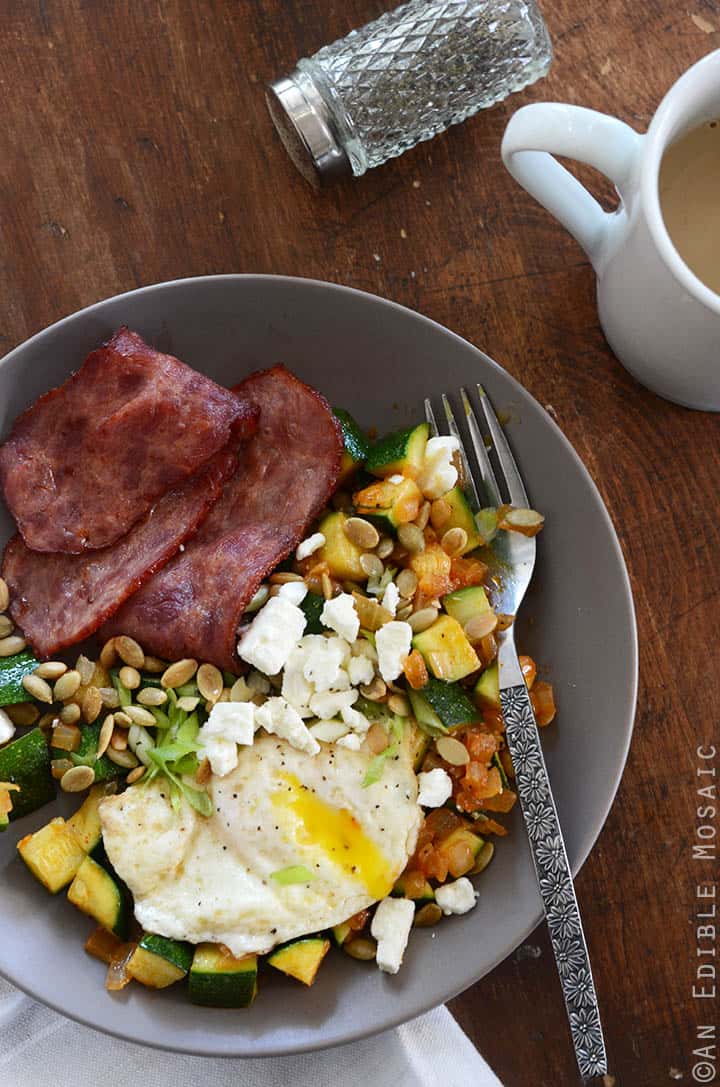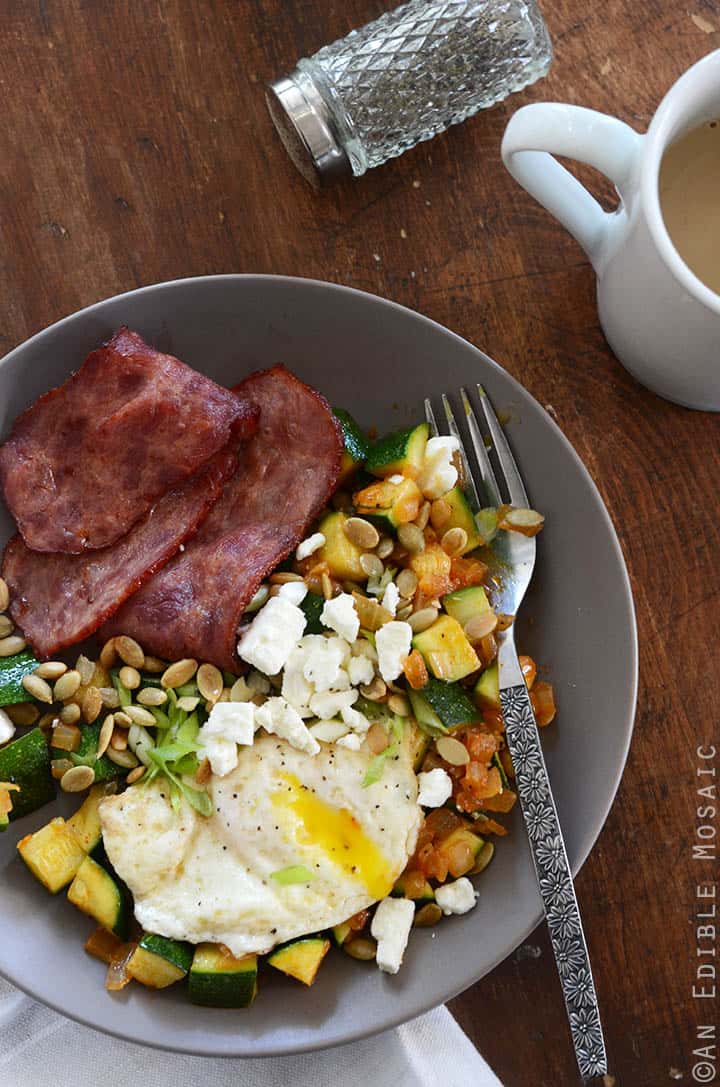 The only hash I knew growing up was of the potato variety. It was cooked in bacon grease, seasoned with onion and garlic, and tinged orange with paprika. Served with fried eggs, bacon, and buttered toast with jam, it was quite the heavy meal.
What can I say? It was the late '80s/early '90s and that was what a home-style breakfast consisted of. The funny thing is, we only had it when we were camping during the summer (at home breakfast was usually cereal, cold in the summer, and hot in the winter), so as an adult I've had to make an effort to add hash to my normal repertoire and not just save it for a select few summer weeks.
And although potato hash cooked in bacon grease is divine, a) I no longer eat pork and b) I sometimes like to keep things low-carb, so these days I like to make other veggies into hash and sub in turkey bacon or even just smoked paprika for a gorgeous complex smoky flavor. I do a great cauliflower hash and also a Brussels sprout hash, and now I can add zucchini hash to my list of favorites.
I kept the flavors super simple here. Turkey bacon gets crisped up in oil and then onion and zucchini cook down in the same oil. Smoked paprika is the main seasoning, along with a touch of salt and black pepper. The natural subtle sweetness of zucchini and the savory flavor of onion pair beautifully with the smoky paprika and turkey bacon. A poached or fried-over-easy egg is perfect on top so the yolk runs down into the hash. (If you're into that sort of thing; I had a friend recently shock the heck out of me by telling me that she hates runny yolk!)
I always love a good meal in a bowl (who is the mastermind we can attribute that marketing campaign to?) and so I went one step further and made this hash into breakfast bowls. You could also serve it as a side dish with grilled steak or barbequed chicken. Because this time of year we're always looking for new ways to help use up that bumper crop of zucchini, right?
And here are a few other zucchini ideas: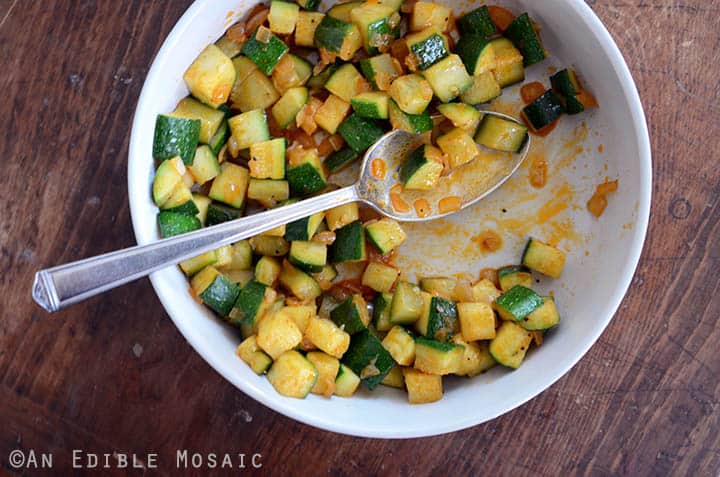 Smoked Paprika Zucchini Hash Breakfast Bowls
Prep time:
Cook time:
Total time:
Smoked Paprika Zucchini Hash Breakfast Bowls are a delicious low-carb alternative to a potato-based hash. These bowls whip up in just 30 minutes for a perfect meal any time of day!
Ingredients
2 tablespoons avocado oil or light olive oil (or any light or neutral-flavored oil you like)
4 slices turkey bacon
1 small-medium onion, diced
2 medium zucchini, cut into ½-inch cubes
½ teaspoon smoked sweet paprika
¼ teaspoon salt
¼ teaspoon black pepper
For Serving:
2 to 4 cooked eggs (I like mine fried over easy)
2 tablespoons crumbled feta cheese
1 tablespoon roasted pepitas (shelled pumpkin seeds)
1 scallion, green and white parts, thinly sliced
Instructions
Heat the oil in a large skillet over medium-high heat. Add the bacon and cook until browned on both sides, about 3 to 5 minutes per side, flipping once halfway through. Remove the bacon from the skillet and set it aside for now.
To the same skillet, add the onion and cook until it's starting to soften, about 3 to 5 minutes, stirring occasionally.
Turn the heat up to high and add the zucchini, spreading it out in an even layer; cook until the zucchini is starting to brown in places and is fork-tender but not mushy, about 5 minutes. (Only stir the zucchini once halfway through cooking to help prevent it from getting mushy, and so it has the chance to start to caramelize.) Stir in the paprika, salt, and pepper, and turn off the heat.
To serve, divide the zucchini hash between 2 plates or large bowls; add 2 slices bacon, 1 tablespoon crumbled feta, ½ tablespoon pepitas, and half the scallion to each. Top each serving with 1 or 2 eggs cooked any way you like, and serve.