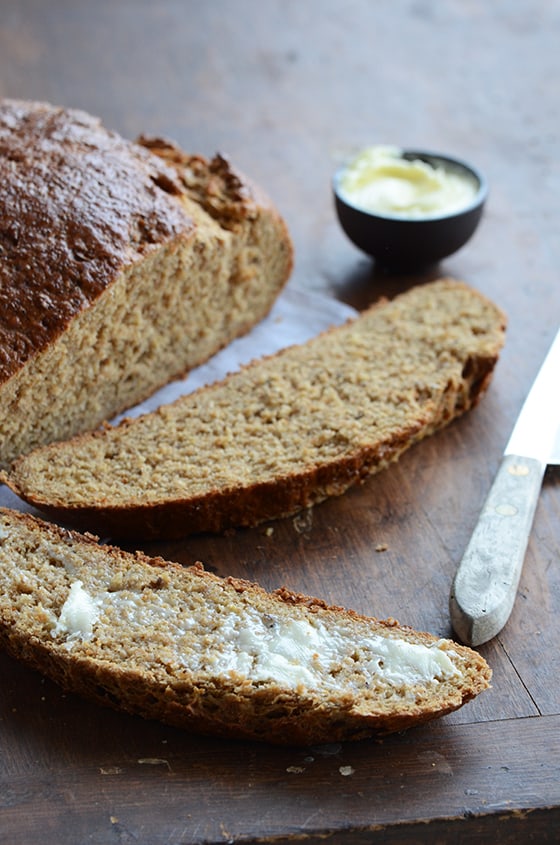 Some people take long walks.
Others play really gorgeous instruments, like the violin.
And there are those who soak in bubble baths, regularly get massages, or have weekly appointments with a therapist.
Me? I get in the kitchen.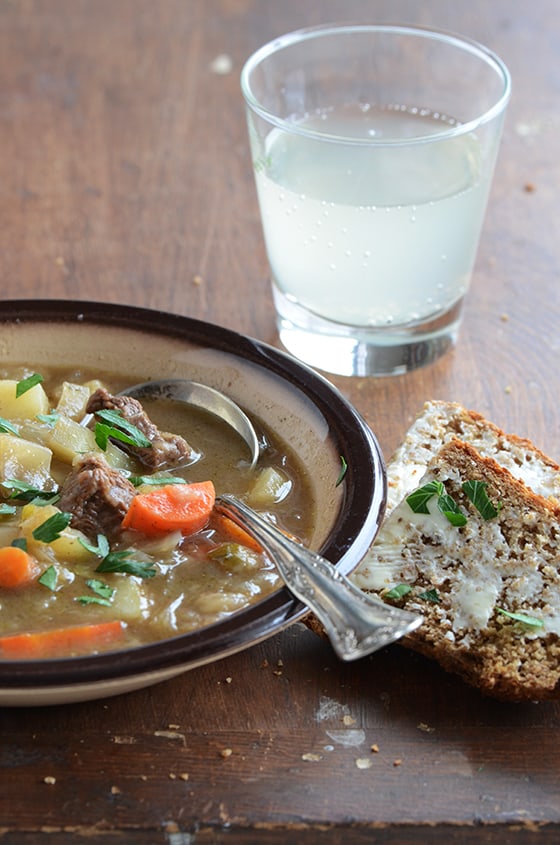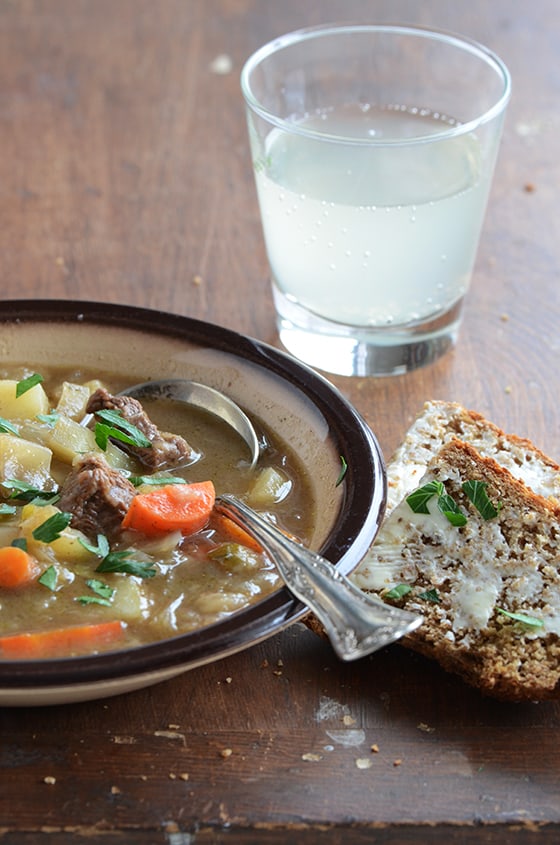 Rye bread pairs perfectly with a hearty stew like Basic Beef Stew.
Sometimes I cook because of the freedom it gives. No rules, no science, just the art of combining whatever I want into something palate-pleasing and tummy-filling. Something I can serve to my husband and watch him happily devour as though he hasn't eaten in a week, only stopping to beam at me, calling me best cook he's ever known. True or not, after being married for a while you learn exactly what your partner needs to hear and when she needs to hear it.
But if it's real stress relief I'm seeking, I bake, particularly something labor-intensive and completely rewarding, like bread. Something that makes my arms sore from kneading, my kitchen coated with a dusting of flour, and my house smell like a bakery. Something I can do while my mind wanders to whatever crosses it, without really giving too much thought to anything. Something I can do and at the end of the day, have a tangible result that I can hold in my hand and enjoy to the fullest in its simplicity.
Like this bread with a slather of butter.
Until I take up the violin, this will have to do.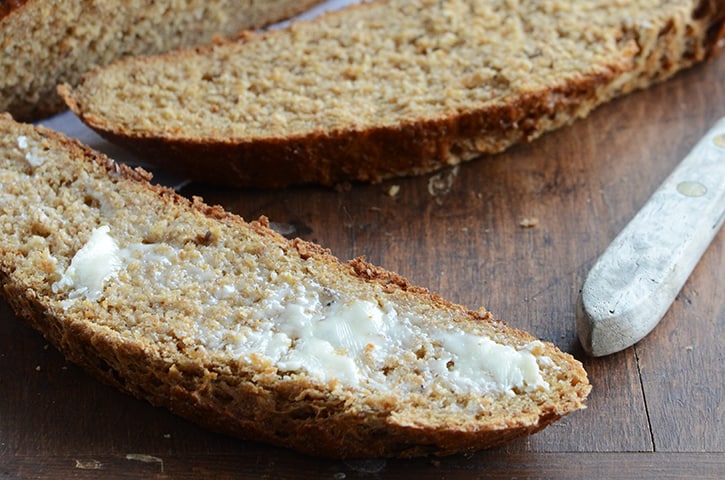 Rye Bread
Prep time:
Cook time:
Total time:
Yield:
Yields 1 large round loaf, about 12 servings
Ingredients
1 cup (240 ml) milk (I used 1%), scalded
2 tablespoons unsalted butter, diced
1½ teaspoons yeast
½ cup (120 ml) warm water
2 cups (240 g) rye flour
1 cup (130 g) all-purpose flour, plus more for kneading
½ cup (65 g) whole wheat flour or all-purpose flour
1 teaspoon fine salt
1 tablespoon caraway seeds (optional)
1 tablespoon honey
1 tablespoon blackstrap molasses
Canola oil, for greasing the bowl
1 large egg, lightly beaten with 2 teaspoons water, for eggwash
Instructions
Add the butter to the hot scalded milk and stir until the butter is melted; set aside to cool until lukewarm.
Whisk the yeast into the warm water in a small bowl; set aside until foamy, about 10 minutes.
Whisk the rye flour, all-purpose flour, whole wheat flour (or additional all-purpose flour), salt, and caraway seeds together in a large bowl.
Once the scalded milk mixture has cooled to lukewarm, stir in the honey and molasses. When the yeast/water mixture is foamy, add the milk mixture and the yeast mixture to the flour. Use a wooden spoon to stir everything together.
Flour your hands and turn the dough out onto a generously floured surface for kneading. Knead until the dough is smooth and when you press a finger into the dough, the indentation remains, about 5 minutes. While kneading, add a bit more flour as necessary. Shape the dough into a ball.
Oil a large bowl with canola oil. Place the dough into the bowl, rolling it around a few times to fully coat with oil. Cover the bowl with a damp tea towel and let the dough rise until doubled in size, about 1 hour.
Preheat oven to 450F; line a large baking sheet with parchment paper or a silpat liner.
Gently deflate the dough and turn it out onto a lightly floured surface. Knead a few times until smooth, about 2 minutes. Shape the dough into a ball.
Transfer the dough to the prepared baking sheet and drape a piece of plastic wrap on top. Let it rise until doubled in size, about 30 to 45 minutes.
Once risen, remove the plastic wrap from the top of the dough and lightly brush the dough with eggwash (you will have extra eggwash).
Bake at 450F for 15 minutes, then turn the heat down to 350F and bake until finished, about 25 to 35 minutes. The bread is finished when it sounds hollow when you tap on the bottom, and registers between 190-195F using an instant-read thermometer that has been inserted into the bottom of the center of the loaf.
Cool completely on a wire rack before slicing.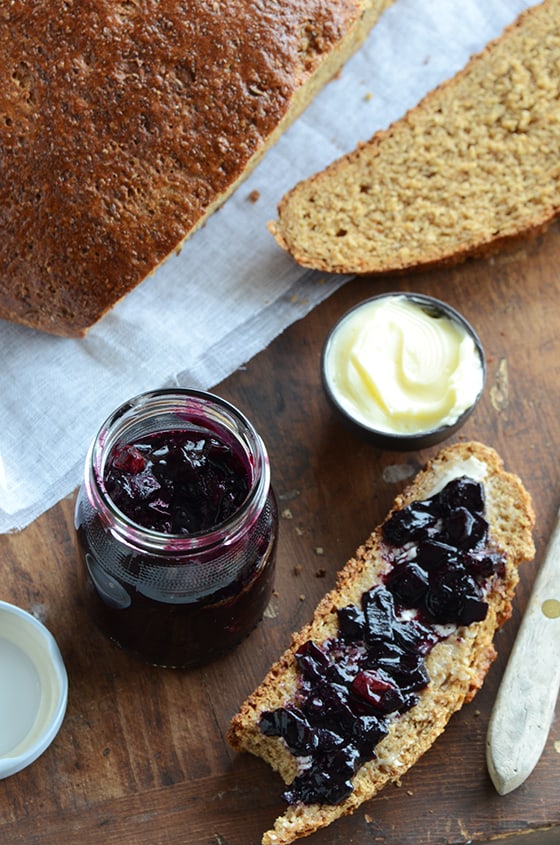 Rye Bread Topped with Butter and Spiced Blueberry Chutney (Chutney recipe coming soon!)