Cold nights long call for hearty, warming meals the way birthdays call for cake and snow days call for pajamas and steaming cups of hot cocoa. We've been having our share of snowy, cold weather here since late fall, and along with it plenty of bean, fish, chicken, and beef soups and stews. Mike and I really are soup people, and meals like this always seem to hit the spot…but the fact of the matter is, we're easily in for at least another three months of cold (and more likely than not, snowy) weather, and if I'm going to last the winter without going stew crazy (that would be my very own version of stir crazy), I'm going to have to pace myself.
I was craving something bright and refreshing…something lemony. At the grocery store I actually bought a couple of lemons. Just lemons. Without having any particular recipe in mind and not really caring what I made with them. I got home and saw chicken breast in the fridge and the solution struck me: Chicken Piccata!
In my haste to eat this and capture a bit of (very premature) spring flavor, I didn't make quite as much use of the lemon as I could have. Half the lemon is juiced and added to the sauce, but next time I make it I'll thinly slice the other half into wheels and add them to the sauce along with the juice. Now doesn't that sound pretty?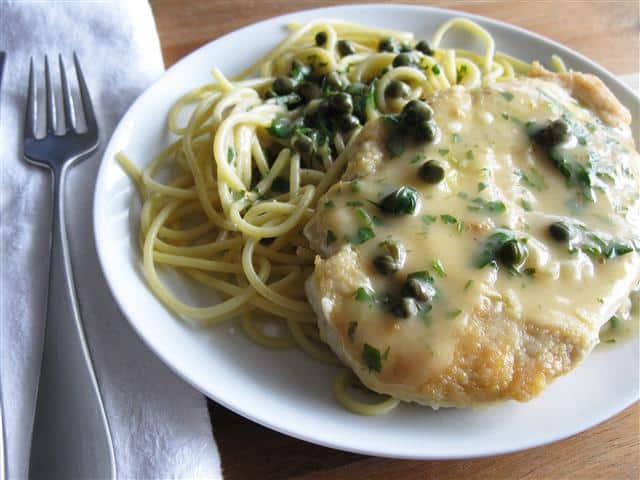 Chicken Piccata
(Yield: 2 servings)
2 teaspoon unsalted butter, room temperature
3 TB plus 2 teaspoon flour, divided
2 (4-6 oz) chicken breast cutlets
2 TB olive oil
¼ c dry white wine (or chicken stock or water)
⅓ c chicken stock
2 TB minced fresh parsley
1 TB capers, rinsed and drained to remove excess salt
1 lemon (half juiced, to yield about 1 TB; half sliced into thin circles) -- I forgot to add the lemon circles
Salt and pepper
4 oz spaghetti, or any shape of pasta you like (for serving)
Cook pasta to al dente according to package directions.
In a small bowl, use a fork or your fingers to combine 2 teaspoon butter with 2 teaspoon flour; set aside for now (this mixture is called a beurre manié). (The flour gives the sauce ever so slightly more body; if you prefer a thinner sauce for Chicken Piccata, just omit the flour and proceed with the rest of the recipe.)
Season chicken cutlets on both sides with salt and pepper; dredge in remaining 3 TB flour and shake off and discard excess. Add olive oil to a medium skillet over medium-high heat; once oil starts to ripple, add chicken and cook until fully cooked and golden on both sides (about 3 minutes per side), flipping once. You can turn heat down if chicken starts to burn or cook too quickly; chicken is fully cooked when there is no pink in the middle. Transfer chicken to a paper towel-lined plate to drain any excess oil.
With heat off, add wine (or chicken stock or water) to the skillet you cooked the chicken in; turn heat on to high and use a wooden spoon to scrape up any brown bits that have formed on the bottom. Cook a few minutes, until the wine is reduced by about ⅔ or more. Add chicken stock, turn heat down to medium, and whisk in beurre manié; cook until thickened slightly, about 2 minutes. Turn off heat; add parsley, capers, lemon juice, and sliced lemon circles. Taste and season with salt and pepper as desired.
Serve chicken cutlets with pasta, with the sauce drizzled on top of everything.