Stone fruit, like peaches, nectarines, and plums, are in season here so I've been buying them in droves. (Apparently as soon as I get to the market I forget that it's only Mike and I that I'm buying food for! :) ) There are so many great ways to use up an overabundance of fruit, such as pies, cobblers, crisps, and jams, but instead of making something sweet with the fruit I wanted something savory. This tart is a nice balance of flavors and the great thing is you can customize it with your favorite stone fruit. It makes a really lovely appetizer, snack, or addition to brunch.
I'm sending this recipe to Chaya of Sweet and Savory for My Meatless Mondays!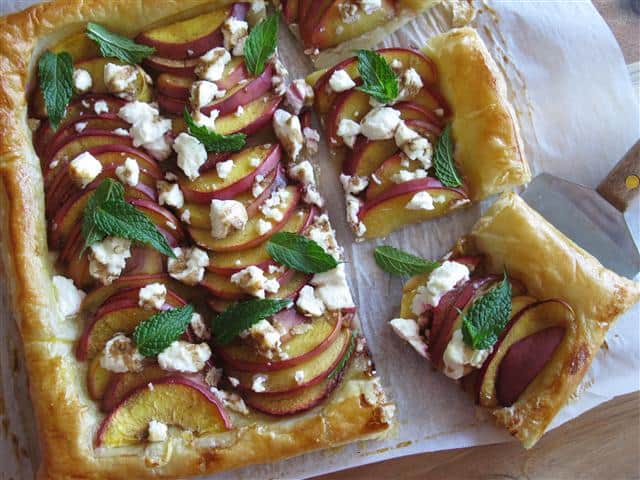 Savory Stone Fruit Tart
(Yield: 9 appetizer-sized servings)
1 TB balsamic vinegar
1 TB honey
Dash salt and pepper
1 sheet (½ lb) puff pastry
3 small-medium (about 10-12 oz) nectarines (or any stone fruit you like), thinly sliced
2 oz goat cheese, crumbled
1 egg beaten with 1 TB water (for eggwash)
Fresh mint leaves (optional, for garnish)
If frozen, thaw the puff pastry at room temperature for 40 minutes. Preheat the oven to 375F and line a baking sheet with parchment paper.
In a small saucepan over medium-low heat, combine the balsamic vinegar, honey, and a dash of salt and pepper; stir and simmer until slightly thickened (about 1-2 minutes).
Unfold the puff pastry so that it forms a 9- by 10-inch rectangle (or roll it out with a light dusting of four so that it forms a rectangle this size). Place the puff pastry on top of the prepared baking sheet. Line up the nectarine slices in 3 columns on the puff pastry so that they overlap slightly, leaving a 1-inch border all the way around. Sprinkle the crumbled goat cheese on top, then drizzle on the balsamic reduction. Lightly brush the border with eggwash (you will have extra eggwash). Bake about 20 minutes, or until the pastry is puffed and golden.
Cool slightly before cutting, then sprinkle on fresh mint leaves.