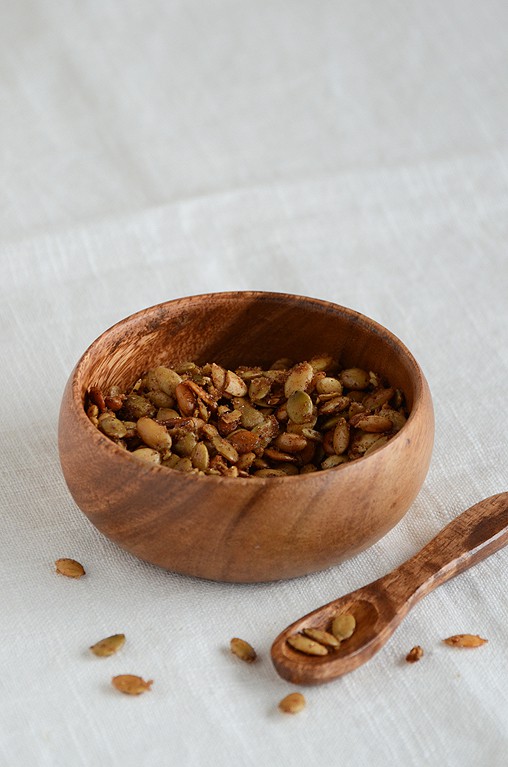 Are you a daytime snacker or a nighttime snacker?
I'm a daytime snacker all the way. (Mid-morning I always feel like a little something to munch on along with a cup of coffee increases my productivity, lol.) Mike is the opposite – he doesn't snack at all during the day but at night it's no holds barred. He typically goes for healthy stuff like nuts or fruit…except on Sunday nights, which he likes to call "ice cream night". He likes something that is either salty or sweet, but I prefer a sweet/salty mix, myself.
These pumpkin seeds fit the bill perfectly.
They're a little salty, a little sweet, and aromatic with warm spices. If you don't want to use pumpkin seeds, you can play around with other things, such as almonds, walnuts, or sunflower seeds. And if you prefer to make them on the stovetop instead of in the oven (perfect for those hot summer days!), this version is for you.
Sweet Spiced Pumpkin Seeds (Inspired by Cooking Light's Sweet and Spicy Pumpkin Seeds)
Yields 1 cup
1 tablespoon canola oil
1 tablespoon brown sugar
¾ teaspoon cinnamon
¼ teaspoon salt
¼ teaspoon nutmeg
1 pinch cloves
1 cup hulled pumpkin seeds
Preheat oven to 325F.
Add oil and sugar to a medium bowl and microwave until warm (about 30 seconds), then stir in the cinnamon, salt, nutmeg, and cloves. Add the pumpkin seeds and stir to coat. Transfer to a baking sheet and bake until golden, about 30 to 40 minutes, stirring occasionally. Cool completely; serve.