Brandy and I are pleased to announce that we made a blog site specifically for All Through the Year Cheer! Head on over to All Through the Year Cheer later today because Brandy's announcing our Thanksgiving event!
You've probably noticed the new All Through the Year Cheer button on my right sidebar, which is linked directly to the new blog. If you want, you can grab our new button…just go to All Through the Year Cheer, click on the tab at the top called "Grab Our Button," and it will tell you exactly what to do.
Now for the eggplant stew! Eggplant happens to be one of my favorite veggies, but unfortunately hubby hates it, so I made lamb for him and this for me…it worked out well since I don't really care for lamb! For this stew, I find that roasting the eggplant helps to reduce the bitter flavor, so that there's no need to pre-salt, let it sit, and then wring out the eggplant, like I would normally do. Also, roasting the eggplant greatly reduces the amount of oil used to cook the eggplant, since eggplant is very sponge-like and will absorb basically any amount of oil you give it. To me, eggplant is very meaty both in flavor and texture, and paired with garbanzo beans and other veggies this was a hearty, filling meal. (And as a bonus, it freezes very well!)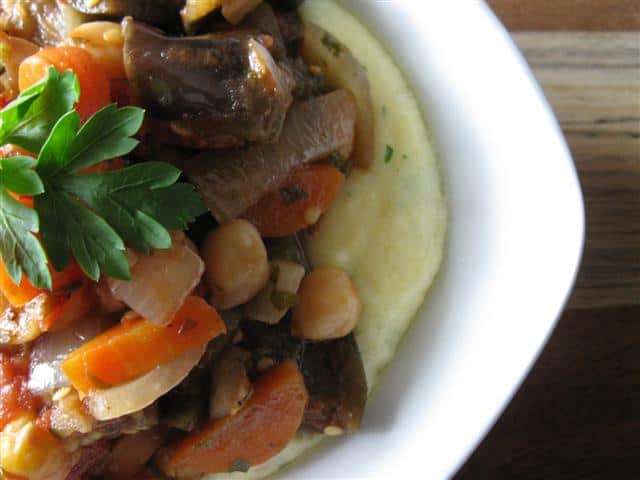 Polenta Substitutions: If you don't want to use polenta, you could serve your stew over anything you like. Here's a few ideas: couscous, rice (brown or white), mashed potatoes, egg noodles, or pasta.
Roasted Eggplant & Garbanzo Bean Stew Over Polenta
(Yield: About 6 servings)
Stew:
1 medium-large eggplant, cut into cubes
2 ½ TB olive oil, divided
1 medium onion, chopped
2 medium carrots, chopped
½ green pepper, chopped
2-4 cloves garlic, minced
1 TB balsamic vinegar
1 (14.5 oz) can diced tomatoes (with their juices)
1 TB tomato paste
¼ c fresh chopped parsley
2 teaspoon fresh minced thyme
¼ teaspoon dried oregano
1 can garbanzo beans (or any beans you like), rinsed and drained
Salt and pepper
Polenta:
1 ½ c low-fat milk
¾ c yellow cornmeal or polenta
1 ½ TB butter
1 ½ oz fresh grated Parmesan cheese
3 TB fresh chopped parsley
1 sprig fresh minced thyme
Salt and pepper
For the stew: Preheat the oven to 450F. Toss the eggplant with 1 ½ TB oil and a dash of salt and pepper, then roast until tender and light golden brown (about 20 minutes), stirring halfway through cooking. In a medium pot, heat the remaining 1 TB oil over medium heat; add the onion, carrot, green pepper, thyme, and oregano and sauté about 10 minutes, until the veggies are slightly softened. Add the garlic and sauté another minute, then add the vinegar and sauté another minute. Add the tomatoes (with their juices), roasted eggplant, tomato paste, and ½ c water; bring the stew up to a simmer and let it cook for about 15 minutes (covered). Add the parsley, basil, and beans and cook another 1-2 minutes until the beans are warmed. Season to taste with salt and pepper before serving.
For the polenta: In a separate pot, bring the milk and 1 ½ c water up to a boil over medium-high heat. Very slowly whisk in the cornmeal, then turn the heat down to medium-low and cook (stirring constantly) until thickened (I used yellow cornmeal and this took about 3-5 minutes). Once thickened, turn off the heat and whisk in the butter, cheese, and herbs. Season to taste with salt and pepper.