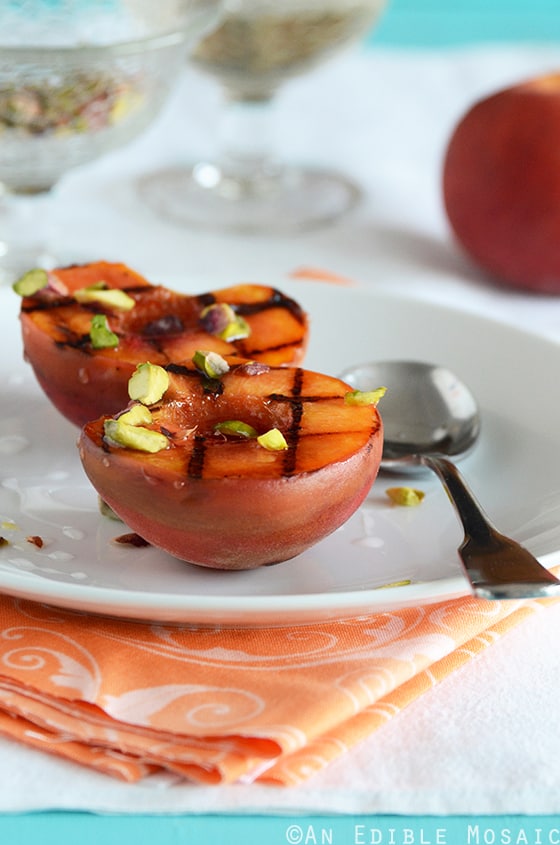 Each month Kitchen Play hosts a Progressive Party with six food bloggers who are typically assigned one of the following courses: cocktail, amuse bouche, salad, appetizer/soup, main course, and dessert. The bloggers then have to incorporate the same product into whatever course they were assigned. This month's challenge was a little different, in that the course assigned to all the bloggers was "Iconic Grilling Recipe" and the theme, which was sponsored by the Ad Council who is promoting new USDA food safety guidelines during the summer grilling season, was "Make This Recipe…Safer".
I love grilling and I was thrilled to be invited to participate in this month's Progressive Party!
First things first, a little bit about grill safety. Did you know that one out of six Americans will get sick from food poisoning this year? Not only is getting sick no fun, but it can also have long-term effects on your health. Here are four easy steps to help keep you and your family safe from food poisoning…

Clean: Clean kitchen surfaces, utensils, and hands with soap and water while preparing food.
Separate: Separate raw meats from other foods by using different cutting boards.
Cook: Cook foods to the right temperature by using a food thermometer.
Chill: Chill raw and prepared foods promptly.
(More info on these steps can be found on FoodSafety.gov.)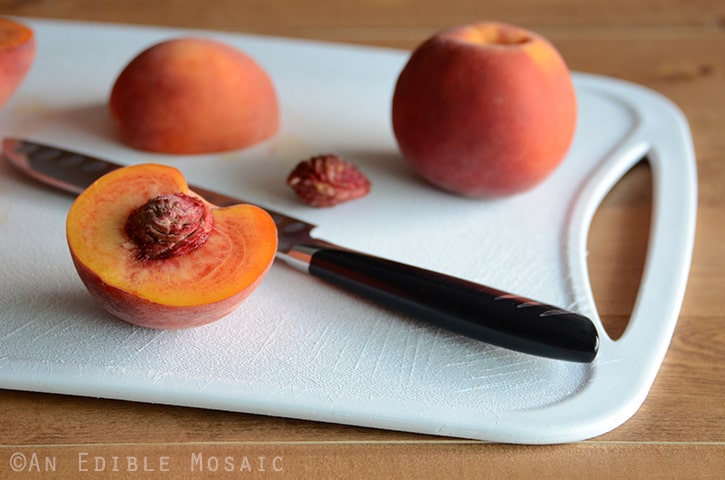 Separate: Help keep foods free of contamination by using separate cutting boards for raw meats and fresh produce.
So, what did I decide to grill up? Dessert! Fresh, local peaches are one of the true delights of summer, and grilling makes them even more of a treat by highlighting and intensifying their natural flavor and adding a subtle smokiness.
Grilled peaches are frequently served with a little honey, sugar syrup, or even balsamic glaze. I wanted to give my grilled peaches a bit of Middle Eastern flair, so I decided to serve them with a drizzle of orange blossom syrup (called qattar, or attar in slang, this is just a slightly thickened simple sugar syrup that's flavored with orange blossom water) and a sprinkle of pistachios, both of which are common flavors found in Middle Eastern desserts.
I buy orange blossom syrup at a local Middle Eastern market; you can substitute rosewater or even vanilla if you prefer. Or instead you can flavor the syrup with cinnamon and add a sprinkle of walnuts instead of pistachios for a little Greek inspiration.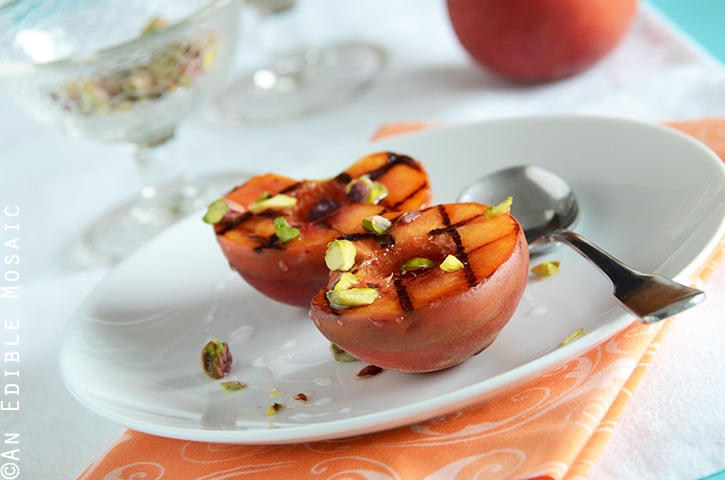 Grilled Peaches with Orange Blossom Syrup and Pistachios
Prep time:
Cook time:
Total time:
Ingredients
¼ cup sugar
2 tablespoons water
½ teaspoon lemon juice
½ teaspoon orange blossom water
2 peaches, halved and pitted
2 teaspoons canola oil
1 tablespoon shelled pistachios, coarsely chopped
Instructions
Add the sugar, water, and lemon juice to a small saucepan and bring to a boil over medium heat, giving the pan an occasional swirl. Once boiling, cook 2 minutes, swirling the saucepan occasionally. Turn the heat off and stir in the orange blossom water. Let the syrup cool while you grill the peaches.
Preheat the grill and brush the canola oil on both sides of the peaches. Grill the peaches (cut side down first) until they are softened and have light golden brown grill marks, about 4 to 5 minutes on the first side and 1 to 2 minutes on the second side.
Transfer the peaches to a serving dish; top them with a drizzle of syrup and a sprinkle of pistachios.
Serve.
Chopped Turkish pistachios and orange blossom syrup make simple grilled peaches feel like a special dessert.
Make This Recipe Safer on Facebook!
The campaign sponsors also have some handy-dandy refrigerator magnets to remind you and your family about food safety while cooking. Click here to receive your FREE magnet! Then share photos of your magnet, your personalized safety tips, and/or the dishes you've cooked safely on the Kitchen PLAY Facebook page. (Be sure to tag FoodSafety.gov and Ad Council!). Let's work together to Make Our Recipes Safer!
Disclaimer:  This post was sponsored by the Ad Council and Kitchen Play; as always, all opinions are my own.