Drinking Chocolate (aka French Hot Chocolate) is rich and smooth with deep chocolate flavor. It literally tastes like you're drinking a melted chocolate bar! You're only 8 minutes away from the best hot chocolate of your life. If you can't book a flight to Paris, this is the next best thing.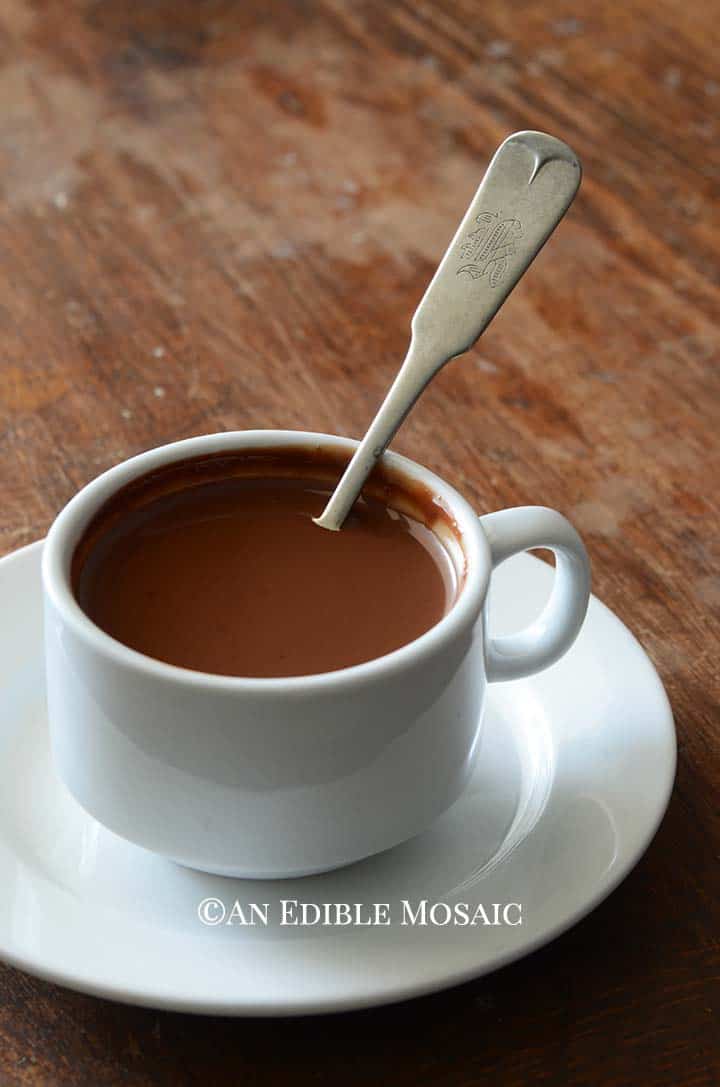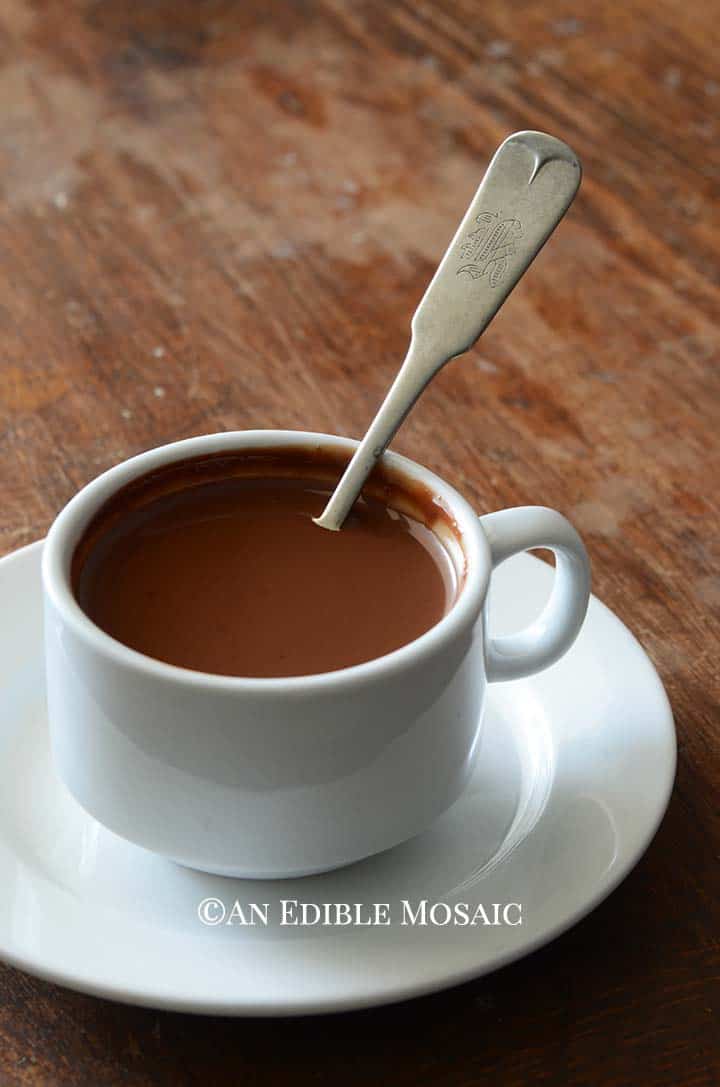 Thursday is mine and Mike's 9 year wedding anniversary.
Yup, 9 years, gone by in what basically feels like the blink of an eye.
Here on my blog I usually try to just skim over details of my personal life. This is because I like my blog to be a space where people can come to get inspired, enjoy some eye candy, and maybe learn a bit about food.
Generally, I don't feel like sharing too much about my personal life (especially the bad stuff) is the direction I want to take things. But I think a 9 year anniversary is a call for a small break from tradition. (But if you want to just scroll down to the recipe, I won't be mad!)
My husband and I are truly head-over-heels crazy in love for each other. We're the couple who calls each other every two hours when he's at work (I work from home so – bonus! – I can talk anytime).
We both sob like babies at the airport any time either of us leaves. And given the choice, in our free time, we still, even after all this time, both choose to spend time with each over the company of anyone else.
But we have our ups and downs like any other couple. We have big blow-out flights complete with crying, hateful words (no one can hurt us like the people we love), accusations, and one or both of us threatening to leave. (And although neither of us has ever left the other, the suitcase has been packed on at least a couple occasions!)
We always cool down though, and because we love each other, when it comes down to it, we've been able to surmount literally every obstacle that has come our way.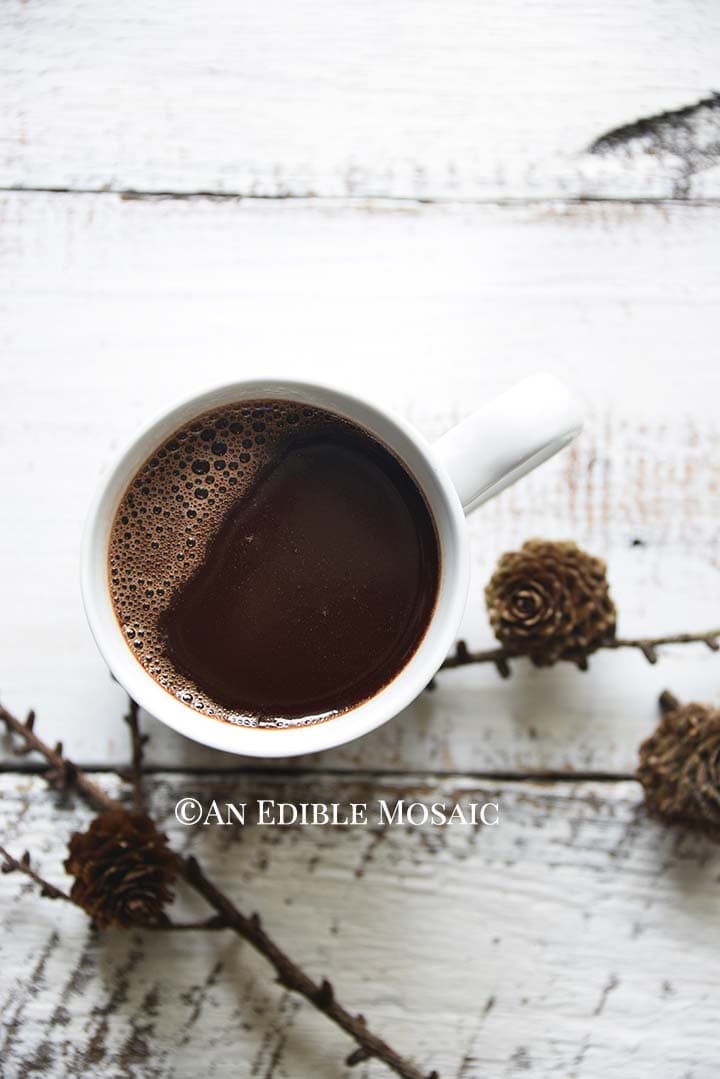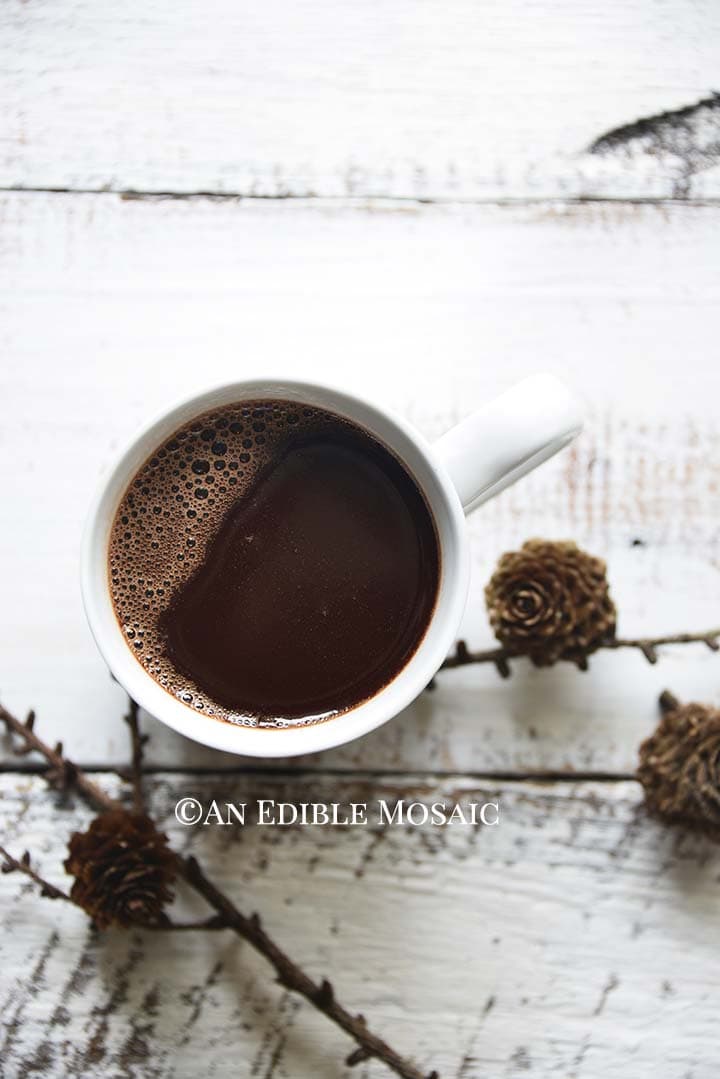 Why am I sharing this?
I want to give hope to every couple reading this who might be in a situation where they're wondering how on earth people stay together for 9 years. I know staying together isn't the right choice in every situation. But if you and your partner love each other and really want to make things work, what has worked for Mike and I time and time again is compromise.
If you both give a little you can meet in the middle. Compromise isn't about making both people happy. Actually, both people have to relinquish a bit of what they want and so they will probably be a little uncomfortable. However, the end result should be something that both people can agree to and live with.
What I've found is that if my husband is taking care of me and I'm taking care of him, we're both all set.
So here's to 9 years, darling.
And now for the food. Or drink, to be exact.
Because of the tone we set in our honeymoon, our anniversary always calls for chocolate, and this year I decided on the drinking variety. But not just run-of-the-mill hot chocolate – where's the fun in that?!
Drinking Chocolate is also called Dark Hot Chocolate, European Hot Chocolate, European Drinking Chocolate, Parisian Hot Chocolate, French Hot Chocolate, and Le Chocolat Chaud in French. And it basically tastes like a melted chocolate bar.
Drinking Chocolate incredibly rich and luscious. It's even more filling and indulgent-feeling than if you were to just eat a bar of chocolate as-is. This is why two ounces of chocolate per serving really is more than enough. My only tip is to use a really great-quality bar of chocolate.
Every time I make Parisian Hot Chocolate (aka Drinking Chocolate), the movie Chocolat comes to mind. If you want to make the Mayan hot chocolate from that movie, use the recipe below and just add a pinch of cinnamon and a pinch of cayenne pepper. Or if you're making a double batch, use a small cinnamon stick and a small dried red chili pepper (seeds removed).
Try this and regular hot chocolate or hot cocoa might become a thing of the past.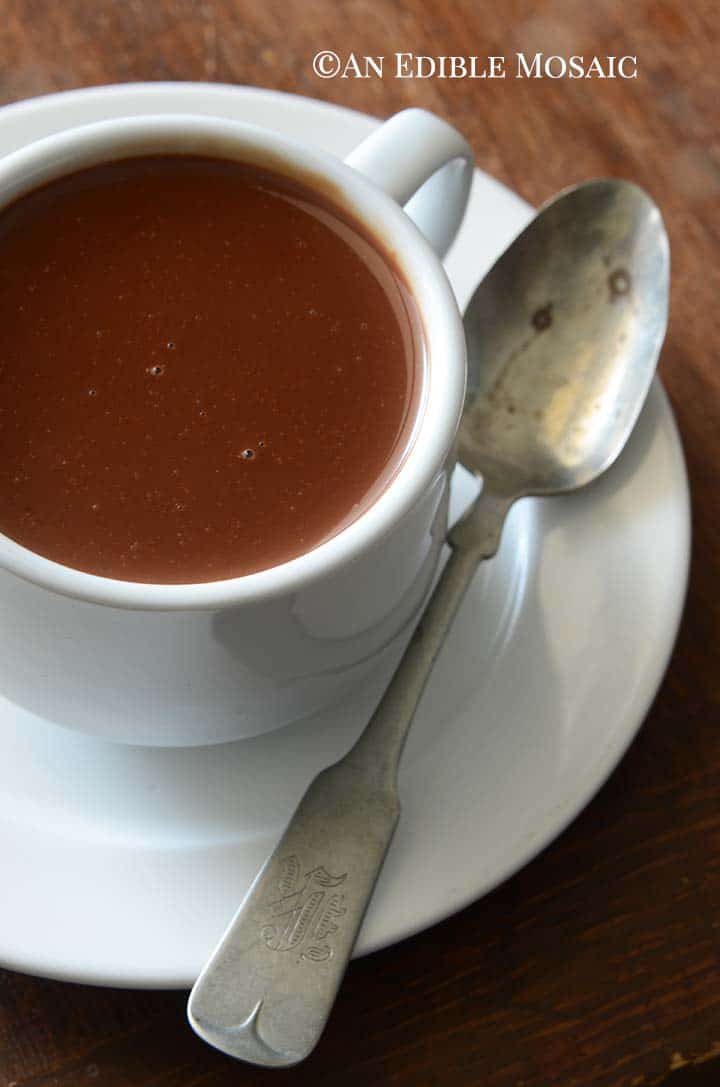 Drinking Chocolate (French Hot Chocolate) Recipe
This completely decadent, lusciously rich, and deeply chocolatey Drinking Chocolate is so easy to make! The main ingredients are whole milk + the best bar of chocolate you can find.
The other components are just there to pull out the natural flavor notes of the chocolate.
Parisian Drinking Chocolate Ingredients
The ingredients are explained in this section. For the full recipe (including ingredient amounts), please see the recipe card below.
Whole milk - this isn't place for skim milk or even 2%, friends; and for the love of God, by all means, please don't use water, lol! The richness from whole milk is part of what gives this indulgent hot chocolate its velvety texture
Good-quality bittersweet chocolate - use a good quality bar of chocolate because it will make or break the flavor; I like 70% cacao, but 60% cacao will work (you can add less brown sugar if desired) and you can even use 85% cacao (increase the amount of brown sugar to taste)
Brown sugar - this is the sweetener in our French Hot Chocolate; I prefer brown sugar over white sugar because the molasses in brown sugar adds another layer of complexity
Pure vanilla extract - for flavor and aroma; it actually helps pull out the nuanced flavor notes in chocolate
Instant espresso powder - you won't be able to taste coffee here; similar to vanilla, instant espresso powder enhances the flavor notes in chocolate
Salt - to pull out the flavors of everything else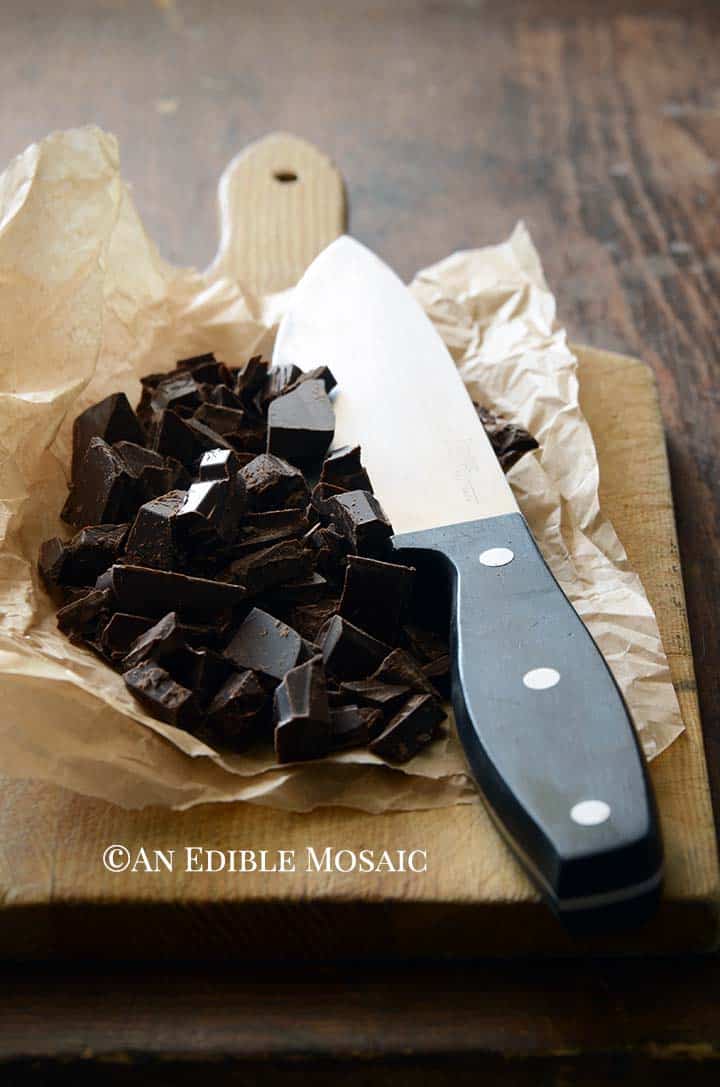 How to Make Drinking Chocolate – How to Make French Hot Chocolate
You won't believe how easy this recipe is to make! It's every bit as easy to make as hot cocoa is, and every bit as easy as regular hot chocolate.
And rich Drinking Chocolate is so much better! One sip will transport you to a café in Paris.
Here's how to make it: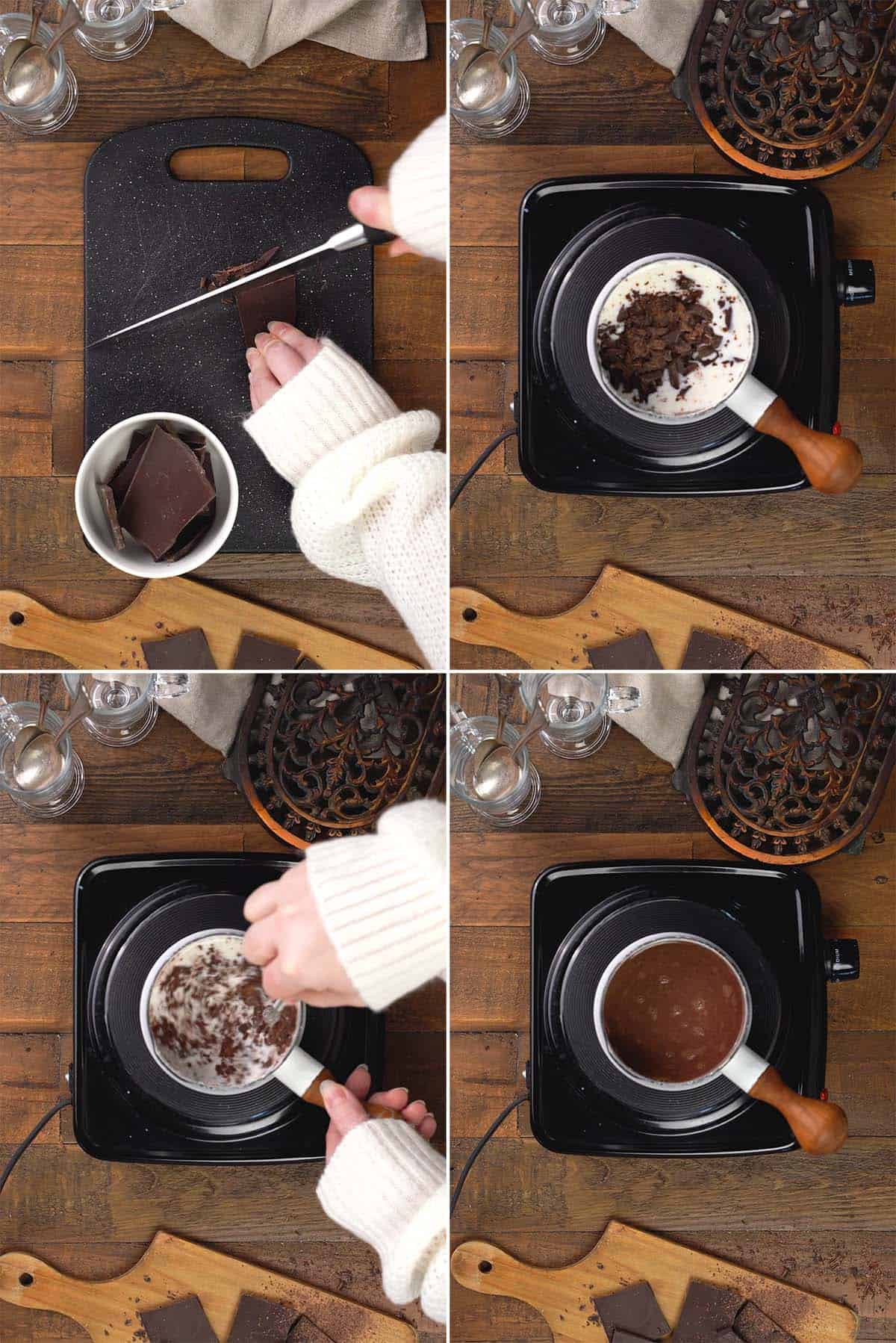 Chop the chocolate.
Heat the milk in a small saucepan on the stovetop until steaming, and then add the chocolate.
Whisk in the chocolate, and then the brown sugar, vanilla, espresso powder, and salt.
Heat until steaming, and then remove from the heat.
Serve, and revel in the blissful fact that you now know how to make the world's best hot chocolate. ;)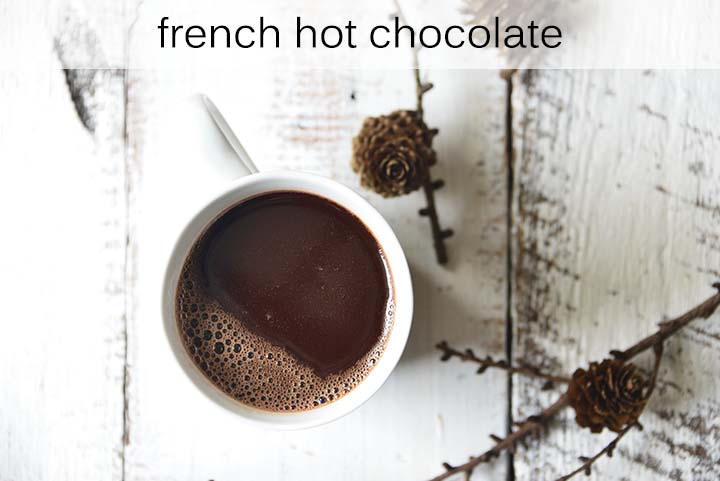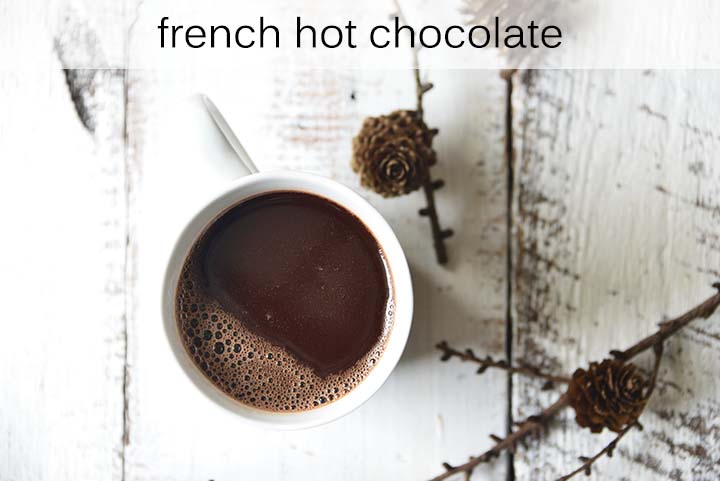 Is it Better to Make Hot Chocolate with Milk or Water?
If you're going for rich flavor and creamy texture, use milk to make hot chocolate! I use whole milk in this Drinking Chocolate recipe to make it ultra luscious.
There might be a time and a place to use water (ahem, I'm looking at you, hot cocoa), but it sure isn't here and now, lol!
What's the Difference Between Hot Cocoa and Hot Chocolate?
Hot cocoa is typically made with milk (and/or water), cocoa powder, and sugar. Hot chocolate is usually melted chocolate mixed with water and/or milk.
In terms of flavor, hot cocoa is typically sweeter than hot chocolate, and not as rich as hot chocolate.
What's the Difference Between Hot Chocolate and Drinking Chocolate?
Richness is the main difference! Technically any old hot chocolate recipe has chocolate melted into it. But Parisian Hot Chocolate is something else entirely.
French Hot Chocolate is richer, thicker, and more velvety than any other hot chocolate I've ever had!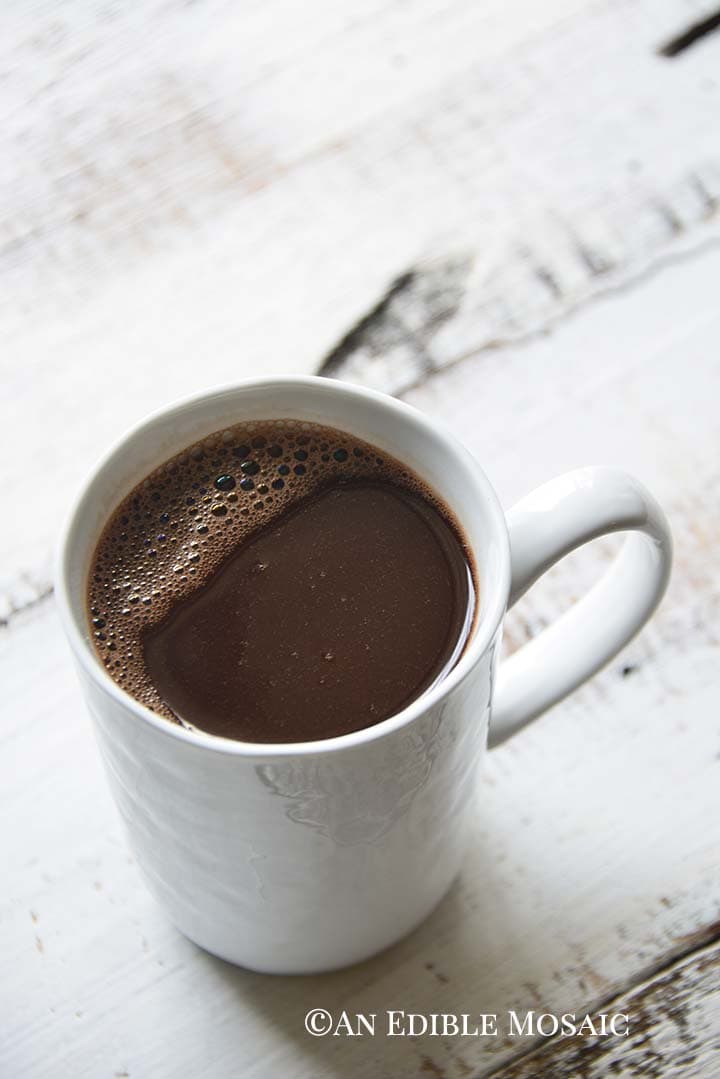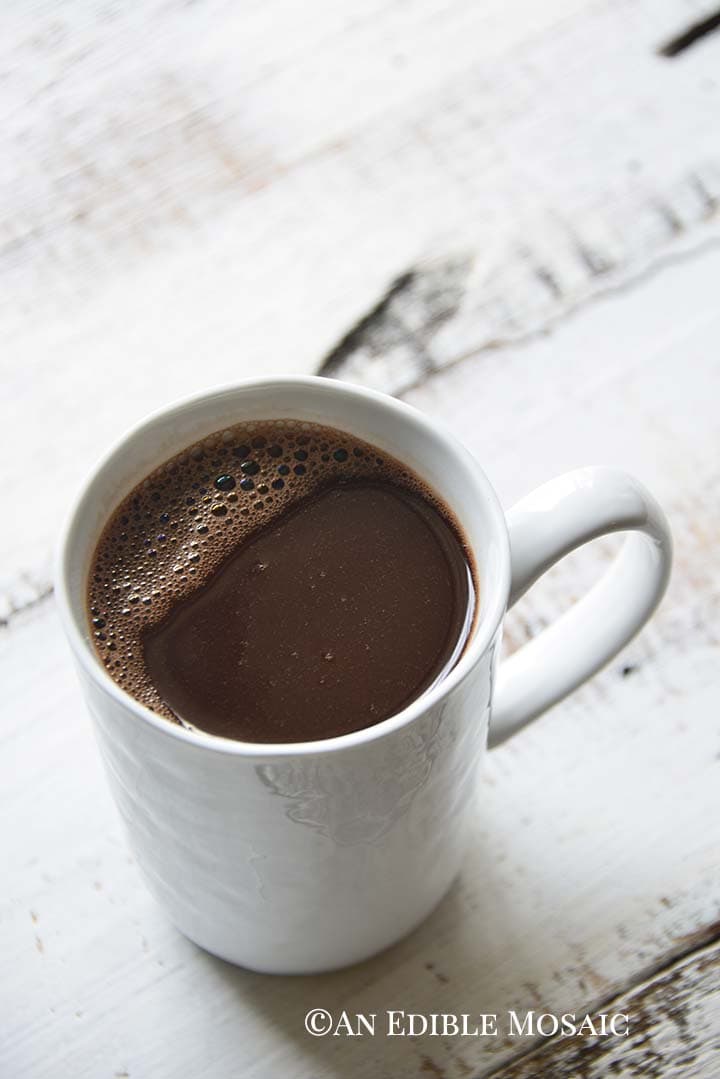 Hot Chocolate in Paris (With Pictures!)
During the summer of 2019 I had the absolute pleasure of spending over a month in beautiful Paris, France. Staying there that long let me live like a local, and I was able to discover a few of the best places for things like croissants, cheese, and even hot chocolate!
I had my fair share of hot chocolate from different places around the city, but I'm just going to share my favorite two. The two best contenders I found for hot chocolate were Les Deux Magots and Café de Flore, both of which are located on Saint-Germain in the 6th Arrondissement.
Note that when you see hot chocolate on a menu in France, you can typically order it as-is or with a side of whipped cream, which is known as Chocolat Viennois.
Pro Tip: Go for the whipped cream and order Chocolate Viennois!
Le Chocolat Chaud at Les Deux Magots in Paris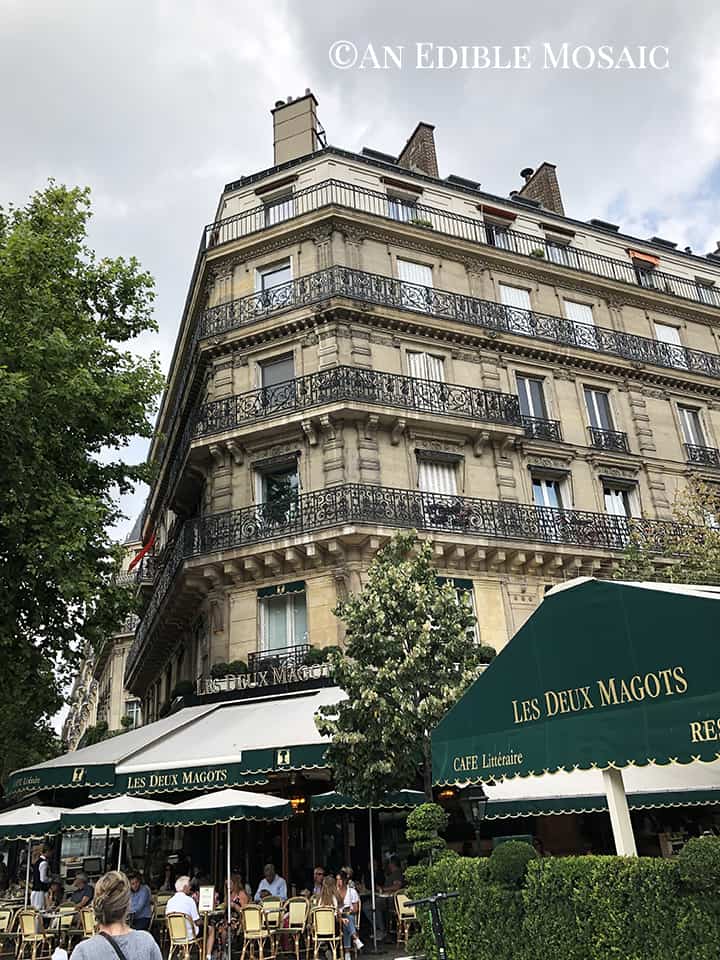 The building is absolutely gorgeous! Additionally, there's a ton of outdoor seating on the sidewalk and on the side of the building.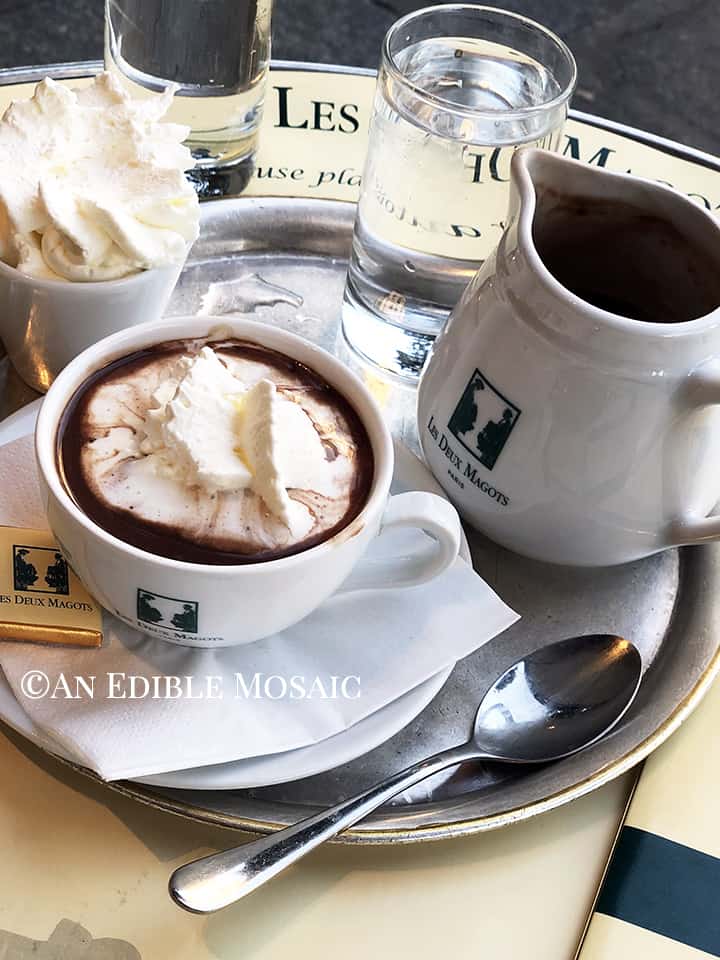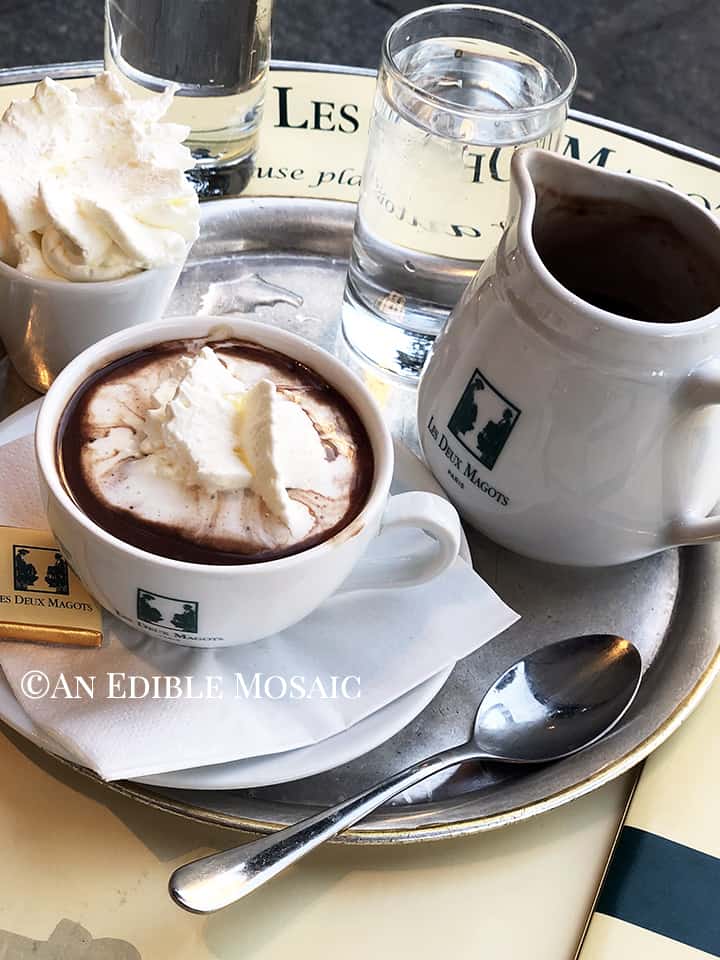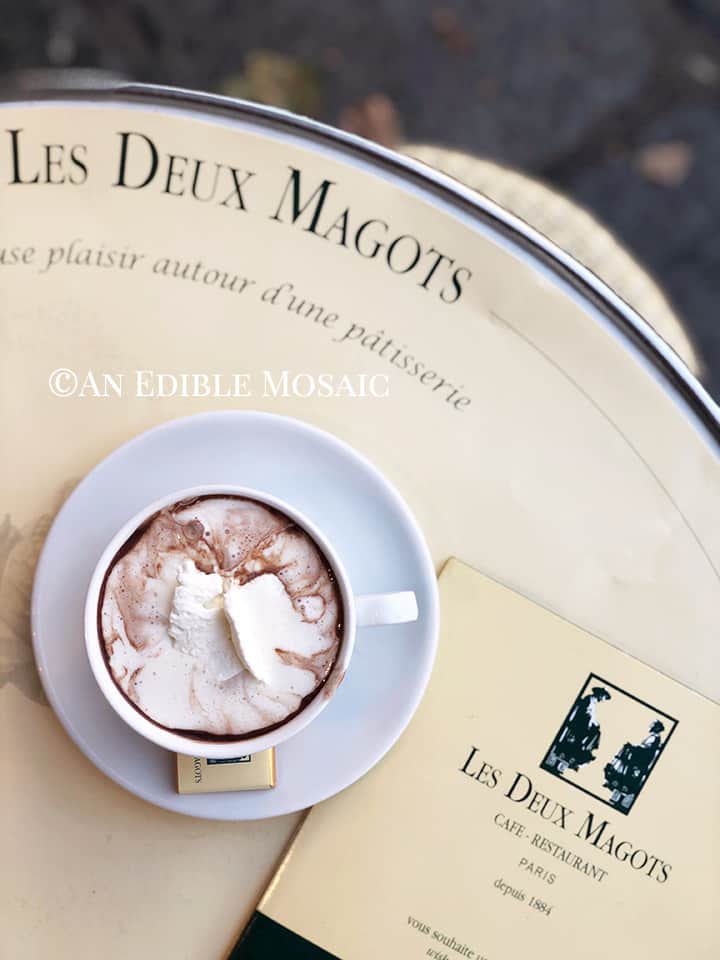 The hot chocolate at Les Deux Maggots was the second best Chocolat Chaud I had in Paris! It was creamy and rich with a nice sweetness level. I would definitely order drinking chocolate at Les Deux Magots again in a heartbeat!
Le Chocolat Chaud at Café de Flore in Paris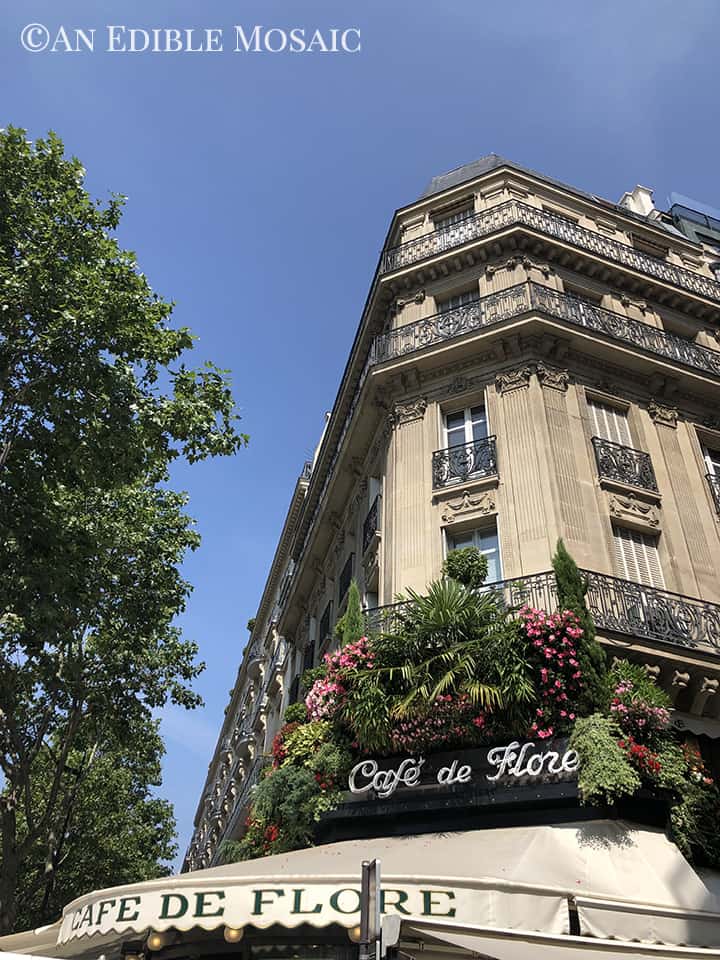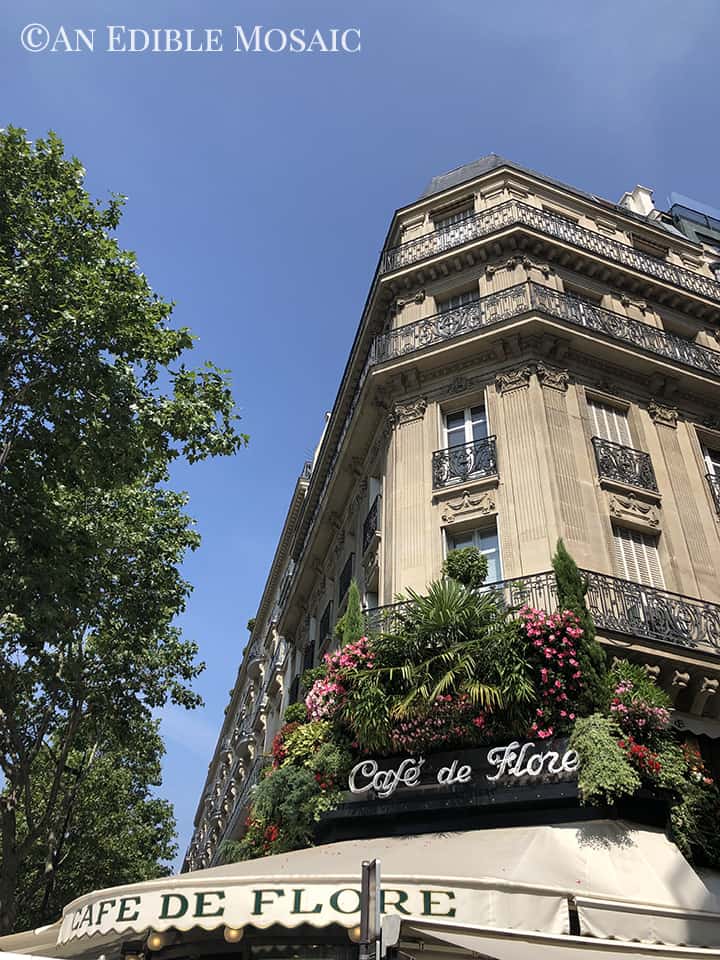 Similar to Les Deux Maggots, the building that Café de Flore is in is absolutely beautiful. There's also some sidewalk seating, but there isn't as much outdoor seating at Café de Flore as at Les Deux Maggots.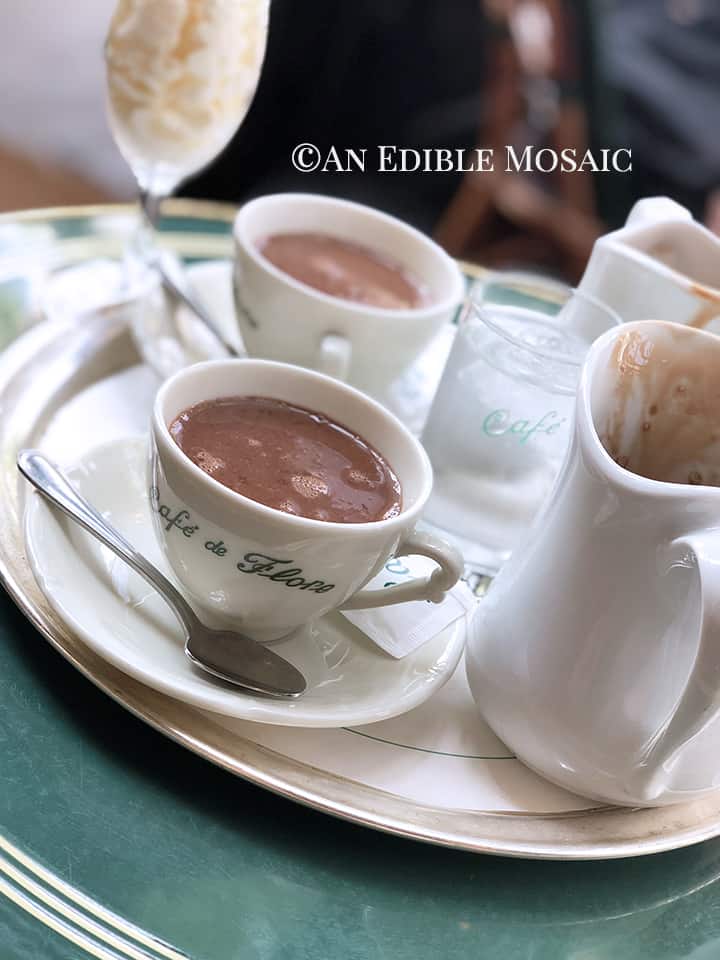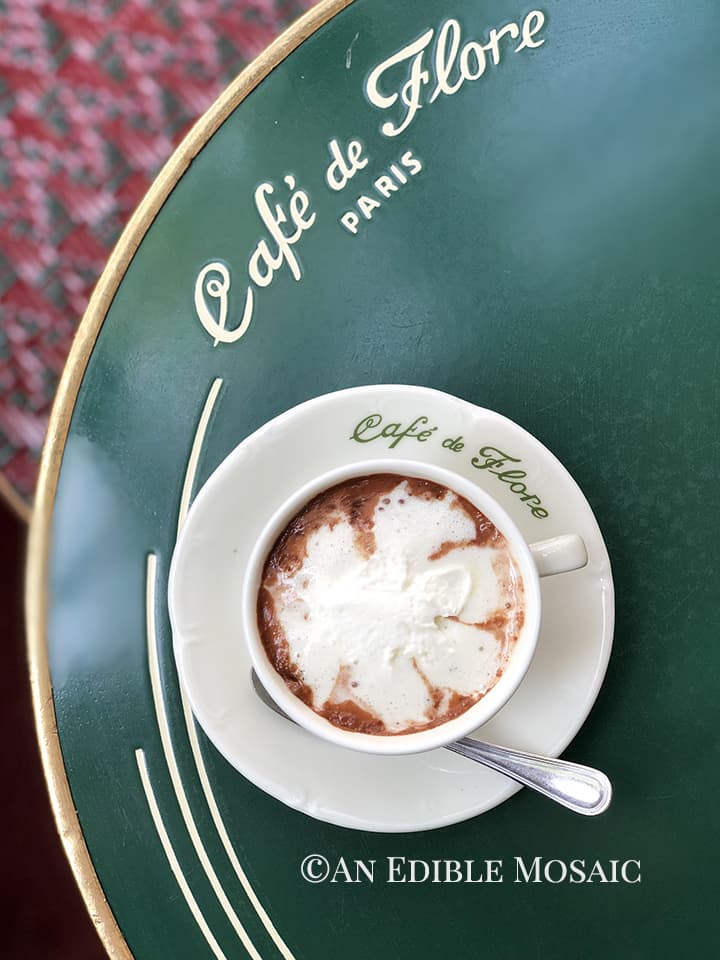 I always save the best for last, and Café de Flore decidedly had the best Chocolat Chaud I had in Paris! It was similar to the Drinking Chocolate at Les Deux Magots in flavor, but it was slightly richer and a bit thicker. It was the more decadent of the two.
Half a portion was the perfect serving because of its richness, so get it with a friend or a date and share it! Isn't Paris romantic?
If You Want More Paris Tips + Tricks: Check out my article on French Pastries, were I give all kinds of insider tips!
More Romantic Decadent Chocolate Recipes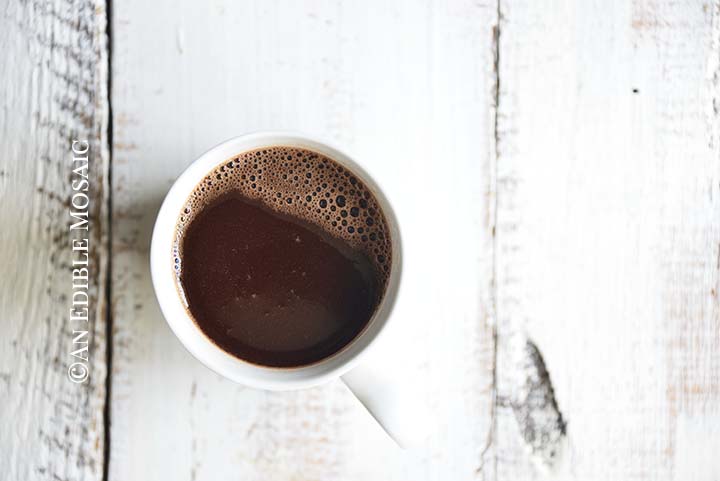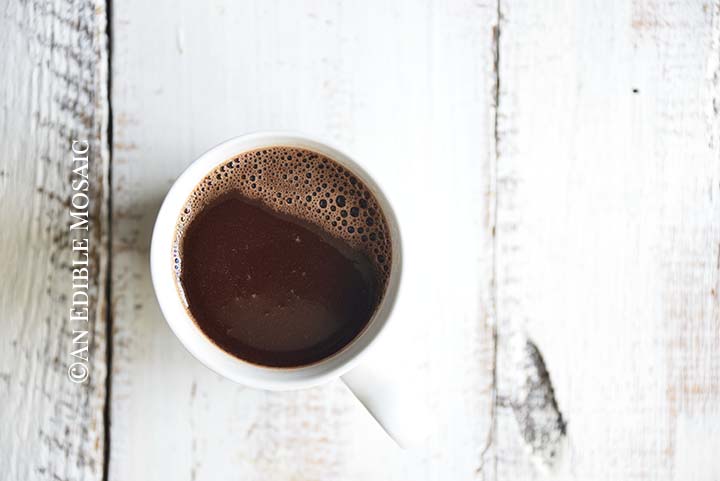 Let's Connect


Did you make this recipe? Please rate it and leave a comment below. You can also tag @anediblemosaic on social media.
To stay up-to-date, follow me on Facebook, Instagram, Pinterest, and Twitter!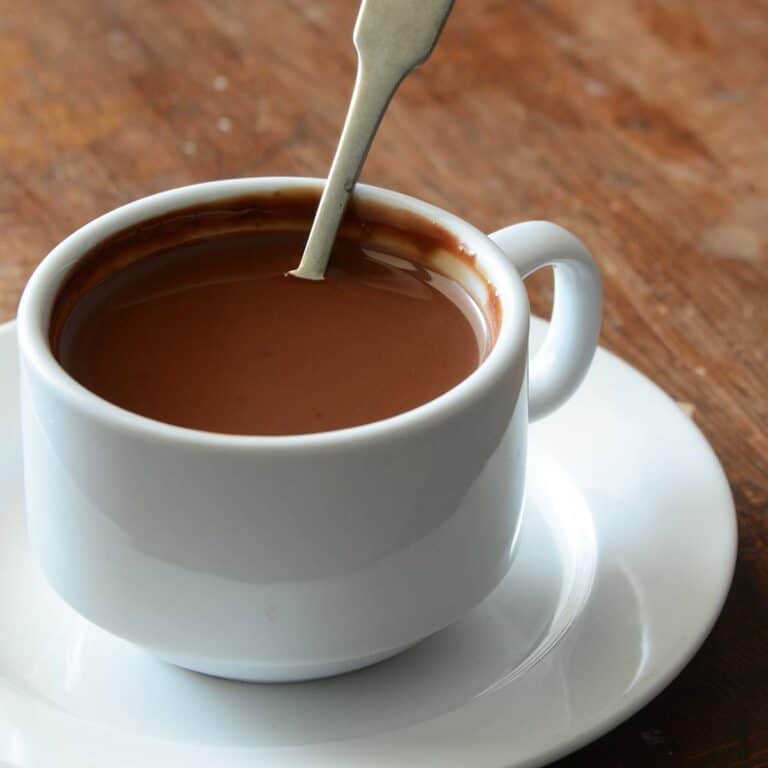 Drinking Chocolate (French Hot Chocolate)
Drinking Chocolate (aka French Hot Chocolate) is rich and smooth with deep chocolate flavor. It literally tastes like you're drinking a melted chocolate bar! You're only 8 minutes away from the best hot chocolate of your life. If you can't book a flight to Paris, this is the next best thing.
Instructions
Heat the milk in a small saucepan over medium heat until steaming.

Whisk in the chocolate until smooth and creamy, and then the brown sugar, vanilla, espresso powder, and salt.

Heat until steaming, and then remove from the heat.

Serve.
Faith's Tips
You Can Adjust the Sweetness Level: To make it more sweet, add 1 teaspoon brown sugar. To make it less sweet, omit the brown sugar OR add 1 teaspoon unsweetened cocoa powder.
You Won't Taste the Espresso Powder: The point isn't to taste coffee in this drink, and with this amount of espresso powder, you won't. The tiny bit of espresso flavor (like the little bit of vanilla and salt in this recipe) just accentuate the flavor of the chocolate.
Nutrition
Nutrition Facts
Drinking Chocolate (French Hot Chocolate)
Amount Per Serving
Calories 392
Calories from Fat 225
% Daily Value*
Fat 25g38%
Cholesterol 14mg5%
Sodium 60mg3%
Potassium 464mg13%
Carbohydrates 36g12%
Protein 6g12%
Vitamin A 177IU4%
Calcium 150mg15%
Iron 4mg22%
* Percent Daily Values are based on a 2000 calorie diet.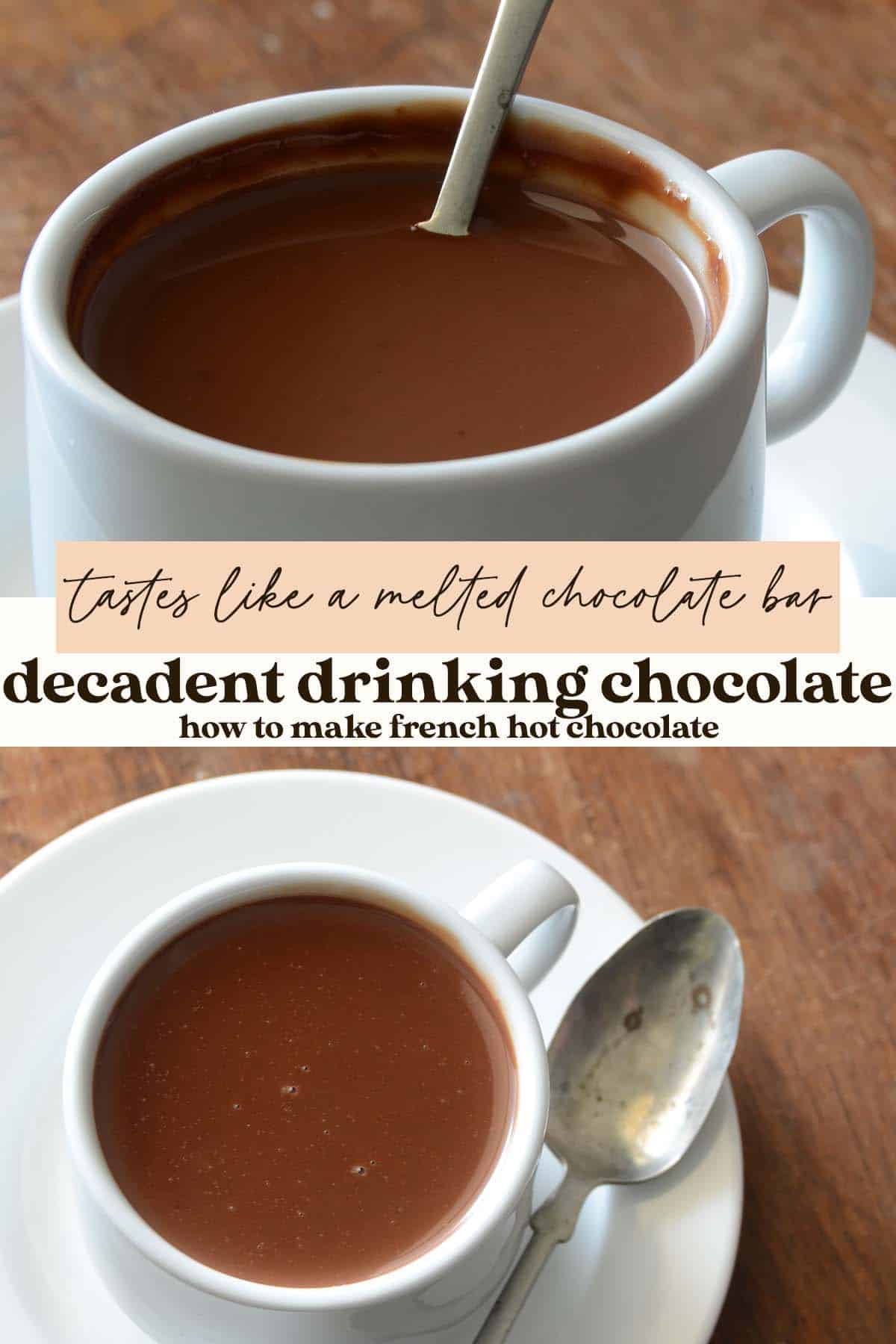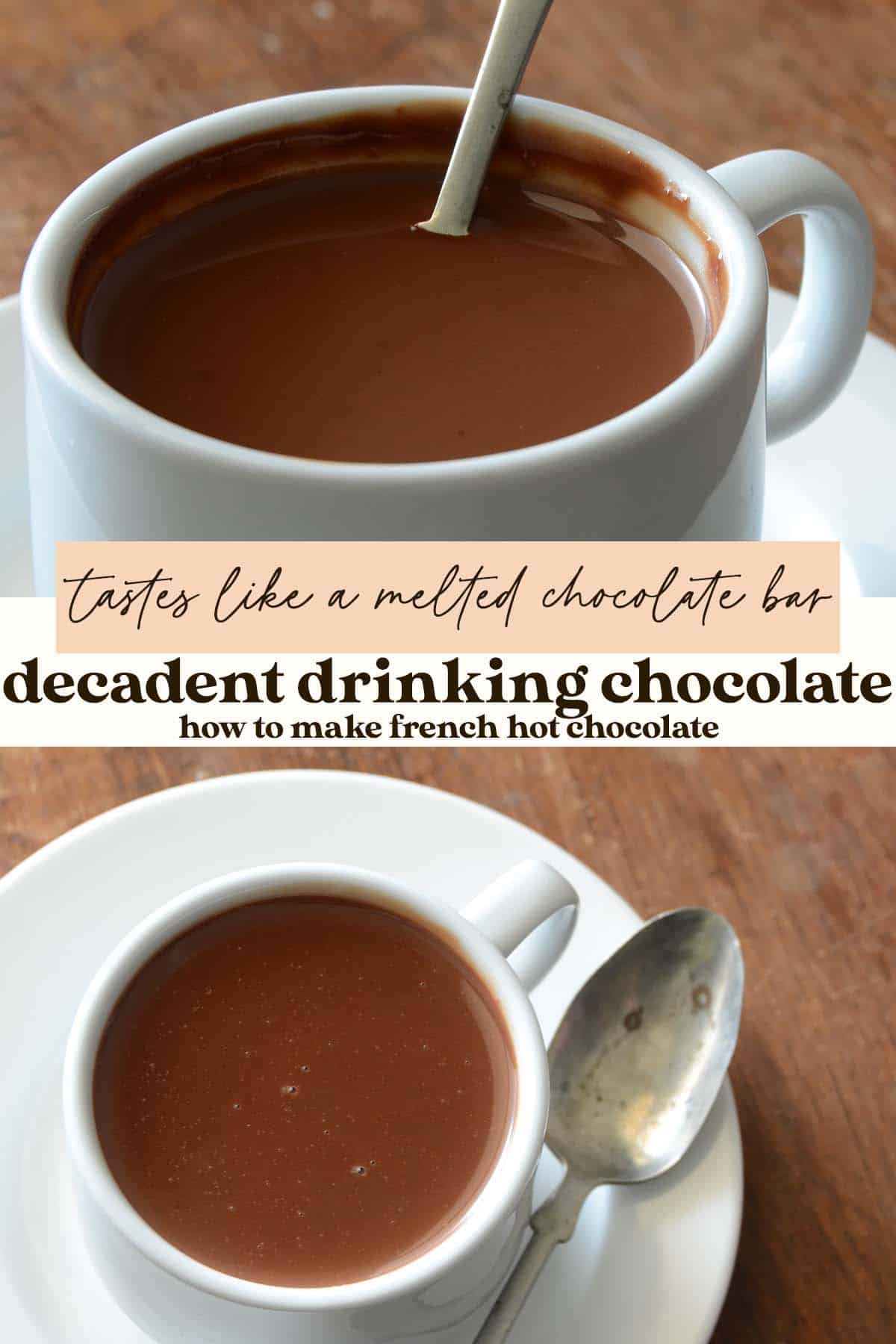 This post was first published on An Edible Mosaic on May 12, 2014. It was updated with more information on February 5, 2021.