This shop has been compensated by Collective Bias, Inc. and its advertiser. All opinions are mine alone. #TeaProudly #CollectiveBias
This Mint Medley Chocolate Pots de Crème recipe yields a velvety smooth dark chocolate custard that makes just two servings for when you need a small-batch sweet treat.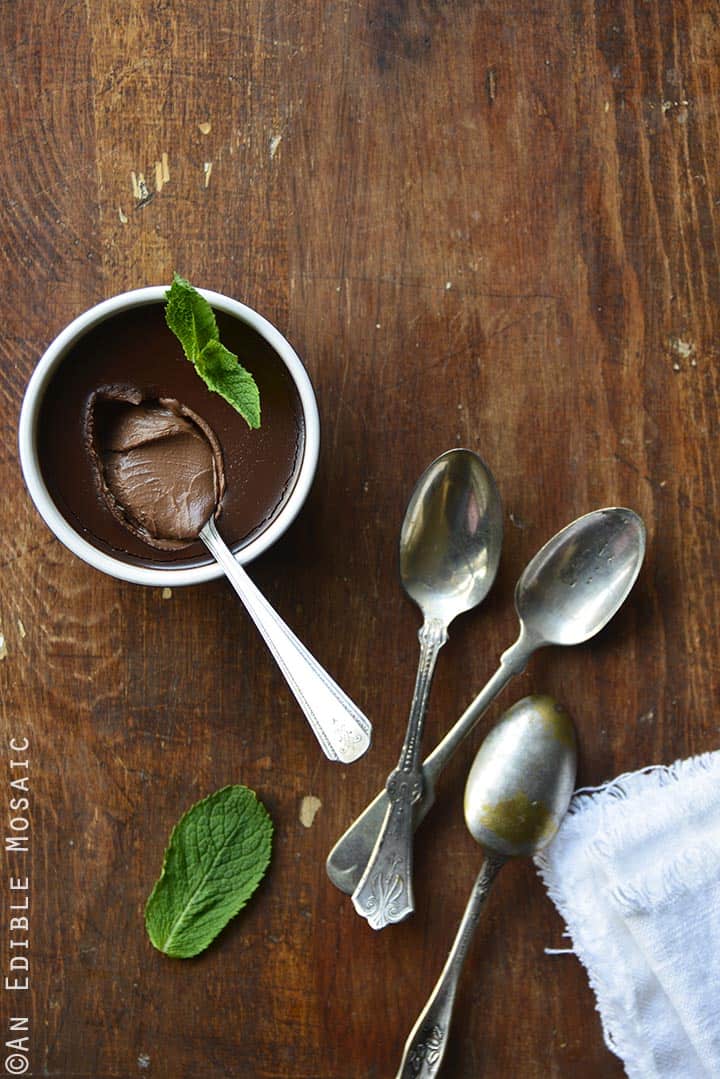 When I need a quick dessert that's every bit as delicious as it is easy, chocolate pudding/custard/mousse is a trick of the trade I like to pull out. It's perfect for so many reasons.
Pots de Crème are basically a French custard made of cream, milk, eggs, sugar, and flavorings, which is baked in a water bath so the custard cooks evenly. Vanilla and chocolate are both pretty traditional when it comes to Pots de Crème, but I took my chocolate up a notch with the flavor of mint. January is Hot Tea Month, and I can't think of a better way to showcase tea's versatility than by using strongly steeped Bigelow Mint Medley Herbal Tea (which is a delicious blend of spearmint and peppermint) in place of milk in this recipe.
Like wine drinking or cheese eating, tea can be an art form. Did you know that tea is only second to water as the most widely consumed drink in the world, and according to Bigelow, 82% of Americans drink tea! It's one of my go-to favorites on chilly afternoons when I want something cozy and soothing. Bigelow is proud of and passionate about their tea (they even foil-wrap it for freshness); no matter how you integrate tea into your life, whether it's cooking, baking, or sipping on a comforting cup, you can tea proudly with Bigelow (like them on Facebook and follow on Twitter to stay up-to-date!).
Don't be intimidated because of the water bath; it's literally this easy!
These delicious little pots of chocolate mint custard are rich and velvety-smooth. This recipe makes two servings, and I think they're pretty generous-sized servings since this is such an indulgent treat. You can definitely squeeze another serving or two out of these, especially if you top them with something like berries.
The recipe is also easy to double or triple in case you're feeding a crowd, but the small batch is perfect for a special occasion meal with you and your sweetie (Valentine's Day is just around the corner!). And for something that looks so impressive and tastes so luxurious, you won't believe how easy this actually is to put together; it basically cooks itself in a water bath in the oven.
Do you incorporate tea into your baking or cooking, and if so, what's your favorite way to do it?
Mint Medley Chocolate Pots de Crème
Prep time:
Cook time:
Total time:
This Mint Medley Chocolate Pots de Crème recipe yields a velvety smooth dark chocolate custard that makes just two servings for when you need a small-batch sweet treat.
Ingredients
½ cup (120 ml) heavy cream
3 oz (85 g) good-quality 88% dark chocolate, chopped
½ cup (120 ml) strong steeped Bigelow Mint Medley Herbal Tea (see Note)
3 tablespoons coconut sugar (or light brown sugar)
2 large egg yolks
¼ teaspoon pure vanilla extract
1 pinch sea salt
Fresh springs of mint leaves, for garnish (optional)
Instructions
Preheat the oven to 300F.
Heat the cream and chocolate in a double boiler or microwave until the chocolate is melted; stir until smooth.
Mix in the tea, sugar, egg yolks, vanilla, and sea salt.
Strain the mixture through a fine mesh sieve into a bowl.
Pour the mixture into 2 (6 to 8-oz) ramekins. Place the ramekins in an 8 by 8-inch oven-safe casserole dish. Add enough hot water to come halfway up the side of the casserole dish. Cover the top with foil and use a sharp paring knife to poke a few holes in the foil.
Bake about 45 minutes, until the custard is set along the outside, but jiggly in the center.
Let the custards sit for 10 minutes in the water bath and then carefully remove. Let them cool to room temperature, and then refrigerate until fully chilled (at least 8 hours so the custard can fully set).
Serve chilled, topped with a sprig of fresh mint leaves if desired.
Notes
Tea Preparation: I steep 1 mug of boiling water with 3 Bigelow Mint Medley Herbal Tea bags for 15 minutes. I measure out ½ cup of tea to use for this recipe, and then I drink what's left in the mug.

Sweetness Level: As written, this recipe is only mildly sweet (which is my preference). If you prefer your chocolate treats a little on the sweeter side, you could use 60% chocolate instead of 88%, and/or increase the amount of coconut sugar to 4 to 6 tablespoons.
I was able to find Bigelow Mint Medley Herbal Tea at Walmart!
#TeaProudly Bigelow Sweepstakes