Here are a few of the most popular French pastries, along with insider tips to help you find the most delicious pastries for the most reasonable prices in Paris!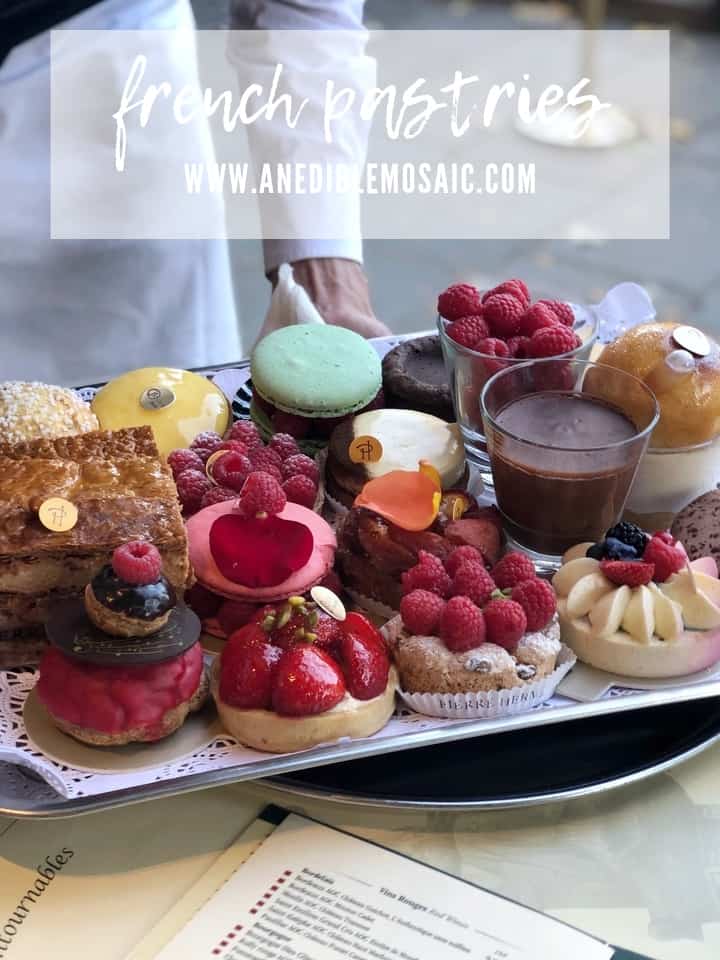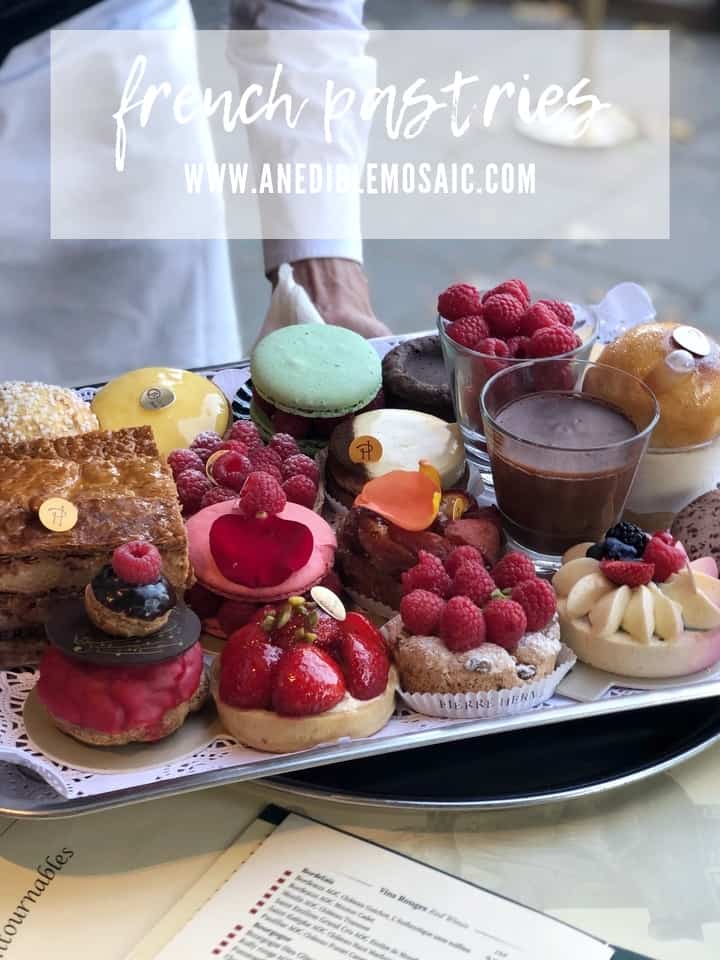 Buttery, flaky, and rich, is there anything in life more decadent than French pastries?
Take a peak through the list below and see which ones you've tried, and which ones will go on your must-try list next time you're in France or at a local French bakery.
Also, if you're in France and want to be able to speak French to order at a bakery, I give a quick and easy lesson below. Speaking French is easier than you might think...practice, practice, practice!
Types of French Pastries
When it comes to food, the French have a way of combining it with art in the form of their glorious pastries.
For example, layer upon flaky, buttery layer of a croissant. A choux pastry filled with rich and creamy chocolate or mocha crème pâtissière and made into a beautiful double-stacked religieuse (which means "nun"). Or a simple canelé with its caramelized outside and custard-like interior that's aromatic with vanilla and laced with rum.
These treats are a delight for all the senses and most are worth the indulgence, especially if you're spending the entire day walking around exploring the city.
This is by no means an all-inclusive list of French pastries! Here are a few popular pastries, and also a few lesser-known ones.
Let me know which ones you've tried in the comments below.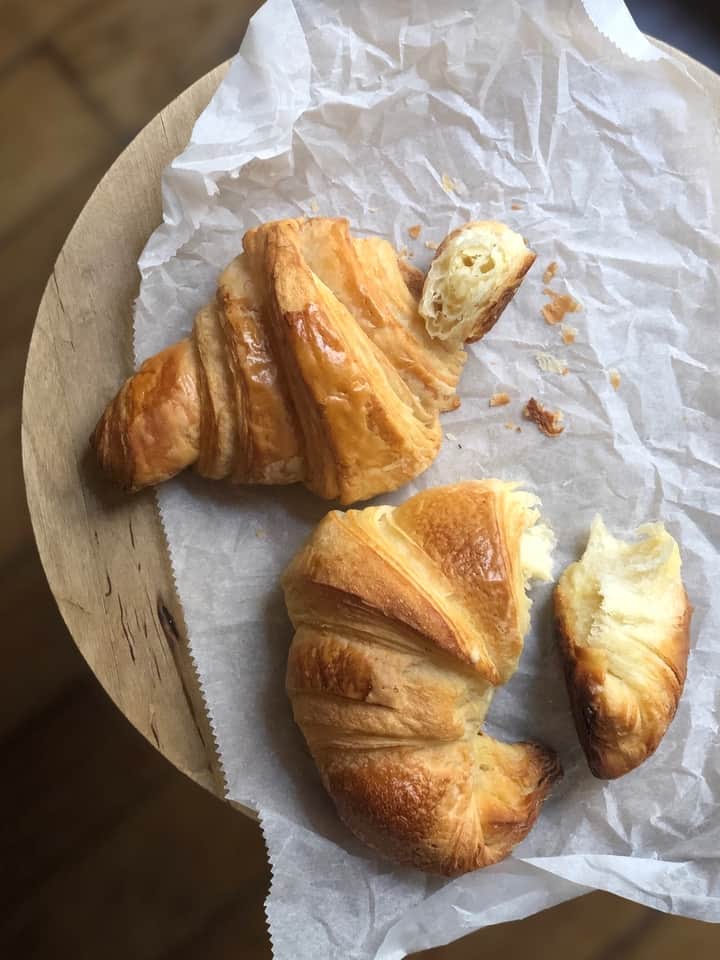 All-butter croissant on the top left, and a natural croissant on the lower right. The "natural" croissant has fat other than butter added, such as margarine or oil.
Croissant
A croissant is one of the most popular types of French pastries. We all know the flaky, buttery, rich, deliciousness that is known as a croissant, right? However, did you know that croissants can either be straightened out or have their tips joined together for a more circular shape?
What's the difference?, you ask. Straight croissants contain all butter, and croissants that contain another type of fat (e.g., margarine) must be curved (curved as in more of a circular crescent shape). And when I say "must", it's because this is the law in France (read more in The New Yorker)! In France, baked goods are a serious thing, lol.
It can be tricky to order though! They call all-butter croissants "croissant beurre", and croissants with contain another type of fat (such as margarine or oil) in addition to butter "croissant naturel".
And not all croissants are created equal.
In terms of flavor and texture go for the all butter croissants, because if you're going to do a croissant, you might as well do it right! Additionally, look for croissants that have crisp, golden layers on top. I tried both types of croissants so I could accurately describe them, and the non-butter croissant tasted like (and looked like) a Pillsbury crescent roll.
If I could only choose one of these glorious French pastries for the rest of my life, without a doubt it would be an all-butter croissant.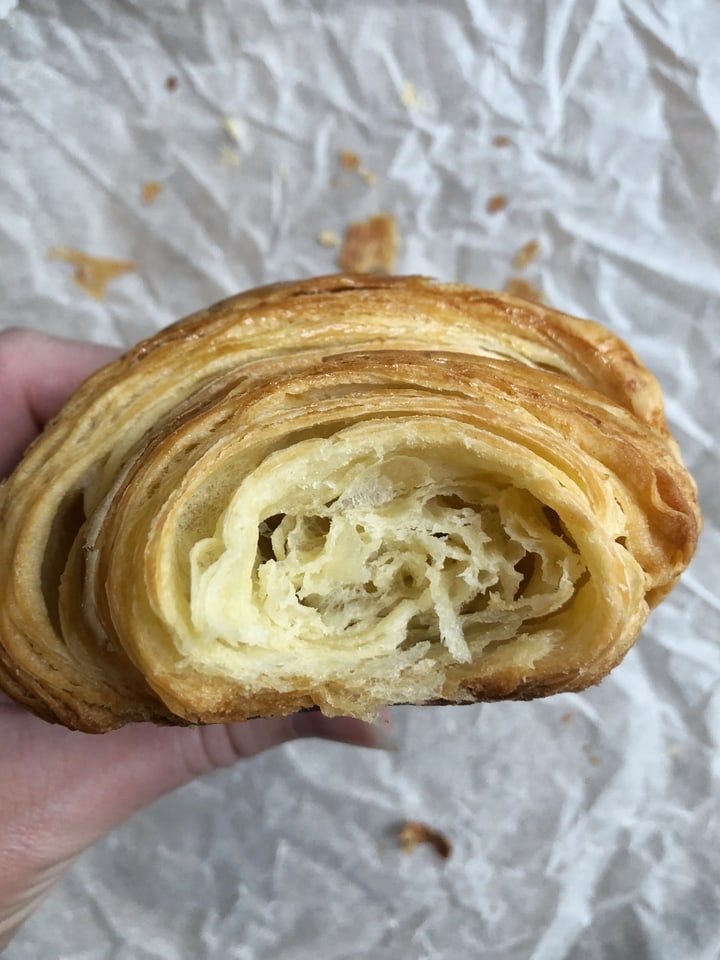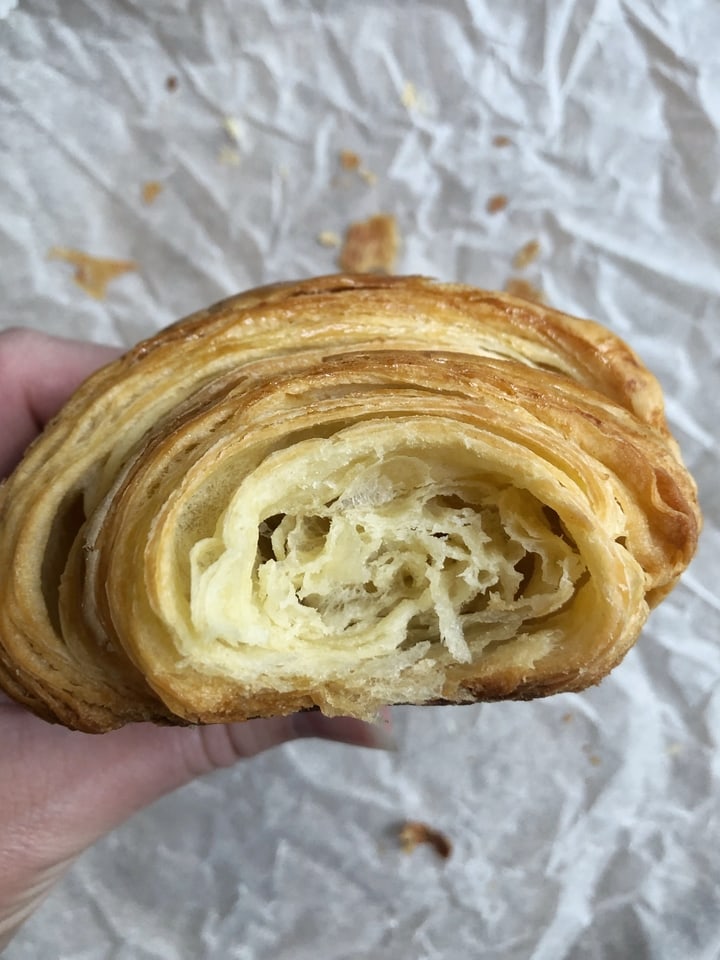 Inside of a croissant beurre (all-butter croissant).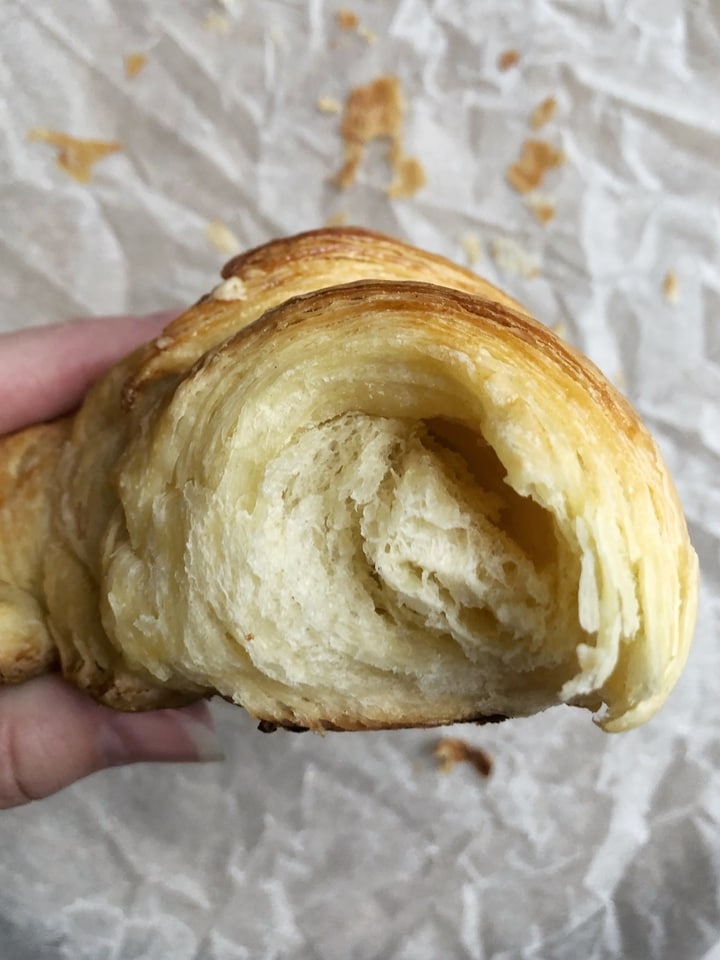 Inside of "natural croissant", i.e., a croissant that has another fat, such as margarine, in addition to butter.
Insider Tip: Always, always, always go for the all-butter croissants, which are often called "croissants au beurre", and are straight and not curved (i.e., their ends don't touch).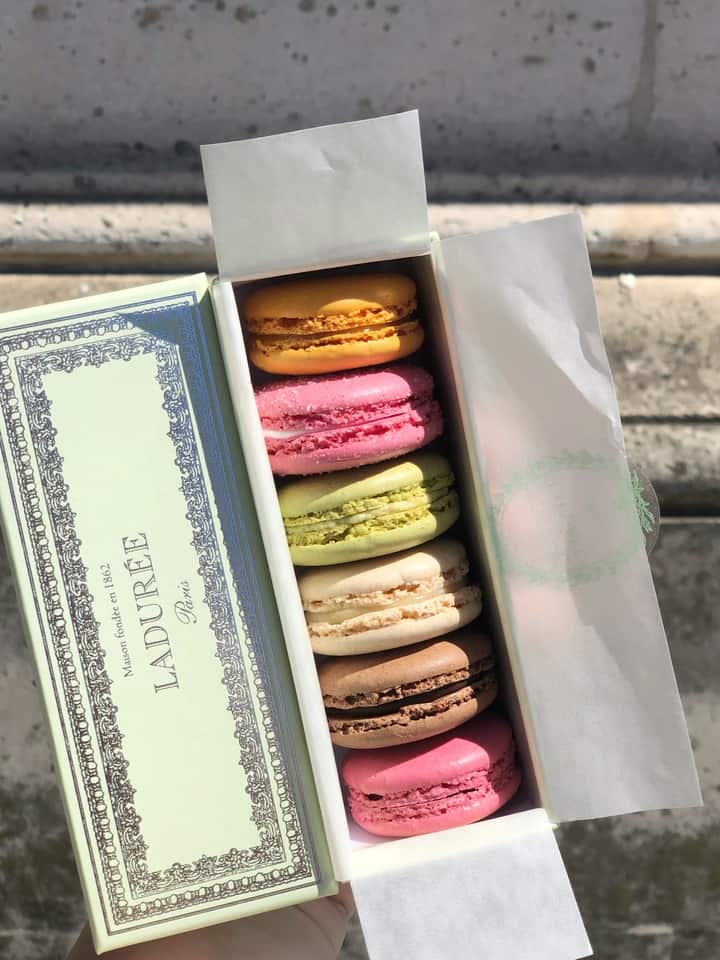 Macaron
Noooo, this is not the same thing as a coconut macaroon! (Which are incidentally also delicious, but the subject of a very different article.)
A French macaron is basically a little sandwich cookie. These cookies are meringue-based, made with egg whites, sugar, and almond flour. They should have a crisp exterior and slightly soft interior that just sort-of disintegrates or melts into your mouth as you bite into it.
Macrons sound very basic, but there seems to be an infinite amount of variations on this classic! You can find different flavored macrons with different fillings, and they come in every color of the rainbow.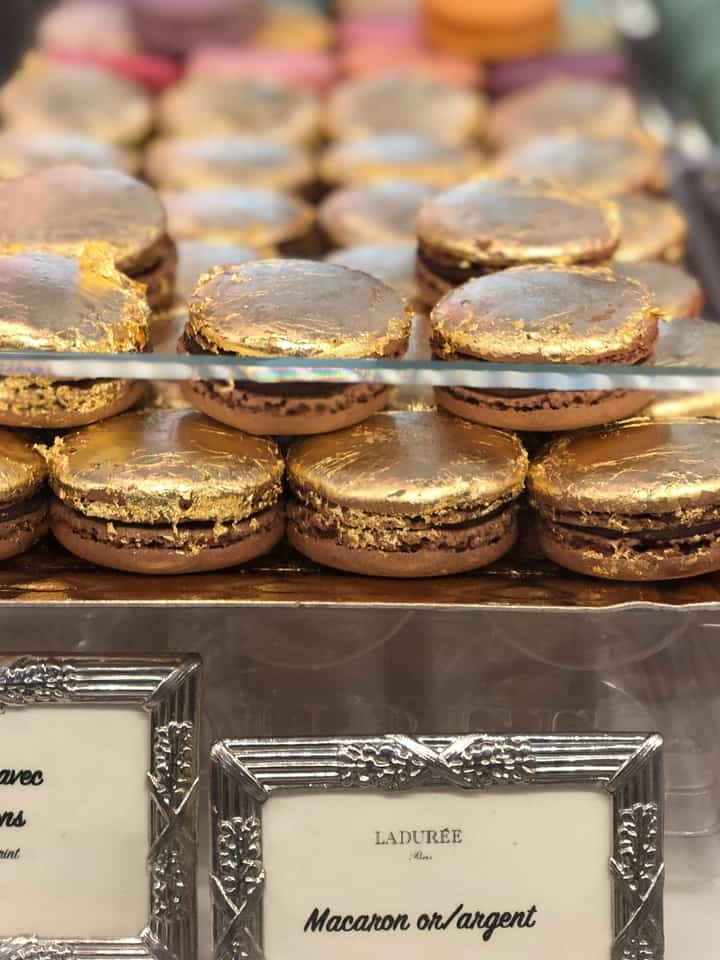 Ladurée Paris
There's a lot of hype about fancy macaron purveyors, such as Pierre Hermé and Ladurée. These shops have multiple locations throughout Paris and even other countries, including the U.S. But I'm going to be honest with you; these are not my favorite macarons! Like any other product, you're paying for the brand name. In July 2019, I paid about 15 euros for 6 macrons at Ladurée.
I ate several macrons in Paris and found that macarons from regular (i.e., non-famous) pastry shops cost a fraction of the price and taste just about the same. And in some cases, the regular macarons tasted better, with better crispy outside, melt-in-your-mouth texture, and deeper flavor profiles.
In particular, I loved the macarons from Dalloyau, which also has several locations around Paris, but isn't quite as hyped-up, so their prices are quite a bit more reasonable than Ladurée.
Insider Tip: Skip the fancy macaron shops and buy macarons from your local pâtisserie.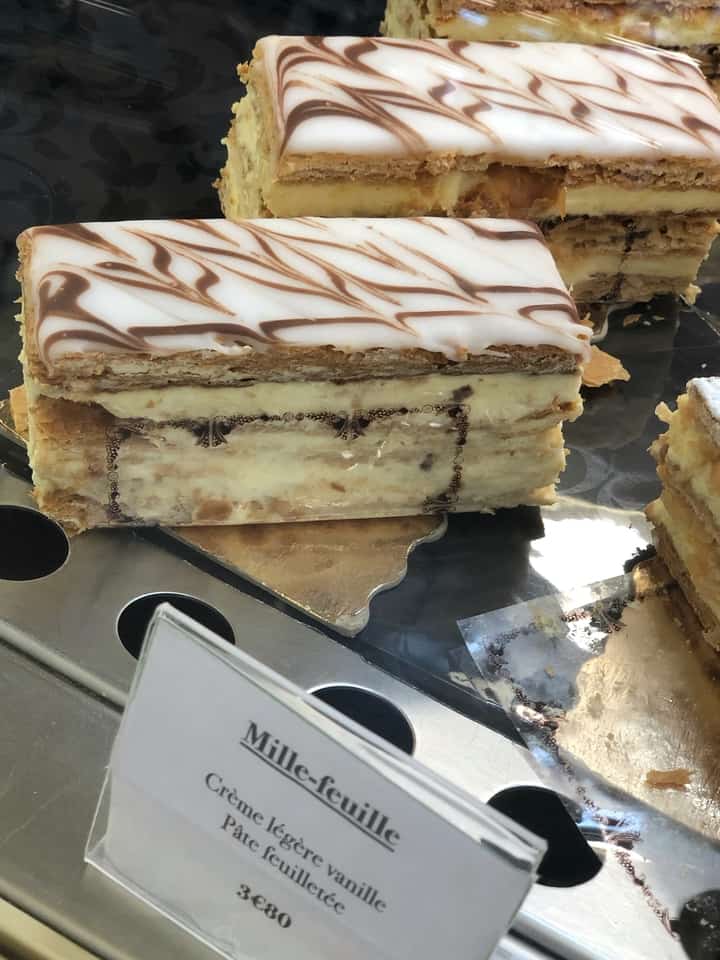 Mille-Feuille
This translates to "thousand sheets", and is quite similar to what we know in the U.S. as a Napoleon pastry. The mille-feuille is comprised of puff pastry layered with pastry cream (similar to a vanilla custard), and is topped with a simple icing and sometimes chocolate drizzle. When it's done right, this is my favorite of all the French pastries (except for all-butter croissants)!
In high school I remember making the similar Napoleon pastry for French Club meetings. Back then, it felt like magic; layering the flaky pastry with rich vanilla-scented custard. Glazing the top with icing and a pretty drizzle of chocolate. If you want to try your hand at making French pastries at home, this pretty pastry is a good place to start.
Insider Tip: I've had some really great mille-feuille pastries in Paris and some really, really bad ones. The worst one I had featured burned pastry, and extra-solid, stiff, and starchy pastry cream that had an artificial vanilla/banana flavor!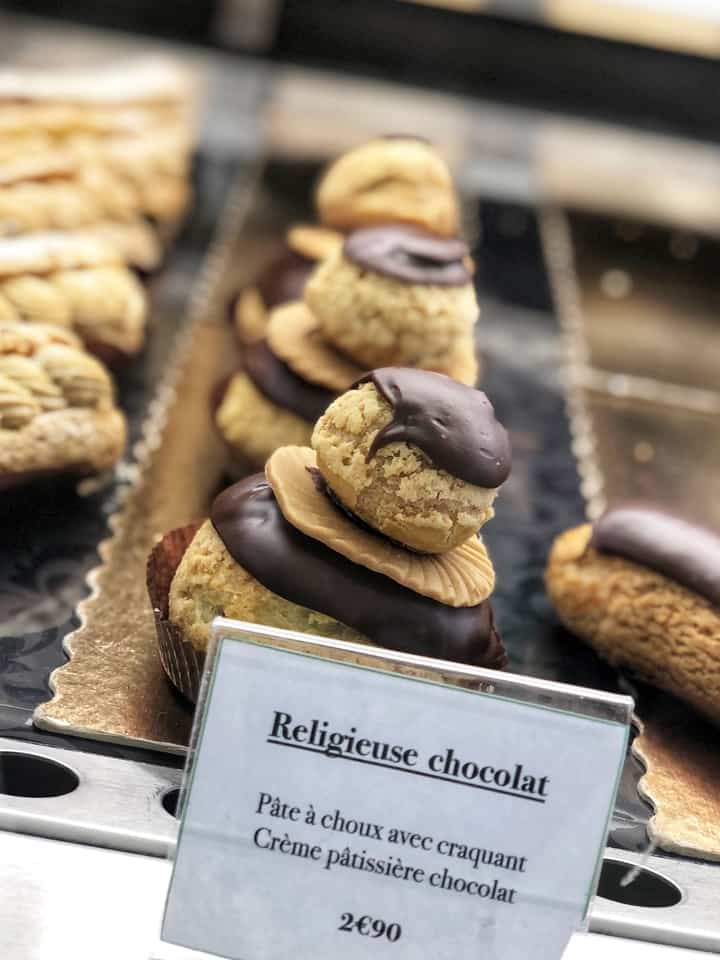 Pâte à Choux (aka Choux Pastry)
Choux pastry dough is made from just butter, flour, water, and eggs! These pastries bake up light and airy inside and crispy outside.
This type of pastry gets its puff during baking because of steam, instead of a leavening agent. The dough is either baked into an oblong shape or circles, and is used to make a few different types of French pastries, including:
Profiterole (aka cream puff)

Croquembouche

Eclair

Religieuse

French cruller
St. Honoré cake
Gougère
Paris-brest
You can read more about choux pastry on Wikipedia.
Insider Tip: If you're buying a filled pastry (such as an éclair), buy it earlier in the day rather than later because the longer the filling sits inside the pastry, the more likely the pastry is to be soggy.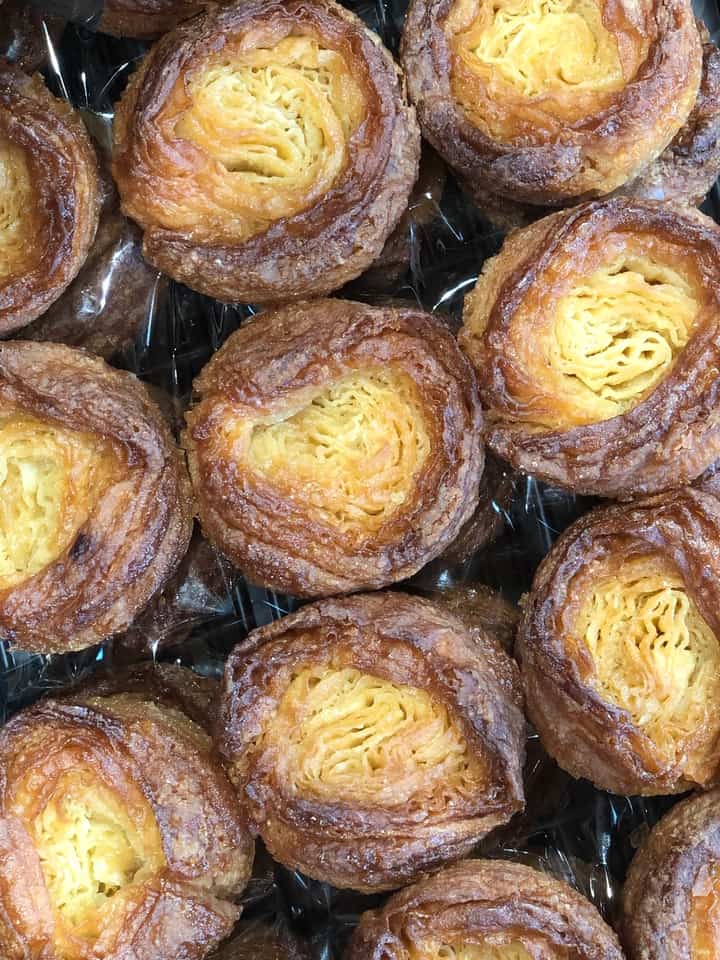 Kouign-Amann
This treat hails from the Britany region of France. Heavy with butter and caramelized sugar, Kouign-amann is intensely rich. It's a round cake with folds of dough that's traditionally made with bread dough. As much as I would like to say I love this treat, it's way too heavy for me.
You can read more about Kouign-amann on Wikipedia and Culture Trip.
Insider Tip: You can find Kougin-amann in a full-size cake, but I prefer to look for the mini version, which are called "kouignettes". I'll be honest though, this is (sadly) a little too rich for me and a bite or two is usually all I can handle!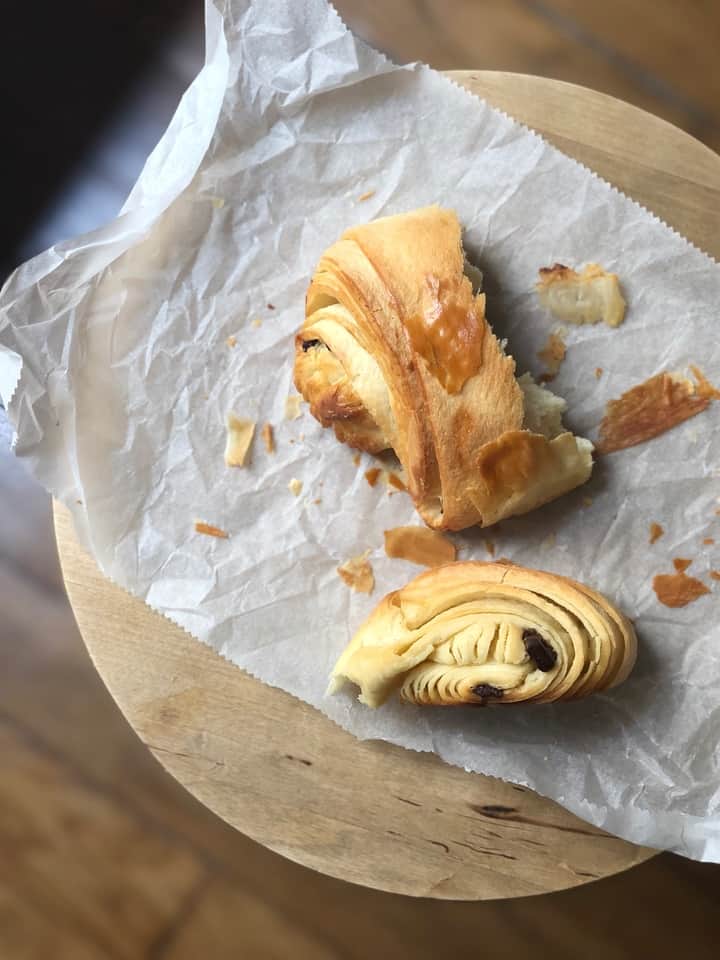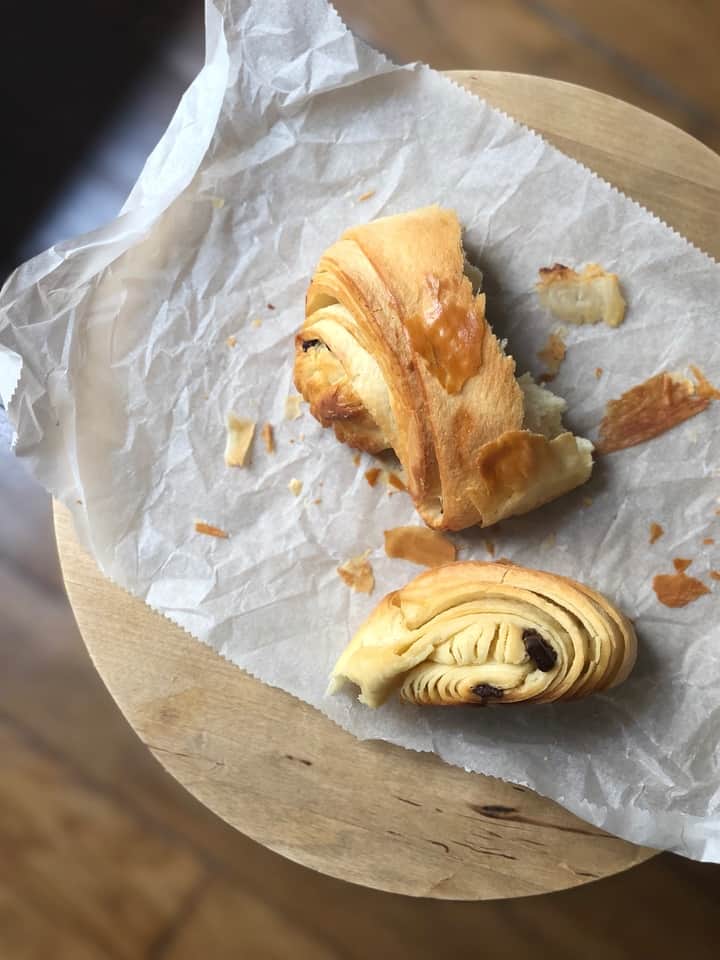 Pain au Chocolat
With laminated pastry dough (similar to puff pastry), pain au chocolat is basically a layered yeasted sweet roll with chocolate inside. You can bite right into it, or peel back each layer and eat it individually.
I wasn't always a fan of this type of pastry, but it really grew on me! When I'm in the mood for a flaky pastry with a touch of sweetness, I'll usually opt for this instead of a croissant.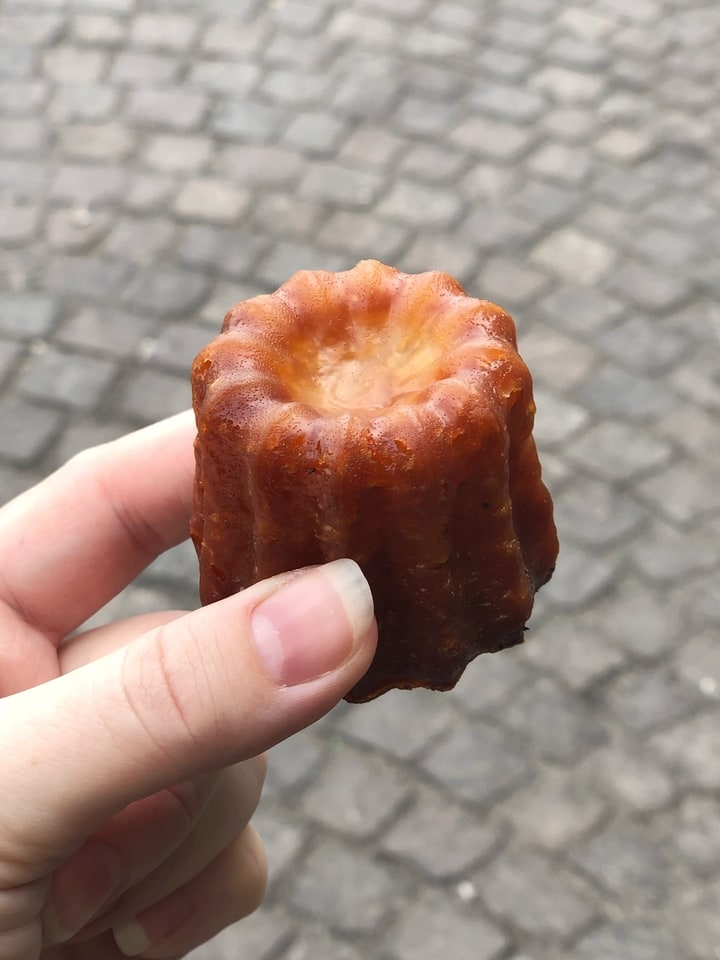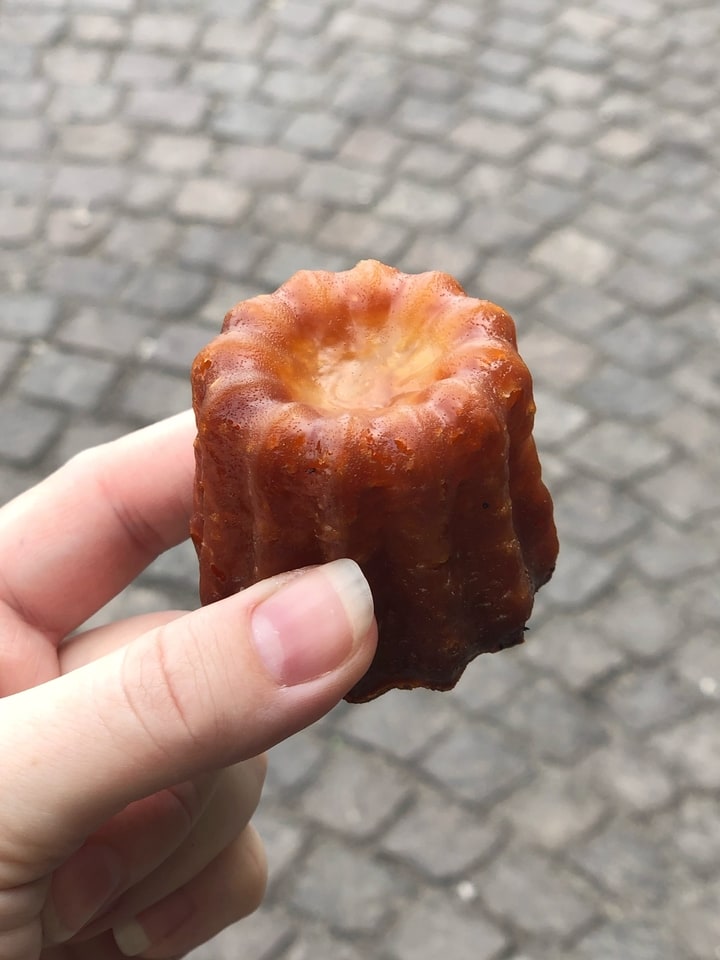 Canelé
The cute little canelé is supposed to have a caramelized exterior and baked custard-like interior. It's flavored with vanilla and more subtly with rum. The thing about this treat is that I've had some really great canelés, but also quite a few that made me think I was chewing on an old tire because they were so rubbery (you know I have to be honest with you!). It makes me think that this simple-seeming pastry is really quite a bit harder than it seems to get completely right.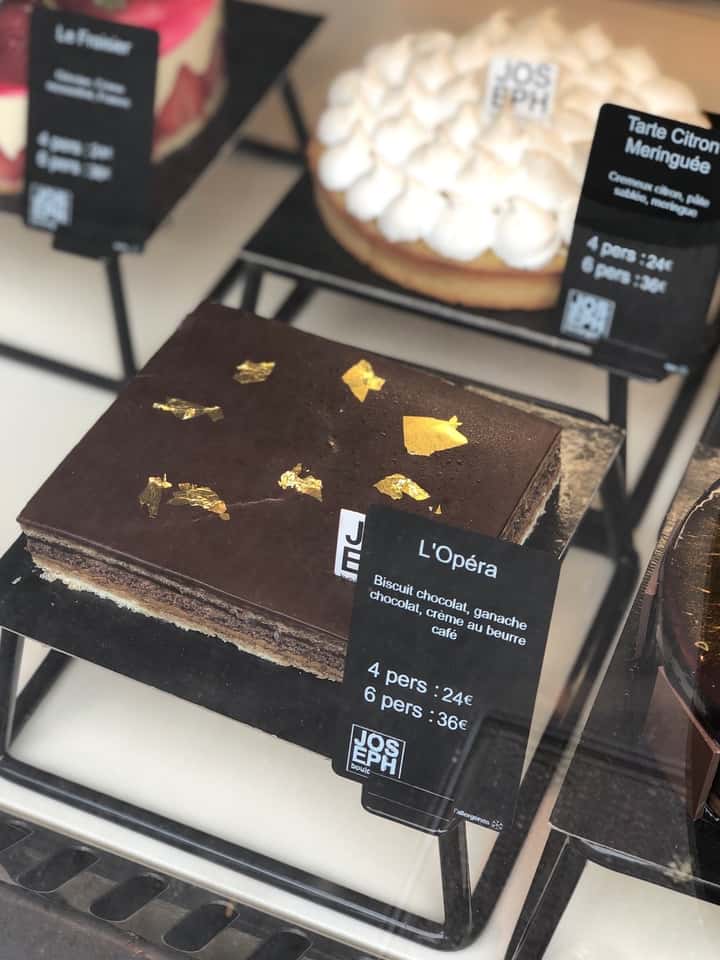 Opéra Cake
This type of cake reminds me a little bit of tiramisu, in that it has a similar flavor profile. Opéra cake has layers of almond sponge cake soaked in coffee, chocolate ganache, and coffee-flavored French buttercream. It's then topped with chocolate glaze. It's rich and decadent, and a classically perfect flavor pairing if you like chocolate + coffee!
You can read more about the Opéra cake on The Good Life France.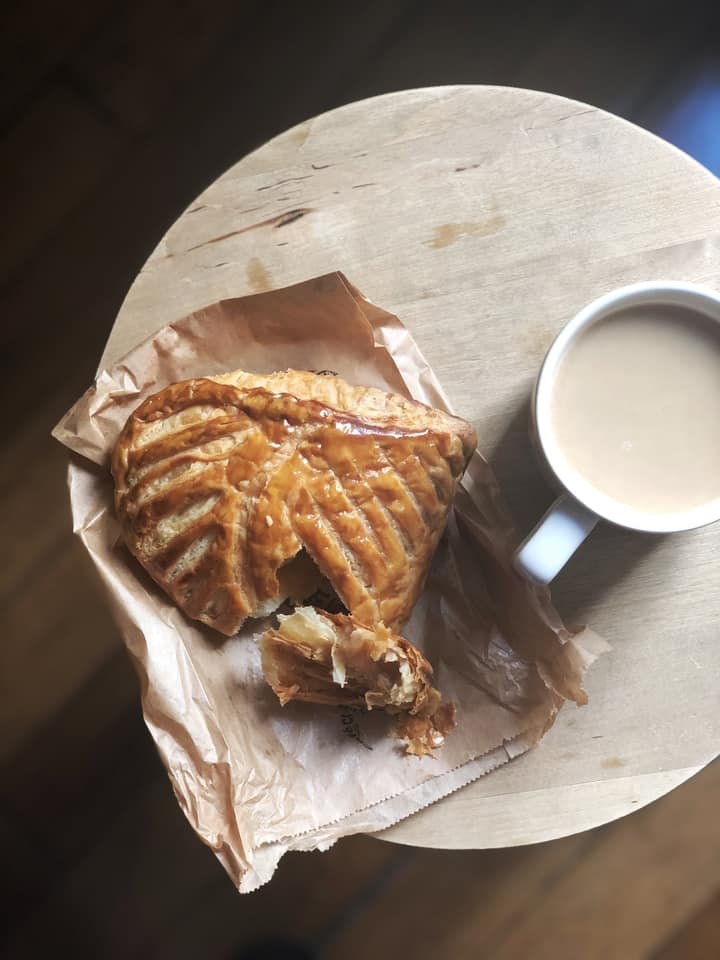 Chaussons aux Pommes
These beautiful pastries are French apple turnovers. Flaky, golden puff pastry encasing soft apple filling (usually a little mushy, to be honest, with a texture similar to applesauce) that's slightly sweet and subtly cinnamon-laced. It's basically apple pie in portable form.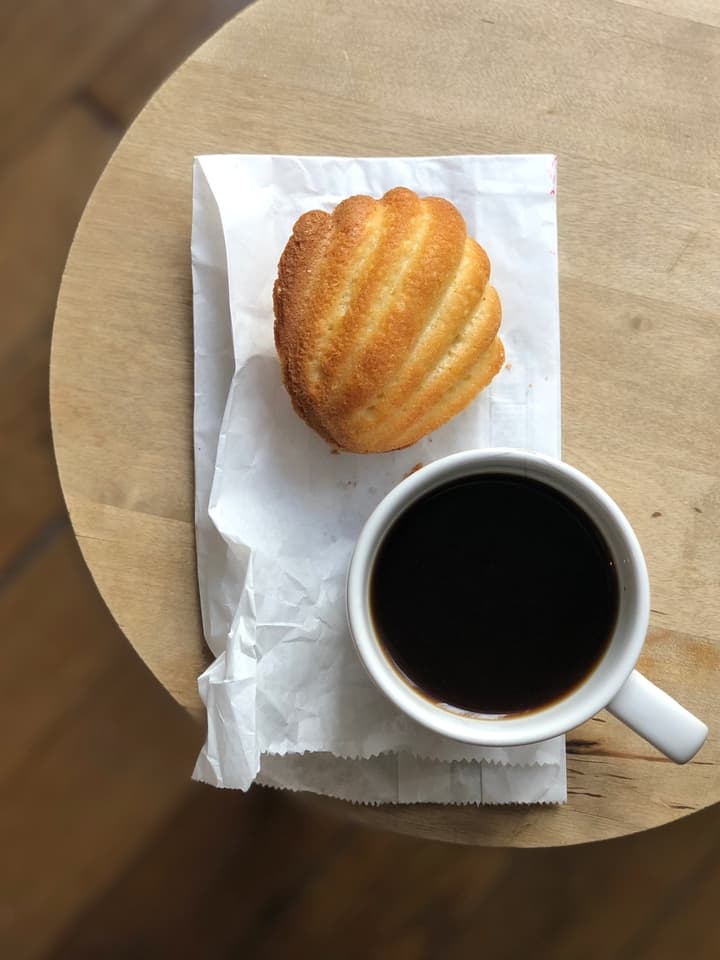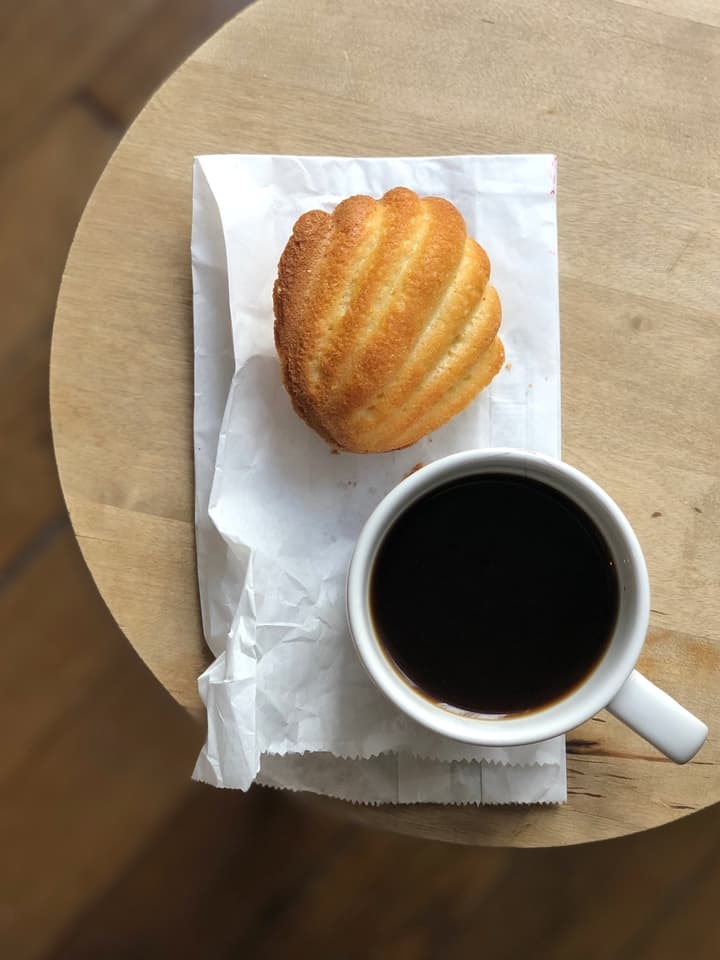 Madeleine
A madeleine is a small cake made from génoise batter that's baked to look like a seashell. These little cookie-sized cakes are traditionally flavored with almond, but may also be lemon or vanilla. A great madeleine should feel light for its size and have a slight crispness outside.
Insider Tip: Madeleines come in different sizes, and although the seashell shape is classic, I've also seen them in a small muffin size. I prefer the smaller shell-shaped madeleines (the ones in this photo was almost as large as a cup of coffee, which are the biggest I've seen).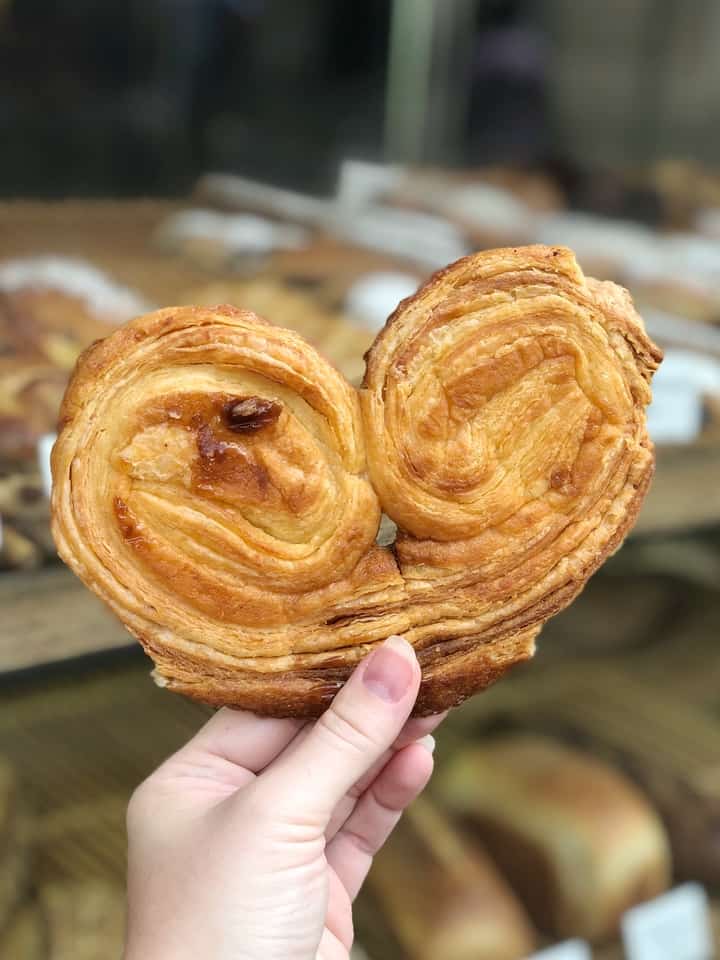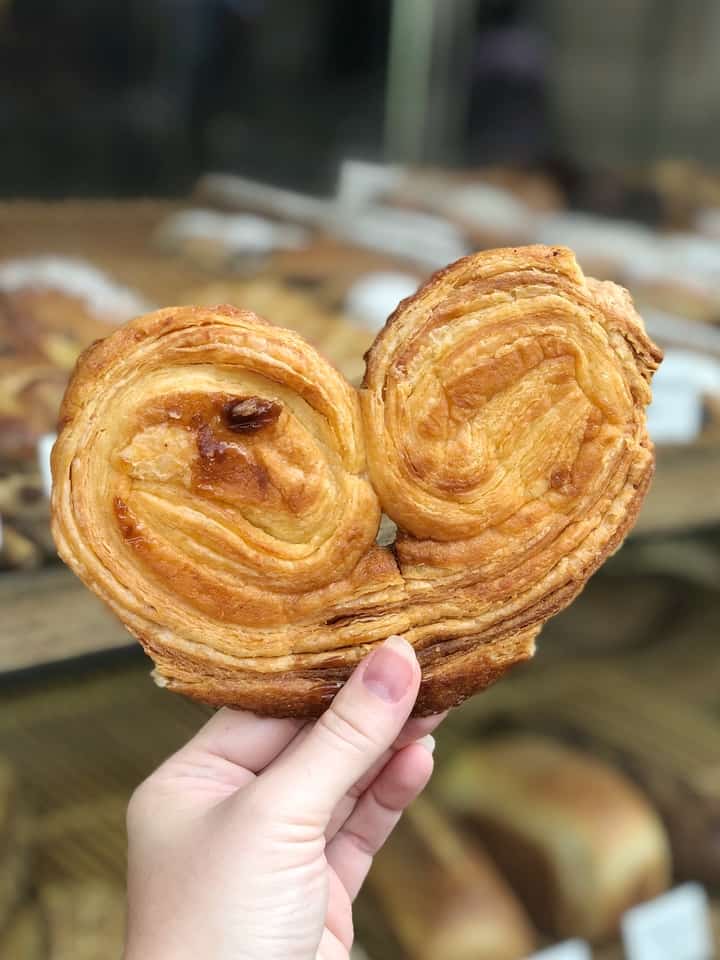 Palmier
The name of this French pastry comes from the French word for palm tree because of it's shape. In the States, we also know this butterfly-shaped type of pastry as an elephant ear. Palmiers are made from puff pastry that's sprinkled with sugar and then rolled before baking. The result is a sweet, caramelized, buttery, and flaky pastry that's perfect for pairing with a cup of coffee.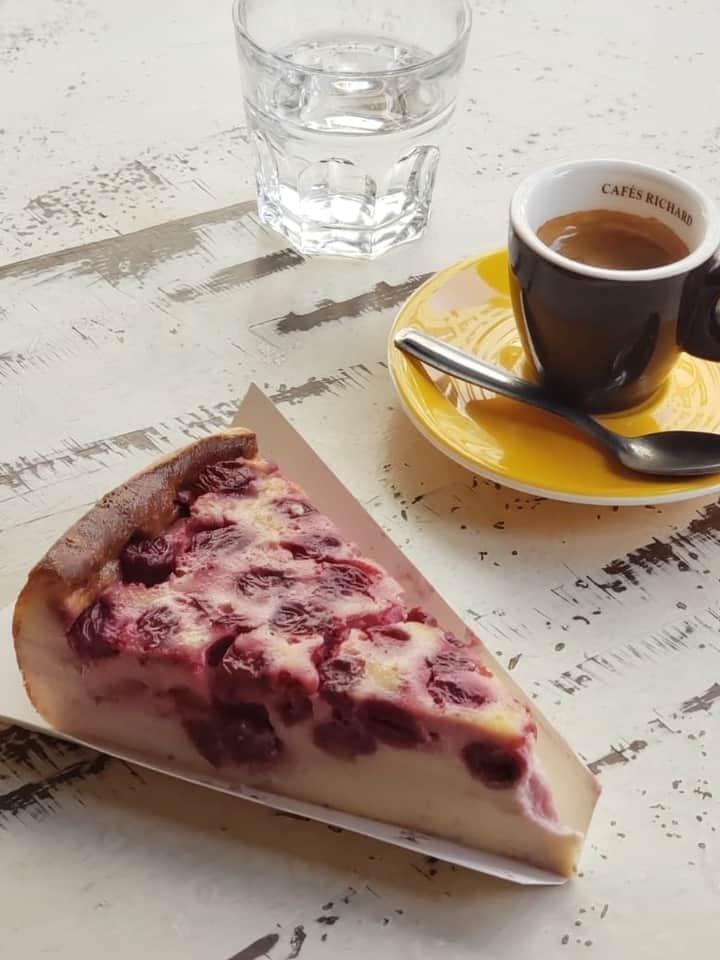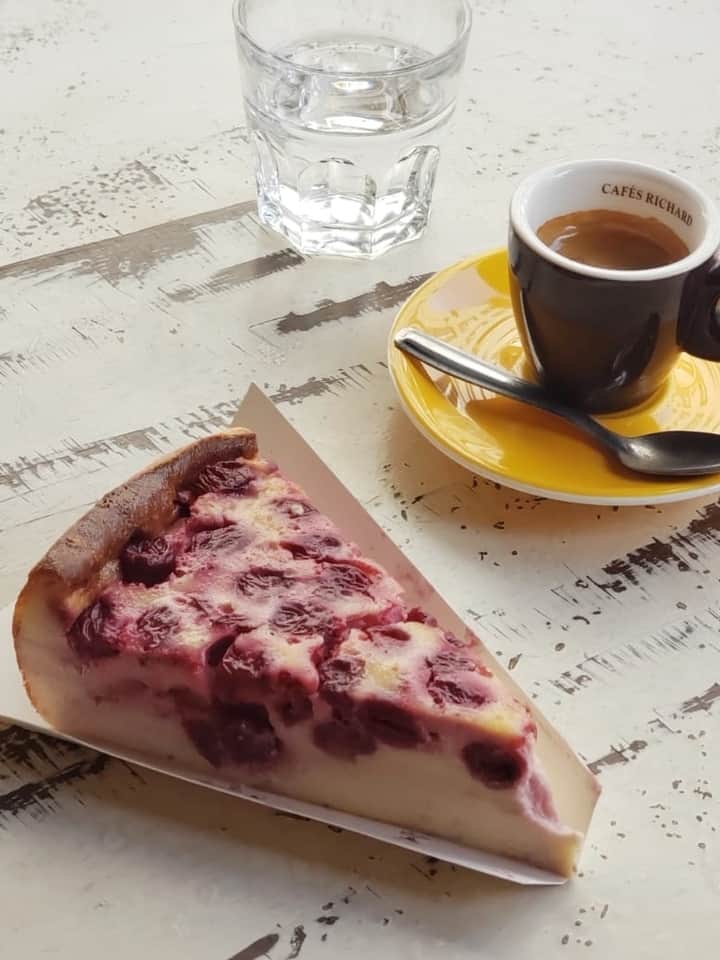 Clafoutis
This is a sweet baked custard that traditionally contains black cherries. It's sort-of like a cross between baked pancake and flan. The texture should be dense and moist, but not rubbery. It's usually served lukewarm or at room temperature, sometimes garnished with a sprinkle of powdered sugar or a dollop of whipped cream.
Take a look at a classic recipe for Clafoutis on Marmiton.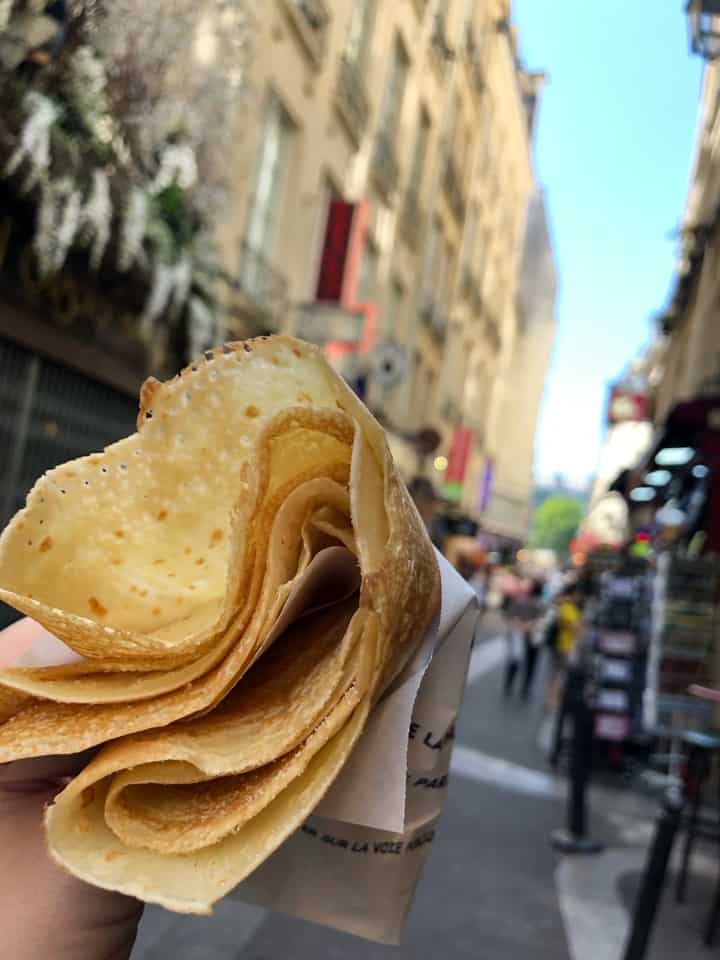 Crêpe
You can find crêpes for sale on the streets (rolled up or folded over, they are perfect street food!), pâtisseries, and brasseries. (Brasseries are basically regular restaurants that usually have a bar area, as well as cute tables outside on what they refer to as the terrace.)
Crêpes can have a sweet or savory filling, and the most basic is a crêpe sucré (sugared crêpe). They are eaten as breakfast, dessert, or a snack.
Insider Tip: Crêpes are typically much more reasonably priced at pâtisseries than at brasseries. And depending on the area you're in, when you're wandering around you can find them even cheaper from vendors who sell crêpes from an open window through the front of their shop. For example, I bought a crêpe sucré for less than 2 euros in the Quartier Latin in the 5th Arrondissement!
Quiche
Most of us are familiar with quiche; it's pastry crust with a creamy egg-based savory custard filling. Quiche can also have cheese, meat, and/or vegetables added. You can find deeper, thick slices of quiche or mini quiches, which have a higher crust-to-filling ratio.
A few popular flavors I've seen at bakeries are Paris include the following:
Lorraine (pork + cheese)
Chèvre Broccolis (goat cheese + broccoli)
Saumon Epinard (salmon + spinach)
Thon Tomates (tuna + tomato)
Poulet Champignons (chicken + mushroom)
Fromages (cheese)
Check out my recipe for Roasted Vegetable Crustless Quiche with Basil and Pine Nuts!
Insider Tip: Look for quiche at boulangeries and pâtisseries where they sell other baked goods, instead of buying it at a sit-down restaurant. Most quiches I've seen in bakery saround Paris cost about 3 to 4 euros per serving, which I think makes them one of best bargain foods in Paris!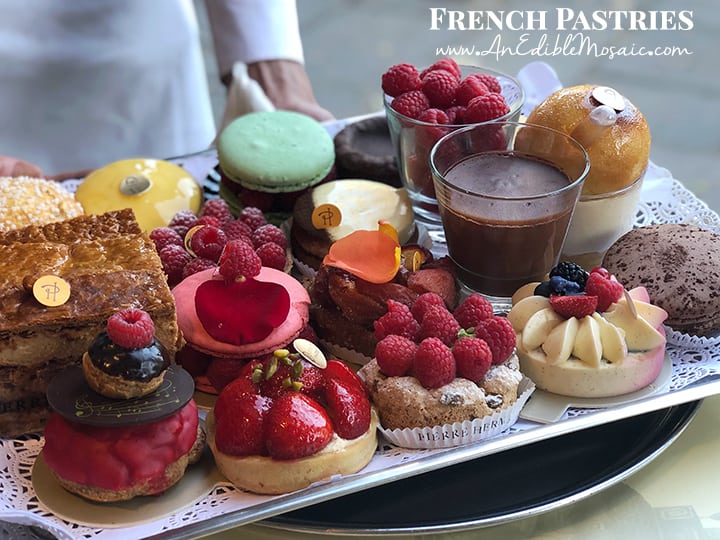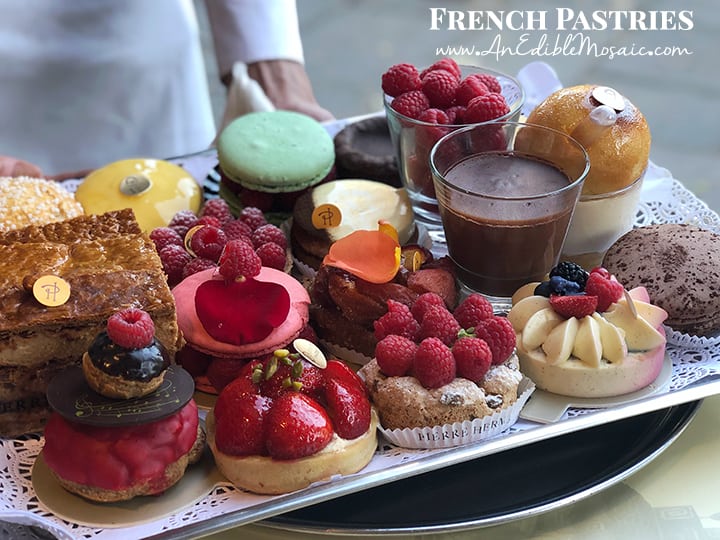 How to Find the Best French Bakery Near Me
If you're looking for the best croissant in Paris, the best baguette in Paris, or the best of whatever it is that strikes your fancy, I'm going to show you how to find it! Spoiler Alert: Google will do the work for you.
Open Google.
Type "best French bakery near me" and click the "enter" or "return" key. (Or you can be specific about the kind of food you're looking for, and type something like "best croissant near me".)
Google will show a map with locations of the best French bakeries near your current location.
Look at the bakeries' star ratings and reviews on Google.
When you find a bakery with good star ratings and reviews on Google, open Yelp and look at the star rating and reviews there too.
Head over to the bakery nearest to you with the best ratings and reviews, and revel in their amazing baked goods!
How to Order in French
Here are a few helpful phrases when you're in France and want to order food at a restaurant or bakery:
Bonjour! (Hello!)
Quel type de pâtisserie avez-vous? (What type of pastries do you have?)
Je voudrais... (I would like...)
Je prendrai... (I will take...)
S'il vous plaît (Please)
Merci (Thank you)
Je voudrais un verre d'eau, s'il vous plaît. (I would like a glass of water, please.)
And here are some helpful nouns when you're trying to order:
La carte (the menu)
L'addition (the bill)
Le plat du jour (the dish of the day)
Un thé (a tea)
Un café allongé (a black coffee)
Le lait (the milk)
La vin (the wine)
La sucre (the sugar)
Le poulet (the chicken)
La viande (the meat)
De l'eau (some water)
Du pain (some bread)
Une baguette (a baguette)
Un croissant (a croissant)
Du fromage (some cheese)
Un verre (a glass)
Une tasse (a cup)
Insider Tip: Smile, and as a sign of respect, at least try to speak the language of the country you're in!
More of Paris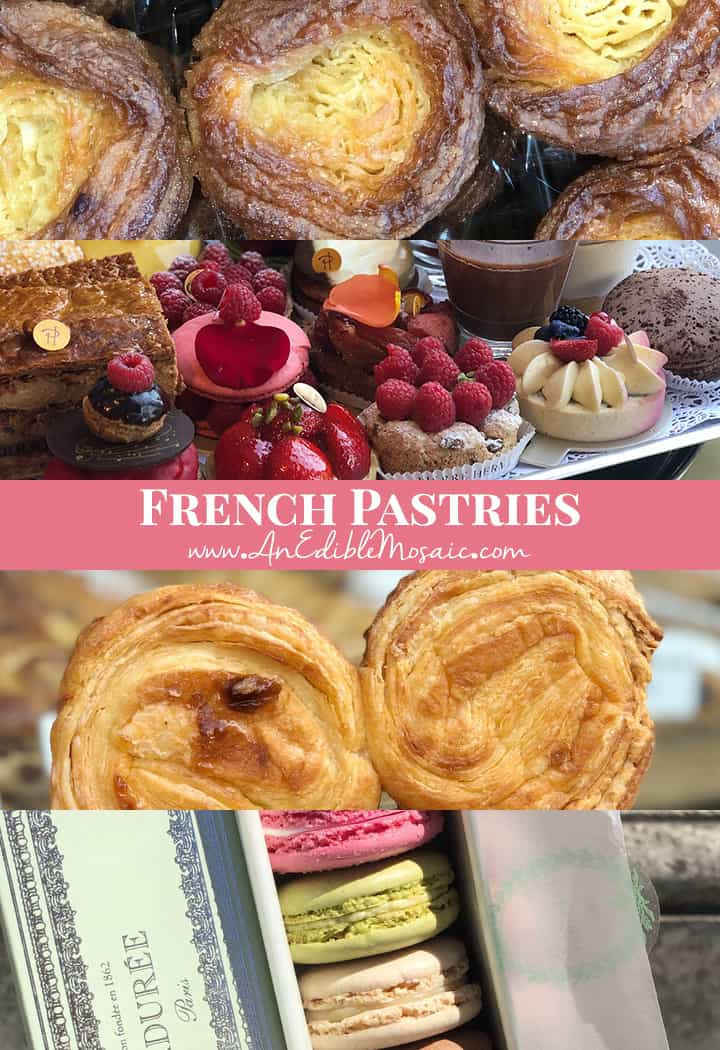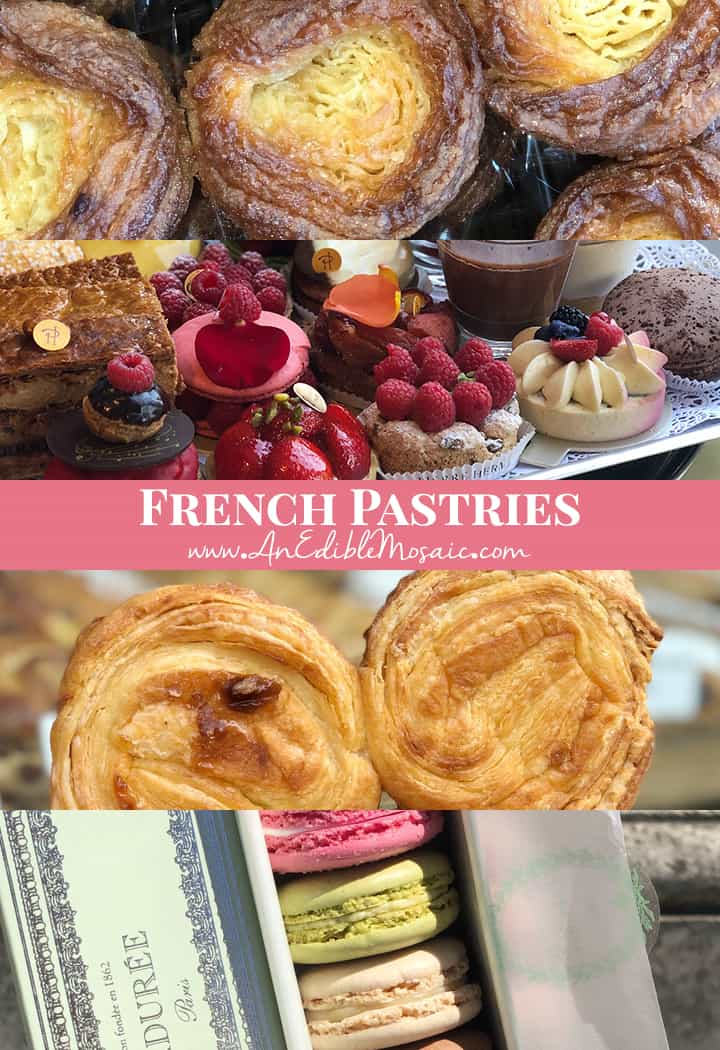 Did you enjoy this post or make one of my recipes? Please rate it and leave a comment below because I love hearing from you! You can also tag @anediblemosaic on social media. To stay up-to-date FOLLOW ME on Instagram, Twitter, and Facebook. Xoxo, Faith