When you're traveling to Paris, there are a lot of things to consider; for example, what to do in Paris, where to stay in Paris, how to pack for Paris, and much more! This article discusses just about everything related to planning a trip to Paris.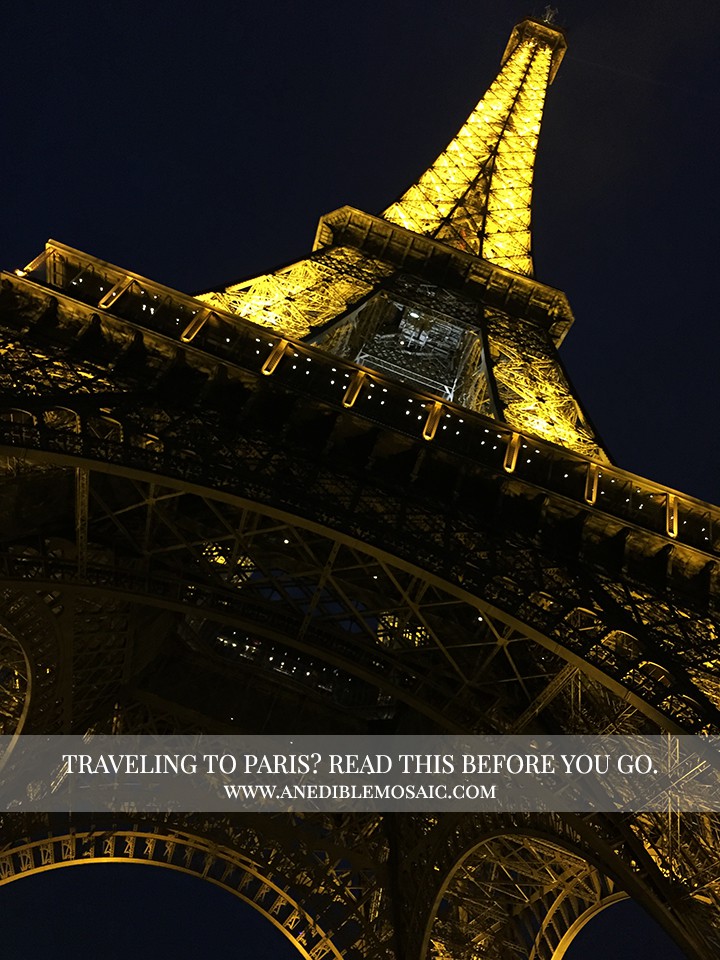 If you're planning a trip to Paris for the first time, you're probably thrilled, slightly overwhelmed, and maybe even a bit baffled as to where to begin. This comprehensive travel guide is for you. And even if this isn't your first trip, you might find a few helpful tips here!
My husband and I recently got back from a 12 day stay there and I'm sharing everything. Even though I tried to be as thorough as possible, there are still many other things to do in the City of Lights not mentioned here.
Paris: What to See and Do Video
Planning a Trip to Paris
If you're traveling to Paris, it helps to be as organized as possible. Here are the topics I cover in this article so you can best plan your trip to Paris:
Best Time to Visit Paris
My husband and I were in Paris during the last two weeks of May to celebrate our anniversary, so we didn't have much flexibility regarding our travel dates. However, the timing turned out very well for us! Temperatures ranged from upper 50's to lower 70's Fahrenheit, staying mostly in the mid-60's. It only rained maybe three out of the 12 days we were there, and since the weather was a bit cooler, it was perfect for doing lots of sightseeing and walking (a lot!) around the city. Local Parisians told us that warmer summer temperatures last from June through September, but that's also when it's most crowded.
What is an Arrondissement?
Like a few other major cities in France, Paris is divided into various districts, which are known as arrondissements. Paris has 22 arrondissements.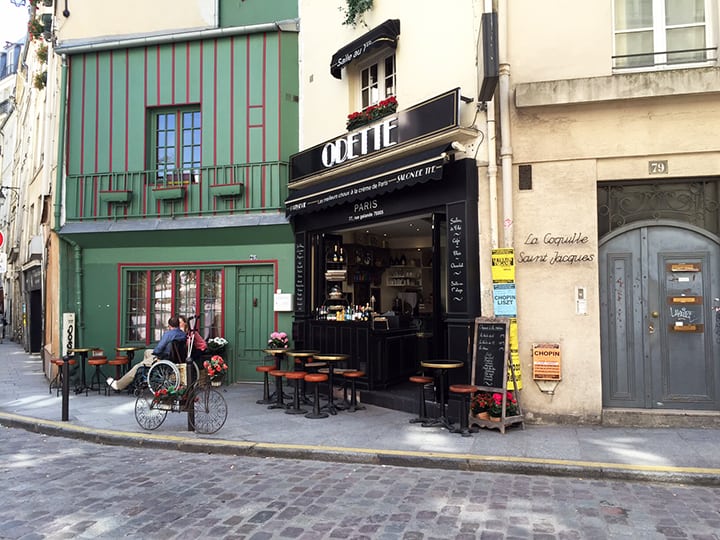 Where to Stay in Paris
We stayed at a small boutique hotel in the 17th arrondissement that was a two-minute walk from two different Metro stops. Its location worked really well for us: it was about a 10-miute walk from Gare Saint-Lazare (one of the six largest railway stations in Paris); a 20-minute walk from Galleries de Lafayette and Printemps department stores; and 30-minute walk from Sacré-Coeur Basilica.
The main two things to keep in mind when choosing where to stay are transportation (my husband and I are subway people, so for us this translates to proximity to Metro stops), and safety. Here's a map of the Paris Metro for reference, or you could check your hotel's website because they typically give information on how far they are from public transportation.
As far as areas to avoid, there was never any place that we really felt unsafe or like we were in any danger.
That being said, I want to mention a couple small words of warning in terms of location (just so you're not surprised!):
Quartier Pigalle (Between the 9th and 18th Arrondissements)
The red-light district is located in an area called Pigalle; Moulin Rouge is in this area, along with a number of other adult shows and shops. Take caution because if you're walking through this area at night, odds are that the ladies will try to beckon you into their lair. Also, the concierge at our hotel told us that this area is known for nighttime muggings.
Marché aux Puces de Saint-Ouen AKA Marché Clignancourt (18th Arrondissement)
There is a wonderful flea market called Marché aux Puces de Saint-Ouen (which is commonly referred to as Marché Clignancourt) that is, quite unfortunately, renowned for its pickpockets. Someone actually tried to pickpocket Mike at the Porte de Clignancourt Metro stop; luckily, Mike felt the pickpocket's hand reach into the front pocket of his shorts. On reflex (or so he says, lol), Mike turned around and landed a shot right in the guy's nose! The guy cursed at Mike in French and scurried off as quickly as he could. (Note: I do not condone punching or violence of any kind, or pickpocketing, for that matter; if someone attempts to pickpocket or mug you, report it to the authorities.)
What To Do in Paris
There are a ton of things to do in Paris! Depending on how long you'll be there, you may have to prioritize what you want to see so you don't try to cram in too much. There are tons of attractions, such as museums, landmarks, and churches with stunning architecture. Paris also offers a lot of shopping opportunities, with everything from flea markets to extravagant department stores. And there are even some free things to do in Paris!
Attractions in Paris: Must-Do Sightseeing in Paris
If you're planning on doing a lot of sightseeing, you should take a look at The Paris Pass because you can potentially save money and time. Of course where you want to go will vary based on your own interests, but here are a few places we didn't want to miss, broken down by category.
Landmarks in Paris
Standing at the base of the Eiffel Tower and looking up will take your breath away. You can purchase tickets to go to the second floor or to the top where there is a champagne bar. My favorite was seeing the tower lit up at night; also, it sparkles for the first five minutes of every hour after sunset until 1 or 2AM.
This is an avenue with lots of luxury shopping, restaurants, and theaters. To me, it's sort-of like Times Square meets 5th Avenue in New York City. Arc de Triomphe is located on the Champs-Élysées, so if you go to see that, definitely take a walk down the avenue. Also, if you're a fan of macarons, there's a Ladurée located there. One other thing that bears noting: the McDonald's on Champs-Élysées sells macarons too.
Arc de Triomphe

Built between 1806 and 1836, this breathtaking arch honors those who fought for France, particularly in the Napoleonic Wars. Standing in the center of the arch with the wind blowing through as you look down the Champs-Élysées is an incredible feeling. Take note, you cannot cross the traffic circle to get to the arch. There is an underground tunnel on the Avenue de la Grande Armee side of the circle. You can access this tunnel from the Wagram exit of the Metro. You can purchase tickets to access the top of the arch.
Museums in Paris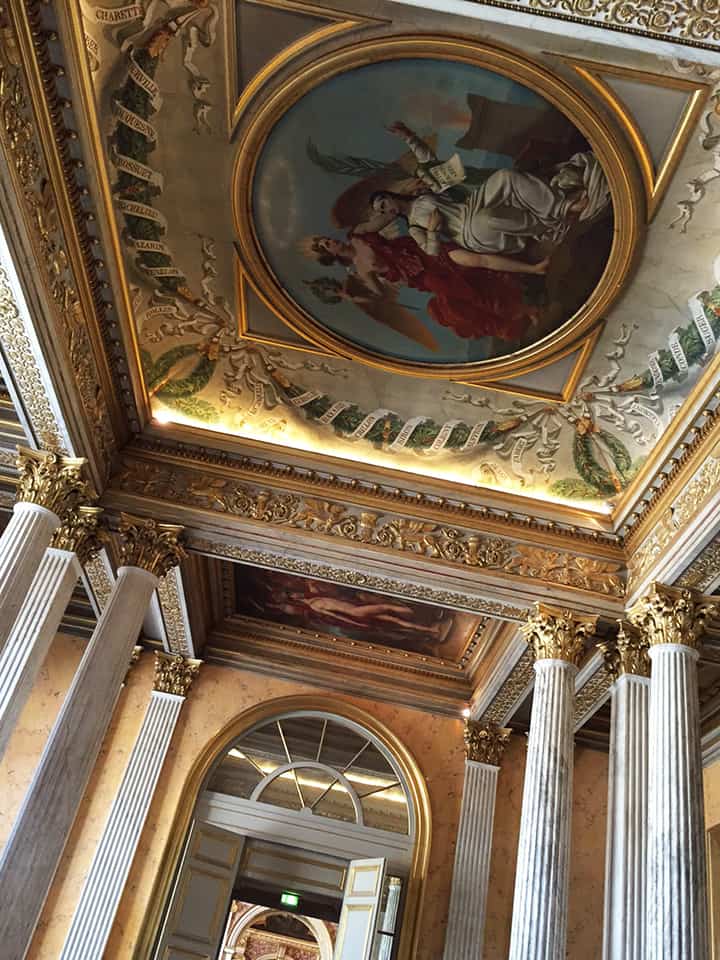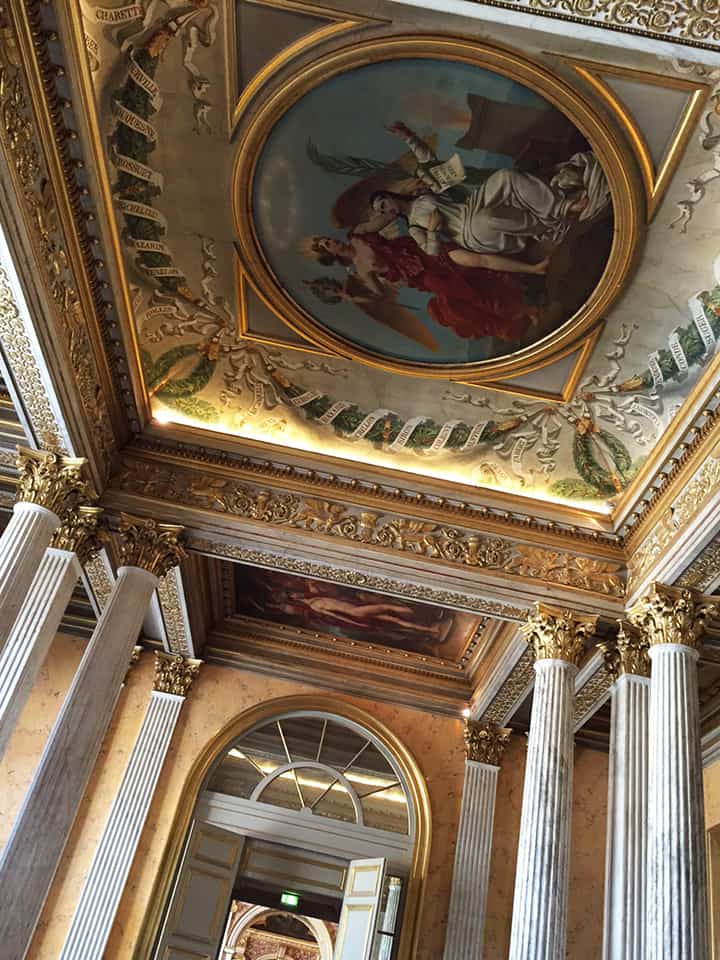 Before you even get inside, the glass pyramid is a work of art in itself (at night too!). Of course you won't want to miss the "Mona Lisa", which is completely enthralling, but if you have an afternoon free I highly recommend meandering around – you won't be disappointed! The "Winged Victory of Samothrace" is incredible, as is "Psyche Revived by Cupid's Kiss", "Liberty Leading the People", and the jewelry collection.
The Winged Victory of Samothrace
Churches in Paris
Cathédrale Notre Dame de Paris
I can't even begin to describe the feeling of being at Notre Dame. It is beautiful beyond words and when the bell tolls, it almost feels like being transported back in time.
The Tower of Notre Dame
You can purchase a ticket to walk up the 387 steps (there is no elevator) to the top of the South Tower. There you'll get to experience a breathtaking view of Paris and a close up look at the roof, the spire, and the cathedral's largest bell, the Emmanuel Bell. The entrance to visit the tower is located outside the cathedral on the left-hand side of the façade on Rue du Cloître Notre-Dame. The line can get pretty long; I've heard the best time to go is early in the morning or later in the afternoon, just note that the last admission is 45 minutes before the cathedral closes.
The Crypt of Notre Dame
You can get a ticket to go down to the crypt under the cathedral's Parvis, which have been excavated to reveal the ruins of Paris. The entrance to visit the crypts is located outside, opposite the cathedral's façade, across from the Police Headquarters. I'll be honest about this; we expected it to be super cool (come on, it's a crypt), but in actuality it was a bit boring. If you're short on time and have to cut something, personally, I'd skip this.
As much as I enjoyed Notre Dame, I enjoyed Sacré-Coeur even more so. It stands on top of a hill and is truly magnificent; plus, when you climb up the hill you can look down for the most breathtaking view of Paris, especially at sunset. I also thoroughly enjoy meandering around Montmartre in the area where Sacré-Coeur is located. It's really charming with cobblestone streets and lots of shops and restaurants.
The stunning "Hall of Mirrors".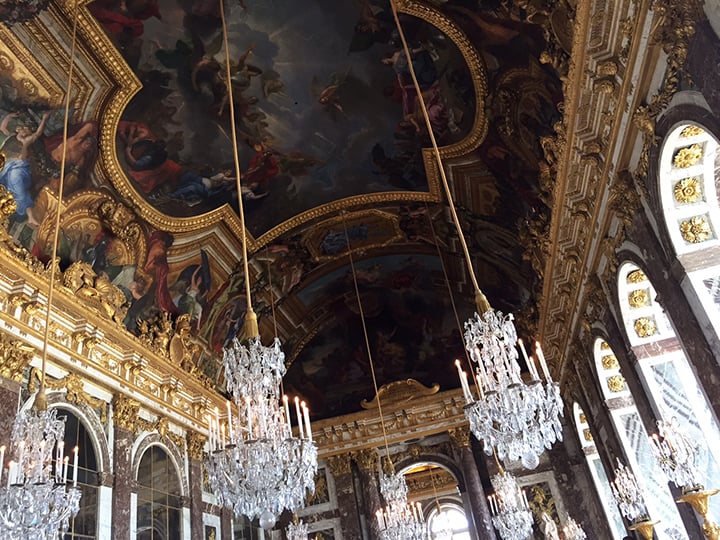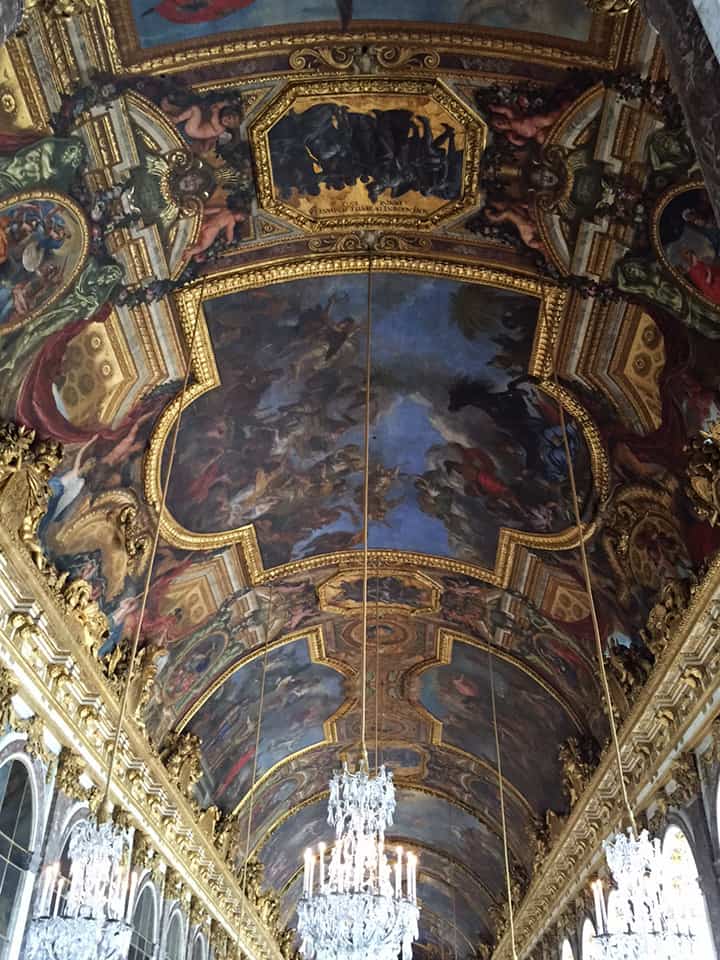 Expect the ride from Paris to Versailles to take about an hour between the train and the short walk (or bus) from the train station to Versailles. But it is well worth the travel time! The grandeur and opulence of Versailles is nothing that can be put into words…really, just go and see it. The Hall of Mirrors is something to marvel at, and so are the King and Queen's chambers. And the gardens are like something from a fairy tale.
King Louis XIV's Bedchamber at Versailles (above)
Marie Antoinette's Bedchamber at Versailles (above)
Free Things to do in Paris
A lot of landmarks are free to visit in Paris! Here are the top 10 free things to do in Paris:
Eiffel Tower, and don't forget to stay after dark to see the twinkling lights (just know that it does cost money to go up)
Sacré-Coeur Basilica
The view of Paris from Sacré-Coeur
Arc de Triomphe
The view of Arc de Triomphe at twilight from Avenue des Champs-Élysées
Window shop at the flea markets
Walk along the Seine River
Meander around Montmartre
Grab a bite to eat at the Printemps Department Store Rooftop Café for gorgeous views of the city
Transportation in Paris
Like any big city, you have several options: the Metro, Uber, taxis, and your own two feet. Although they're great in a pinch, taxis can get pricey, especially if you're headed several different places in the same day (we took a taxi probably three times total while in Paris and for some odd reason no matter where we were going it cost about 10€).
We became very familiar with the Paris Metro on our trip; it's very easy to navigate and very cost-effective. However, we also walked approximately seven to ten miles per day, as calculated by a pedometer. (Paris is a big city and walking is inevitable…just wear comfortable shoes! And bonus, walking is a great way to burn off all those croissants you know you'll be eating.) Our general rule was if we were going to a place that was four or fewer Metro stops away, we went on foot, otherwise, we used the Metro.
A word of warning, there are sometimes random Metro ticket checks as you're exiting the Metro. What this means for you, is do not throw away the Metro ticket you used to get on the Metro until after you've excited the Metro!
Mike and I made the mistake of throwing away our used Metro tickets before we exited, and lo and behold, a lady asked to see our tickets as we were exiting (we were on our way to see the Eiffel Tower). We tried explaining to her that we had no idea we needed to keep the used Metro tickets until after we exited (no one tells you this!), but she fined us anyway. We had a stack of unused Metro tickets (so she could clearly see we weren't trying to evade paying for Metro use), so our fine was reduced to 33€ per person down from 50€ per person. She told us our only other alternative to paying the 33€ per person fine was to let her call the police and then we could pay a 180€ per person fine. Lesson learned.
You can check out ticket prices for the Paris Metro here.
Shopping in Paris
Ahhh, shopping in Paris. The stuff every girl's dreams are made of, right? If you're heading to Paris and are planning to shop until you drop, just know in advance that like many large cities, most places in Paris can be pretty pricey. (We found smoked salmon for sale for 170€ per kilo at Lafayette Gourmet.) Here are of a few of our favorite places to shop (in random order)…
Department Stores
Gourmet Food Halls
Prepare to be wowed. You'll see the prettiest pastries, cakes, and confections, as well as cheese, meat, bread, jam, savory condiments, spices, coffee, tea, chocolate, wine, fresh produce, etc. There are also restaurants where you can grab food to take away or sit down for a full meal. In short, the selection is enormous.
Flea Markets
Maybe the simultaneous best and worst thing about this market is its massive size. The good news is that you can find just about anything you're looking for here; the bad news is you may have to spend all day looking. And then if you find it, you may need to be prepared to spend a small fortune because prices at this market are more like prices at an antique store rather than a flea market. You are welcome to attempt bartering, but most venders I talked to seemed set on their prices.
This is like a three-for-one market: outside there's an open-air produce market (with an area devoted entirely to organic produce) and an open-air flea market, and inside there's a flower market and a food market offering fish, meat, cheese, olives, pastries, bread, etc. The great thing about this is that you can put together an inexpensive and extremely delicious meal out of market foods. Also, unlike Marché Clignancourt, the flea market at Marché d'Aligre is reasonably priced and bartering is commonplace.
These are truly Parisian ceramic masterpieces, handmade by Parisian artists using Parisian clay. Be warned that the prices are steep, but this is very much a case of you-get-what-you-pay-for, and I think it's worth a splurge on a couple of really nice pieces that will hopefully become heirlooms. They're absolutely gorgeous.
Some of the Wares at Astier de Villatte
Other Shopping Resources:
What to Eat in Paris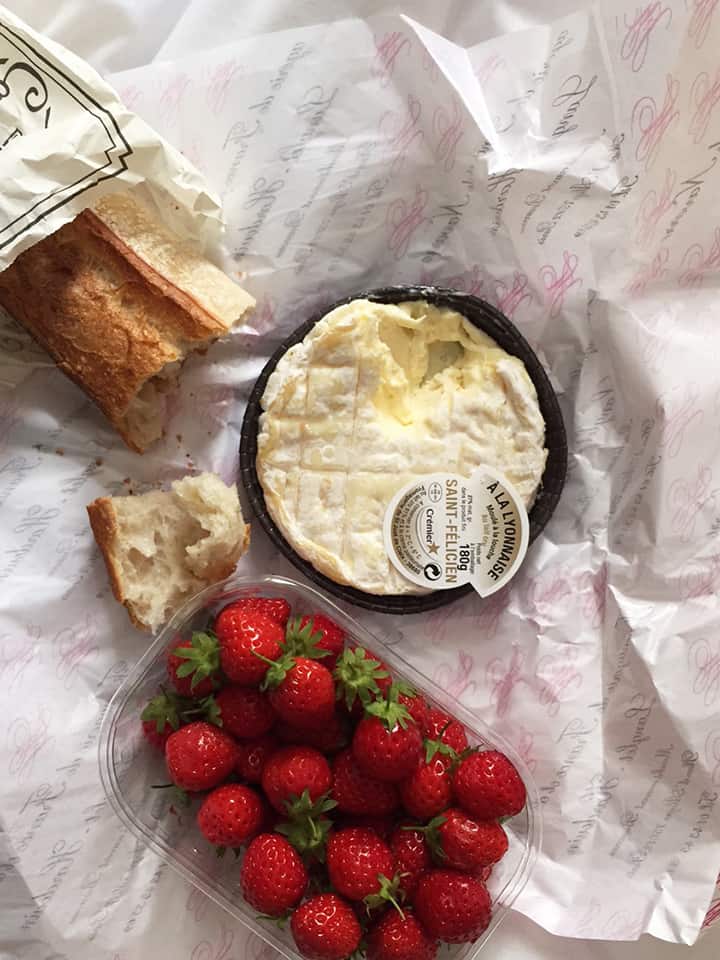 Now, what I'm about to tell you will probably come as quite a surprise; if you're American you've probably heard how French food is the next best thing since sliced bread since you took your first bite of solid food. I'm just going to come out and say it…food at most brasseries in Paris is overrated.
Before you barrage me, let me quantify that statement…
The crêpes, bread, pastries (especially the croissants!), cheese, fondue, and farmers' market fresh produce are to die for. Literally. The coffee was good just about everywhere and so was the tea. Mike and I don't drink alcohol so we can't comment on that, but no one we talked to seemed to have complaints about it, especially the wine. The problem arose when we wanted an actual sit-down meal, like lunch or dinner. You're thinking, Just hit up a restaurant – any restaurant – they're all good, it's Paris, right?! Guess again.
Most of the restaurants we encountered in Paris (you know, the standard adorably charming brasseries with the little round tables and chairs on the sidewalk outside the restaurant) offer mediocre-quality food at rates that average about 55€ for two people per meal, especially in touristy areas. The menu items are just about the same at all of these places (think classics like Steak Frites, Duck Confit, Boeuf Bourguignon, Roast Chicken, etc.). It wasn't that we couldn't find a dish we liked (because we could every single time); rather, it's that the food itself just wasn't anything special and in some cases, it was downright not good.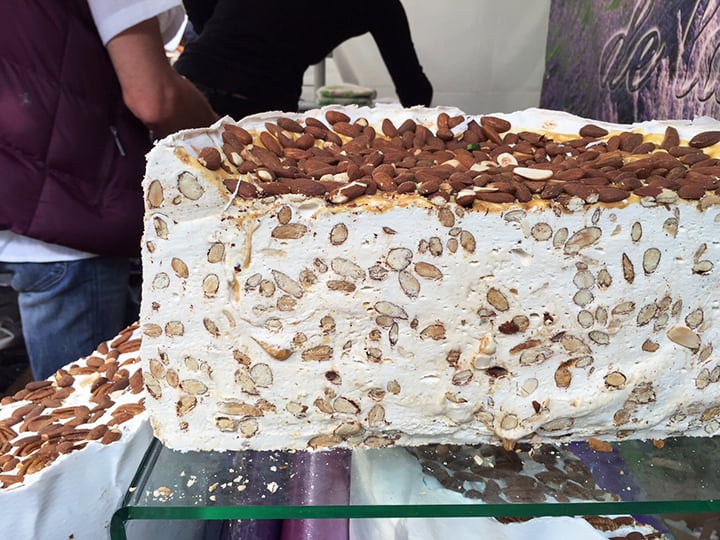 The thickest nougat I've ever seen...and you can find it all over in Paris! I regret not trying it, but that's what I get for trying to be good, lol.
At one point, Mike ordered what was called a steak on a menu, but was actually a ground meat patty (aka, a burger). Thinking there was a mistake, Mike asked the waitress and she replied, "No, you ordered the steak." Of course the only rational response to that would have been yeah, that's my point…and this is, in fact, a hamburger, but being the polite people we are, Mike just ate two bites (which was all he could get down; it was a flavorless, tough, and dry burger) and then we paid the bill and left.
I will say this: if all else failed I could always order a mixed salad along with an onion soup from one of these places and be relatively satisfied, if somewhat disappointed that I had to resort to that (again). And Mike made sure to order frites (what we know as "French fries") as his side for every meal because they were fabulous just about everywhere.
Here is Mike's Infamous Hamburger "Steak" in Paris
We did have a favorite place to go for mealtime though; Saint-Michel in the Latin Quarter did not disappoint. In this area, the doner kebab was good and the crêpes were fabulous. Also, if you're in the mood for fondue, this area has a plethora of good-quality fondue places that are much more reasonably priced than many other areas.
The best advice I can give you on eating in Paris? At the end of our trip, Mike and I realized that we would have been better off splurging on a few really high-end meals and the majority of the time just eating street food along bread from local boulangeries, cheese from local fromageries, and prepackaged salads from Marché Franprix or Carrefour.
Pro Tip: If you LOVE French pastries, read my article on the topic! I shared several insider tips, including where to find the best pastries, which pastries to avoid, and how to save money!
Is Paris Expensive?
Both domestic and international tourism play a significant role in the economy of France as a whole, as well as the economy of Paris. (Read about tourism in France on Wikipedia, and check out statistics on travel and tourism in France on Statista.) Of course this impacts how expensive things are. I found Paris to be moderately expensive (similar to New York City), and not too bad once you learn a few money-saving tricks. For example, walk a few blocks away from a touristy area to go to a restaurant instead of eating in a highly touristy spot. I found Paris to be quite a bit cheaper than both London and Geneva.
How Much Does it Cost to Eat in Paris?
After lodging and a flight, one of the things you can expect to spend the most money on in Paris is food! To give you an idea of how much you'll need to plan on spending, dinner for two at an average-quality brasserie was about 55€ in 2015. You can grab street food cheaper, and it's oftentimes more delicious, as well as more reflective of the local cuisine. Also, I recommend shopping at local artisanal shops for things like pastries, bread, and cheese, and going to farmers' markets for fruit and vegetables.
Is it Safe to Travel to Paris?
Like a lot of big cities, pickpocketing is pretty rampant in Paris. There are warnings to beware of pickpockets all over the place on the Metro and in touristy areas. But I will say that during my time in Paris, I personally never felt unsafe.
Here are a few (common sense) tips to help prevent pickpocketing and mugging:
Don't carry a lot of cash.
Leave your best (i.e., most expensive) jewelry at home.
Keep any essential personal items you need in a small purse that you can wear diagonally across your torso close to your body.
Avoid keeping anything valuable in your pockets.
Remember to put your wallet away right after you pay for something.
Be mindful of how close other people are standing to you.
Paris Travel Advisory
For up-to-date alerts and messages from the US Embassy in Paris, check this page.
On April 1, 2019, the US Department of State issued a France Travel Advisory to "Exercise increased caution in France due to terrorism and civil unrest."
US Embassy in Paris
U.S. Embassy Paris
2 Avenue Gabriel
75008 Paris
France
Telephone: +(33)(1) 43-12-22-22
Emergency: +(33)(1) 43-12-22-22, enter zero "0" after the automated greeting
Fax: +(33)(1)42-61-61-40 (Special Consular Services)
Email: [email protected]
Website: U.S. Embassy Paris
Traveling to Paris: What to Know Before You Go to Paris
Spitting Off the Eiffel Tower: So, Mike and I were walking around the base of the Eiffel Tower, and someone at the top spit on me. (<– Yeah, I know you're laughing your tush off right now, but trust me, when it happens it feels so gross you'll want to peel your own face off…and yeah, he/she got me in the face. Ugh.) Now, I know there's no way on earth it was personal, but wow is that vile. And yes, people aren't supposed to do it, but obviously it's not a perfect system. Or a perfect world. Just beware.
Smoking: It seems like everyone and their mother smokes in Paris; we saw a 10-year-old boy and a 90-year-old woman smoking. It's not like it is here in the U.S. where even outdoor airspace is regulated and preference is given to clean air and nonsmokers. In Paris, smoking is the norm, so anticipate being exposed to secondhand smoke all the time. (I'm not judging; I just mention this in case you have allergies and/or asthma so you can plan ahead and be prepared.)
The People: I try to treat people how I'd want to be treated and I notice that they usually behave in turn. As a whole (aside from a mere two or three incidents in a span of 12 days), Mike and I had wonderful experiences with French people. Our French concierge took us out on his night off. A French woman we asked for directions on the Metro happened to spot us passing by the café where she was dining later that evening with a friend of hers, and invited us to join them for dinner. Most people were willing and actually eager to help when we were lost, many going so far as to look up the address of our destination on Google Maps using their own phone just so they could give us accurate directions, and some people even changed their direction and walked us to our destination just so we wouldn't get lost. So many strangers showed us true kindness, giving us a glimpse of the real French attitude, and for that we were truly grateful.
Top 10 Paris Travel Tips
Here are my top 10 Paris travel tips:
Show respect to the people and the country. Don't litter, don't swear at people, be polite. Treat their landmarks, historical sites, and sacred places with reverence.
Attempt to speak French! You can download a free language app, such as Duolingo or Babbel, so there's really no reason not to at least try to learn some French before you go. Or if you're old-school, pick up one of those little language reference books and carry it around.
Notify the US Embassy in Paris of your stay.
Notify your credit card company of your travel plans before you go so they don't think your card was stolen when they see activity in another country. Also know that your credit card company uses its own currency conversion rate when you make purchases abroad, so you may want to ask your credit card company how they calculate exchange rates before you use your credit card while traveling.
Have a plan as to what you're going to do about phone and internet service before you arrive. Whether or not you'll have phone and data service depends on your carrier's plan. If you have an unlocked smartphone you can go to a local carrier in Paris (a Parisian recommended Orange to us) and get a SIM card. Or you can pick up a cheap mobile phone while you're there and get a pay-as-you-go plan; for more information on this option, check out Cell Phones in France: Staying in Touch on Your Trip to Paris from David Lebovitz.
Know your options for transportation before you get there; at least have an idea as to how you want to get from the airport to your hotel! Keep a public transportation map on hand.
Electric outlets are different in France than in the US. You'll need a power adapter because the shape of the power plugs and sockets are different, and you'll need a voltage converter because the standard voltage is higher in France than it is in the US. Instead of getting two devices (one for each function), you can get a combination plug adapter/voltage converter.
Avoid cafés and brasseries in touristy areas. The food and price will be better if you walk even just a block or two off the beaten path for a more local experience.
Before you get there, have an idea of the monuments, landmarks, museums, etc. that you don't want to miss so you can prioritize your time.
Be prepared to walk, walk, walk! Even taking the Metro, we ended up walking 10 to 15 miles per day.
What to Pack for Paris: The Essentials You Don't Want to Forget!
I hope this helps if you're planning a trip to Paris. Feel free to ask me questions in the comments below and I'll do my best to answer. Bon Voyage!
Did you enjoy this article or make one of my recipes? Please rate it and leave a comment below because I love hearing from you! You can also tag @anediblemosaic on social media. To stay up-to-date FOLLOW ME on Instagram, Twitter, and Facebook. Xoxo, Faith
Photography Note: I shot all photos in this post with an iPhone 6; I would have loved to tote around my DSLR to get better quality shots, but it's heavy and it just wasn't feasible. You are welcome to use any photos from this post for educational purposes if you credit me (Faith Gorsky/An Edible Mosaic), with a link back to this page as the source.
Disclosure: This post contains Amazon affiliate links to products I believe in, which means that even though it doesn't cost you anything extra, I will receive a small amount of money from the sale of these items. Thank you for helping to support An Edible Mosaic!