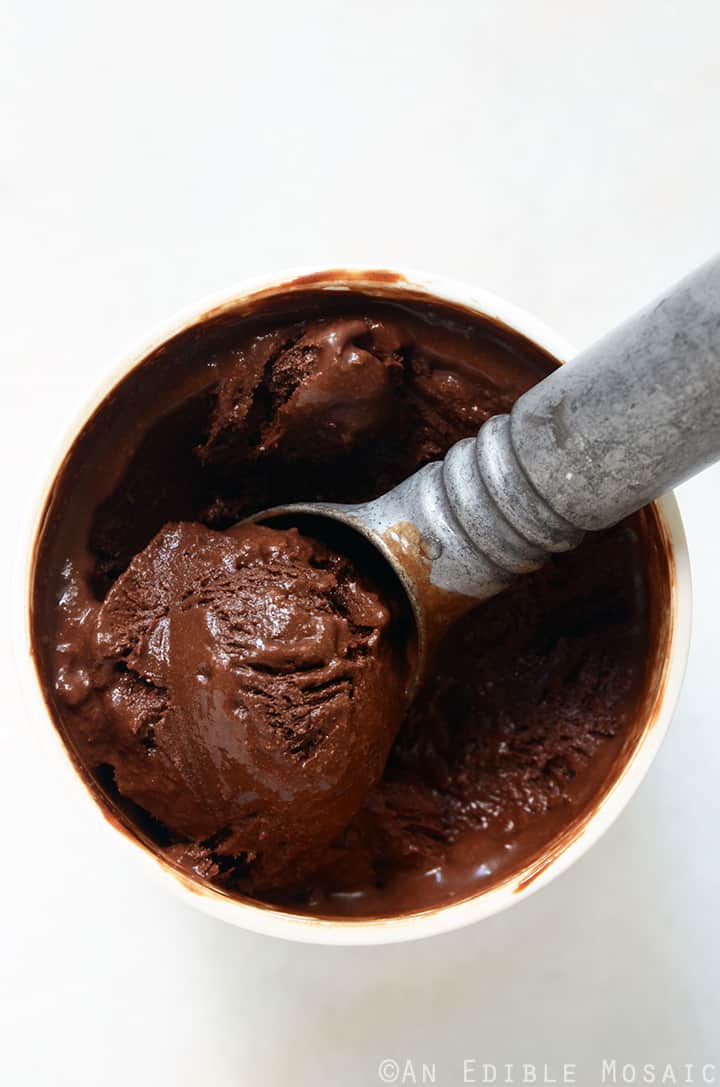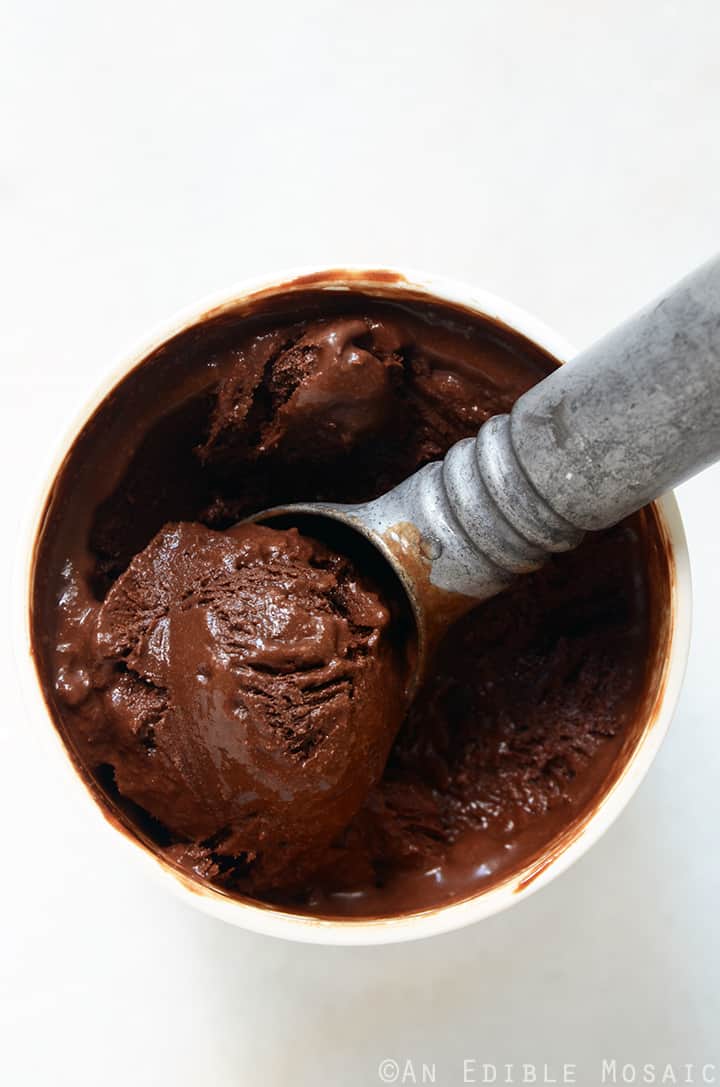 Ladies, if that picture doesn't take your breath away just a little, I don't know if we can still be friends.
Once glance gives me butterflies in my tummy and turns my knees to jelly.
I'll be the first one to admit that some things look much better in a photo than they taste in real life. And I'll also readily admit that if it's a "splurge" food, it had better taste darn good to cross your lips.
But I think this sorbet actually tastes even better than the photos look, especially if you let it get a little melty, like this…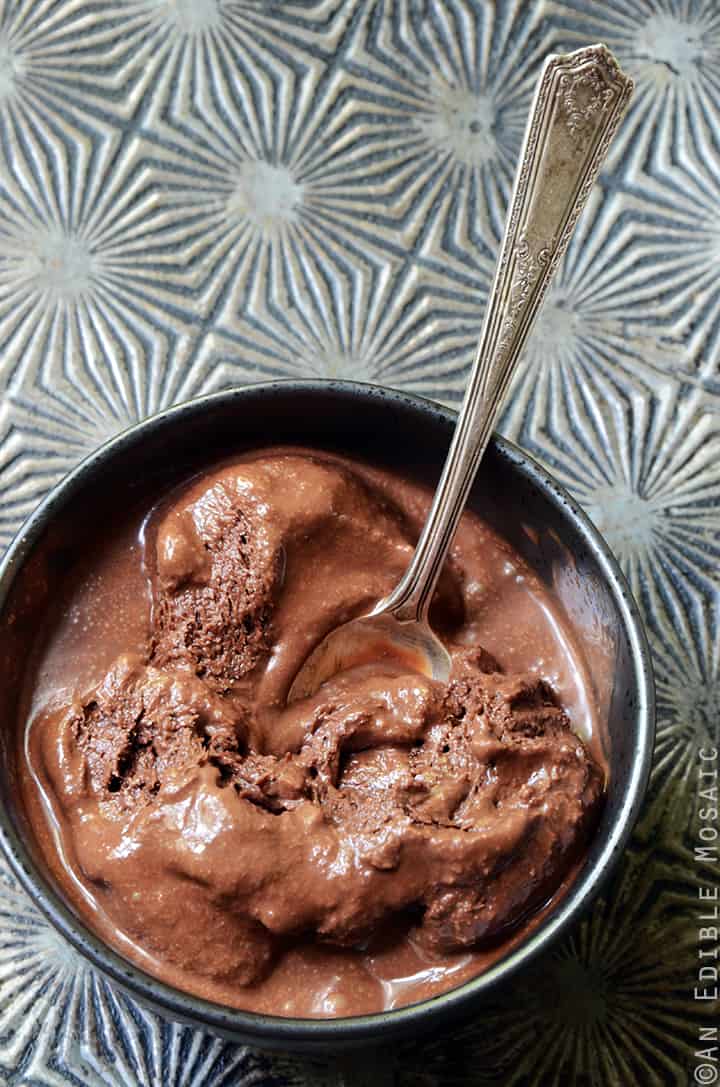 I can't take credit for this recipe though. I first spotted Deb's Chocolate Sorbet on Smitten Kitchen, who adapted her recipe from David Lebovitz's recipe in The Perfect Scoop. I made a few slight tweaks, most significantly, the addition of a whisper of good-quality espresso powder. That's a trick I learned from Ina Garten; she says a hint of coffee pulls out the flavor of chocolate without tasting like coffee, and I couldn't agree more.
Not only is the flavor spot-on, but the texture is pretty incredible. It has a fudgier quality than most (all, I think) sorbets I've had. And don't fret if you a) don't have an ice cream maker or b) are too busy and/or lazy like me to dig it out of storage; in the notes below, I give instructions on how I made this sorbet using just a blender.
In case you're wondering, it really does taste like brownie batter in frozen treat form.
Chocolate Sorbet
Prep time:
Cook time:
Total time:
Yield:
About 1 quart (1 liter)
This rich and deeply chocolaty sorbet has an addictive, fudge-like quality. It couldn't be easier to make and there's an option to make it using a blender if you don't have an ice cream maker.
Ingredients
2¼ cups (535 ml) water, divided
¾ cup + 2 tablespoons (175 g) sugar
¾ cup (60 g) natural unsweetened cocoa powder
¼ teaspoon instant espresso powder
⅛ teaspoon sea salt
6 oz (170 g) bittersweet or semisweet chocolate (I used Chocoley's Bittersweet Dark Indulgence Couverture Chocolate)
½ teaspoon pure vanilla extract
Instructions
Whisk together 1½ cups water with the sugar, cocoa powder, espresso powder, and salt in a large saucepan (you will need a large saucepan because the mixture will bubble up a lot) over medium heat. Bring it to a boil, whisking frequently, and let it boil while whisking constantly for 45 seconds.
Remove from the heat and stir in the chocolate until it's melted. Stir in the vanilla extract and remaining ¾ cup water.
Transfer the mixture to a blender and blend for 15 seconds.
Chill the mixture thoroughly.
Freeze the mixture in an ice cream maker according to the manufacturer's directions. If the mixture becomes too thick to pour into the ice cream machine, whisk it vigorously to thin it out.
Notes
Recipe slightly adapted from David Lebovitz's recipe in The Perfect Scoop.

Making This Without an Ice Cream Maker: I made this recipe through Step 4 above and then once the mixture was fully chilled (about 4 to 8 hours in the fridge, or overnight), I re-blended it for 15 seconds. After that I poured it into a freezer-safe container and froze it. Before serving, I like to let it thaw for about 10 minutes at room temperature so it's easy to scoop.
Disclosure: I received the Chocoley products that I used in this recipe for free; as always, opinions stated are my own. This post contains Amazon affiliate links to products I believe in, which means that even though it doesn't cost you anything extra, I will receive a small amount of money from the sale of these items, which helps me keep this site alive – thank you for helping to support An Edible Mosaic!