Disney Pandora – The World of Avatar at Disney's Animal Kingdom is an immersive experience with beautiful sights, sounds, and attractions, as well as delicious food that the entire family will enjoy.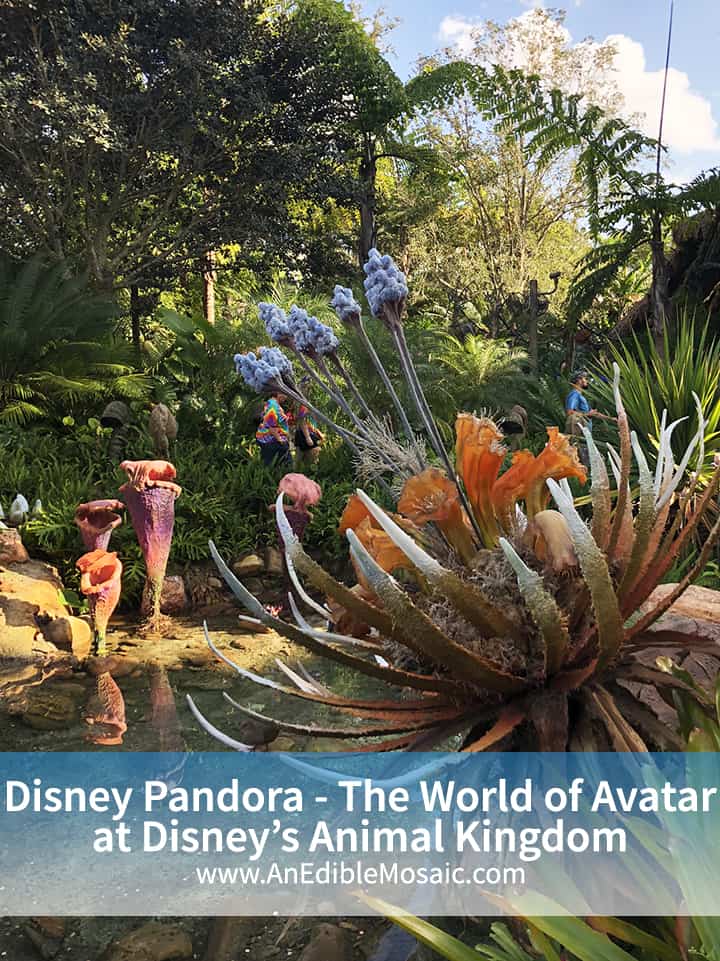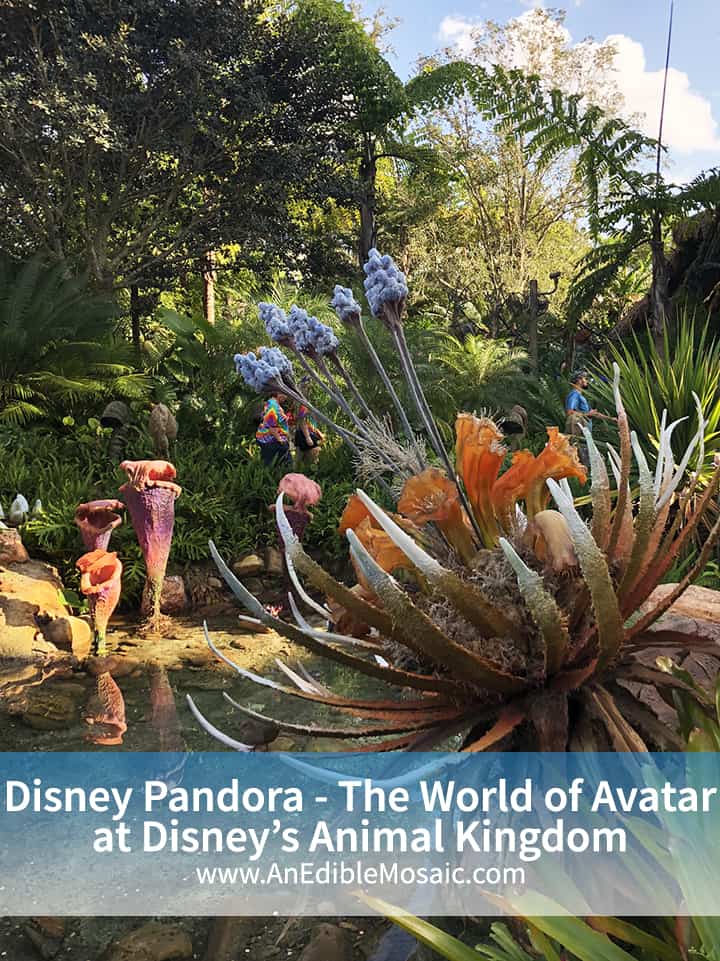 I'm always amazed at how innovative Disney is. Just when you think they couldn't possibly be any more creative, they pull out all the stops and once again leave us all mind-blown. If you've seen the movie Avatar and were amazed at their world, you're about to be even more so. Located inside Disney's Animal Kingdom, Pandora - The World of Avatar, puts you into the movie approximately a generation after the conflict ended that was depicted in the movie.
Disney Pandora – The World of Avatar at Disney's Animal Kingdom
Terrain, Flora, and Fauna at Disney Pandora
Walking through Disney Pandora, the foliage immediately stands out. It's quite unfamiliar; it's lush like a rainforest, but the plants are generally bigger and more spiky. There's a lot of green and also a lot of bright colors. There are floating mountains, streams, and waterfalls. You'll hear indigenous Pandoran insects, and also Na'vi music.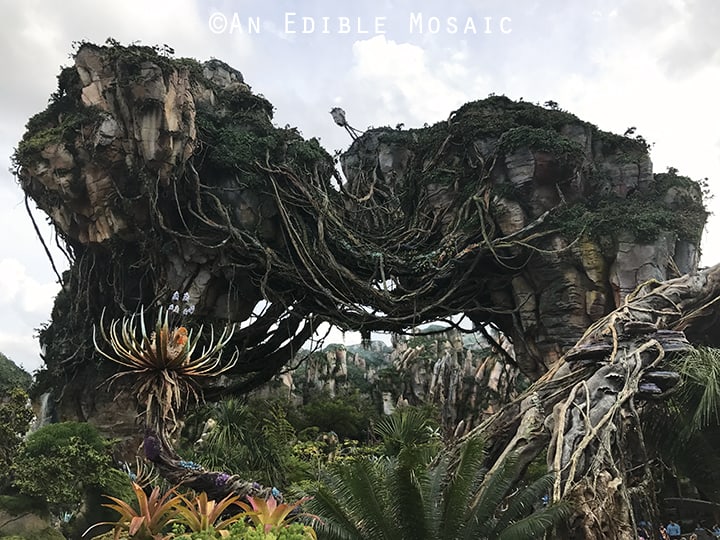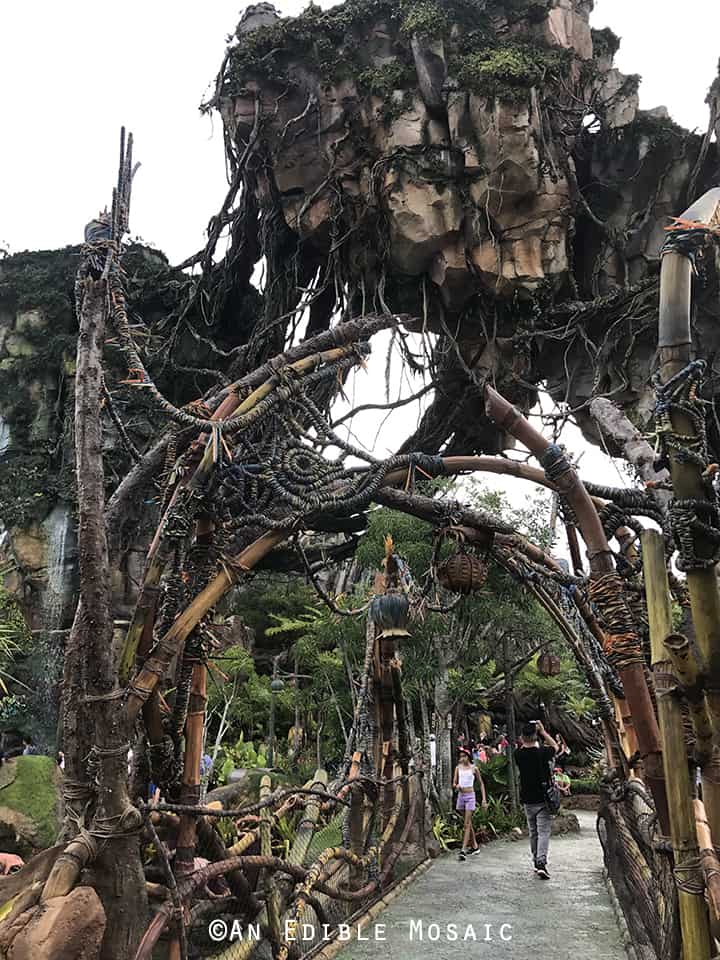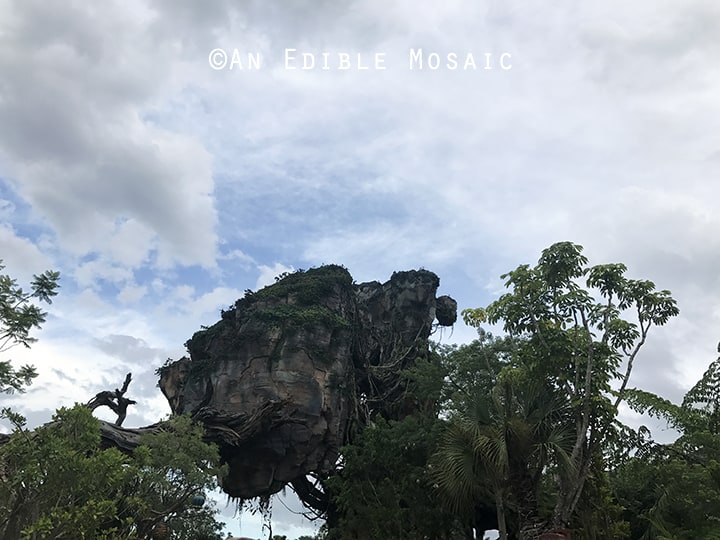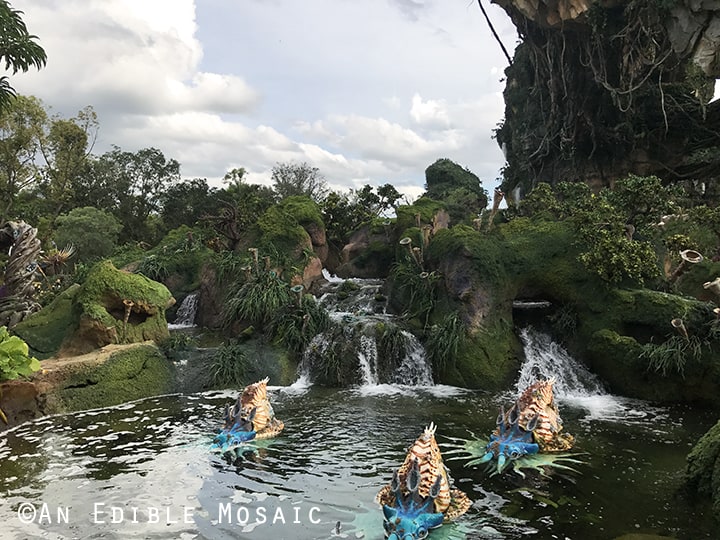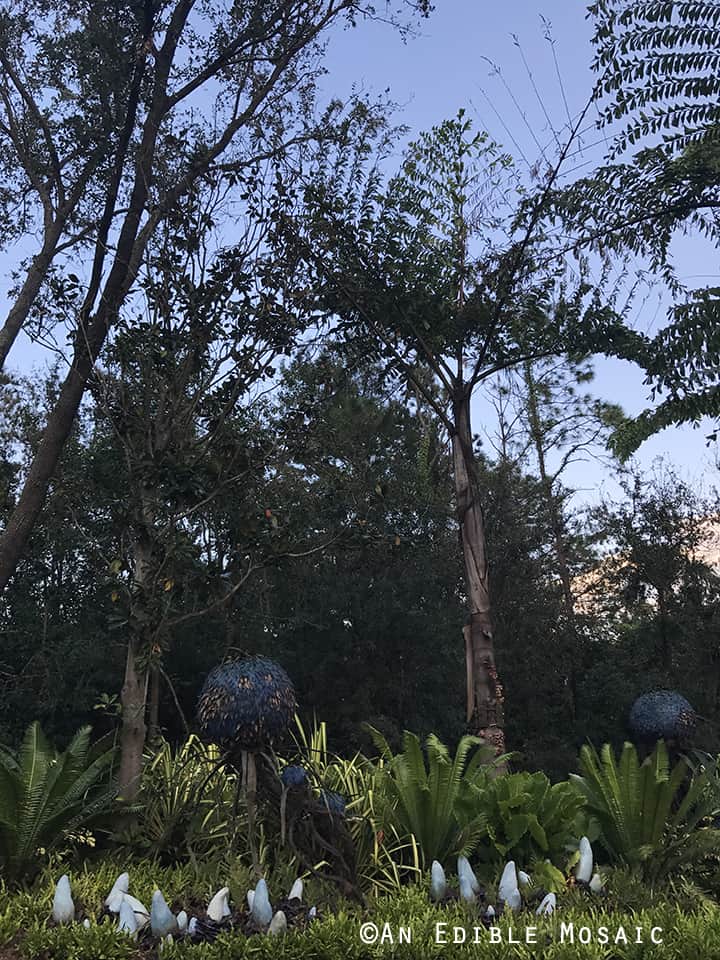 Interactive Elements at Disney Pandora
Be on the lookout for interactive elements at Disney Pandora. There are areas of water that shoot up at you under the hanging mountains when you walk by. You can move to your own beat as you play the drums and other instruments at Swotu Wayä. The Flaska Reclinata, a giant plant, releases mist and glows red when you place your hand on its side, and looks even more spectacular at night.
Flaska Reclinata During the Day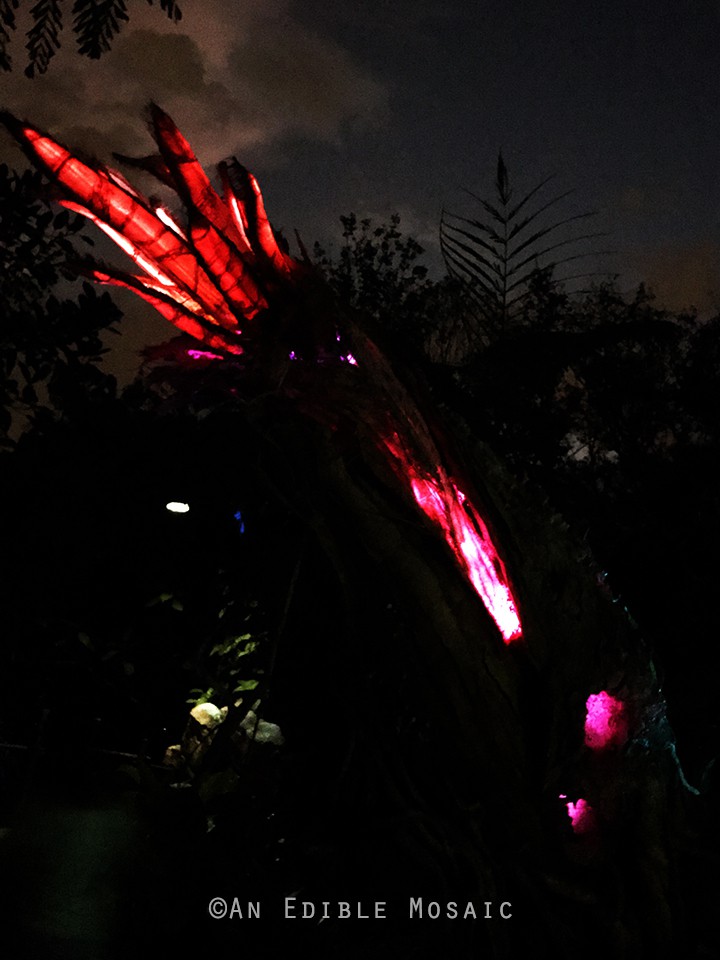 Flaska Reclinata at Night
Attractions at Disney Pandora
There are two rides in Pandora, Flight of Passage and Na'vi River Journey.
The Na'vi River Journey is peaceful and relaxing. It's an indoor boat ride through a bioluminescent forest with floating jellyfish and Pandoran animals. It features the Shaman of Songs, an enchanting audio-animatronic Na'vi woman.
My personal favorite attraction at Disney Pandora is Flight of Passage! It is a very immersive 3-D ride where you get to ride on a flying banshee (which reminds me of a cross between a dragon and a pterodactyl). This ride is somewhat similar to Soarin' in that you feel like you're flying above beautiful sights and as you're flying through you get to smell the fresh and clean scents of the Pandoran landscape, but it's next-level. You can actually feel your banshee "breathing" under you. You'll feel rushes of wind and sprays of mist at various points. You'll be blown away by the beauty of the landscape. The music is perfectly choreographed with what you're seeing, smelling, and even feeling (i.e., the banshee you're "riding" on) so that it's an elevated experience. Equally as impactful are the moments of silence and stillness that come after a crescendo. Let's just say it's hard to come off the ride dry-eyed.
Bioluminescence at Disney Pandora
Pandora is like a different world at night with it's streams, foliage, and paths becoming bioluminescent in various shades of blues, greens, purples, reds, and yellows.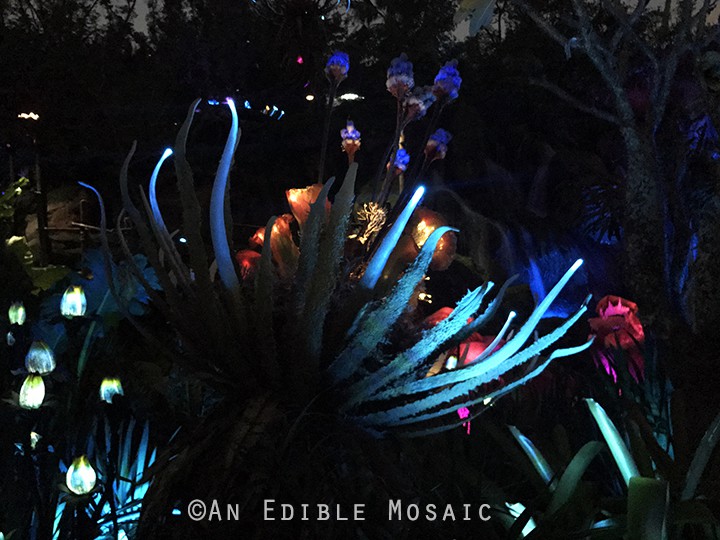 Na'vi People at Disney Pandora
You won't see Na'vi walking around Disney Pandora (probably because they're huge, about 12 feet tall), but you will see them in both the rides (there's a Na'vi in a large glass container in the queue for Flight of Passage, and the Shaman of Songs is singing at the end of the Na'vi River Journey). Also, you can see the top portion of a Na'vi woman in the gift shop after the Flight of Passage ride.
Food at Disney Pandora
Of course no trip to Disney Pandora would be complete without a stop for some grub! I love how fresh and health-conscious the food at Satu'li Canteen in Pandora is. My favorite thing there are the customizable bowls; you choose a base (Quinoa and Vegetable Salad, Rice and Grains, Red and Sweet Potato Hash, or Kale and Romaine Salad and Crunchy Slaw), and then you chooses a sauce (Black Bean, Green Onion Vinaigrette, or Creamy Herb), and a protein (Wood Fired Chopped Chicken, Spicy Fried Tofu, Sustainable Fish, or Sliced Chargrilled Roast Beef). My favorite combo bowl from Satu'li Canteen in Disney Pandora is the Quinoa and Vegetable Salad with Sliced Chargrilled Roast Beef and Creamy Herb Sauce.
Quinoa and Vegetable Salad with Sliced Chargrilled Roast Beef and Creamy Herb Sauce from Satu'li Canteen in Pandora.
Let's not forget dessert though! You get to choose between Na'vi Cheesecake (Blueberry Cheesecake topped with Passion Fruit Curd) or Neytiri's Chocolate Cake (Chocolate Cake with a Crunchy Cookie Layer and Banana Cream Topping). Although I'm usually a chocolate girl, the Na'vi Cheesecake was my preference because of the novelty of it.
Na'vi Cheesecake (Blueberry Cheesecake topped with Passion Fruit Curd) from Satu'li Canteen in Pandora.
And drinks in Disney Pandora are just as special! Pongu Pongu has both alcoholic and non-alcoholic options available.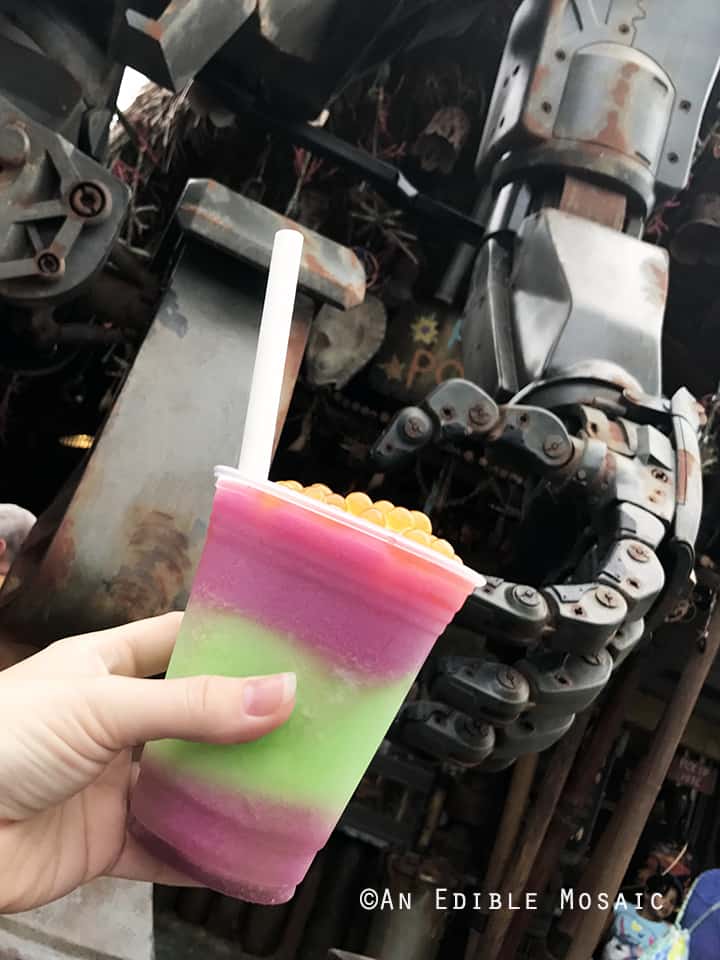 Night Blossom Non-Alcoholic Specialty Beverage (a mixture of Limeade with Apple and Desert Pear flavors topped with Passion Fruit Boba Balls) from Pongu Pongu (meaning "Party Party") in Pandora.
If you're planning a trip to Disney, you'll want to plan time for exploring all that Pandora has to offer! It'll be an experience the whole family will remember.
For More Disney Fun:
Disclosure: I visited Pandora as a guest of Disney; as always, opinions stated are my own.