The Epcot International Flower and Garden Festival is the perfect way to celebrate spring! With stunning flowers, delicious food, and fun concerts, there's something for everyone.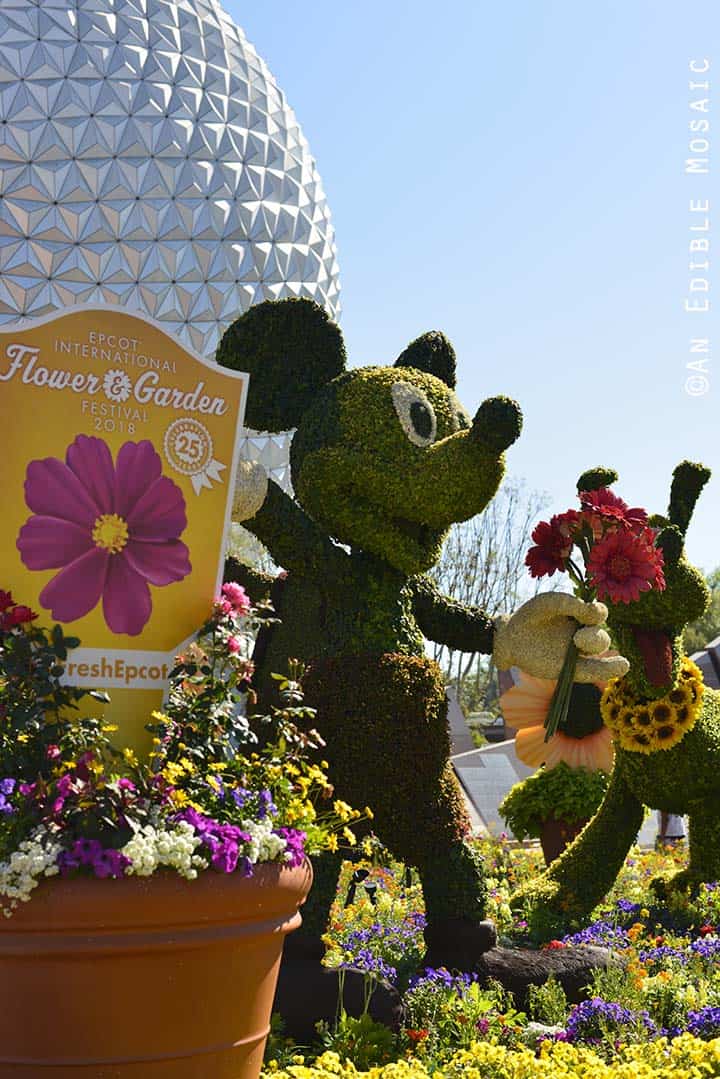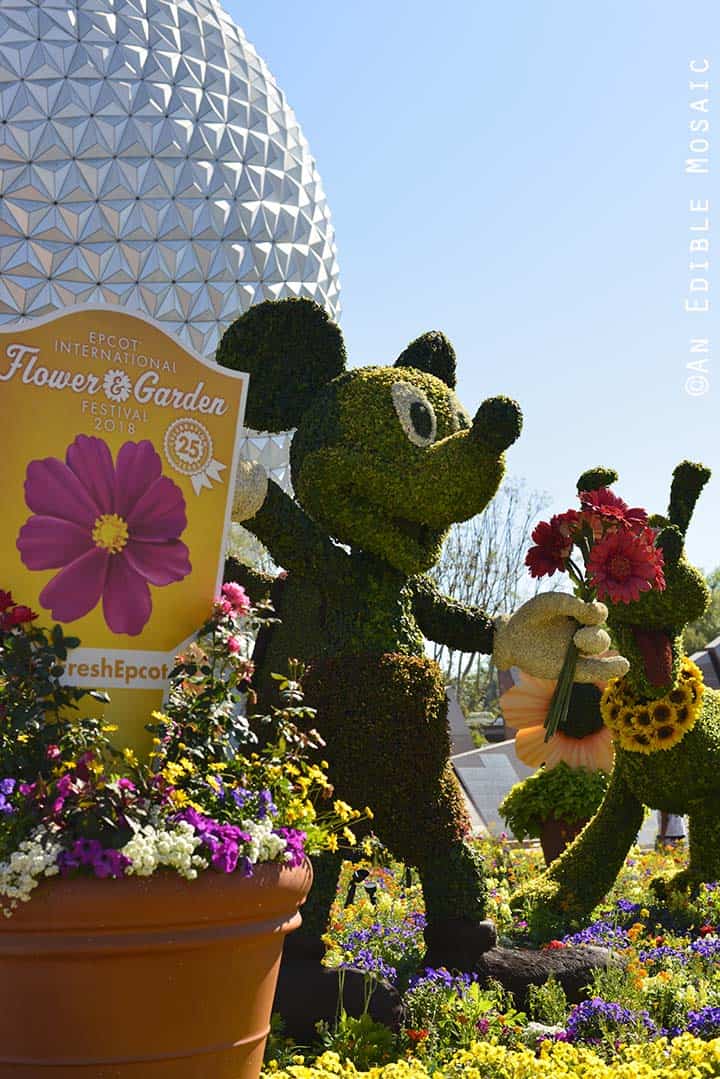 One of the things that makes Epcot so special is that it has various festivals going on throughout the year. The foliage, food, and entertainment is different for each festival, so you're getting to experience something new each time. It would be really hard to pick a favorite festival, but I will say that if you have a green thumb or appreciation for gardens, you won't want to miss the Epcot International Flower and Garden Festival!
Epcot Flower and Garden Festival 2019 Video
The Flowers: Topiaries, Gardens, and Exhibits at the Epcot Flower and Garden Festival
Flowers at the Epcot Flower and Garden Festival
The gorgeous flowers at the Epcot Flower and Garden Festival always take my breath away. From a colorful sea of petals, to perfectly manicured topiaries shaped like our favorite Disney characters, to wildflowers (my personal favorite), to exotic orchids, you'll be blown away by the beauty everywhere.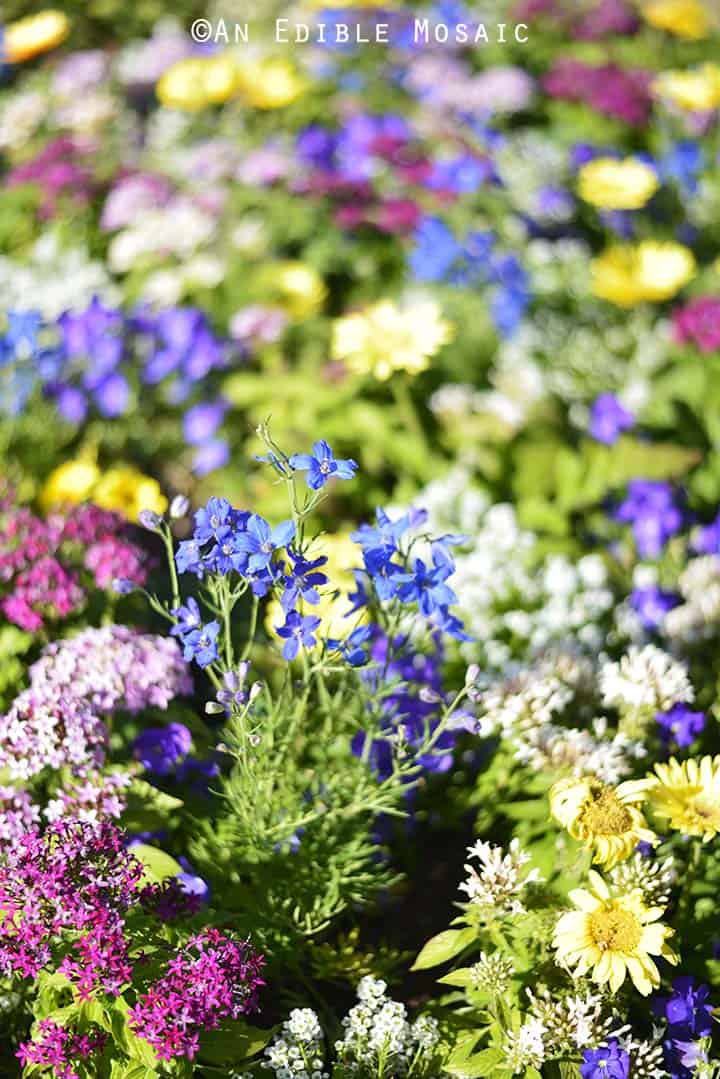 Topiaries at the Epcot Flower and Garden Festival
I love searching around the park for different topiaries; here are a few of my favorites...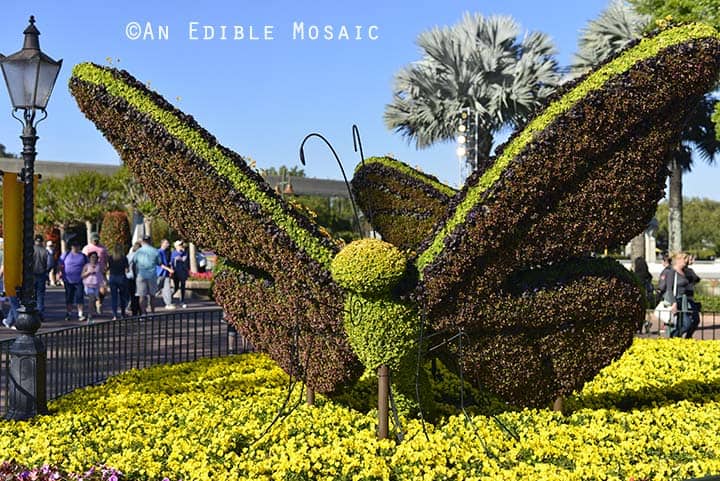 Butterflies (Near Showcase Plaza)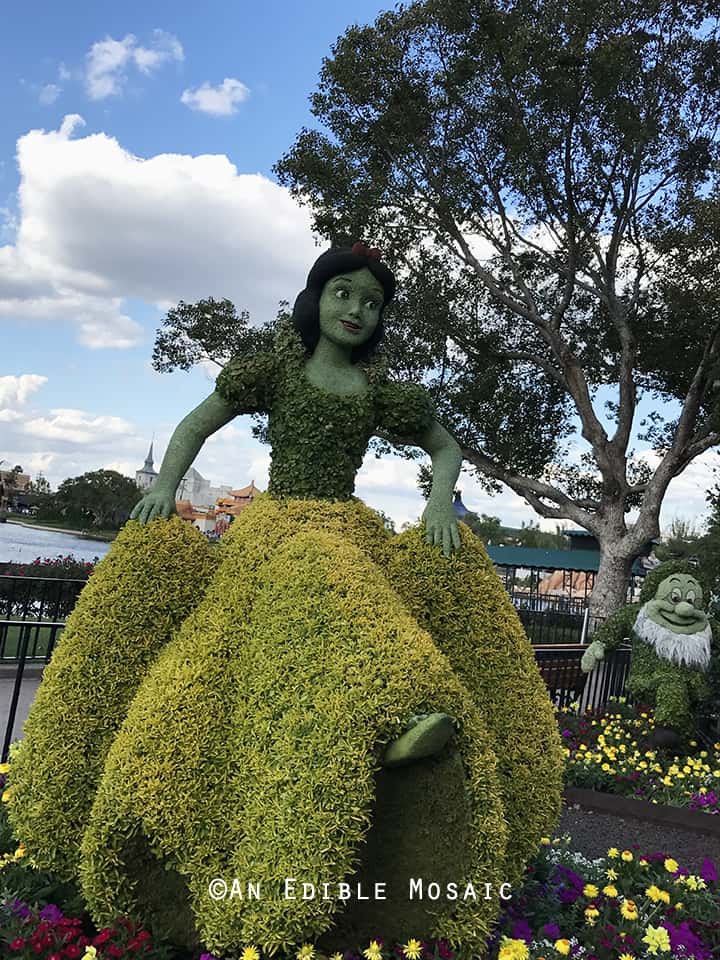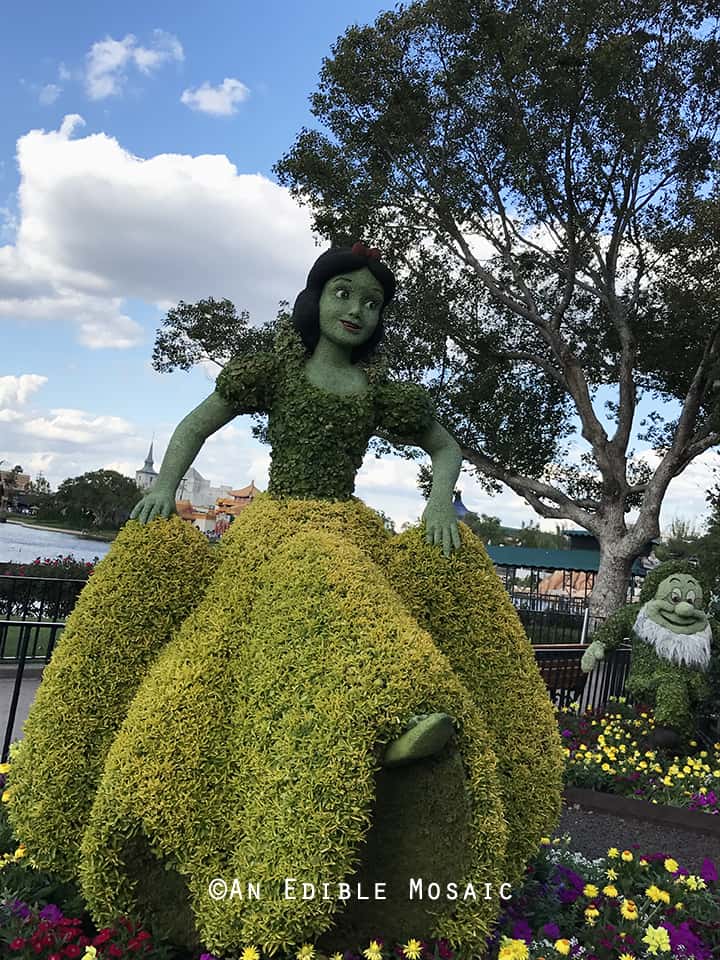 Snow White (Germany Pavilion)
Anna and Elsa (Norway Pavilion)
Simba and Friends (Outpost in World Showcase)
Beauty and the Beast (France Pavilion)
Panda (China Pavilion)
Lady and the Tramp (Italy Pavilion)
Themed Gardens and Exhibits at the Epcot Flower and Garden Festival
The themed gardens are not to be missed – they are so much fun! To name just a few of my favorites, the Bonsai Collection (Japan Pavilion) is a true masterpiece. The Garden Italiano (Italy Pavilion) is full of herbs and produce to make your favorite Italian dishes. The Floating Mini-Gardens rest on the ponds bordering the walkway between Future World and the World Showcase. The Shakespeare Garden (UK Pavilion) pairs famous quotes with vibrant flowers. The Bamboo Garden (China Pavilion) features bamboo in many patterns, colors, and sizes. Last but not least, the Goodness Garden Butterfly House (Future World) is full of beautiful foliage and lets you get a close-up look at several species of butterflies.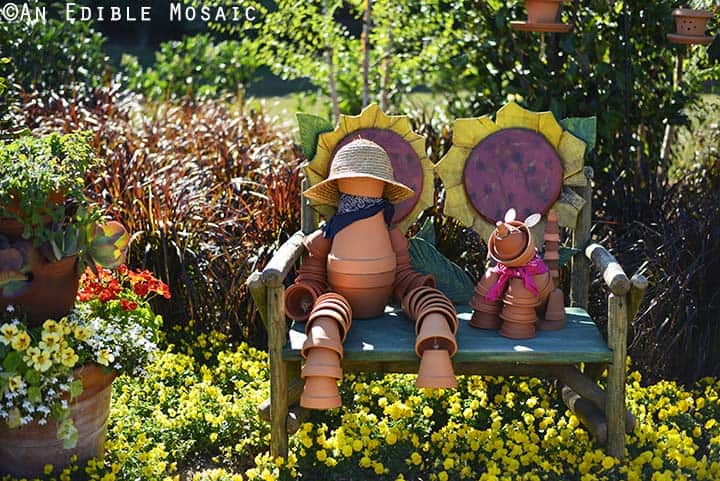 Food at the Epcot Flower and Garden Festival: Outdoor Kitchens and Menus
As lovely as the foliage is at this festival, the food is equally impressive. There are over a dozen Festival-exclusive Outdoor Kitchens located around the World Showcase, open daily from 11AM until 9PM.
Outdoor Kitchens
Bauernmarket: Farmer's Market (Germany Pavilion)
Cider House (UK Pavilion)
Fleur de Lys (France Pavilion)
Florida Fresh (Between France and Morocco Pavilions)
Hanami (Japan Pavilion)
Jardin de Fiestas (Mexico Pavilion)
La Isla Fresca (Showcase Plaza)
Lotus House (China Pavilion)
Northern Bloom (Canada Pavilion)
Pineapple Promenade (Showcase Plaza)
Primavera Kitchen (Italy Pavilion)
Taste of Marrakesh (Morocco Pavilion)
The Berry Basket (Showcase Plaza)
THE SMOKEHOUSE: Barbecue and Brews (The American Adventure)
The Honey Bee-stro Hosted by National Honey Board (Showcase Plaza)
A Few Food Highlights From the Epcot Flower and Garden Festival
It would take several trips to get to try all the Festival food, but here are a few things that I tried that stuck out to me.
Roasted Cauliflower with Buckwheat Honey Carrot Puree, Wild Rice Pilaf, Asparagus, Honey-Blistered Grapes, and Sunflower Brittle from The Honey Bee-stro
Harissa Chicken Kebab with Dried Fruit Couscous Salad from Taste of Marrakesh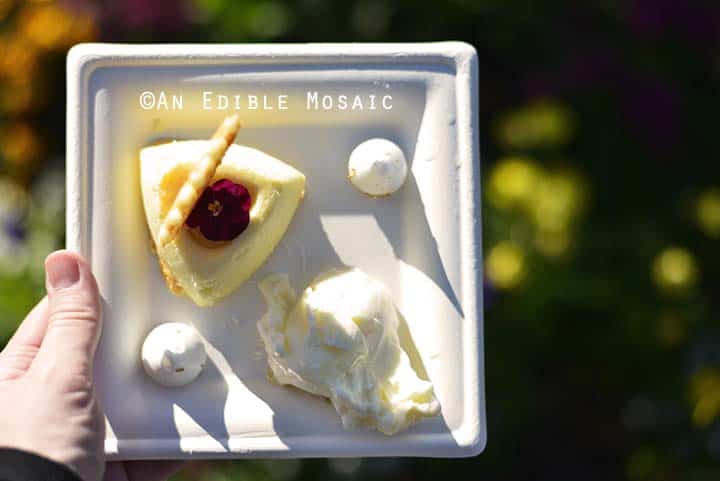 Local Wildflower Honey-Mascarpone Cheesecake with Orange Blossom Honey Ice Cream Garnished with Fennel Pollen Meringue Kisses from The Honey Bee-stro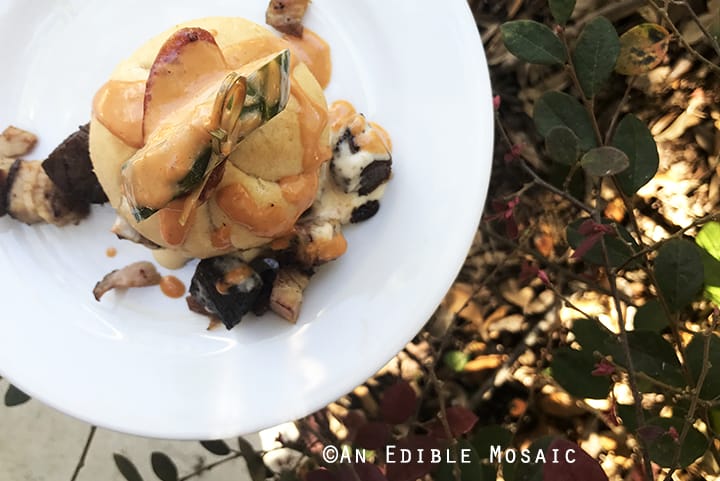 Beef Brisket Burnt Ends and Smoked Pork Belly Slider with Garlic Sausage, Chorizo, Cheddar Fondue, and House-made Pickle from The Smokehouse
Fried Cauliflower with Capers, Garlic Parsley, and Chili-Ranch Sauce from Taste of Marrakesh
Macaron au Chocolate en Sucette: Large Chocolate Macaron Lollipop from Fleur de Lys
Pear Cider-Brined Shredded Corned Beef with Braised Cabbage, Pears, and Branston Dressing from Cider House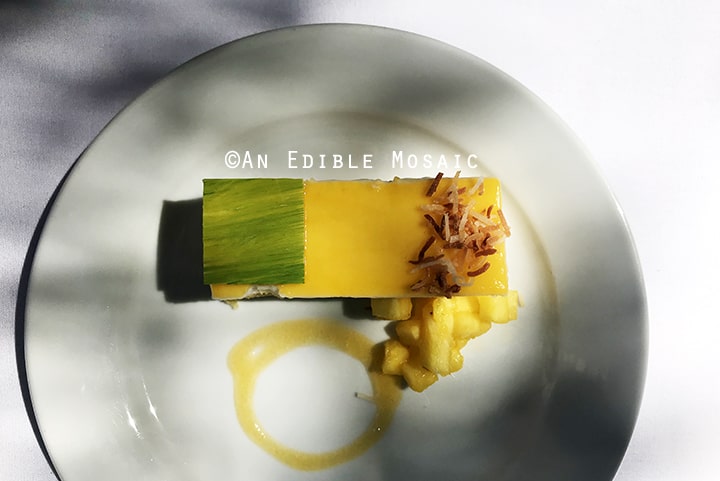 Tropical Mousse Cake: Layers of Passion Fruit Cake, Coconut Mousse, and Tropical Fruit Glaze with Fresh Pineapple from La Isla Fresca
The Music: Garden Rocks™ Concert Series
Concerts are scheduled from March 2 to May 28, 2018 and they take place in the America Gardens Theatre at World Showcase at 5:30PM, 6:45PM, and 8PM. Head over here to check out the lineup of musicians!
More Disney to Explore:
Disclosure: I visited the Epcot International Flower and Garden Festival as a guest of Disney; as always, opinions stated are my own.