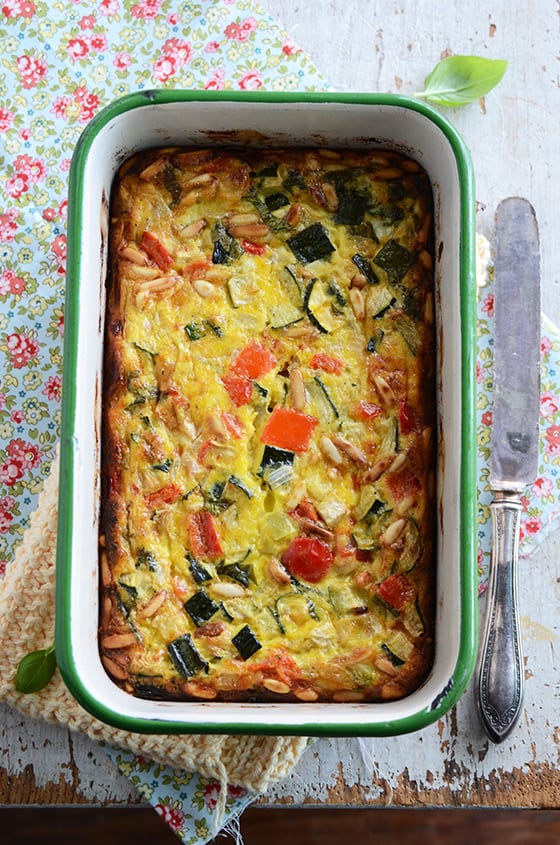 There are certain recipes you see that you expect to have certain ingredients just from reading the title.
Like macaroni and cheese. I always expect macaroni, and I always expect cheese…but that's not necessarily true. Take cauliflower "macaroni" and vegan "cheese"; true it doesn't taste exactly like the original, but still, it's macaroni and cheese-ish and delicious anyway.
Or fudge. I hear the word fudge and my mind goes to chocolate. But flavors like cappuccino, cinnamon bun, and peanut butter show that isn't the case. Chocolate obviously doesn't have to be included in a fudge-like confection for it to be tasty.
And then there's quiche. When I think of quiche, I inevitably think of buttery pastry and loads of cheese…a rich dish, made even richer by a splash or two of cream. This quiche took away my preconceived ideas about what quiche is.
I got the idea for a healthier version of quiche when I was looking through Hillary Davis' beautiful cookbook Cuisine Nicoise: Sun-Kissed Cooking from the French Riviera. I found this book incredibly interesting; the recipes in it aren't at all like the foods you'd find in a Parisian-style cookbook. From the south of France, the recipes in this cookbook are Mediterranean-style. Making plentiful use of heart-healthy ingredients like olives, legumes, seafood, and nuts, the dishes remind me of the types of foods I experienced in the Middle East; they are the types of recipes I shared in my Middle Eastern cookbook.
Cuisine Nicoise. Photo from my Instagram feed.
The only trouble I had with Cuisine Nicoise was deciding which lovely recipe to make first. I was fantasizing about a full Nicoise-style summer meal…Eggplant Caviar as an appetizer, followed by Herbes de Nice Salad, and then a main dish of Little Stuffed Vegetables and Chickpea, Eggplant, and Zucchini Fritters. And not to forget dessert, maybe Peach and Raspberry Salad with Dark Chocolate Sorbet to cap off a perfect evening. Alas, I decided to start simply; I took inspiration from this lovely book and made my own recipe, using a couple different Cuisine Nicoise recipes for ideas: Nicoise Zucchini Tian (which is actually more similar to a crustless quiche than a layered tian) and Swiss Chard Omelette. Both of these dishes are chock full of veggies, and so is my Roasted Vegetable Crustless Quiche.
With a generous amount of zucchini, red bell pepper, and onion, the only thing this quiche is heavy on is vegetables. I added basil for bright flavor and toasted pine nuts for nutty complexity. You won't even miss the crust.
Roasted Vegetable Crustless Quiche with Basil & Pine Nuts
Prep time:
Cook time:
Total time:
Ingredients
2 medium zucchini, diced
1 large red bell pepper, seeds removed and diced
1 large onion, diced
3 large cloves garlic, minced
2 tablespoons olive oil
1 teaspoon coarse kosher salt
¼ teaspoon ground black pepper
Butter, to grease the dish (use clarified butter if possible)
8 large eggs
½ cup (120 ml) plain, unsweetened almond milk (or any kind of milk you like)
3 tablespoons pine nuts, toasted and cooled
3 tablespoons thinly sliced basil leaves
Instructions
Preheat oven to 450F. Toss together the zucchini, red bell pepper, onion, garlic, olive oil, salt, and pepper in a large bowl; spread in an even layer on a large baking sheet. Roast the vegetables until tender and starting to turn brown in spots, about 30 minutes, tossing once halfway through. Cool.
Lower oven to 375F and grease a 2½ quart casserole dish with butter.
Beat together the eggs and milk, then mix in the roasted vegetables, toasted pine nuts, and basil.
Pour into the prepared dish and bake the quiche until it's golden, the eggs are set, and a paring knife inserted in the center comes out clean, about 50 to 55 minutes.
Let stand 10 minutes before serving.
If you love the food of Nice, you are in luck because I'm giving away a copy of this beautiful book! One lucky winner will receive a copy of Hillary Davis' cookbook Cuisine Nicoise.
To participate in this giveaway, leave a comment on this post telling me what your favorite French food is.
For extra entries, you can do any of the following (please leave a separate comment for each):
You do not need to have a blog to enter this giveaway! This giveaway is open to anyone anywhere in the world. This giveaway ends Thursday, August 15, 2013 at 11:59PM EST. After that the winner will be randomly selected and notified by email; the winner will have 48 hours to claim his/her prize before a new winner is selected. Good luck to all!
Disclosure: I received a free review copy of Cuisine Nicoise (Gibbs Smith; August 2013); as always, opinions are my own. This post contains Amazon affiliate links to products I believe in, which means that even though it doesn't cost you anything extra, I will receive a small amount of money from the sale of these items, which helps me keep this site alive – thank you for helping to support An Edible Mosaic!