Thank you to Tyson Foods for sponsoring this post. I am happy for the opportunity to share brands that I believe in with my readers, and I hope you enjoy my recipe for Herbed Chicken and Brown Rice Spanakopita Bowls.
I don't know who first came up with the idea of a meal in a bowl (for some reason, I feel like it was a fast food chain!), but whoever it was is a food genius.
(Unless of course you're the kind of person who doesn't like the different components on your plate to touch. I know someone who keeps her pile of peas separate from her meat (which is no small task since they tend to roll all over the plate), and her meat separate from her mashed potatoes and gravy. She takes a bite of each separately (first peas, then meat, then potatoes, and then repeat), but she'll never mix and match bites (like a couple peas in with a bite of mashed potatoes). It's amusing to watch, but hey, we all have our quirks (culinary or otherwise), right?)
But back to meals in a bowl.
If you're anything like me (and you like to eat a little bit of every component of a meal in the same bite), you probably love a good meal in a bowl as much as I do. The other brilliant aspect of the whole bowl thing is that it makes whatever you're eating feel like comfort food, even if it's a pretty healthy dish. Take these Herbed Chicken and Brown Rice Spanakopita Bowls, for example.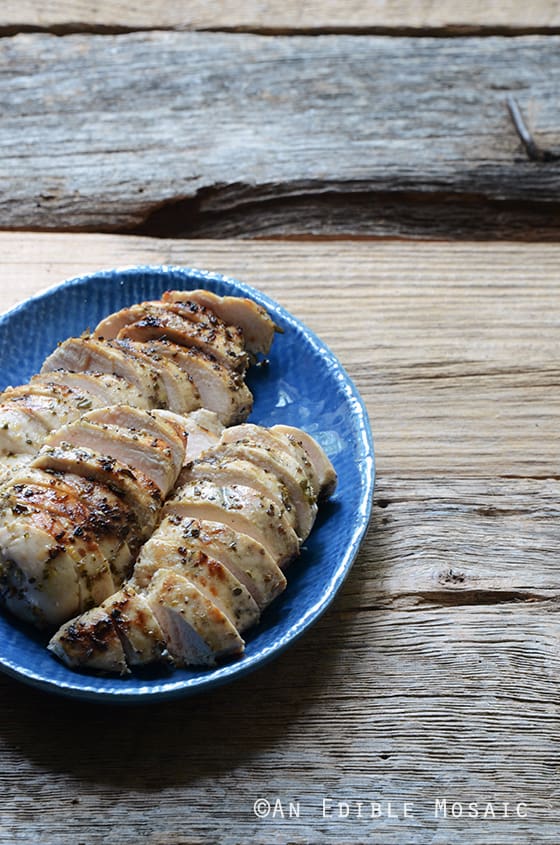 This is a nice balanced meal with lean protein, veggies, and a whole grain, but served up like this it feels hearty and warming, and downright comforting.
Although it's underutilized in my kitchen, brown rice is one of my favorite whole grains because of its natural nutty flavor and chewy texture. Kale, onion, and garlic replace spinach in my version of Spanakopita here. If you're a fan of kale, I know you'll already be sold on what a tasty flavor combo kale and garlic is; add a drizzle of lemon and it really doesn't get any better. But maybe the star of the entire dish is the fragrant, herbed chicken.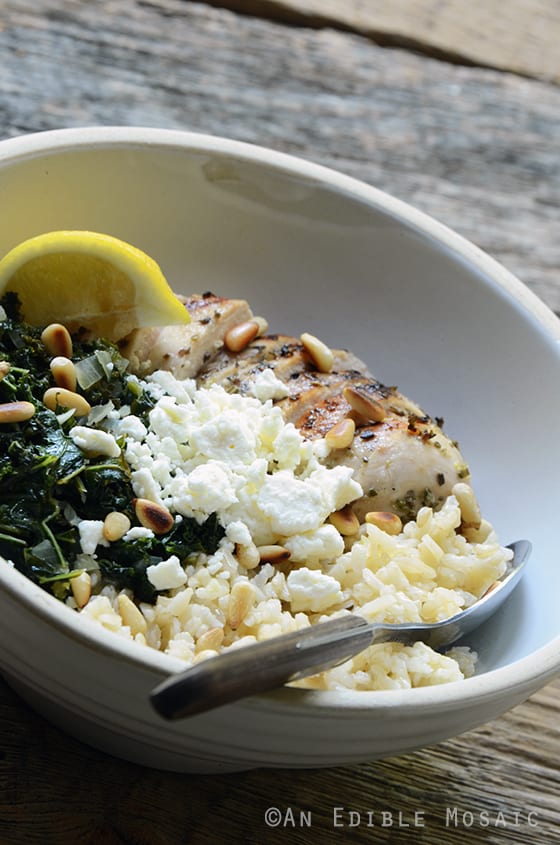 I used Tyson® Fresh Chicken for its fresh flavor (it arrives at your store fresh, delivered within just days from leaving the farm) and because each piece is already hand-trimmed, which makes it a real time-saver. And don't forget, Tyson Fresh Chicken is all natural* with no added hormones or steroids**. Add a flavorful marinade and grill it on a charcoal fire, and you might just have your family telling you that this chicken is the best they've had.
If chicken is a staple in your family and you're always looking for new ways to make it, give this recipe a try and be sure to head over here for some delicious chicken recipe inspiration!
Herbed Chicken and Brown Rice Spanakopita Bowls
Prep time:
Cook time:
Total time:
Ingredients
Herbed Chicken:
½ cup (120 ml) water
3 tablespoons fresh lemon juice
3 tablespoons olive oil
3 cloves garlic, peeled and cracked
2-3 teaspoons fresh lemon zest
2 teaspoons minced fresh rosemary
2 teaspoons dried oregano
¾ teaspoon coarse kosher salt
¼ teaspoon ground black pepper
1 lb (455 g) boneless, skinless Tyson Fresh Chicken breasts
Brown Rice:
1 cup (180 g) long-grain brown rice
2 tablespoons olive oil
¾ teaspoon coarse kosher salt
1¾ cups (415 ml) boiling water
Kale:
3 tablespoons olive oil
1 lb (455 g) kale, rinsed, de-stemmed, and chopped
1 medium onion, diced
3 cloves garlic, minced
½ teaspoon coarse kosher salt
⅛ teaspoon ground black pepper
¼ cup (60 ml) water
Other:
4 tablespoons crumbled feta cheese
4 tablespoons toasted pine nuts
Fresh lemon wedges, for serving (optional)
Instructions
Combine all ingredients for the chicken in a large bowl, and stir to coat the chicken. Cover and refrigerate 4 hours or overnight.
For the rice, soak the rice in lukewarm water for 15 minutes, and then drain. Add the oil to a medium saucepan over medium-high heat. Once hot, add the drained rice and salt, and cook the rice until it's toasted and smells nutty, about 3 minutes, stirring occasionally. Add the water, bring to a boil, and then cover the pot, turn the heat down to very low, and cook until the water is absorbed and the rice is tender, about 30 to 35 minutes. Turn the heat off and let the rice sit covered for 10 minutes before fluffing with a fork and serving.
Meanwhile, for the kale, heat the oil in a large, deep skillet over medium-high heat. Once hot, add all the ingredients for the kale and turn the heat down to medium. Cover the pot and cook until the kale is tender and the liquid is evaporated, about 10 minutes, stirring occasionally.
Remove the chicken from the marinade, and grill until fully cooked, about 12 to 15 minutes (there should be no pink in the center). Let the chicken rest for 5 to 10 minutes after grilling and then slice it cross-wise.
To assemble the bowls, divide the brown rice, kale, and chicken between 4 bowls. Top each with 1 tablespoon feta and 1 tablespoon pine nuts. Serve with lemon wedges for squeezing on top, if desired.
*Minimally processed. No artificial ingredients.
**Federal regulations prohibit the use of added hormones or steroids in chicken.
Disclosure: Tyson Foods compensated me for developing this recipe and posting it; as always, opinions stated are my own.