From first bite, I've always been a kale-lover, but that might be because the first time I had it I was an adult. (My mom has a serious dislike of all leafy greens so she literally never made them – not once! – for my sister and I growing up. But don't worry, we weren't veggie-deprived! She was still of the strict belief that every meal should include a vegetable.)
But back to kale. Surprisingly, the bitterness or any other common complaints about it never bothered me. Actually, I've always been a fan of leafy greens in general; spinach, collard, chard, you name it. But especially kale.
Which is why I was insanely excited for my friend Julia's (The Roasted Root) cookbook Let Them Eat Kale! You can let me eat forkfuls of kale any (or every) day and I'll be a happy girl.
(Side Note: This is the same incredibly talented Julia who authored Delicious Probiotic Drinks, which I talked about in this post. She is an amazing lady!)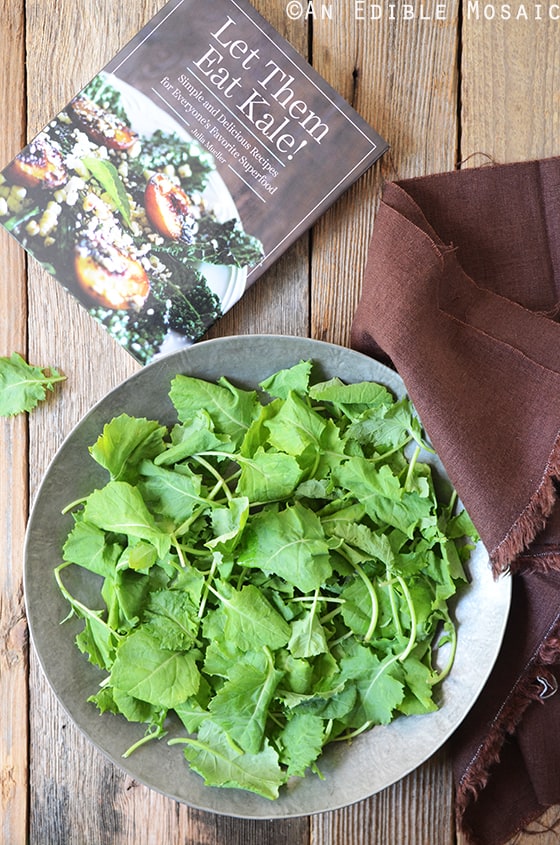 But if you're not such a die-hard kale enthusiast as I am, let me try to give you a little persuasion in the form of a live example. I have a friend (who we'll call LM, for the sake of giving her an anonymous name – and no, those aren't her real initials), who walks with a bit of a hobble due to a benign growth on her foot. She's tried everything – or so she thought – including surgery to fix the problem, but six months after surgery she was worse than when she started. The growth was coming back with a vengeance, and was bigger than it had been previously.
She realized she needed a real change, and not just a band-aid to cover up the problem; one day she resolved to overhaul her life.
LM started exercising; nothing crazy, just walking around the block at first. This turned into walking down the street, and eventually speed-walking for a couple miles at a time. She slowly started cutting processed foods (especially sugar) out of her diet. She added a glass of fresh-pressed fruit and veggie juice to her diet every single morning. Let me specify that she changed up the fruits and vegetables that she used except for one thing: she always included kale.
Now, LM isn't a doctor and neither am I, but I'm going to tell you what I saw with my own eyes. Within two weeks of her making these changes, the growth on her foot had reduced to a mere ¼ of its size. She also said she was sleeping better, walking better, losing weight, and generally feeling better about herself. Of course LM doesn't attribute her positive changes to the kale alone, but it's been her one constant, and she says she's sure it's a contributing factor.
If that isn't enough to make you want to add more kale to your life, Julia talks about the health benefits in her cookbook. Kale is one of the most nutrient-dense superfoods; just one cup of chopped kale provides 684% of your daily value of Vitamin K, 206% of Vitamin A, and 134% of Vitamin C. Kale's antioxidants may reduce the risk of inflammation and cancer, and its detoxifying properties help keep your cells functional and your blood clean.
Plus, let's face it: kale is just plain delicious, as Julia proves over and over with the recipes in her beautiful cookbook. Indian Lamb Curry with Kale; Butternut Squash and Kale Chili; Kale and Chickpea Salad with Ginger-Tahini Dressing; Turkey Sliders with Caramelized Onions, Sautéed Kale, and Blue Cheese; Crockpot Moroccan Lentil Stew; and Buttery, Crispy Sautéed Kale Crostini with Beet and Kale Pesto are just the tip of the iceberg when it comes to the recipes from Let Them Eat Kale! that I am excited to try!
I started with Julia's recipe for Fall Harvest Kale Salad with Cinnamon-Orange Dressing as inspiration and put a few of my own twists on it. Her recipe calls for pear and pecans, which I replaced with apple and hazelnuts. She made a dressing featuring balsamic vinegar and orange juice, which I replaced with apple cider vinegar and fresh apple cider. Any way you want to do it, I'm sure this salad will be fabulous.
It's one of those salads that tastes amazing for sure (roasted squash…mmm!), but it also satisfies like a real meal instead of leaving you hungry again in an hour and a half. It's one of those salads that I could absolutely never get enough of, especially this time of year since it's full of fall flavors.
If you think you don't like kale (or if you know someone who thinks they don't like kale), baby kale is a great way to go because it's generally more tender and less bitter than larger kale leaves. And the flavors going on in this salad will win over even the pickiest of eaters.
Harvest Kale Salad with Roasted Acorn Squash, Toasted Hazelnuts, and Apple-Cinnamon Vinaigrette
Prep time:
Cook time:
Total time:
Ingredients
Harvest Kale Salad:
1 (about 1½ lb/680 g) acorn squash
Olive oil
Salt and black pepper
6 cups (6 oz/170 g) baby kale
1 apple (any kind you like), cored and sliced
¼ cup toasted hazelnuts, coarsely chopped
Apple-Cinnamon Dressing:
¼ cup (60 ml) fresh apple cider
2 tablespoons olive oil
1 tablespoon apple cider vinegar
1 tablespoon maple syrup
¼ teaspoon ground cinnamon
⅛ teaspoon salt
⅛ teaspoon black pepper
Instructions
Preheat the oven to 425F.
Trim the top and bottom ends off the squash, and then cut it lengthwise down the middle. Scoop out the seeds and slice the squash across into ⅓-inch thick slices.
Drizzle a couple tablespoons of olive oil onto a large baking sheet; add the sliced squash and a sprinkle of salt and black pepper, and toss to coat the squash.
Spread the squash out in an even layer and bake until it's crispy outside and soft inside, about 35 minutes, flipping the squash once halfway through. Cool.
Whisk together all ingredients for the dressing and set aside.
To assemble the salad, spread the baby kale out onto 1 large platter or 4 individual-sized salad plates. Top with the squash, apples, hazelnuts, and a drizzle of dressing.
Serve.
Notes
Recipe inspired by and adapted from Julia Mueller's recipe for Fall Harvest Kale Salad with Cinnamon-Orange Dressing in Let Them Eat Kale! (Skyhorse Publishing; 2014).

Squash: If you want, you can cut off the squash's peel once it's cooked (I leave it on though – it's delicious!).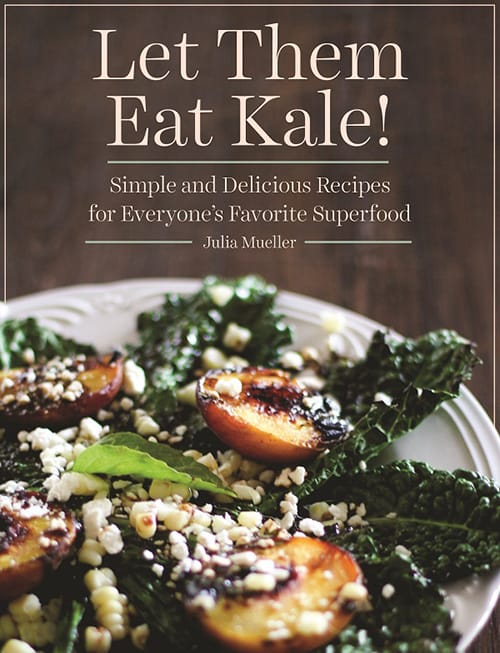 I'm thrilled to be able to give away a copy of Julia's beautiful cookbook to one lucky reader! (Thank-you to Skyhorse Publishing for their generosity!)
To participate in this giveaway, just leave a comment on this post telling me your favorite recipe using kale.
For extra entries, you can do any of the following (please leave a separate comment for each):
You do not need to have a blog to enter this giveaway. For shipping purposes, this giveaway is only open to U.S. residents. This giveaway ends on October 2, 2014 at 11:59 PM EST. Once the giveaway ends, the winner will be randomly chosen and notified via email. The winner will have three days to respond with his or her mailing information, otherwise a new winner will be randomly chosen. Good luck to all!
Disclosure: I received a free review copy of Let Them Eat Kale! (Skyhorse Publishing; 2014), and the publisher is also providing the cookbook for this giveaway. As always, opinions are my own. This post contains Amazon affiliate links to products I believe in, which means that even though it doesn't cost you anything extra, I will receive a small amount of money from the sale of these items, which helps me keep this site alive – thank you for helping to support An Edible Mosaic!