During law school this was my go-to meal…I ate it once or twice a week for three years, which is probably why I rarely make it anymore, and why my husband tells me all the time that we should eat fish more often. This meal is quick (about 15 minutes from start to finish), healthy, delicious, and so pretty to look at (which is of course important, since we eat with our eyes before we eat with our palates or our stomachs).
Scroll down the ingredient list and you'll find an unusual pairing…fish and cheese. (I know, usually this is a horrifying combination!) This is only instance when I like the taste of fish and cheese together, and this is only because it's bleu cheese. I find that the creamy texture and tangy flavor of bleu cheese pair well with flaky, mild-flavored white fish. Of course, feel free to leave it out if you prefer. ;)
If you want, you can make this dish with salmon instead of a white fish (in that case I would definitely leave out the bleu cheese). If you use salmon, a little fresh grated ginger cooked along with the garlic takes this dish to another level.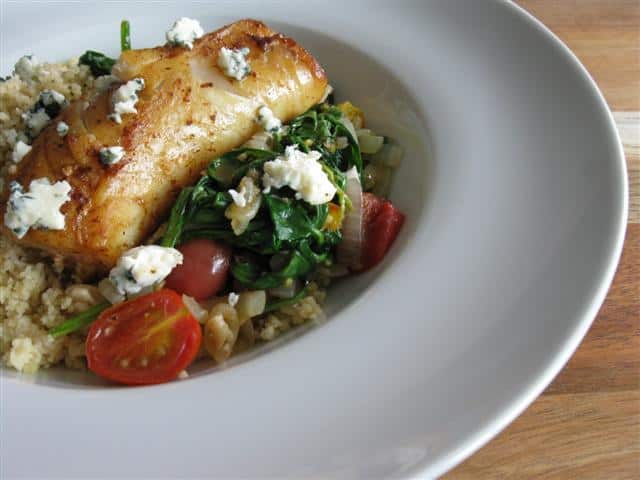 Fish with Sautéed Spinach & Tomatoes
(Yield: 2 servings)
2 TB olive oil, divided
1 onion, thinly sliced
2 cloves garlic, minced
1 c halved or quartered cherry tomatoes
4 c baby spinach
2 fillets of white fish, such as halibut, cod, haddock, or tilapia
Salt and pepper to taste
A few bleu cheese crumbles (optional)
Prepared couscous (for serving)
Preheat the oven to 400F. Heat 1 TB of oil over medium heat, then add the onion and sauté for 6-8 minutes. Add the tomatoes and garlic and sauté another minute or two, then add the spinach and sauté until it's just wilted (1-2 minutes). Season to taste with salt and pepper.
Pat the fish dry, then season both sides with salt and pepper. In an oven-safe pan, heat 1 TB of oil over high heat, add the fish, and sauté for 2-4 minutes on each side (searing the fish over high heat like this is what gives it the golden color on the outside). Transfer the fish to the oven and bake for about 5 minutes (the length of time needed will depend on the thickness of the fish). The fish is done when it's opaque and flakes easily with a fork.
Serve the fish on top of the couscous and spinach and tomatoes.