Mike and I divvy the household chores pretty evenly based on what each of us is good at. I do all the cooking, except on occasions few and far between. On the rare off night that I don't feel like cooking or going out, I ask Mike to cook. He typically responds that me asking him to cook is like him asking me to engineer a computer network. Since there's truth to that, I let it go and those are typically the nights we order in or eat eggs.
I consider myself lucky because one of my main chores – cooking – is something I really enjoy. It relaxes me. Other things I absolutely love about cooking are how genuinely grateful people are for a home-cooked meal, and how amazing it feels to feed good food to family and friends. Also, I think there's something truly magical about cooking. Some dishes are so beautiful and taste so glorious that they look like you slaved away all day on them when in fact they took minimal effort. This is one such dish. Aside from the 30 minutes or so that it takes to get it in the oven, it pretty much cooks itself. If you want to make this on a day that you won't be home, you could put it in a crock pot instead of the oven, and come home to a fabulous meal and a house full of delicious smells.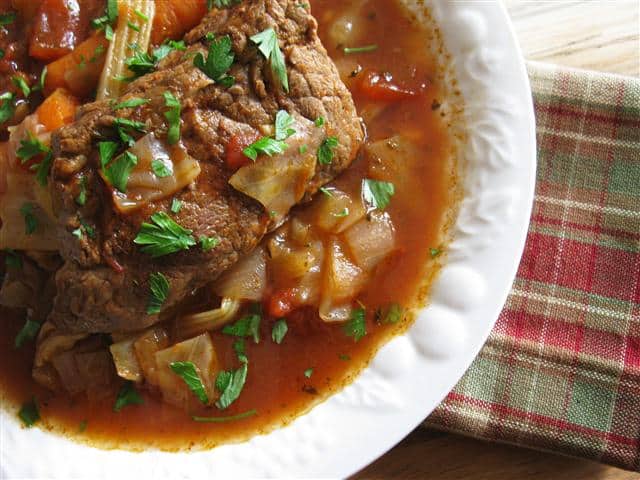 Braised Beef & Vegetables
(Yield: 8 servings)
2 TB olive oil
About 2 lb sirloin beef steak, trimmed of fat and cut into 8 large pieces
½ small head green cabbage, chopped (about 6 c)
2 large onions, chopped
4 large carrots, chopped into 2-inch pieces
4 large stalks celery, chopped into 2-inch pieces
4 large cloves garlic, minced
1 (28 oz) can diced tomatoes, with juices
1 (6 oz) can tomato paste
1-2 TB tamari sauce (optional, but I think it adds a nice depth of flavor)
1 teaspoon Mrs. Dash seasoning*
1 teaspoon dried marjoram
2 teaspoon dried thyme
2 bay leaves
2 beef bouillon cubes
Kosher salt and pepper
Fresh minced parsley (optional, for garnish)
Add oil to a 5-quart pot with a lid (preferably a Dutch oven) over high heat; add meat once the oil starts to ripple. Sear meat until browned on all sides (about 2-3 minutes per side); remove and set aside (you may need to cook the meat in batches so you don't overcrowd the pan).
Preheat oven to 275F. To the pot you seared the meat in, add cabbage, onion, carrot, celery, garlic, and ½ teaspoon kosher salt; turn heat down to medium and cook (covered) until the veggies are starting to soften (about 15 minutes), stirring occasionally. Stir in the diced tomatoes, tomato paste, tamari sauce, Mrs. Dash Seasoning, marjoram, thyme, bay leaves, bouillon, and just enough water to cover the veggies (about 2 c). Add the meat with its juices that have collected back into the pot. Cover the pot, turn heat up to medium-high, and bring it to a boil.
Transfer the pot to the oven and cook about 3 hours, or until the meat is fork-tender. Taste broth and season with salt and pepper as desired. For each serving, ladle veggies and broth into a shallow bowl and top with a piece of meat. Serve garnished with fresh minced parsley if desired.
*Mrs. Dash is a salt-free seasoning blend. I use the "Table Blend" that contains the following: onion, black pepper, chili pepper, parsley, celery seed, basil, bay, marjoram, oregano, savory, thyme, cayenne pepper, coriander, cumin, mustard, rosemary, garlic, orange peel, carrot, lemon juice powder, tomato, red bell pepper, citric acid, and oil of lemon.