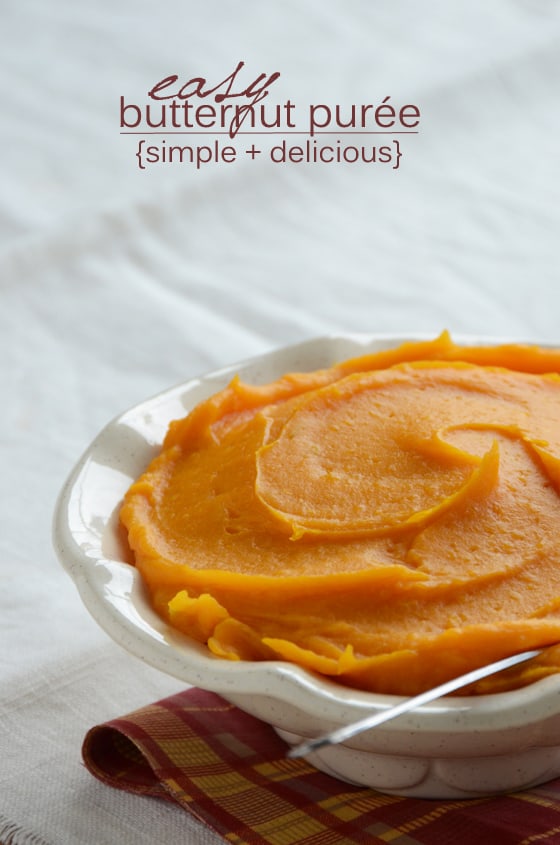 When I was a kid, every Thanksgiving I tried to hide from my mom the fact that my plate was bereft of squash. (Not veggies, mind you, just squash…the nemesis to my 10-year-old self.) My mom didn't miss a beat though. Before I knew what had happened, she'd have spooned a "no thank you" helping onto my plate that to me felt very much like a "thank you, I loved it so much I think I'll take seconds"-sized helping.
Now I do love squash and don't mind a second helping.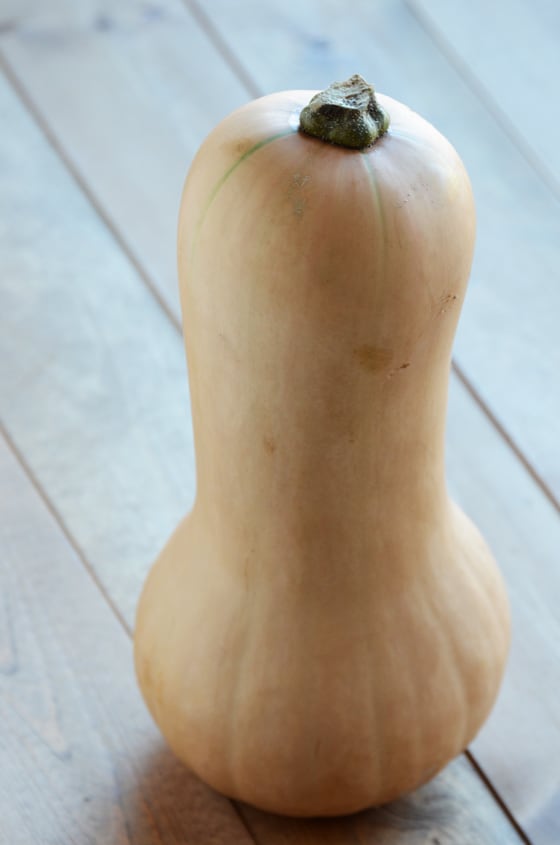 The lovely butternut, one of my favorite squashes.
With Thanksgiving next month I don't think it's too early to start thinking about side dishes. A simple puréed squash is something so easy, so wonderfully delicious, that I think it should have a place in everyone's holiday repertoire.
See how creamy this purée is? It is only butternut squash – no butter, no cream, no milk, no anything – and it is creamier with a more velvety texture than any mashed potatoes I've ever had. While butternut purée is perfect in is simplicity as an addition to a large festive meal (like Thanksgiving dinner), it can also be flavored any way you like and enjoyed for any occasion. My mom always goes sweet with either Candied Butternut Purée (which is baked with a topping of marshmallows, brown sugar, and butter) or Streusel-Topped Butternut Purée (which is baked with an oatmeal-brown sugar streusel topping). Sweet is good, but I also like butternut purée done savory, in things like Butternut Mac and Cheese and Curried Butternut Chowder.
Butternut goes well beyond a side dish for a holiday meal though; check out the Top-Rated Butternut Squash Recipes on Cooking Light for more butternut inspiration.
How to Make Butternut Squash Purée
1 whole butternut squash, any size you like
(My squash, which was 3 lbs 10 oz raw, yielded 2 lbs of squash purée, which feeds about 10 people as a side dish)
1. Preheat oven to 400F; line a baking sheet that's large enough to hold your squash with foil (optional, for easy clean-up).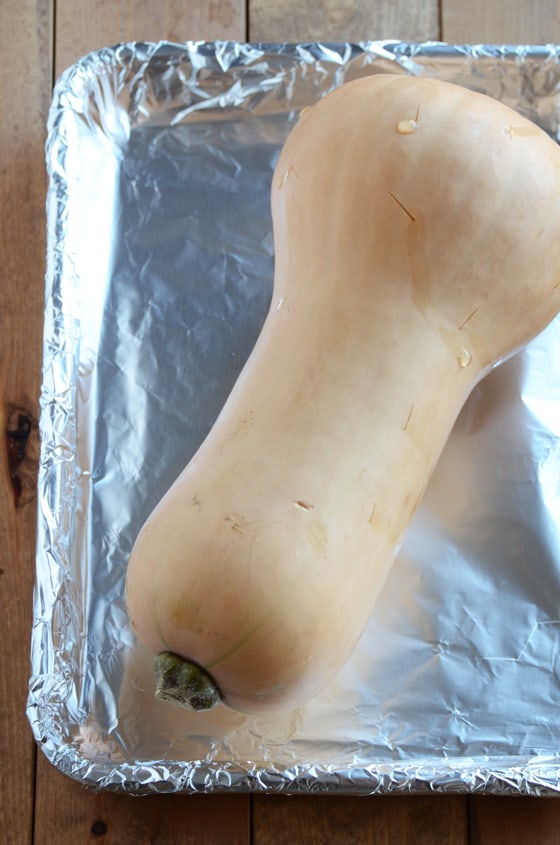 Ready to Roast
2. If there's any dirt on the outside of the squash, give it a rinse and pat it dry. Use a sharp paring knife to poke several holes in various spots around the squash (you will see a clear liquid start to seep out almost immediately; this is normal).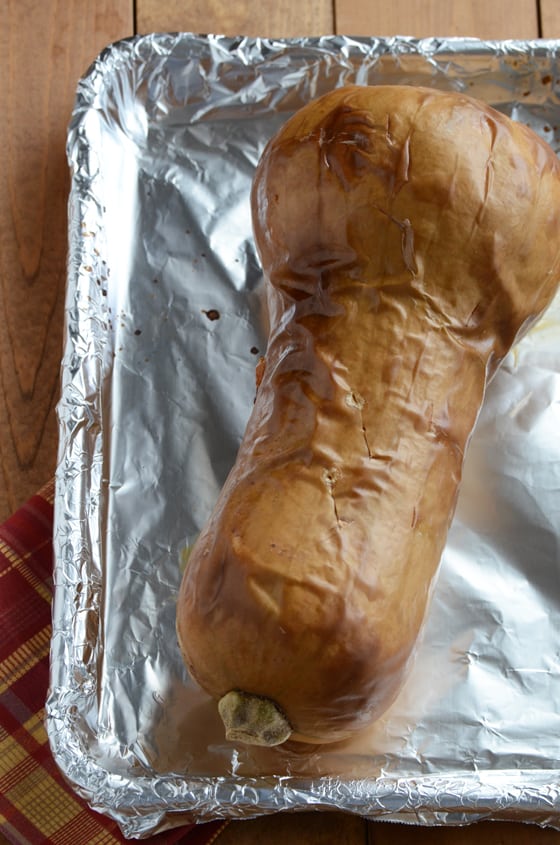 Beautifully Roasted
3. Roast the squash on the prepared pan until it's very tender and a paring knife easily pierces the squash and slips right out. (My squash was 3 lb 10 oz and it took 90 minutes to roast.)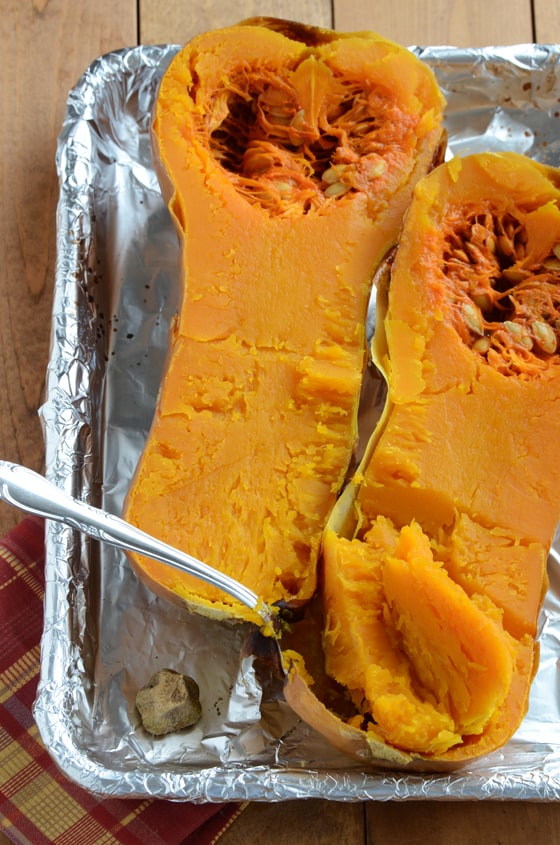 Scoop Out the Flesh
4. Let the squash cool a bit and then cut it in half the long way. Scoop out the seeds, saving them to roast if you want, and scoop the flesh into a bowl.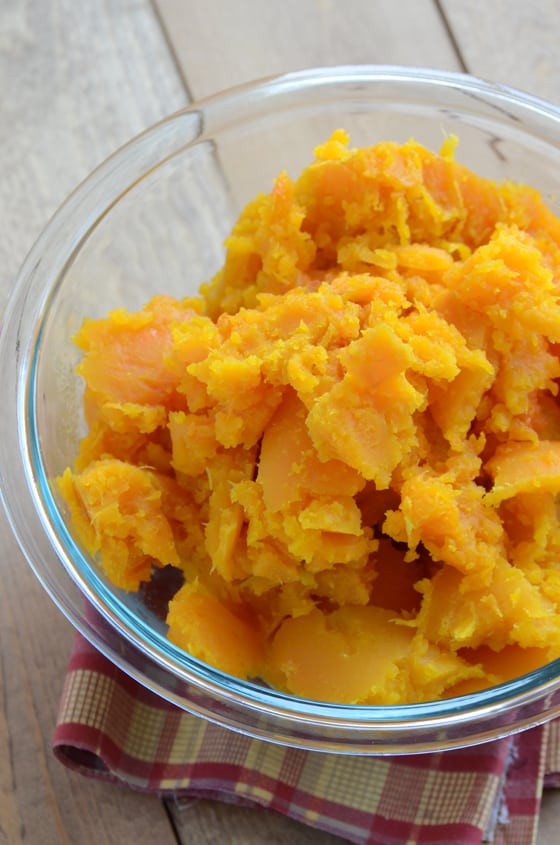 Here is the Squash Before Puréeing
5. Transfer the flesh to a food processor (working in batches if it doesn't all fit at once), and process until smooth. Alternatively, you can use a potato masher to mash the squash, but your result will be a bit lumpier (which isn't necessarily bad – some people enjoy it that way!).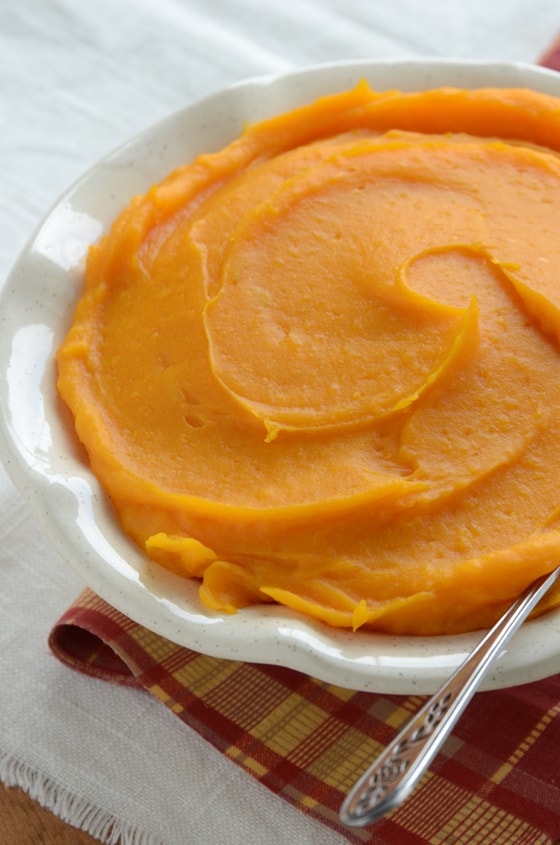 And Here it is After Puréeing…So Creamy!
6. Eat it as-is, or season to taste with anything you like…enjoy!