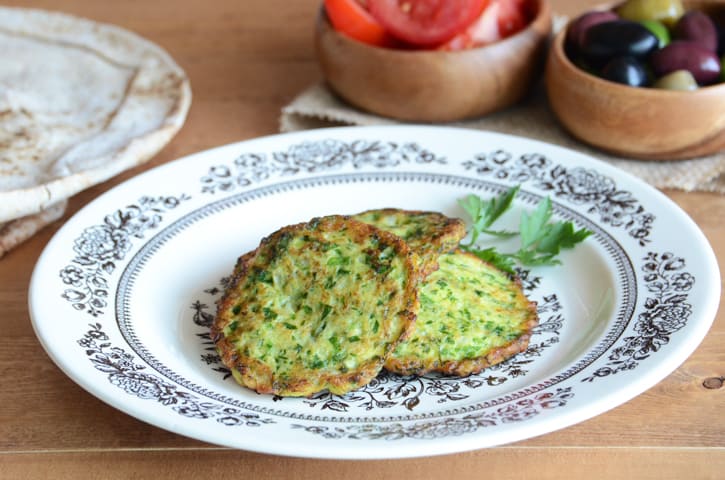 Photo (taken by yours truly) of Zucchini Fritters from my cookbook, An Edible Mosaic: Middle Eastern Fare with Extraordinary Flair.
I have some very exciting news to share! My wonderful friend Brandy (from Nutmeg Nanny) organized a month-long event along with eight other fabulous bloggers called A Mid-East Feast to celebrate my upcoming book release! For the first three weeks they're sharing recipes from my book. It's done in dinner party-style, so this week is the appetizer, next week is the main course, and the week after that is the dessert. And the fourth week they're all giving away a copy of my book!
Here are the fabulous bloggers participating; throughout the week they will all be sharing the recipe for Zucchini Fritters on their blogs. (A HUGE thank-you to all of you participating! I am truly honored.):
Brandy – Nutmeg Nanny
Amanda – Fake Ginger
Jeanette – Jeanette's Healthy Living
Gina – Running to the Kitchen
Joanne – Eats Well With Others
Heather – Girlichef
Natasha – Five Star Foodie
Megan – What Megan's Making
Rachel – Baked by Rachel
The appetizer they're sharing is Zucchini Fritters, which I adore. They are soft inside and crisp outside, with perfect savory flavor from a touch of onion and garlic. I like to eat these fritters the way I remember my mother-in-law serving them:  as a light meal along with olives, fresh tomato wedges, a stack of warm flatbread, and maybe some labneh (yogurt cheese)…it brings me back to the time Mike and I spent with his family there. They are equally delicious eaten as an appetizer before a meal, or if you enjoy eggs for breakfast, as a morning meal on their own.
The recipe can be found here on Brandy's site – head over and check it out! Also, please stop by the other wonderful blogger's sites and say hi with a little comment love…they are such a talented group!