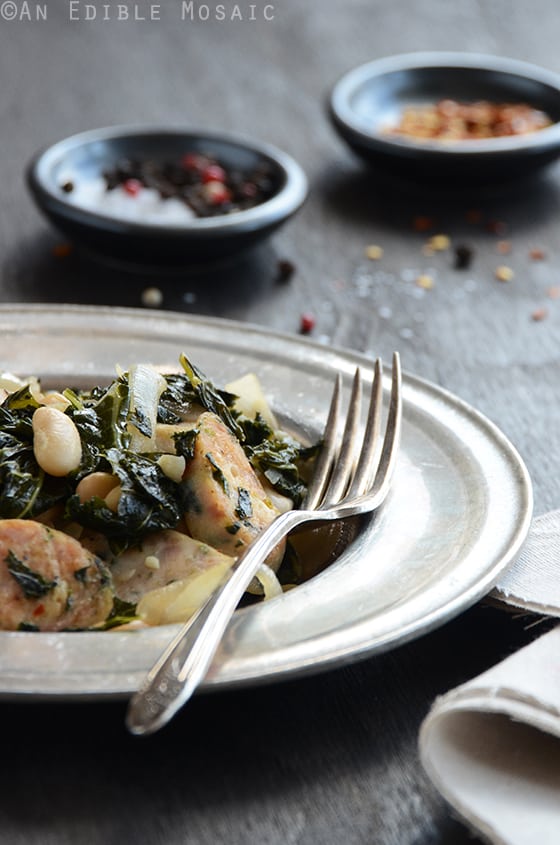 Mike and I always joke that we are much more active in colder months, and this week was a good example. (Side Note: We are cold-weather people...I am so excited for our first snowfall!)
The past seven days have been crazy busy with entertaining…I've made roast chicken, a slow-cooking Moroccan-inspired stew (like this one), and even an autumnal-themed luncheon. Now it's time for a quiet meal and some quick-cooking comfort food.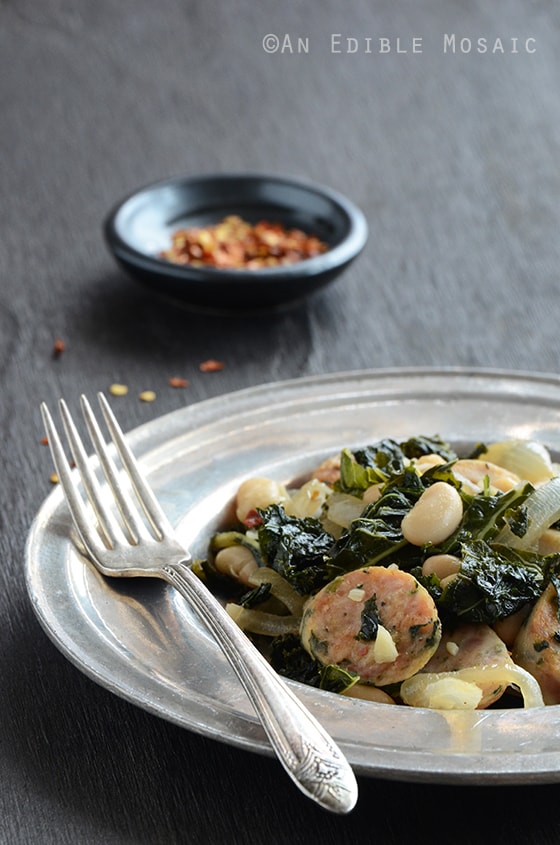 This beautiful dish is the sort of thing I've been craving because I can't seem to get enough kale lately. Kale, white beans, and garlic have a natural affinity for each other, and chicken sausage really is just gravy (but such a delicious addition). It comes together in a little over 30 minutes and is the perfect fall dinner.
To make this dish vegetarian (vegan actually), omit the chicken sausage, use vegetable stock or water instead of the chicken stock, and use two cans of beans instead of one. And if you have leftovers, they are amazing the next day topped with a poached or fried egg.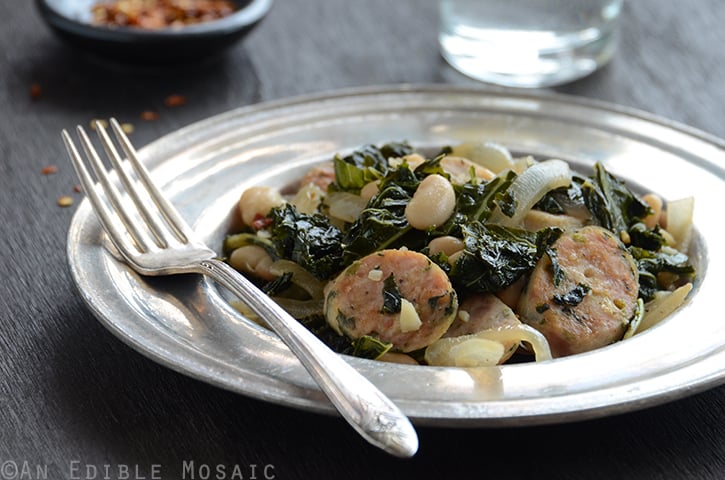 Sautéed Kale with Sausage and White Beans
Prep time:
Cook time:
Total time:
Ingredients
3 tablespoons olive oil
¾ lb fully cooked chicken sausage, sliced (I used Wegmans Spinach and Feta Chicken Sausage, but you can use any kind you like)
2 medium onions, halved and thinly sliced
1 lb kale, rinsed, tough center ribs removed, and chopped
1 cup low-sodium chicken stock (or water), plus more as needed
5 large cloves garlic, minced
½ teaspoon crushed red pepper flakes (more or less to taste)
¼ teaspoon salt
¼ teaspoon black pepper
1 (15 oz) can cannellini beans, rinsed and drained
1½ tablespoons fresh lemon juice
Instructions
Heat the oil in a large lidded skillet over medium-high to high heat; add the sausage and cook until browned, about 5 to 7 minutes. Use a slotted spoon to transfer the sausage to a bowl and set aside.
Turn the heat down to medium, add the onion, and cook until tender and starting to caramelize, about 7 to 10 minutes. Turn the heat up to medium-high, add the kale and chicken stock, cover the skillet, and cook until the liquid is evaporated and the kale is almost tender, about 8 minutes. (If the skillet gets too dry before the kale is almost tender, add a splash more liquid as needed.)
Stir in the garlic, crushed red pepper flakes, salt, and pepper, and cook 3 minutes. Add the beans and browned sausage and cook until heated, about 1 to 2 minutes.
Add lemon juice and turn off heat; taste and season with additional salt and pepper as desired.